Abstract
In helping understand the dynamics of travel choice behavior and traveler satisfaction over time, multi-day panel data is invaluable (McFadden in Am Econ Rev 91(3): 351–378, 2001). The collection of such data has become increasingly feasible thanks to smartphones, which researchers can use to present surveys to travelers and to collect additional information through the phones' location services and other sensors. This paper describes the design and implementation of the San Francisco Travel Quality Study, a multi-day research study conducted in autumn 2013 with 838 participants. The objective of the study was to investigate the link between transit service quality, the satisfaction and subjective well-being of transit riders, and travel choice behavior, with a particular interest in the influence of travelers' choice history and personal experiences on future transit use. For that purpose, a rich panel data set was collected from multiple sources, including a number of mobile travel experience surveys capturing traveler satisfaction and emotions, two online surveys capturing demographics, attitudes and mode choice intentions, as well as high-resolution phone location data and transit vehicle location data. By fusing the phone location data with transit vehicle location data, individual-level transit travel diaries could be automatically created, and by fusing the location data with the survey responses, additional information about the context of the responses could be derived. While the behavioral and satisfaction-related findings of the study are detailed in other publications, this paper is intended to serve two purposes. First, it describes the study design, data collection effort and challenges faced in order to provide a learning opportunity for other researchers considering similar studies. Second, it discusses the key sociodemographic data and characteristics of the study population in order to provide a foundation and reference for further publications that make use of the data set described here. The authors would like to invite other researchers to collaborate with them on the evaluation of the data.
This is a preview of subscription content, log in to check access.
Access options
Buy single article
Instant access to the full article PDF.
US$ 39.95
Tax calculation will be finalised during checkout.
Subscribe to journal
Immediate online access to all issues from 2019. Subscription will auto renew annually.
US$ 99
Tax calculation will be finalised during checkout.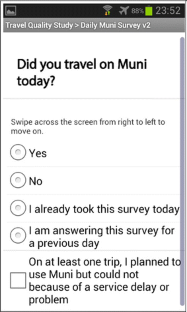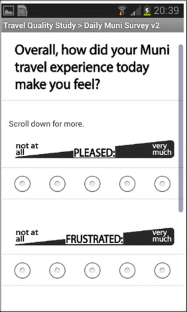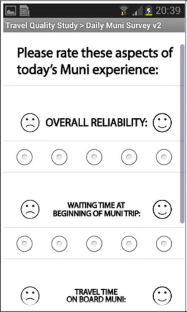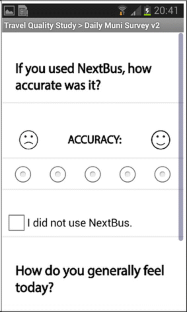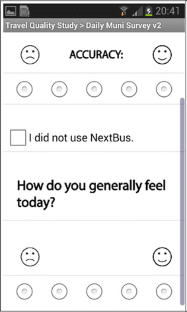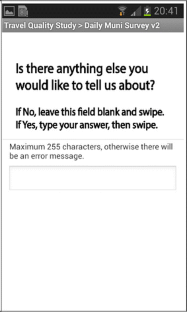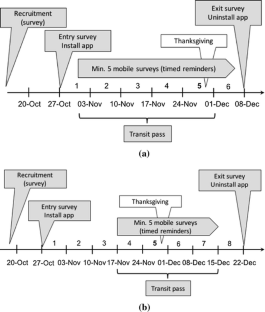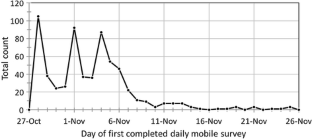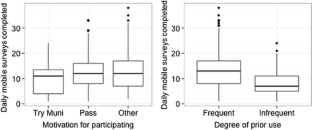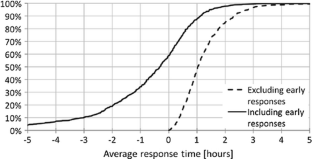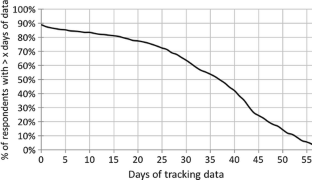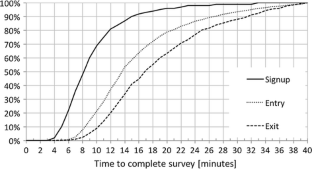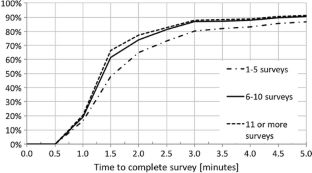 References
Aarts, H., Verplanken, B., Knippenberg, A.: Predicting behavior from actions in the past: repeated decision making or a matter of habit? J. Appl. Soc. Psychol. 25(15), 1355–1374 (1998)

Abou-Zeid, M., Ben-Akiva, M.: A model of travel happiness and mode switching. In: Choice modelling: the state-of-the-art and the state-of-practice (Proceedings from the Inaugural International Choice Modelling Conference), pp. 289–306 (2010)

Abou-Zeid, M., et al.: Happiness and travel mode switching: findings from a Swiss public transportation experiment. Transp. Policy 19(1), 93–104 (2012)

Anderson, E.W., Sullivan, M.W.: The antecedents and consequences of customer satisfaction for firms. Mark. Sci. 12(2), 125–143 (1993)

Android Fragmentation Report, August 2015. http://opensignal.com/reports/2015/08/android-fragmentation/ (2015). Accessed 23 Feb 2016

Asakura, Y., Hato, E.: Tracking survey for individual travel behaviour using mobile communication instruments. Transp. Res. Part C 12(3), 273–291 (2004)

Auld, J., et al.: An automated GPS-based prompted recall survey with learning algorithms. Transp. Lett. 1(1), 59–79 (2009)

Axhausen, K.W., Schmid, B., Weis, C.: Predicting response rates updated. Tech. rep. Zürich, Switzerland, Swiss Federal Institute of Technology (1063) (2015)

Axhausen, K.W., et al.: Observing the rhythms of daily life: a 6-week travel diary. Transportation 29(2), 95–124 (2002)

Axhausen, K.W., et al.: Fatigue in long-duration travel diaries. Transportation 34(2), 143–160 (2007)

Bolton, R.N.: A dynamic model of the duration of the customer's relationship with a continuous service provider: the role of satisfaction. Mark. Sci. 17(1), 45–65 (1998)

Brabham, D.C.: Crowdsourcing the public participation process for planning projects. Plan Theory 8(3), 242–262 (2009)

Brabham, D.C, Sanchez, T.W., Bartholomew, K.: Crowdsourcing public participation in transit planning: preliminary results from the next stop design case. In: TRB 89th Annual Meeting Compendium (2010)

Bricka, S., Bhat, C.R.: Comparative analysis of global positioning system-based and travel survey-based data. Transp. Res. Rec. 1972, 9–20 (2006)

Brög, W., Kahn, T.: Customer satisfaction as an element of strategic business decisions. In: 2nd UITP International Marketing Conference Paris (2003)

Brunette, W. et al.: Open Data Kit 2.0: expanding and refining information services for developing regions. In: Proceedings of the 14th Workshop on Mobile Computing Systems and Applications (2013)

Carrel, A., Halvorsen, A., Walker, J.L.: Passengers' perception of and behavioral adaptation to unreliability in public transportation. Transp. Res. Rec. 2351, 153–162 (2013)

Carrel, A., Sengupta, R., Walker, J.L. Understanding future mode choice intentions of transit riders as a function of past experiences with travel quality. In: 14th International Conference on Travel Behaviour Research, Windsor, United Kingdom (2015)

Carrel, A., et al.: Quantifying transit travel experiences from the users' perspective with high-resolution smartphone and vehicle location data: methodologies, validation, and example analyses. Transp. Res. Part C 58, 224–239 (2015b)

Carrel, A., et al.: In pursuit of the happy transit rider: dissecting satisfaction using daily surveys and tracking data. J. Intell. Transp. Syst. 20(4), 345–362 (2016)

Carrus, G., Passafaro, P., Bonnes, M.: Emotions, habits and rational choices in ecological behaviours: the case of recycling and use of public transportation. J. Environ. Psychol. 28(1), 51–62 (2008)

Cherchi, E., Cirillo, C.: A mixed logit mode choice model on panel data: accounting for systematic and random variations on responses and preferences. In: 87th Annual Meeting of the Transportation Research Board, Washington, DC (2008)

Cherchi, E., Cirill, C.: Validation and forecasts in models estimated from multiday travel survey. Transp. Res. Rec. 2175, 57–64 (2010)

Connor, T.S.: Experience sampling and ecological momentary assessment with mobile phones. http://www.otago.ac.nz/psychology/otago047475.pdf (2014)

Cottrill, C., et al.: Future mobility survey. Transp. Res. Rec. 2354, 59–67 (2013)

Csikszentmihalyi, M., Larson, R.: Validity and reliability of the experiencesampling method. J. Nerv. Mental Dis. 175(9), 526–536 (1987)

Davis, M.M., Heineke, J.: How disconfirmation, perception and actual waiting times impact customer satisfaction. Int. J. Serv. Ind. Manag. 9(1), 64–73 (1998)

Del Castillo, J.M., Benitez, F.G.: Determining a public transport satisfaction index from user surveys. Transportmetrica A 9(8), 713–741 (2013)

Dillman, D.: Mail and Internet Surveys: The Tailored Design Method–2007 Update With New Internet, Visual, and Mixed-Mode Guide. Wiley, New York (2011)

Dubé, Laurette, Menon, K.: Why would certain types of in-process negative emotions increase post-purchase consumer satisfaction with services. Adv. Serv. Mark. Manag. 7, 131–158 (1998)

Eboli, L., Mazzulla, G.: A methodology for evaluating transit service quality based on subjective and objective measures from the passenger's point of view. Transp. Policy 18(1), 172–181 (2011)

Ettema, D., et al.: Out-of-home activities, daily travel, and subjective wellbeing. Transp. Res. Part A 44(9), 723–732 (2010)

Evans, G.W., Wener, R.E., Phillips, D.: The morning rush hour predictability and commuter stress. Environ. Behav. 34(4), 521–530 (2002)

Friman, M., Edvardsson, B., Gärling, T.: Frequency of negative critical incidents and satisfaction with public transport services, part I. J. Retail. Consum. Serv. 8(2), 95–104 (2001)

Fujii, S., Kitamura, R.: What does a one-month free bus ticket do to habitual drivers? An experimental analysis of habit and attitude change. Transportation 30(1), 81–95 (2003)

Gardner, B., Abraham, C.: What drives car use? A grounded theory analysis of commuters' reasons for driving. Transp. Res. Part F 10(3), 187–200 (2007)

Gatersleben, B., Uzzell, D.: Affective appraisals of the daily commute comparing perceptions of drivers, cyclists, walkers, and users of public transport. Environ. Behav. 39(3), 416–431 (2007)

Halpern, S.D., et al.: Lottery-based versus fixed incentives to increase clinicians' response to surveys. Health Serv. Res. 46(5), 1663–1674 (2011)

Hansen, F., Christensen, S.R.: Emotions, Advertising and consumer choice. Copenhagen Business School Press, Copenhagen (2007)

Hanson, S., Burnett, P.: Understanding complex travel behavior: measurement issues. In: Stopher, P., Meyburg, A., & Brög, W. (eds.) New Horizons in travel-behaviour research, pp. 207–230. Croom Helm, New York (1981)

Hensher, D.A., Stopher, P., Bullock, P.: Service quality: developing a service quality index in the provision of commercial bus contracts. Transp. Res. Part A 37(6), 499–517 (2003)

Homburg, C., Koschate, N., Hoyer, W.D.: The role of cognition and affect in the formation of customer satisfaction: a dynamic perspective. J. Mark. 70(3), 21–31 (2006)

Itsubo, S., Hato, E.: Effectiveness of household travel survey using GPSequipped cell phones and Web diary: comparative study with paper-based travel survey. In: Transportation Research Board 85th Annual Meeting (2006)

Jariyasunant, J., et al.: The quantified traveler: travel feedback meets the cloud to change behavior. J. Intell. Transp. Syst. 19(2), 109–124 (2015)

Kahneman, D., et al.: A survey method for characterizing daily life experience: the day reconstruction method. Science 306(5702), 1776–1780 (2004)

Killingsworth, M.A., Gilbert, D.T.: A wandering mind is an unhappy mind. Science 330(6006), 932 (2010)

Klöckner, C.A., Matthies, E.: How habits interfere with normdirected behaviour: a normative decision-making model for travel mode choice. J. Environ. Psychol. 24(3), 319–327 (2004)

Labs, L.: Durchhaltetraining. In: c't - Magazin für Computertechnik 12 (2012)

Laros, F.J.M., Steenkamp, J.N.E.M.: Emotions in consumer behavior: a hierarchical approach. J. Bus. Res. 58(10), 1437–1445 (2005)

Li, T. et al.: Low-power pervasive wi-fi connectivity using WiScan. In: Proceedings of the 2015 ACM International Joint Conference on Pervasive and Ubiquitous Computing ACM (2015)

Löchl, M.: Stability of travel behaviour: Thurgau 2003  (Travel survey metadata series). Tech. rep. Zürich, Switzerland, Swiss Federal Institute of Technology (16) (2005)

Mann, E., Abraham, C.: The role of affect in UK commuters' travel mode choices: an interpretative phenomenological analysis. Br. J. Psychol. 97(2), 155–176 (2006)

McFadden, D.: Economic choices. Am. Econ. Rev. 91(3), 351–378 (2001)

Mittal, V., Kumar, P., Tsiros, M.: Attribute-level performance, satisfaction, and behavioral intentions over time: a consumption-system approac. J. Mark. 63, 88–101 (1999)

Mondschein, A.: Five-star transportation: using online activity reviews to examine mode choice to non-work destinations. Transportation 42(4), 707–722 (2015)

Montini, L. et al.: Comparison of travel diaries generated from smartphoen data and dedicated GPS devices. In: 10th International Conference on Transport Survey Methods, Leura, NSW, Australia (2014)

Ohmori, N., Nakazato, M., Harata, N.: GPS mobile phone-based activity diary survey. Proc. Eastern Asia Soc. Transp. Stud. 5, 1104–1115 (2005)

Oliveira, M.G.S., et al.: Global positioning system-assisted prompted recall household travel survey to support development of advanced travel model in Jerusalem. Transp. Res. Rec. 2246, 16–23 (2011)

Oliver, R.L.: Cognitive, affective, and attribute bases of the satisfaction response. J. Consum. Res. 20(3), 418–430 (1993)

De Juan, D., et al.: Continuous mobility surveys: the state of practice. Transp. Rev. 31(3), 293–312 (2011)

Pedersen, T., Friman, M., Kristensson, P.: The role of predicted, online experienced and remembered satisfaction in current choice to use public transport services. J. Retail. Consum. Serv. 18(5), 471–475 (2011)

Pender, B., et al.: Social media use during unplanned transit network disruptions: a review of literature. Transp. Rev. 34(4), 501–521 (2014)

Perk, V., Flynn, J., Volinski, J.M. Transit ridership, reliability and retention. Tech. rep. (2008)

Perugini, M., Bagozzi, R.P.: The role of desires and anticipated emotions in goal-directed behaviours: broadening and deepening the theory of planned behaviour. Br. J. Soc. Psychol. 40(1), 79–98 (2001)

Richins, M.L.: Measuring emotions in the consumption experience. J. Consum. Res. 24(2), 127–146 (1997)

Rieser-Schüssler, N., Montini, L., Dobler, C.: Improving automatic postprocessing routines for GPS observations using prompted-recall data. In: 9th International Conference on Survey Methods in Transport, Termas de Puyehue (2011)

Roorda, Matthew J. Miller, E.J.: Toronto activity panel survey: demonstrating the benefits of a multiple instrument panel survey. In: 7th International Conference on Travel Methods, Costa Rica (2004)

Russell, J.A.: A circumplex model of affect. J. Pers. Soc. Psychol. 39(6), 1161–1178 (1980)

Scheiner, J., Holz-Rau, C.: A comprehensive study of life course, cohort, and period effects on changes in travel mode use. Transp. Res. Part A 47, 167–181 (2013)

Schlich, R., Axhausen, K.W.: Habitual travel behaviour: evidence from a 6-week travel diary. Transportation 30(1), 13–36 (2003)

Schlich, R., Simma, A., Axhausen, K.W.: Determinanten des Freizeitverkehrs: Modellierung und empirische Befunde (2004)

Schüssler, N., Axhausen, K.W.: Processing Raw Data from Global Positioning Systems Without Additional Information. Transp. Res. Rec. 2105, 28–36 (2009)

Schweitzer, L.: Planning and social media: a case study of public transit and stigma on Twitter. J. Am. Plan. Assoc. 80(3), 218–238 (2014)

Sharmeen, F., Arentze, T., Timmermans, H.: An analysis of the dynamics of activity and travel needs in response to social network evolution and life-cycle events: a structural equation model. Transp. Res. Part A 59, 159–171 (2014)

Simma, A., Axhausen, K.W.: Commitments and modal usage: analysis of German and Dutch panels. Transp. Res. Rec. 1854, 22–31 (2003)

Simmons, E., Wilmot, A.: Incentive payments on social surveys: a literature review. Soc. Surv. Methodol. Bull. 53, 1–11 (2004)

Smith, A.: Smartphone ownership–2013 update. Tech. rep. Pew Research Center, Washington, DC (2013)

Smith, A.K., Bolton, R.N.: The effect of customers' emotional responses to service failures on their recovery effort evaluations and satisfaction judgments. J. Acad. Mark. Sci. 30(1), 5–23 (2002)

Stopher, P., Andrew, C.: Conducting a GPS prompted recall survey over the internet. In: 84th Transportation Research Board Annual Meeting, Washington, DC (2005)

Stopher, P., Clifford, E., Montes, M.: Variability of travel over multiple days: analysis of three panel waves. Transp. Res. Rec. 2054, 56–63 (2008)

Stopher, P., FitzGerald, C., Xu, M.: Assessing the accuracy of the Sydney household travel survey with GPS. Transportation 34(6), 723–741 (2007)

Stradling, S.: Passenger perceptions and the ideal urban bus journey experience. Transp. Policy 14(4), 283–292 (2007)

Swanson, J., Ampt, L., Jones, P.: Measuring bus passenger preferences. Traffic Eng. Control 38(6), 330–336 (1997)

Tooley, M.S.: Incentives and rates of return for travel surveys. Transp. Res. Rec. 1551, 67–73 (1996)

Verhoeven, M., et al.: Modeling the impact of key events on long-term transport mode choice decisions: decision network approach using event history data. Transp. Res. Rec. 1926, 106–114 (2005)

Vij, A., Carrel, A., Walker, J.L.: Incorporating the in uence of latent modal preferences on travel mode choice behavior. Transp. Res. Part A 54, 164–178 (2013)

Wirtz, D., et al.: What to do on spring break? The role of predicted, on-line, and remembered experience in future choice. Psychol. Sci. 14(5), 520–524 (2003)

Wolf, J. et al.: Applications of new technologies in travel surveys. In: 7th International Conference on Travel Survey Methods, Costa Rica (2004)

Xiong, C., et al.: The analysis of dynamic travel mode choice: a heterogeneous hidden Markov approach. Transportation 42(6), 985–1002 (2015)

Yánez, M.F., Mansilla, P., De Dios Ortúuzar, J.: The Santiago Panel: measuring the effects of implementing Transantiago. Transportation 37(1), 125–149 (2010)
Acknowledgments
The authors would like to thank the National Science Foundation and the University of California Transportation Center for providing funding for this project, and the SFMTA for their support and collaboration in organizing it as well as for providing the incentives to participants. The authors would further like to thank the following individuals whose key contributions in enabling, designing, and executing the study were greatly appreciated (in alphabetical order): Jillian Anable, Sonali Bose, Andrew Campbell, John Canny, Angelo Guevara, Lynne Hollyer, Phuc-Hai Huynh, Carmen Lam, Peter Lau, Jason Lee, Robert Levenson, Kathryn Lewis, Rabi Mishalani, Leif Nelson, Hoang Nguyen, Elizabeth Sall, and of course all study participants. We apologize for any omissions; they are unintentional.
About this article
Cite this article
Carrel, A., Sengupta, R. & Walker, J.L. The San Francisco Travel Quality Study: tracking trials and tribulations of a transit taker. Transportation 44, 643–679 (2017). https://doi.org/10.1007/s11116-016-9732-4
Keywords
Mode choice

Public transportation

Integrated choice and latent variable modeling

Satisfaction

Smartphone survey

Panel data