Abstract
The opening of the replacement for the I-35W Mississippi River Bridge on September 18th, 2008 provides a unique opportunity to evaluate the impacts generated by this additional link on network performance. Using detailed GPS data to estimate travel times on links and for origin-destination pairs, this research finds that while on average travel time improved with the reopening of the bridge, the subsequent restoration of parts of the rest of the network to their pre-collapse configuration worsened travel times significantly on average. In all cases, the distribution of winners and losers indicates clear spatial patterns associated with these network changes.
Access options
Buy single article
Instant access to the full article PDF.
USD 39.95
Price excludes VAT (USA)
Tax calculation will be finalised during checkout.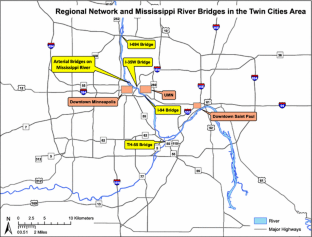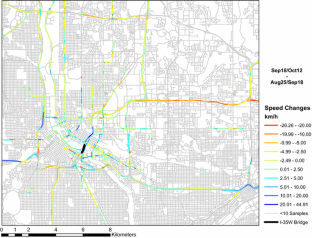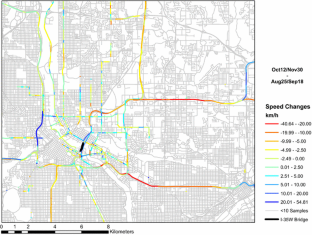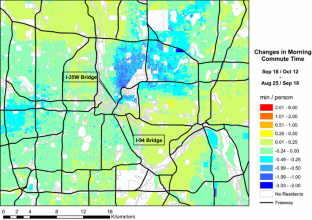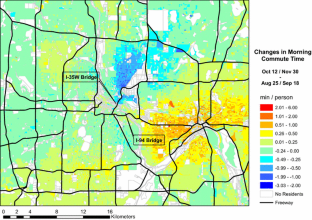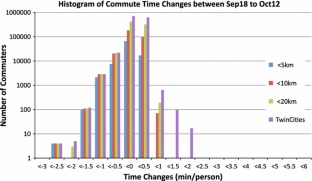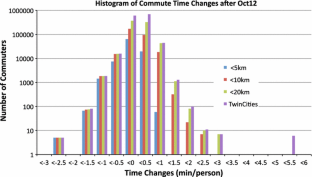 Notes
Because of their minor role in traffic analysis and the small number of observations available, two other time periods, Before Morning Peak and After Afternoon Peak, were ignored in this study.

The converse does not hold, I-35W is not a perfect substitute for I-94 travelers.
References
Cervero, R.: Road expansion, urban growth, and induced travel: a path analysis. J. Am. Plan. Assoc. 69(2), 145–164 (2003)

Chang, S.E., Nojima, N.: Measuring post-disaster transportation system performance: the 1995 kobe earthquake in comparative perspective. Transp. Res. Part A 35(6), 475–494 (2001)

Craig, W.: White knights of spatial data infrastructure: the role and motivation of key individuals. URISA J. 16(2), 5–13 (2005)

FHWA (2006). Longitudinal Employment and Household Dynamics (LEHD). http://www.fhwa.dot.gov/planning/Census/lehd.htm

Giuliano, G., Golob, J.: Impacts of the Northridge Earthquake on Transit and Highway Use. J. Transp. Stat. 1(2), 1–20 (1998)

Handy, S.: Smart growth and the transportation-land use connection: what does the research tell us? Int. Reg. Sci. Rev. 28(2), 146 (2005)

Marx, R.W.: The TIGER system: Yesterday, today, and tomorrow. Cartogr. Geogr. Inf. Syst. 17(1), 89–97 (1990)

Noland, R., Lem, L.: A review of the evidence for induced travel and changes in transportation and environmental policy in the US and the UK. Transp. Res. Part D 7(1), 1–26 (2002)

Parthasarathi, P., Levinson, D., Karamalaputi, R.: Induced demand: a microscopic perspective. Urban Stud. 40(7), 1335 (2003)

Parthasarathi, P., Srivastava, A., Geroliminis, N., Levinson, D.: The importance of being early. Transportation 38(2), 227–247 (2011)

Guensler, R., Yoon, S., Li, H., Elango, V.: (2007) Atlanta Commute Vehicle Soak and Start Distributions and Engine Starts per Day: Impact on Mobile Source Emission Rates. Report for Environmental Protection Agency EPA/600/R-07/075 April 2007

Yang, H., Bell, M.: A capacity paradox in network design and how to avoid it. Transp. Res. Part A 32(7), 539–545 (1998)

Zhu, S. (2010): The roads taken: Theory and evidence on route choice in the wake of the I-35W Mississippi River bridge collapse and reconstruction. Ph. D. thesis, University of Minnesota

Zhu, S., Levinson, D.: Disruptions to Transportation Networks: a Review. In Network Reliability in Practice, pp. 5–20. Springer, New York (2012)

Zhu, S. and D. Levinson (2015, August). Do people use the shortest path? an empirical test of wardrop's first principle. PLOS One doi:10.1371/journal.pone.0134322

Zhu, S., Levinson, D., Liu, H., Harder, K.: The Traffic and Behavioral Effects of the I-35W Mississippi River Bridge collapse. Transp. Res. Part A 44(10), 771–784 (2010)
Acknowledgments
This material is based in part upon work supported by the National Science Foundation under Grant No. 0825768, BRIDGE: Behavioral Response to the I-35W Disruption: Gauging Equilibration; Minnesota Department of Transportation project Traffic Flow and Road User Impacts of the Collapse of the I-35W Bridge over the Mississippi River; Oregon Transportation Research and Education Consortium for the project Value of Reliability; and the University of Minnesota Metropolitan Consortium. We would also like to thank Kathleen Harder, John Bloomfield, Randy Guensler, and Shu Hong. Any opinions, findings, and conclusions or recommendations expressed in this material are those of the authors and do not necessarily reflect the views of the National Science Foundation, Minnesota Department of Transportation, Oregon Transportation Research and Education Consortium or others.
About this article
Cite this article
Zhu, S., Levinson, D. & Liu, H. Measuring winners and losers from the new I-35W Mississippi River Bridge. Transportation 44, 905–918 (2017). https://doi.org/10.1007/s11116-016-9684-8
Published:

Issue Date:

DOI: https://doi.org/10.1007/s11116-016-9684-8
Keywords
Network disruption

Travel time

GPS data