Abstract
Transport is a vast and complex socio-technical system, and despite a clear need to reduce dependence on fossil fuels due to undesirable environmental impacts, it is largely locked into business-as-usual. Systems approaches are a useful way to help make sense of multiple competing influences which may be simultaneously driving change and supporting the status quo. This paper applies qualitative system dynamics modelling to help interpret the results of a Delphi study into global transport transitions, involving 22 international experts in various aspects of transport. The main contribution of the paper is its exploration of the use of system dynamics (SD) modelling to interpret the Delphi findings. SD modelling was used to reveal and elucidate the causal arguments put forward by the expert panel about the factors driving business-as-usual, the factors creating barriers to more sustainable transport systems, and the drivers of change. The SD model is used to explore and expose the key causal patterns at play, and how these interact to both support and hinder change. The resulting model shows the complex, interdependent dynamics involved in supporting the status quo. Even at the relatively high level of analysis reported here, the model is useful in revealing interdependencies between parts of the system, where change in one part may well have knock-on effects elsewhere in the system. In particular the model reveals the strong reinforcing loops that act to minimise the impact of change drivers and thus retain the dominance of automobility. The result is a system that is highly dependent on the continued existence of key reinforcements such as policies that subsidise fossil fuels. From a methodological perspective, the outcomes of the Delphi study provided a rich source of qualitative material which was highly suitable for developing a system dynamics model.
Access options
Buy single article
Instant access to the full article PDF.
USD 39.95
Price includes VAT (USA)
Tax calculation will be finalised during checkout.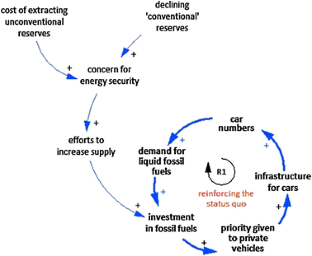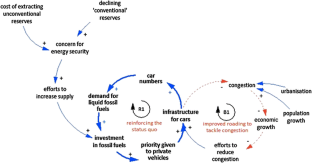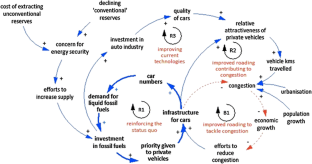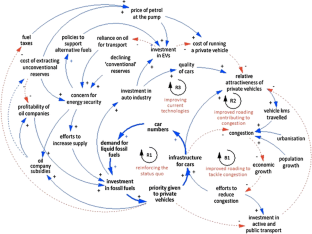 References
Abbas, K.A., Bell, M.G.H.: System dynamics applicability to transportation modeling. Transp. Res. Part A 28(5), 373–390 (1994)

Angerhofer, B.J., Angelides, M.C.: System dynamics modelling in supply chain management: research review. In: IEEE Proceedings of the 2000 Winter Simulation Conference, vol. 1, pp. 342–51 (2000)

Bachels, M., Peet, J., Newman, P.: Using a systems approach to unravel feedback mechanisms affecting urban transport choices. In: Paper presented at the Proceedings of the 17th International Conference of the System Dynamics Society and 5th Australian & New Zealand Systems Conference, Wellington, New Zealand (1999)

Chapman, L.: Transport and climate change: a review. J. Transp. Geogr. 15(5), 354–367 (2007). doi:10.1016/j.jtrangeo.2006.11.008

Davis, J.P., Eisenhardt, K.M., Bingham, C.B.: Developing theory through simulation methods. Acad. Manag. Rev. 32(2), 21 (2007)

Dent, E.B.: The interactional model: an alternative to the direct cause and effect construct for mutually causal organizational phenomena. Found. Sci. 8, 21 (2003)

Eskinasi, M., Rouwette, E., Vennix, J.: Simulating urban transformation in Haaglanden, the Netherlands. Syst. Dyn. Rev. 25(3), 182–206 (2009). doi:10.1002/sdr.423

Fiorello, D., Fermi, F., Bielanska, D.: The ASTRA model for strategic assessment of transport policies. Syst. Dyn. Rev. 26(3), 283–289 (2010)

Ford, A.: Simulating the controllability of feebates. Syst. Dyn. Rev. 11(1), 27 (1995)

Forrester, J.W.: Industrial Dynamics. Productivity Press, Oregon (1961)

Forrester, J.W.: Industrial dynamics —a response to Ansoff and Slevin. Manage. Sci. 14(9), 601–618 (1968)

Forrester, J.W.: Policies, decisions and information sources for modeling. Eur. J. Oper. Res. 59, 42–63 (1992)

Geels, F.W.: Technological transitions as evolutionary reconfiguration processes: a multi-level perspective and a case-study. Res. Policy 31(8/9), 1257–1274 (2002)

Geels, F.W.: From sectoral systems of innovation to socio-technical systems: insights about dynamics and change from sociology and institutional theory. Res. Policy 33(6/7), 897–920 (2004)

Geels, F.W.: The dynamics of transitions in socio-technical systems: a multi-level analysis of the transition pathway from horse-drawn carriages to automobiles (1860–1930). Technol. Anal. Strateg. Manag. 17(4), 445–476 (2005)

Gibson, J.M.: Using the Delphi technique to identify the content and context of nurses' continuing professional development needs. J. Clin. Nurs. 7, 451–459 (1998)

Hasson, F., Keeney, S., McKenna, H.: Research guidelines for the Delphi survey technique. J. Adv. Nurs. 32, 1008–1015 (2000)

Heiko, A., Darkow, I.L.: Scenarios for the logistics services industry: a Delphi-based analysis for 2025. Int. J. Prod. Econ. 127(1), 46–59 (2010)

Hensher, D.A., Button, K.J.: Handbook of Transport Modeling, vol. 1. Pergamon, New York (2000)

Leaver, J., Gillingham, K.: Economic impact of the integration of alternative vehicle technologies into the New Zealand vehicle fleet. J. Clean. Prod. 18(9), 908–916 (2010). doi:10.1016/j.jclepro.2009.10.018

Leve, J.-H., Hivin, L.F., Mavris, D.N.: A multi-paradigm approach to system dynamics modelling of intercity transportation. Transp. Res. Part E 71, 188–202 (2014)

Luna-Reyes, L.F., Andersen, D.L.: Collecting and analyzing qualitative data for system dynamics: methods and models. Syst. Dyn. Rev. 19(4), 271–296 (2003)

Luna-Reyes, L., Martinez-Moyano, I.J., Pardo, T.A., Cresswell, A.M., Andersen, D.F., Richardson, G.P.: Anatomy of a group model-building intervention: building dynamic theory from case study research. Syst. Dyn. Rev. 22(4), 291–320 (2006)

Martinez-Moyano, I., Macal, C., Sallach, D.: Energy security dynamics. In: Paper presented at the Proceedings of the 30th International Conference of the System Dynamics Society, St. Gallen, Switzerland (2012)

Mehmood, A.: An integrated approach to evaluate policies for controlling traffic law violations. Accid. Anal. Prev. 42(2), 427–436 (2010)

Richardson, G.P.: Feedback Thought in Social Science and Systems Theory. University of Pennsylvania Press, Philadelphia (1991)

Rikkonen, P., Tapio, P.: Future prospects of alternative agro-based bioenergy use in Finland—constructing scenarios with quantitative and qualitative Delphi data. Technol. Forecast. Soc. Chang. 76, 978–990 (2009)

Sastry, A.M.: Problems and paradoxes in a model of punctuated organizational change. Adm. Sci. Quart. 42, 39 (1997)

Schade, B.: Future development of 2nd generation biofuels in transport considering learning rates. in: Paper presented at the Proceedings of the 30th International Conference of the System Dynamics Society, St. Gallen, Switzerland (2012)

Sgouridis, S., Bonnefoy, P.A., Hansman, R.J.: Air transportation in a carbon constrained world: long-term dynamics of policies and strategies for mitigating the carbon footprint of commercial aviation. Transp. Res. Part A 45(10), 1077–1091 (2011)

Shepherd, S.P.: A review of system dynamics models applied in transportation. Transp. B 2(2), 83–105 (2014)

Sims, R., Schaeffer, R.: Transport in IPCC Working Group III—Mitigation of Climate Change. Cambridge University Press, Cambridge (2014)

Stephenson, J., Hopkins, D., Doering, A.: Conceptualising transport transitions: energy cultures as an organising framework. Wiley Interdiscipl. Rev. (2014). doi:10.1002/wene.149

Stepp, M.D., Winebrake, J.J., Hawker, J.S. & Skerlos, S.J.: Greenhouse gas mitigation policies and the transportation sector: the role of feedback effects on policy effectiveness. Energy Policy 37, 2774–2728 (2009)

Sterman, J.D.: Learning from evidence in a complex world. Am. J. Public Health 96(3), 505–514 (2006)

Struben, J., Sterman, J.: Transition challenges for alternative fuel vehicle and transportation systems. Environ. Plan. 35(6), 1070–1092 (2008)

Urry, J.: The 'system'of automobility. Theory Cult. Soc. 21, 25–39 (2004)

Vennix, J.A.M., Anderson, D.F., Richardson, G.P., Rohrbaugh, J.: Model-building for group decision Issues and alternatives in knowledge elicitation. Eur. J. Oper. Res. 59, 28–41 (1992)

Vennix, J.A., Gubbels, J.W.: Knowledge elicitation in conceptual model building: a case study in modeling a regional Dutch health care system. Eur. J. Oper. Res. 59(1), 85–101 (1992)

Vennix, J.A.M.: Group Model Building: Facilitating Team Learning Using System Dynamics. Wiley, Chichester (1996)

Watson, M.: How theories of practice can inform transition to a decarbonised transport system. J. Transp. Geogr. 24, 488–496 (2012)

Weaver, W.T.: The Delphi forecasting method. Phi Delta Kappan 52(5), 268–271 (1971)

Whitmarsh, L.: How useful is the multi-level perspective for transport and sustainability research? J. Transp. Geogr. 24, 483–487 (2012)

Wolstenholme, E.: System Enquiry: A System Dynamics Approach. Wiley, Chichester (1990)
About this article
Cite this article
Rees, D., Stephenson, J., Hopkins, D. et al. Exploring stability and change in transport systems: combining Delphi and system dynamics approaches. Transportation 44, 789–805 (2017). https://doi.org/10.1007/s11116-016-9677-7
Keywords
System dynamics

Transport

Delphi technique

Causal patterns

Sustainable transport systems