Abstract
This study examines the association between urban form and walking for transport in Brisbane, Australia based on both panel and cross-sectional data. Cross-sectional data are used to determine whether urban form was associated with walking for transport in 2011. Panel data are used to evaluate whether changes in the built environment altered walking behaviour between 2009 and 2011. Results from the cross-sectional data suggest that individuals are significantly more likely to be walkers if they live in an area with a well-connected street network and an accessible train station. The longitudinal analysis confirms these relationships; there also was however, a significant impact of travel attitudes and perceptions on walking behaviour. The findings suggest that the built environment continues to be an important factor to encourage walking; however, interventions are also required to change social norms in order to increase the receptiveness for and participation in walking.
Access options
Buy single article
Instant access to the full article PDF.
US$ 39.95
Tax calculation will be finalised during checkout.
Subscribe to journal
Immediate online access to all issues from 2019. Subscription will auto renew annually.
US$ 79
Tax calculation will be finalised during checkout.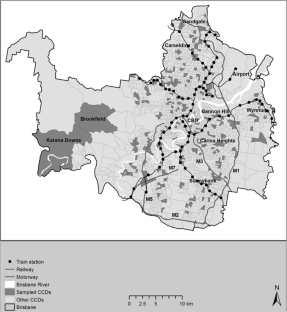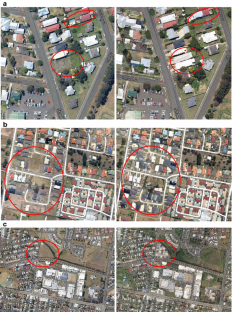 References
Aditjandra, P.T., Cao, X., Mulley, C.: Understanding neighbourhood design impact on travel behaviour: an application of structural equations model to a British metropolitan data. Transp. Res. Part A 46, 22–32 (2012)

Bagley, M., Mokhtarian, P.: The impact of residential neighborhood type on travel behavior: a structural equations modeling approach. Ann. Reg. Sci. 36, 279–297 (2002)

Bhat, C., Guo, J.: A comprehensive analysis of built environment characteristics on household residential choice and auto ownership levels. Transp. Res. Part B 41, 506–526 (2007)

Boarnet, M.G., Sarmiento, S.: Can land use policy really affect travel behaviour? A study of the link between non-work travel and land-use characteristics. Urban Stud. 35, 1155–1169 (1998)

Brisbane City Council Brisbane active transport strategy: walking and cycling plan 2005–2010, Brisbane (2005)

Brisbane City Council Transport Plan for Brisbane 2008–2026, Brisbane (2008)

Brown, W., Burton, N., Marshall, A., Miller, Y.: Reliability and validity of a modified selfadministered version of the active Australia physical activity survey in a sample of mid-age women. Aust. N. Z. J. Public Health 32, 535–541 (2008)

Cao, X., Mokhtarian, P.L., Handy, S.L.: Do changes in neighborhood characteristics lead to changes in travel behavior? A structural equations modeling approach. Transportation 34, 535–556 (2007)

Cerin, E., Leslie, E., Owen, N.: Explaining socio-economic status differences in walking for transport: an ecological analysis of individual, social and environmental factors. Soc. Sci. Med. 68, 1013–1020 (2009)

Cervero, R., Duncan, M.: Residential self-selection and rail commuting: a nested logit analysis. University of California Transportation Center (2008)

Cools, M., Moons, E., Janssens, B., Wets, G.: Shifting towards environment-friendly modes: profiling travelers using Q-methodology. Transportation 36, 437–453 (2009)

De Vos, J., Derudder, B., Van Acker, V., Witlox, F.: Reducing car use: changing attitudes or relocating? The influence of residential dissonance on travel behavior. J. Transp. Geogr. 22, 1–9 (2012)

Duncan, M.J., Winkler, E., Sugiyama, T., Cerin, E., duToit, L., Leslie, E., Owen, N.: Relationships of land use mix with walking for transport: do land uses and geographical scale matter? J. Urban Health 87, 782–795 (2010)

Elias, W., Shiftan, Y.: The influence of individual's risk perception and attitudes on travel behavior. Transp. Res. Part A 46, 1241–1251 (2012)

Ewing, R., Cervero, R.: Travel and the built environment. J. Am. Plan. Assoc. 76, 265–294 (2010)

Frank, L.D., Schmid, T.L., Sallis, J.F., Chapman, J., Saelens, B.E.: Linking objectively measured physical activity with objectively measured urban form: findings from SMARTRAQ. Am. J. Prev. Med. 28, 117–125 (2005)

Giles-Corti, B.: People or places: what should be the target? J. Sci. Med. Sport 9, 357–366 (2006)

Giles-Corti, B., Bull, F., Knuiman, M., McCormack, G., Van Niel, K., Timperio, A., Christian, H., Foster, S., Divitini, M., Middleton, N., Boruff, B.: The influence of urban design on neighbourhood walking following residential relocation: longitudinal results from the RESIDE study. Soc. Sci. Med. 77, 20–30 (2013)

Greenwald, M., Boarnet, M.: The built environment as a determinant of walking behavior: analyzing non-work pedestrian travel in Portland, Oregon. Transp. Res. Rec. 1780, 33–42 (2001)

Greenwald, M.J.: The relationship between land use and intrazonal trip making behaviors: evidence and implications. Transp. Res. Part D 11, 432–446 (2006)

Guo, J.Y., Chen, C.: The built environment and travel behavior: making the connection. Transportation 34, 529–533 (2007)

Guo, Z.: Does the pedestrian environment affect the utility of walking? A case of path choice in downtown Boston. Transp. Res. Part D 14, 343–352 (2009)

Handy, S., Cao, X., Mokhtarian, P.: Correlation or causality between the built environment and travel behavior? Evidence from Northern California. Transp. Res. Part D 10, 427–444 (2005)

Handy, S., Cao, X., Mokhtarian, P.: Self-selection in the relationship between the built environment and walking—empirical evidence from northern California. J. Am. Plan. Assoc. 72, 55–74 (2006)

Handy, S., Clifton, K.: Local shopping as a strategy for reducing automobile travel. Transportation 28, 317–346 (2001)

Humpel, N., Owen, N., Iverson, D., Leslie, E., Bauman, A.: Perceived environment attributes, residential location, and walking for particular purposes. Am. J. Prev. Med. 26, 119–125 (2004)

Kamruzzaman, M., Baker, D., Washington, S., Turrell, G.: Residential dissonance and mode choice. J. Transp. Geogr. 33, 12–28 (2013a)

Kamruzzaman, M., Baker, D., Washington, S., Turrell, G.: Advance transit oriented development typology: case study in Brisbane, Australia. J. Transp. Geogr. 34, 54–70 (2014)

Kamruzzaman, M., Hine, J.: Participation index: a measure to identify rural transport disadvantage? J. Transp. Geogr. 19, 882–899 (2011)

Kamruzzaman, M., Washington, S., Baker, D., Turrell, G.: Does residential dissonance affect residential mobility? Transp. Res. Rec. 2344, 59–67 (2013b)

Khattak, A.J., Rodriguez, D.: Travel behavior in neo-traditional neighborhood developments: a case study in USA. Transp. Res. Part A 39, 481–500 (2005)

Krizek, K.J.: Residential relocation and changes in urban travel: does neighborhood-scale urban form matter? J. Am. Plan. Assoc. 69, 265–281 (2003)

Krizek, K.J., Handy, S.L., Forsyth, A.: Explaining changes in walking and bicycling behavior: challenges for transportation research. Environ. Plan. 36, 725–740 (2009)

Lee, C., Moudon, A.V.: The 3Ds+R: quantifying land use and urban form correlates of walking. Transp. Res. Part D 11, 204–215 (2006)

Lee, I.M., Ewing, R., Sesso, H.D.: The built environment and physical activity levels: the harvard alumni health study. Am. J. Prev. Med. 37, 293–298 (2009)

Leslie, E., Coffee, N., Frank, L., Owen, N., Bauman, A., Hugo, G.: Walkability of local communities: using geographical information systems to objectively assess relevant environmental attributes. Health Place 13, 111–122 (2007a)

Leslie, E., McCrea, R., Cerin, E., Stimson, R.: Regional variations in walking for different purposes: the South East Queensland quality of life study. Environ. Behav. 39, 557–577 (2007b)

Leslie, E., Saelens, B., Frank, L., Owen, N., Bauman, A., Coffee, N., Hugo, G.: Residents' perceptions of walkability attributes in objectively different neighbourhoods: a pilot study. Health Place 11, 227–236 (2005)

Manaugh, K., El-Geneidy, A.M.: Does distance matter? Exploring the links among values, motivations, home location, and satisfaction in walking trips. Transp. Res. Part A 50, 198–208 (2013)

Matthies, E., Kuhn, S., Klöckner, C.A.: Travel mode choice of women: the result of limitation, ecological norm, or weak habit? Environ. Behav. 34, 163–177 (2002)

Meurs, H., Haaijer, R.: Spatial structure and mobility. Transp. Res. Part D 6, 429–446 (2001)

Mokhtarian, P.L., Cao, X.: Examining the impacts of residential self-selection on travel behavior: a focus on methodologies. Transp. Res. Part B 42, 204–228 (2008)

Nkurunziza, A., Zuidgeest, M., MarkBrussel, Maarseveen, M.V.: Examining the potential for modal change: motivators and barriers for bicycle commuting in Dar-es-Salaam. Transp. Policy 24, 249–259 (2012)

Oakes, J.M., Forsyth, A., Schmitz, K.H.: The effects of neighborhood density and street connectivity on walking behavior: the Twin Cities walking study. Epidemiol. Perspect. Innov. 4 (2007)

OECD: compact city policies: a comparative assessment. OECD publishing (2012)

Pinjari, A., Pendyala, R., Bhat, C., Waddell, P.: Modeling residential sorting effects to understand the impact of the built environment on commute mode choice. Transportation 34, 557–573 (2007)

Queensland Government toward Q2: Tomorrow's Queensland, Brisbane (2008)

Queensland Government Action Plan for Walking 2008–2010, Brisbane (2009a)

Queensland Government: South East Queensland Regional Plan 2009–2031. Queensland Department of Infrastructure and Planning, Brisbane (2009)

Ramon, M.-R.: Walking accessibility to bus rapid transit: does it affect property values? The case of Bogotá, Colombia. Transp. Policy 17, 72–84 (2010)

Saelens, B., Sallis, J., Frank, L.: Environmental correlates of walking and cycling: findings from the transportation, urban design, and planning literatures. Ann. Behav. Med. 25, 80–91 (2003)

Salon, D.: Neighbourhoods, cars, and commuting in New York City: a discrete choice approach. Transp. Res. Part A 43, 180–196 (2009)

Schwanen, T., Mokhtarian, P.: What affects commute mode choice: neighbourhood physical structure or preferences toward neighbourhoods? J. Transp. Geogr. 13, 83–99 (2005a)

Schwanen, T., Mokhtarian, P.: What if you live in the wrong neighborhood? The impact of residential neighborhood type dissonance on distance traveled. Transp. Res. Part D 10, 127–151 (2005b)

Shimura, H., Sugiyama, T., Winkler, E., Owen, N.: High neighborhood walkability mitigates declines in middle-to-older aged adults' walking for transport. J. Phys. Act. Health 9, 1004–1008 (2012)

Singleton, R.A., Straits, B.C.: Approaches to Social Research. Oxford University Press, New York and Oxford (1999)

Smith, P.N., Taylor, C.J.: A method for the rationalisation of a suburban railway network. Transp. Res. Part A 28, 93–107 (1994)

Stangl, P., Guinn, J.M.: Neighbourhood design, connectivity assessment and obstruction. Urban Des. Int. 16, 285–296 (2011)

Thøgersen, J.: Understanding repetitive travel mode choices in a stable context: a panel study approach. Transp. Res. Part A 40, 621–638 (2006)

Transportation Research Board.: Does the built environment influence physical activity? Examining the evidence. TRB Special Report 282, Washington, DC (2005)

Turrell, G., Haynes, M., Burton, N., Giles-Corti, B., Oldenburg, B., Wilson, L.-A.M., Giskes, K.M., Brown, W.J.: Neighborhood disadvantage and physical activity: baseline results from the HABITAT multilevel longitudinal study. Ann. Epidemiol. 20, 171–181 (2010)

UCLA: Academic Technology Services (2012) Stata FAQ: How can I use countfit in choosing a count model? Statistical Consulting Group. http://www.ats.ucla.edu/stat/stata/faq/countfit.htm. 11.06.2012

Van Cauwenberg, J., De Bourdeaudhuij, I., De Meester, F., Van Dyck, D., Salmon, J., Clarys, P., Deforche, B.: Relationship between the physical environment and physical activity in older adults: a systematic review. Health Place 17, 458–469 (2011)

Vance, C., Hedel, R.: The impact of urban form on automobile travel: disentangling causation from correlation. Transportation 34, 575–588 (2007)

Washington, S., Matthew, K., Mannering, F.: Statistical and Econometric Methods for Transportation Data Analysis. Chapman & Hall/CRC, Boca Raton (2010)
About this article
Cite this article
Kamruzzaman, M., Washington, S., Baker, D. et al. Built environment impacts on walking for transport in Brisbane, Australia. Transportation 43, 53–77 (2016). https://doi.org/10.1007/s11116-014-9563-0
Keywords
Urban form

Residential self-selection

Walking for transport

Travel attitudes