Abstract
Immigrants to the United States walk, bicycle, and use transit and carpools more than U.S.-born residents do. These differences persist over time and across income groups. The differences appear strongest when immigrants reside in immigrant neighborhoods with high concentrations of other immigrants. This analysis uses a large, geocoded national dataset to analyze these differences and finds that living in an immigrant neighborhood has a strong influence on mode choice for immigrant residents and a much weaker effect on non-immigrant residents of immigrant neighborhoods. These effects are strongest for walking and bicycling, and particularly for shopping-related travel, and they persist after controlling for a number of variables. That these effects are considerably stronger for immigrants than for their U.S.-born neighbors suggests that social factors of the neighborhoods may play a role in structuring travel decisions.
Access options
Buy single article
Instant access to the full article PDF.
US$ 39.95
Tax calculation will be finalised during checkout.
Subscribe to journal
Immediate online access to all issues from 2019. Subscription will auto renew annually.
US$ 79
Tax calculation will be finalised during checkout.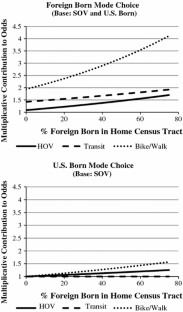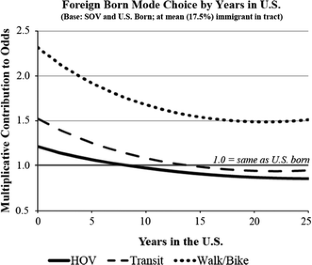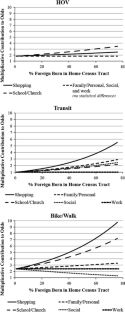 Notes
1.

Income and several other right-skewed continuous variables are log-transformed in the model. To prevent log-zero errors, a trivial amount has been added to each of the log-transformed variables prior to taking the natural logarithm.
References
Akresh, I.R.: U.S. immigrants' labor market adjustment: additional human capital investment and earnings growth. Demography 44, 865–881 (2007)

Alba, R.D., Logan, J.R., Stults, B.J., Marzan, G., Zhang, W.Q.: Immigrant groups in the suburbs: a reexamination of suburbanization and spatial assimilation. Am. Sociol. Rev. 64, 446–460 (1999)

Allen, J., Turner, E.: Ethnic residential concentrations in United States metropolitan areas. The Geogr. Review 95, 267–285 (2005)

Allen, J.P., Turner, E.: Spatial patterns of immigrant assimilation. Prof. Geogr. 48, 140 (1996)

American Community Survey. 2012 American Commuunity Survey [Online]. Washington, DC.: U.S. Bureau of the Census. Available: http://www.census.gov/acs/www/ (2012). Accessed September 15 2010

Axhausen, K.: Social networks and travel: some hypotheses. In: Social Dimensions of Sustainable Transport: Transatlantic Perspectives, pp. 90–108 (2005)

Badoe, D.A., Miller, E.J.: Transportation-land-use interaction: empirical findings in North America, and their implications for modeling. Transp. Res. Part D. Transp. Environ. 5, 235–263 (2000)

Blumenberg, E.: Moving in and moving around: immigrants, travel behavior, and implications for transport policy. Transp. Letters. Int. J. Transp. Res. 1, 169–180 (2009)

Blumenberg, E., Evans, A.E.: Growing the Immigrant Transit Market: Public Transit Use and California Immigrants (Paper #07-1678). Transportation Research Board Annual Meeting, Washington, DC (2007)

Blumenberg, E., Shiki, K.: Transportation Assimilation: Immigrants, Race and Ethnicity, and Mode Choice (Paper #07-2475). Transportation Research Board Annual Meeting, Washington, DC (2007)

Blumenberg, E., Smart, M.: Measuring the Effects of Ethnic Neighborhoods on Commute Mode: Implications for Immigrants and Mode Choice Modeling. 55th Annual North American Meetings of the Regional Science Association International, Brooklyn, NY (2008a)

Blumenberg, E., Smart, M., Smart, M.: Travel in the 'Hood: Ethnic Neighborhoods and Mode Choice (Paper #09-2179). Transportation Research Board Annual Meeting, Washington, DC (2008b)

Blumenberg, E., Smart, M.: Getting by with a little help from my friends and family: immigrants and carpooling. Transportation 37, 429–446 (2010)

Blumenberg, E., Smart, M.: Migrating to driving: exploring the multiple dimensions of immigrants' automobile use. In: Lucas, K., Weinberger, R., Blumenberg, E. (eds.) Auto Motives: Understanding Car Use Behaviours. Emerald, Bingley (2011)

Blumenberg, E., Smart, M.: Brother can you Spare a Ride? Carpooling in Immigrant Neighbourhoods. Urban Studies. (2013)

Blumenberg, E., Smart, M., Lee, A.: Commute Distance and Ethnic Neighborhoods in Southern California (Paper #10-3814). Transportation Research Board Annual Meeting, Washington, DC (2010)

Bohon, S., Stamps, K., Atiles, J.: Transportation and migrant adjustment in georgia. Popul. Res. Policy Rev. 27, 273–291 (2008)

Borjas, G.J.: To ghetto or not to ghetto: ethnicity and residential segregation. J. Urb. Econ. 44, 228–253 (1998)

Casas, J., Arce, C., Frye, C.: Latino Immigration and Its Impact on Future Travel Behavior, Washington. Transportation Research Board, DC (2004)

Catanzarite, L., Aguilera, M.: Working with co-ethnics: earnings penalties for latino immigrants at latino jobsites. Soc. Probl. 49, 101–127 (2002)

Cervero, R., Kockelman, K.: Travel demand and the 3Ds: density, diversity, and design. Transp. Res. Part D 2, 199–219 (1997)

Charles, K.K., Kline, P.: Relational costs and the production of social capital: evidence from carpooling. Econ. J. 116, 581–604 (2006)

Chatman, D.G.: Residential choice, the built environment, and nonwork travel: evidence using new data and methods. Environ. Plan. A 41, 1072–1089 (2009)

Chatman, D.G.: Explaining the "immigrant effect" on auto use: the influences of neighborhoods and preferences. Transportation 41, 441–461 (2014)

Chatman, D.G., Klein, N.J.: Why do immigrants drive less? Confirmations, complications, and new hypotheses from a qualitative study in New Jersey, USA. Transp. Policy 30, 336–344 (2013)

Chen, C., Gong, H., Paaswell, R.: Role of the built environment on mode choice decisions: additional evidence on the impact of density. Transportation 35, 285–299 (2008)

Chiang, L.-H., Hsu, J.-C.: Locational decisions and residential preferences of taiwanese immigrants in australia. GeoJournal 64, 75–89 (2005)

Clark, W.: Ethnic preferences and ethnic perceptions in multi-ethnic settings. Urb. Geogr. 23, 237–256 (2002)

Clark, W., Patel, S.: Residential choices of the newly arrived foreign born: Spatial patterns and the implications for assimilation. California Center for Population Research On-Line Working Paper Series. Los Angeles. (2004)

Clark, W.A.V., Blue, S.A.: Race, class and segregation patterns in U.S. immigrant gateway cities. Urb. Aff. Rev. 39, 667–688 (2004)

Cline, M., Sparks, C., Eschbach, K.: Understanding Carpool Use by Hispanics in Texas. Transp. Res. Rec. J. Transp. Res. Board 2118, 39–46 (2009)

Crane, R.: The influence of urban form on travel: an interpretive review. J. Plan. Lit. 15, 3–23 (2000)

Crane, R., Crepeau, R.: Does neighborhood design influence travel?: a behavioral analysis of travel diary and GIS data. Transp. Res. Part D Transp. Environ. 3, 225–238 (1998)

Dargay, J.M.: The effect of income on car ownership: evidence of asymmetry. Transp. Res. Part A Policy Pract. 35, 807–821 (2001)

Edin, P.A., Fredriksson, P., Aslund, O.: Ethnic enclaves and the economic success of immigrants-evidence from a natural experiment. Quart. J. Econ. 118, 329–357 (2003)

Ellis, M., Wright, R., Parks, V.: Work together, live apart? geographies of racial and ethnic segregation at home and at work. Ann. Assoc. Am. Geogr. 94, 620–637 (2004)

Ellis, M., Wright, R., Parks, V.: Geography and the immigrant division of labor. Econ. Geogr. 83, 255–281 (2007)

Esser, H.: Does the "new" immigration require a "new" theory of intergenerational integration? Int. Migrat. Rev. 38, 1126–1159 (2004)

Gärling, T., Axhausen, K.: Introduction: habitual travel choice. Transportation 30, 1–11 (2003)

Handy, S.L.: Understanding the link between urban form and nonwork travel behavior. J. Plan. Educ. Res. 15, 183–198 (1996)

Hanson, S., Pratt, G.: Job search and the occupational segregation of women. Ann. Assoc. Am. Geogr. 81, 229–253 (1991)

Hanson, S., Pratt, G.: Gender, Work, and Space. Routledge, New York (1995)

Heisz, A., Schellenberg, G.: Public transit use among immigrants. Can. J. Urb. Res. 13, 170–192 (2004)

Kaplan, D.: The spatial structure of urban ethnic economies. Urb. Geogr. 19, 489–501 (1998)

Levine, J., Inam, A., Torng, G.-W.: A choice-based rationale for land use and transportation alternatives: evidence from boston and atlanta. J. Plan. Educ. Res. 24, 317–330 (2005)

Liu, C.Y., Painter, G.: Travel behavior among latino immigrants: the role of ethnic concentration and ethnic employment. J. Plan. Educ. Res. 32, 62–80 (2012)

Logan, J.R., Alba, R.D., Zhang, W.Q.: Immigrant enclaves and ethnic communities in New York and Los Angeles. Am. Sociol. Rev. 67, 299–322 (2002)

Lu, X., Pas, E.I.: Socio-demographics, activity participation and travel behavior. Transp. Res. Part A Policy Prac. 33, 1–18 (1999)

Massey, D.: New faces in New Places: The Changing Geography of American Immigration. Russell Sage Foundation Publications, New York (2008)

Mcfadden, D.: The measurement of urban travel demand. J. Pub. Econ. 3, 303–328 (1974)

Mcguckin, N., Murakami, E.: Examining trip-chaining behavior: comparison of travel by men and women. Transp. Res. Rec. J. Transp. Res. Board 1693, 79–85 (1999)

Mcguckin, N., Srinivasan, N.: Journey to Work Trends in the United States and its Major Metropolitan Areas 1960–2000, Publication F.H.W.A.-E.P.-03-058. U.S. Department of Transportation, Washington, DC (2003)

Myers, D.: Changes over time in transportation mode for journey to work: effects of aging and immigration". In: Decennial Census Data for Transportation Planning: Case Studies and Strategies for 2000. Transportation Research Board, Washington, DC (1997)

Pamuk, A.: Geography of immigrant clusters in global cities: a case study of San Francisco. Int. J. Urb. Reg. Res. 28, 287–307 (2004)

Park, R. E., Burgess, E. W. Introduction to the science of sociology, Chicago, Ill.,, The University of Chicago Press (1924)

Parks, V.: The gendered connection between ethnic residential and labor-market segregation in los angeles. Urb. Geogr. 25, 589–630 (2004)

Pas, E.I.: The effect of selected sociodemographic characteristics on daily travel-activity behavior. Environ. Plan. A 16, 571–581 (1984)

Passel, J., Cohn, D.V.: U.S. Unauthorized Immigration Flows are Down Sharply Since Mid-Decade. Pew Hispanic Center, Washington, DC (2010)

Pisarski, A.: Commuting in America 2: The Second National Report on Commuting Patterns and Trends. Eno Transportation Foundation (1996)

Purvis, C.: Commuting Patterns of Immigrants. CTPP 2000 Status Report. U.S. Department of Transportation Bureau of Transportation Statistics, Washington, DC (2003)

Rosenbloom, S.: T.C.R.P. Report 28: Transit Markets of the Future: The Challenge of Change. Transit Cooperative Research Program. National Research Council, Washington, DC (1998)

Salon, D.: Neighborhoods, cars, and commuting in New York City: a discrete choice approach. Transp. Res. Part A Policy Prac. 43, 180–196 (2009)

Singer, A., Hardwick, S., Brettell, C.: Twenty-first Century Gateways: Immigrant Incorporation in Suburban America. Brookings Institution Press, Washington, DC (2008)

Smart, M.: U.S. immigrants and bicycling: two-wheeled in Autopia. Transp. Policy 17, 153–159 (2010)

Smart, M., Blumenberg, E.: Ethnic Enclaves and Commute Behavior in Los Angeles and New York City. 88th Annual Meeting of the Transportation Research Board. Washington, DC (2009)

Smart, M.J., Klein, N.J.: Neighborhoods of affinity: social forces and travel in gay and lesbian neighborhoods. J. Am. Plan. Assoc. 79, 110–124 (2013)

Tal, G., Handy, S.: Travel behavior of immigrants: an analysis of the 2001 national household transportation survey. Transp. Policy 17, 85–93 (2010)

Tilahun, N., Levinson, D.: Work and home location: possible role of social networks. Transp. Res. Part A Policy Prac. 45, 323–331 (2011)

U.S. Department of Homeland Security. Yearbook of Immigration Statistics. Washington, DC (2009)

U.S. Department of Homeland Security. Estimates of the Unauthorized Immigrant Population Residing in the United States: January 2009. Washington, DC (2010)

Valenzuela, A., Schweitzer, L., Robles, A.: Camionetas: informal travel among immigrants. Transp. Res. Part A Policy Prac. 39, 895–911 (2005)

Waters, M.C., Jiménez, T.R.: Assessing immigrant assimilation: new empirical and theoretical challenges. Annu. Rev. Sociol. 31, 105–125 (2005)

Wilson, F.D.: Ethnic niching and metropolitan labor markets. Soc. Sci. Res. 32, 429–466 (2003)

Wilson, K.L., Portes, A.: Immigrant enclaves: an analysis of the labor market experiences of cubans in miami. Am. J. Sociol. 86, 295–319 (1980)
About this article
Cite this article
Smart, M.J. A nationwide look at the immigrant neighborhood effect on travel mode choice. Transportation 42, 189–209 (2015). https://doi.org/10.1007/s11116-014-9543-4
Keywords
Immigration

Mode choice

Neighborhood effects

Built environment