Abstract
Cities promote strong bicycle networks to support and encourage bicycle commuting. However, the application of network science to bicycle facilities is not very well studied. Previous work has found relationships between the amount of bicycle infrastructure in a city and aggregate bicycle ridership, and between microscopic network structure and individual tripmaking patterns. This study fills the missing link between these two bodies of literature by developing a standard methodology for measuring bicycle facility network quality at the macroscopic level and testing its association with bicycle commuting. Bicycle infrastructure maps were collected for 74 Unites States cities and systematically analyzed to evaluate their network structure. Linear regression models revealed that connectivity and directness are important factors in predicting bicycle commuting after controlling for demographic variables and the size of the city. These findings provide a framework for transportation planners and policymakers to evaluate their local bicycle facility networks and set regional priorities that support nonmotorized travel behavior, and for continued research on the structure and quality of bicycle infrastructure and behavior.
This is a preview of subscription content, log in to check access.
Access options
Buy single article
Instant access to the full article PDF.
US$ 39.95
Price includes VAT for USA
Subscribe to journal
Immediate online access to all issues from 2019. Subscription will auto renew annually.
US$ 99
This is the net price. Taxes to be calculated in checkout.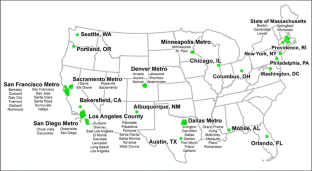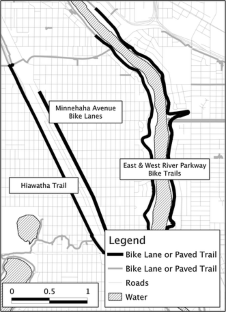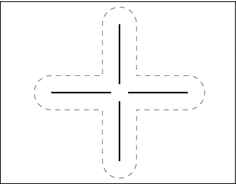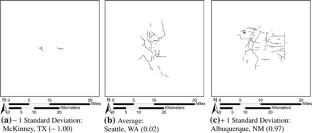 References
American Association of State Highway and Transportatsion Officials: Guide for the Development of Bicycle Facilities, 4th edn. American Association of State Highway and Transportation Officials, Washington, DC. https://bookstore.transportation.org/collection_detail.aspx?ID=116 (2012). Accessed 15 Feb 2014

Barnes, G., Krizek, K.: Estimating bicycling demand. Transp. Res. Rec. 1939, 45–51 (2005). doi:10.3141/1939-06

Berrigan, D., Pickle, L.W., Dill, J.: Associations between street connectivity and active transportation. Int. J. Health Geogr. 9(20) (2010). doi:10.1186/1476-072X-9-20

Birk, M., Geller, R.: Bridging the gaps: how quality and quantity of a connected bikeway network correlates with increasing bicycle use. In: TRB 85th Annual Meeting Compendium of Papers number 06-0667. http://trid.trb.org/view.aspx?id=776458 (2006). Accessed 14 Aug 2013

Buehler, R., Pucher, J.: Cycling to work in 90 large American cities: new evidence on the role of bike paths and lanes. Transportation 39(2), 409–432 (2011). doi:10.1007/s11116-011-9355-8

Buehler, R., Pucher, J.: Walking and cycling in Western Europe and the United States: trends, policies, and lessons. TR News 280, 34–42. http://trid.trb.org/view.aspx?id=1143635 (2012). Accessed 12 Nov 2013

Byers, R.H.: Hennepin County bicycle system gap study. Technical Report, Hennepin County. http://www.hennepin.us/files/HennepinUS/Transportation/BikewaysandTrails/BicyclePlanning/BikeGapStudyFull.pdf (March 2002). Accessed 7 Aug 2013

Caulfield, B., Brick, E., McCarthy, O.T.: Determining bicycle infrastructure preferences: a case study of Dublin. Transp. Res. D 17(5), 413–417 (2012). doi:10.1016/j.trd.2012.04.001

Derrible, S., Kennedy, C.: Network analysis of world subway systems using updated graph theory. Transp. Res. Rec. 2112, 17–25 (2009). doi:10.3141/2112-03

Dill, J.: Bicycling for transportation and health: the role of infrastructure. J. Public Health Policy 30(Suppl 1), S95–S110 (2009). doi:10.1057/jphp.2008.56

Dill, J., Carr, T.: Bicycle commuting and facilities in major US cities: if you build them, commuters will use them. Transp. Res. Rec. 1828, 116–123. doi:10.3141/1828-14 (2003)

Dill, J., Voros, K.: Factors affecting bicycling demand: initial survey findings from the Portland, Oregon Region. Transp. Res. Rec. 2031, 9–17 (2007). doi:10.3141/2031-02

Federal Highway Administration: Report to the U.S. Congress on the Outcomes of the Nonmotorized Transportation Pilot Program SAFETEA-LU Section 1807. Technical Report, April. Submitted by the Federal Highway Administration With the Assistance of the U.S. Department of Transportation's Volpe National Transportation Systems Center, Washington, DC (2012)

Garrison, W.L., Marble, D.F.: The Structure of Transportation Networks. Technical Report. Northwestern University, Evanston (1962)

Handy, S.L., Xing, Y.: Factors correlated with bicycle commuting: a study in six small US cities. Int. J. Sustain. Transp. 5(2), 91–110 (2011). doi:10.1080/15568310903514789

Heinen, E., van Wee, B., Maat, K.: Commuting by bicycle: an overview of the literature. Transp. Rev. 30(1), 59–96 (2010). doi:10.1080/01441640903187001

Kansky, K.J.: Structure of transportation networks. Doctoral Dissertation, University of Chicago (1963)

Klobucar, M.S., Fricker, J.D.: Network evaluation tool to improve real and perceived bicycle safety. Transp. Res. Rec. 2031, 25–33 (2007). doi:10.3141/2031-04

Krizek, K.J., Roland, R.W.: What is at the end of the road? Understanding discontinuities of on-street bicycle lanes in urban settings. Transp. Res. D 10(1), 55–68 (2005). doi:10.1016/j.trd.2004.09.005

Krizek, K., Barnes, G., Thompson, K.: Analyzing the effect of bicycle facilities on commute mode share over time. J. Urban Plan. Dev. 135(2), 66–73 (2009). doi:10.1061/(ASCE)0733-9488(2009)135:2(66)

Mekuria, M.C., Furth, P.G., Nixon, H.: Low-Stress Bicycling and Network Connectivity. Technical Report. Mineta Transportation Institute, San Jose (2012)

Nelson, A., Allen, D.: If you build them, commuters will use them: association between bicycle facilities and bicycle commuting. Transp. Res. Rec. 1528, 79–83 (1997). doi:10.3141/1578-10

Parkin, J., Wardman, M., Page, M.: Estimation of the determinants of bicycle mode share for the journey to work using census data. Transportation 35(1), 93–109 (2007). doi:10.1007/s11116-007-9137-5

Parthasarathi, P., Levinson, D., Hochmair, H.: Network structure and travel time perception. PloS One 8(10), e77718 (2013). doi:10.1371/journal.pone.0077718

Pratt, R.H., Levinson, H.S., Turner, S.M., Jeng, C.Y., Nabors, D.: Chap 16: pedestrian and bicycle facilities. In: TCRP Report 95: Traveler Response to Transportation System Changes. Transportation Research Board, Washington, DC. http://trid.trb.org/view.aspx?id=171542 (2012). Accessed 12 Nov 2013

Pucher, J., Komanoff, C., Schimek, P.: Bicycling renaissance in North America? Recent trends and alternative policies to promote bicycling. Transp. Res. A 33(7/8), 625–654 (1999).  doi:10.1016/S0965-8564(99)00010-5

Rietveld, P., Daniel, V.: Determinants of bicycle use: do municipal policies matter? Transp. Res. A 38(7), 531–550 (2004). doi:10.1016/j.tra.2004.05.003

Rodrigue, J.P., Comtois, C., Slack, B.: The Geography of Transport Systems, 2nd edn. Routledge, New York (2009)

Sanders, R.L.: Roadway design preferences among drivers and bicyclists in the bay area. In: TRB 93rd Annual Meeting Compendium of Papers number 14-5454, 2014

Stinson, M.A., Bhat, C.R.: A comparison of the route preferences of experienced and inexperienced bicycle commuters. In: TRB 84th Annual Meeting Compendium of Papers number 05-1434, 2005

Tilahun, N.Y., Levinson, D.M., Krizek, K.J.: Trails, lanes, or traffic: valuing bicycle facilities with an adaptive stated preference survey. Transp. Res. A 41(4), 287–301 (2007). doi:10.1016/j.tra.2006.09.007

Wilkinson, W., Clarke, A., Epperson, B., Knoblauch, R.: Selecting Roadway Design Treatments to Accommodate Bicycles. Technical Report, January. USDOT Federal Highway Administration, Great Falls (1994)

Xie, F., Levinson, D.: Measuring the structure of road networks. Geogr. Anal. 39(3), 336–356 (2007). doi:10.1111/j.1538-4632.2007.00707.x

Zhao, P.: The impact of the built environment on bicycle commuting: evidence from Beijing. Urban Stud. (2013). doi:10.1177/0042098013494423
Acknowledgments
The authors are grateful for the feedback from three anonymous reviewers whose feedback greatly improved the quality of the paper.
About this article
Cite this article
Schoner, J.E., Levinson, D.M. The missing link: bicycle infrastructure networks and ridership in 74 US cities. Transportation 41, 1187–1204 (2014). https://doi.org/10.1007/s11116-014-9538-1
Keywords
Bicycling

Travel behavior

Networks