Abstract
Since immigrants will account for most urban growth in the United States for the foreseeable future, better understanding their travel patterns is a critical task for transportation and land use planners. Immigrants initially travel in personal vehicles far less than the US-born, even when controlling for demographics, but their reliance on autos increases the longer they live in the US. Cultural or habitual differences, followed by assimilation to auto use, could partly explain this pattern; and it may also be partly due to changes in locations and characteristics of home and work neighborhoods. Previous studies have rarely investigated non-work travel, and have not tested workplace land use measures, compared the relative influences of enclave and home neighborhood measures, or looked at the role of culturally-bound residential preferences or motivations for migration. This study relies on a unique and rich dataset consisting of a survey of US residents born in South Asia, Latin America, and the US, joined to spatial information in a GIS. I find that the home built environment is the most consistently influential factor in explaining the lower auto use of both recent and settled Latin American immigrants. Indian immigrants use autos less than would be expected given their home and work neighborhoods. There is little evidence that either ethnic enclaves, or cultural differences, play a role in lower auto use by immigrants. These results suggest there may be a role for neighborhood built environment policies in delaying immigrant assimilation to auto use in the US.
Access options
Buy single article
Instant access to the full article PDF.
US$ 39.95
Tax calculation will be finalised during checkout.
Subscribe to journal
Immediate online access to all issues from 2019. Subscription will auto renew annually.
US$ 79
Tax calculation will be finalised during checkout.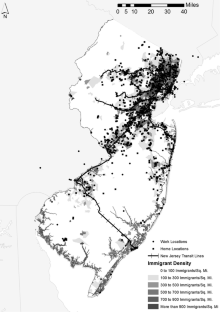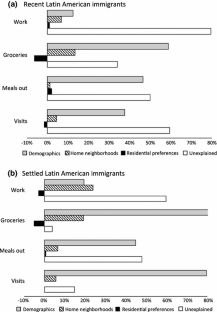 Notes
1.

The LEHD is known to have rare issues with reporting locations that may be administrative rather than establishment, or at central locations for firms with multiple work sites (Spear 2011). Other known issues with the LEHD accuracy have to do with correct reporting of school, state government, and postal employment in some states. This could increase random error and therefore reduce the statistical significance of the retail and total employment density measures.

2.

I also tested 5-, 10-, and 20-year indicator variables to define "recent" and "settled" and found the most statistically significant differences in initial regressions to come with the 15-year versions. This was in part because the before-and-after division yields a roughly equivalent number, maximizing the statistical power of the test. I also tested a number of other time-in-US variables, including linear and spline forms. These variables were insignificant when the 15-year indicator variables were included.

3.

Tobit is a maximum likelihood method that accounts for the fact that a significant share of respondents did not make any auto trips for groceries, meals out, or visits. To remove these households from analysis would truncate the sample and bias the results. The Tobit model estimates coefficients that treat zeroes as part of an unobserved distribution that includes negative numbers, and so negative coefficients can be interpreted as reductions from the mean, subject to the constraint that net negative trip predictions are interpreted as zeroes.

4.

I discuss statistically insignificant results when large in magnitude because the data set is relatively small.

5.

The negative and positive percentages in this table are derived by subtracting one from the logit odds ratios.

6.

One would expect that same-country immigrant concentration would have the strongest negative correlation with auto use, consistent with Smart (2012). Due to collinearity, it was not possible to estimate well-functioning models using a variable interacting Latin American immigrant density with Latin American immigrant status and using the full sample. However, as noted below, estimating models on just the subset of immigrants revealed that population density was significant and immigrant density was not.

7.

8.

Variance inflation factors for this model peaked at 7.2 for logged Latin American population density; but effects on the remaining variables were roughly the same in magnitude and the same in significance when it and other collinear variables were removed so that the largest variance inflation factor was 4.
References
Abrahamse, W., Steg, L., Gifford, R., Vlek, C.: Factors influencing car use for commuting and the intention to reduce it: a question of self-interest or morality? Transp. Res. Part F Traffic Psychol. Behav. 12(4), 317–324 (2009)

Abrahamson, M.: Urban enclaves: identity and place in America. St. Martin's Press, New York (1996)

Alba, R.D., Logan, J.R., Stults, B.J., Marzan, G., Zhang, W.: Immigrant groups in the suburbs: a reexamination of suburbanization and spatial assimilation. Am. Sociol. Rev. 64(3), 446–460 (1999)

Allen, J.P., Turner, E.: Spatial patterns of immigrant assimilation. Prof. Geogr. 48(2), 140–156 (1996)

Beckman, J.D., Goulias, K.G.: Immigration, residential location, car ownership, and commuting behavior: a multivariate latent class analysis from California. Transportation 35(5), 655–671 (2008). doi:10.1007/s11116-008-9172-x

Blázquez, M., Llano, C., Moral, J.: Commuting times: is there any penalty for immigrants? Urban Stud. 47(8), 1663–1686 (2010). doi:10.1177/0042098009356127

Blumenberg, E., Smart, M.: Getting by with a little help from my friends…and family: immigrants and carpooling. Transportation 37(3), 429–446 (2010)

Blumenberg, E., Smart, M.: Migrating to driving: Exploring the multiple dimensions of immigrants' automobile use. In: Lucas, K., Blumenberg, E., Weinberger, R. (eds.) Auto motives: understanding car use behaviours. Emerald Publishing Group Ltd., Bingley (2011)

Blumenberg, E., Song, L.: "Travel behavior of immigrants in California: trends and policy implications." In: Transportation Research Board 87th Annual Meeting. Transportation Research Board, Washington (2008)

Brownstein, A.L.: Biased predecision processing. Psychol. Bull. 129(4), 545–568 (2003)

Casas, J., Arce, C., Frye, C.: Latino immigration and its impact on future travel behavior, in National Household Travel Survey Conference. Understanding Our Nation's Travel, Washington (2004)

Chatman, D.G.: Deconstructing development density: quality, quantity and price effects on household non-work travel. Transp. Res. Part A Policy Pract. 42(7), 1008–1030 (2008)

Chatman, D.G.: Residential choice, the built environment, and non-work travel: evidence using new data and methods. Environ. Plan. A 41(5), 1072–1089 (2009)

Chatman, D.G., Klein, N.: Immigrants and travel demand in the United States: implications for transportation policy and future research. Public Works Manag. Policy 13(4), 312–327 (2009)

Chatman, D.G., Klein, N.: Immigrants and automobility in New Jersey: The role of spatial and occupational factors in commuting to work. In: Lucas, K., Blumenberg, E., Weinberger, R. (eds.) Auto motives: understanding car use behaviours, pp. 253–276. Emerald Group Publishing Ltd., Bingley (2011)

Chatman, D.G., Klein, N., DiPetrillo, S.: The impact of demographic changes on transit patterns in New Jersey. New Jersey Department of Transportation, Trenton (2010)

Cline, M.E., Sparks, C., Eschbach, K.: Understanding carpool use among Hispanics in Texas. Transp. Res. Rec. J. Transp. Res. Board 2118, 39–46 (2009)

Ellis, M., Wright, R., Parks, V.: Geography and the immigrant division of labor. Econ. Geogr. 83(3), 255–281 (2007)

Festinger, L.: A theory of cognitive dissonance. Stanford University Press, Stanford (1957)

Glaeser, E.L., Kahn, M.E., Rappaport, J.: Why do the poor live in cities? The role of public transportation. J. Urban Econ. 63(1), 1–24 (2008)

Heisz, A., Schellenberg, G.: Public transit use among immigrants. Can. J. Urban Res. 13, 170–191 (2004)

Jaeger, D.A.: Green cards and the location choices of immigrants in the United States, 1971–2000. Res. Labor Econ. 27, 131–183 (2008)

Li, W.: Anatomy of a new ethnic settlement: the Chinese ethnoburb in Los Angeles. Urban Stud. 35(3), 479–501 (1998)

Liu, C.Y.: Ethnic enclave residence, employment, and commuting of Latino workers. J. Policy Anal. Manag. 28(4), 600–625 (2009)

Liu, C.Y., Painter, G.: Travel behavior among Latino immigrants: the role of ethnic concentration and ethnic employment. J. Plan. Educ. Res. 32(1), 62–80 (2012)

Myers, D.: Changes over time in transportation mode for the journey to work: Aging and immigration effects. In: Conference on Decennial Census Data for Transportation Planning: Case studies and Strategies for 2000, Irvine, CA, April 28–May 1, 1996, pp. 84–99. Transportation Research Board, Washington (1996)

Parks, V.: The geography of immigrant labor markets: space, networks and gender. The new Americans: recent immigration and American society. LFB Scholarly, New York (2005)

Passel, J.S., Cohn, D.V.: U.S. population projections: 2005–2050. Pew Research Center, Washington (2008)

Pew Research Center: The rise of Asian-Americans Pew Social & Demographic Trends. Pew Research Center, Washington (2012)

Santos, A., McGuckin, N., Nakamoto, H., Gray, D., Liss, S.: Summary of travel trends: 2009 National Household Travel Survey. Federal Highway Administration, Washington (2011)

Singer, A.: The rise of new immigrant gateways. The Living Cities Census SeriesBrookings Institution Center on Urban and Metropolitan Policy, Washington (2004)

Singer, A.: Immigrant workers in the US labor force. Brookings Institution, Washington (2012)

Smart, M.: US immigrants and bicycling: Two-wheeled in autopia. Transp. Policy 17, 153–159 (2010)

Smart, M.: "A nationwide look at immigrant neighborhoods and mode choice", In: Annual Meeting of the Transportation Research Board. Transportation Research Board, Washington (2012)

Spear, B.D.: Improving employment data for transportation planning: National Cooperative Highway Research Program Project 08-36, Task 098. American Association of State Highway and Transportation Officials. http://onlinepubs.trb.org/onlinepubs/nchrp/docs/NCHRP08-36(98)_FR.pdf (2011)

Steg, L.: Car use: lust and must. Instrumental, symbolic and affective motives for car use. Transp. Res. Part A Policy Pract. 39(2–3), 147–162 (2005)

Tal, G., Handy, S.L.: Travel behavior of immigrants: an analysis of the 2001 National Household Travel Survey. Transp. Policy 17, 85–93 (2010)

Train, K.: Qualitative choice analysis: theory, econometrics, and an application to travel demand. MIT Press, Cambridge (1986)

VanVugt, M., VanLange, P.A.M., Meertens, R.M., Joireman, J.A.: How a structural solution to a real-world social dilemma failed: a field experiment on the first carpool lane in Europe. Soc. Psychol. Q. 59(4), 364–374 (1996)

Wang, L., Lo, L.: Immigrant grocery-shopping behavior: ethnic identity versus accessibility. Environ. Plan. A 39(3), 684–699 (2007)

Wang, Q.: How does geography matter in the ethnic labor market segmentation process? A case study of Chinese immigrants in the San Francisco CMSA. Ann. Assoc. Am. Geogr. 100(1), 182–201 (2010)

Yu, Z., Myers, D.: Convergence or divergence in Los Angeles: three distinctive ethnic patterns of immigrant residential assimilation. Soc. Sci. Res. 36(1), 254–285 (2007). doi:10.1016/j.ssresearch.2006.01.001

Zavodny, M.: Determinants of recent immigrants' locational choices. Int. Migr. Rev. 33(4), 1014–1030 (1999)

Zelinsky, W., Lee, B.A.: Heterolocalism: an alternative model of the sociospatial behaviour of immigrant ethnic communities. Int. J. Popul. Geogr. 4(4), 281–298 (1998)
Acknowledgments
The New Jersey Department of Transportation provided the funding to design and conduct the survey. Marc Weiner of the Bloustein Center for Survey Research and Chintan Turakhia of SRBI (now ABT/SRBI) assisted with survey design and sampling design. Chintan Turakhia, David Ciemnecki, and numerous telephone interviewers in the SRBI call center implemented the survey. Stephanie DiPetrillo was the project manager. Nick Klein created the GIS measures of population and employment density and transit access; Matt Brill and Timmy Bolton did the same for grocery stores and restaurants, as well as enclave measures at the Census tract level using ACS data. Dan Tischler provided research assistance in occupation recoding. Timmy Bolton helped with data cleaning and recoding, and making tables. The article analyzes data that were originally described in a report co-authored with DiPetrillo and Klein. Many thanks for helpful comments from several readers including Nick Klein, Mike Manville, Joan Walker, Randy Crane, Bob Noland, anonymous reviewers from the Transportation Research Board's Travel Behavior and Values Committee (ADB10), and three anonymous reviewers for Transportation.
About this article
Cite this article
Chatman, D.G. Explaining the "immigrant effect" on auto use: the influences of neighborhoods and preferences. Transportation 41, 441–461 (2014). https://doi.org/10.1007/s11116-013-9475-4
Keywords
Immigration

Auto use

Sustainability

Built environment

Location choice