Abstract
In 2000, the city of Bogotá, Colombia embarked on a grand land use and transportation system experiment. The transformation of Bogotá included building the TransMilenio Bus Rapid Transit (BRT) system, a city-wide system that offers speed and convenience similar to that of an underground metro. TransMilenio is widely regarded as a success, and cities around the world are planning or building similar systems. In this paper, we use a repeated cross-section labor market dataset to assess whether access to the new BRT system affects the incomes of those who live in station area neighborhoods. Our results indicate that the opening of the TransMilenio system was associated with increased income for those living near—but not immediately adjacent to—trunk line stations. This relationship is strongest in the lower and middle-income range. There are at least two possible explanations for this result: 1. existing residents earn higher wages, or 2. higher income workers move to the neighborhood. Our data do not allow us to distinguish clearly between them, but available evidence suggests that much of the effect is likely due to relocation. Our results stand in contrast to prior work, which has largely suggested that improvements in public transit will tend to reduce wages in station areas.
Access options
Buy single article
Instant access to the full article PDF.
US$ 39.95
Tax calculation will be finalised during checkout.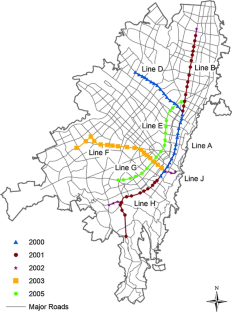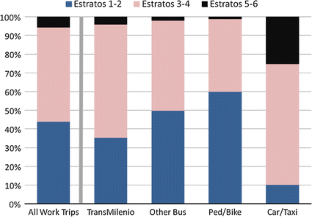 Notes
1.

Eligible commute trips include those that are not walk trips and are less than 25 km.

2.

Walking distance is characterized here as those transportation analysis zones (TAZs) that have some portion of their area within 1,000 m of a station.

3.

About 56 % of the 209,055 observations in the original dataset were dropped due to their unemployment status. We leave for future work the inclusion of unemployed individuals in our analysis, which requires the specification of corner-solution or selection models. The size of our final sample (58,835) also reflects adjustments due to missing values for crucial variables such as age, education level, and type of occupation. Data from the first quarter of 2,000 were not considered reliable and therefore also not considered. Finally, individuals not reporting income and those in the bottom and top 0.5 % of the income distribution in each quarter were not considered in our estimations.

4.

We categorized job categories as low or high status in the following way. Low status jobs included driver, construction or factory worker, farmer, security or police officer, server, hotelier, office worker, clergy, and low-level sales and management. High status jobs included professional, medical worker, teacher, creative, business owner, foreman, insurance, and high-level sales and management.

5.

Note that a household could be located in tm1 and tm2 for one or more stations simultaneously. We implemented another set of regressions that included variables that take into account the number of stations to which the home is close to. The results are not different from the ones presented in Table 2. We also conducted a sensitivity analysis to explore the effect of different distance band boundaries. Reducing the tm1 upper boundary to 250 or 500 m results in no statistically significant findings for our estimated coefficients on postm2 for any tm2 upper boundary between 500 and 2,000 m in 250 m increments. Increasing the tm1 upper boundary to 1,000 m, however, does not qualitatively change our results. If the tm1 upper boundary is kept at 750 meters, varying the upper boundary of tm2 between 1000 and 1500 m also does not qualitatively change our results. We prefer our original catchment area boundaries since they yield a large number of households falling in each catchment area, increasing the precision of our estimate.

6.

The number of observations in estrato 1 that are within the two distance bands before and after TransMilenio is very small. We discarded these data from the subsample analysis.
References
Arango, L.E., Garcia, A.F., Posada, C.E.: The methodology of the continuous household survey and the connection of the Colombian series urban labor market. Desarrollo. y. Sociedad. 61, 207–248 (2008)

Cain, A., Darido, G., Baltes, M.R., Rodriguez, P., Barrios, J.C.: Applicability of Bogotá's TransMilenio BRT system to the United States. Final report to the Federal Transit Administration, US Dept. of Transportation. Project Number FL-26-7104-01. 86 p (2006)

Combes, P.P., Duranton, G., Gobillon, L.: Spatial wage disparities: sorting matters! J. Urban. Econ. 63(2), 723–742 (2008)

Departamento Administrativo Nacional de Estadistica (DANE): Encuesta Continua de Hogares, data files (2000–2005)

Departamento Administrativo Nacional de Estadistica (DANE): Censo General 2005, data files (2005)

Departamento Administrativo Nacional de Estadistica (DANE): Encuesta Continua de Movilidad, data files (2005)

Echeverry, J.C., et al.: The economics of TransMilenio, a mass transit system for Bogotá. Economia 5(2), 151–196 (2005)

Gibbons, S., Machin, S.: Transport and labour market linkages: Empirical evidence, implications for policy and scope for further research. background paper for the Eddington report to the department of transport (2006)

Gibbons, S.,Overman, H., Pelkonen, P.: Wage disparities in Britain: people or place. SERC Discussion Papers 0060, Spatial Economics Research Center, LSE (2010)

Glaeser, E.L., Kahn, M.E., Rappaport, J.: Why do the poor live in cities? The role of public transportation. J. Urban. Econ. 63(1), 1–24 (2008)

Heres, D.R., Jack, D., Salon, D.: Do public transit investments promote urban economic development? Evidence from Bogotá, Colombia. In: Presentation at the 2010 Kuhmo-Nectar Conference on Transport Economics, Valencia, Spain (2010)

Manning, A.: The real thin theory: monopsony in modern labor markets. Labor. Econ. 10(2), 105–131 (2003)

Munoz-Raskin, R.C.: Walking accessibility to bus rapid transit: does it affect property values? The case of Bogotá, Colombia. Trans. Policy. 17(2), 72–84 (2010)

Petrongolo, B., Pissarides, C.: Looking into the black box: a survey of the matching function. J. Econ. Lit. 39(2), 390–431 (2001)

Pollack, S., Bluestone, B., Gartsman, A.: Maintaining diversity in America's Transit-Rich Neighborhoods: tools for equitable neighborhood change. Report for the Dukakis Center for Urban and Regional Policy at Northeastern University (2010)

RICS Policy Unit: Land Value and Public Transit. Office of the Deputy Prime Minister, London (2002)

Rodriguez, D.A., Targa, F.: Value of accessibility to Bogotá's bus rapid transit system. Transport Reviews 24(5), 587–610 (2004)

Rodriguez, D.A., Mojica, C.H.: Capitalization of BRT network effects into land prices. Working Paper, Lincoln Institute of Land Policy(2008)

Rogers, C.L.: Job search and unemployment duration: implications for the spatial mismatch hypothesis. J. Urban. Econ. 42(1), 109–132 (1997)

Ross, S.L., Zenou, Y.: Are shirking and leisure substitutable? An empirical test of efficiency wages based on urban economic theory. Reg. Sci. Urban. Econ. 38(5), 498–517 (2008)

Salon, D., Heres, D.R., Jack, D.: Do public transit investments promote urban economic development? Evidence from Bogotá, Colombia. Presentation at the 2009 Association of Collegiate Schools of Planning Annual Conference, Crystal City, VA (2009)

Salon, D., Shewmake, S.: Opportunities for value capture to fund public transport: A comprehensive review of the literature with a focus on East Asia. Report prepared for the Asian Development Bank, 35 p (2010) Available at www.itdp.org

Sandoval, E., Hidalgo, D.,: TransMilenio: A high capacity–low cost bus rapid transit system developed for Bogotá, Colombia. In: Proceedings of 2nd International Conference on Urban Public Transportation Systems: Ensuring Sustainability Through Mass Transit, Alexandria, Virginia 14–18: 37–49 (2004)

TransMilenio website: www.transmilenio.gov.co

Verbeek, M., Nijman, T.: Can cohort data be treated as genuine panel data? Empir. Econ. 17(1), 9–23 (1992)

White, M.J.: Urban areas with decentralized employment: theory and empirical work. Chapter 36 In: Handbook of regional and urban economics Vol–3: 1375–1412 (1999)

Zenou, Y., Smith, T.E.: Efficiency wages, involuntary unemployment and urban spatial structure. Reg. Sci. Urban. Econ. 25, 547–573 (1995)

Zenou, Y.: Urban Labor Economics. Cambridge University Press, Cambridge (2009)

Zenou, Y.: Search, migration, and urban land use. The case of transportation policies. J. Dev. Econ. 96, 174–187 (2011)
Acknowledgments
This research was supported by grants from the Earth Institute at Columbia University and from the Sustainable Transportation Center at the University of California Davis, which receives funding from the U.S. Department of Transportation and Caltrans, the California Department of Transportation, through the University Transportation Centers program.
About this article
Cite this article
Heres, D.R., Jack, D. & Salon, D. Do public transport investments promote urban economic development? Evidence from bus rapid transit in Bogotá, Colombia. Transportation 41, 57–74 (2014). https://doi.org/10.1007/s11116-013-9471-8
Keywords
Income

Bus rapid transit

Spatial analysis

Economic development