Abstract
The prevailing approach to transport market segmentation which identifies two distinct groups, "captive" and "choice" users, has widely been used by professionals and scholars despite the ambiguity associated with these terms. Furthermore, conflicting interpretations from the point of view of decision makers and individuals may result in negative policy implications where the needs of captive users are neglected in favour of attracting new users. This study attempts to address these concerns by proposing an alternative segmentation framework that could be applied to any mode of transport, in any regional context, by users and decision makers alike to better guide the development of transport policies. Using the results of a large-scale transportation survey, a series of clustering techniques are employed to derive this alternative approach for segmenting walkers, cyclists, transit and automobile users. The main factors considered in the final clustering analysis are the level of trip satisfaction and practicality. The analysis yielded four market segments: captivity, utilitarianism, dedication and convenience. Using this theoretical framework to understand the distribution of travellers among market segments is essential in identifying distinct and appropriate policy interventions to improve trip conditions. It is hoped that the segmentation approach and policy framework proposed here will encourage a better balance between pragmatic and idealistic goals in transportation policy.
Access options
Buy single article
Instant access to the full article PDF.
US$ 39.95
Tax calculation will be finalised during checkout.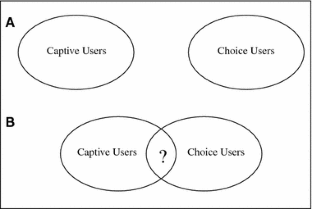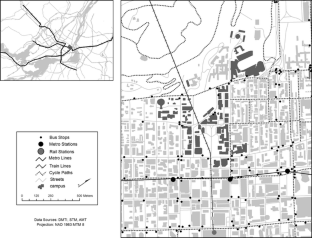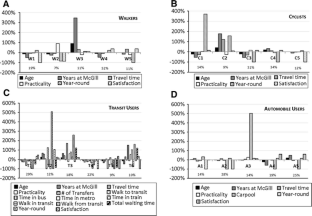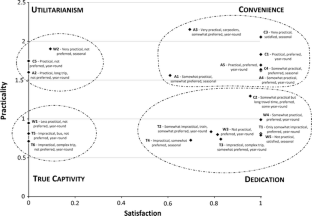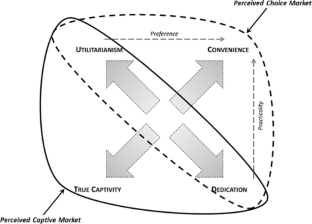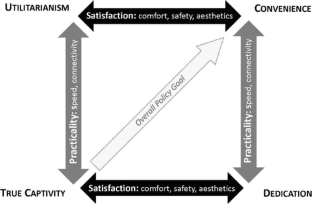 References
Abou-Zeid, M., Ben-Akiva, M.: The effect of social comparisons on commute well-being. Transp. Res. Part A 45, 345–361 (2011)

AMT: Fichier de déplacements des personnes dans la région de Montréal Enquête Origine Destination version 02.b période automne (2008)

Anable, J., Gatersleben, B.: All work and no play? The role of instrumental and affective factors in work and leisure journeys by different travel modes. Transp. Res. A 39, 163–181 (2005)

Beimborn, E., Greenwald, M., Jin, X.: Accessibility, connectivity, and captivity: impacts on transit choice. Transportation Research Record: Journal of the Transportation Research Board 1835, 1–9 (2003)

Brown, M.: Public Transit Fare and Subsidy Policy in Greater Vancouver, 1970–1983: Efficiency and Equity Implications. School of Community and Regional Planning, University of British Columbia, Vancouver (1983)

Carp, F.: Walking as a means of transportation for retired people. The Gerontologist 11(2 Part 1), 104 (1971)

Diana, M., Mokhtarian, P.: Desire to change one`s multimodality and its relationship to the use of different transport means. Transp. Res. Part F 12, 107–119 (2009)

Dolnicar, S.: A review of unquestioned standards in using cluster analysis for data-driven market segmentation. In: The Australian and New Zealand Marketing Academy Conference 2002 (ANZMAC 2002). Deakin University, Melbourne (2002)

Duarte, A., Garcia, C., Giannarakis, G., Limao, S., Polydoropoulou, A., Litinas, N.: New approaches in transportation planning: happiness and transport economics. Netnomics 11, 5–32 (2010)

El-Geneidy, A., Krizek, K., Iacono, M.: Predicting bicycle travel speeds along different facilities using GPS data: a proof of concept model. In: Paper read at 86th Annual Meeting of the Transportation Research Board, at Washington DC, USA (2007)

Garrett, M., Taylor, B.: Reconsidering Social Equity in Public Transit, vol. 193. Social Research in Transport (SORT) Clearinghouse (2003)

Giuliano, G.: Low income, public transit, and mobility. Transportation Research Record: Journal of the Transportation Research Board 1927, 63–70 (2005)

Horning, J., El-Geneidy, A., Krizek, K.: Perceptions of proximity to urban trails and measurement issues. In: The 37th urban affairs annual meeting. Seattle, Washington, USA (2007)

Klockner, C., Friedrichsmeier, T.: A multi-level approach to travel mode choice—how person characteristics and situation specific aspects determine car use in a student sample. Transp. Res. F 14, 261–277 (2011)

Klockner, C., Matthies, E.: How habits interfere with norm-directed behaviour: a normative decision-making model for travel choice. J. Environ. Pyschol. 24, 319–327 (2004)

Krizek, K., El-Geneidy, A.: Segmenting preferences and habits of transit users and non-users. J. Public Transp. 10(3), 71–94 (2007)

Morison, J.: Equilibrium concepts in modal split modelling. Transp. Eng. J. 108(5), 457–467 (1982)

Norusis, M.: PASW Statistics 18 Guide to Data Analysis. Pearson SPSS Inc, USA (2010)

Páez, A., Whalen, K.: Enjoyment of commute: a comparison of different transportation modes. Transp. Res. Part A 44, 537–549 (2010)

Peng, Z., Yu, D., Beimborn, E.: Transit user perceptions of the benefits of automatic vehicle location. Transp Res. Rec.: J. Transp. Res. Board 1791, 127–133 (2002)

Polzin, S., Chu, X., Rey, J.: Density and captivity in public transit success: observations from the 1995 nationwide personal transportation study. Transp Res. Rec.: J. Transp. Res. Board 1735, 10–18 (2000)

Walker, J.: Purpose-driven public transport: creating a clear conversation about public transport goals. J. Transp. Geogr. 16(6), 436–442 (2008)

Wilson, F., Stevens, A., Robinson, J.: Identifying mode choice constrained urban travel market segments. Can. J. Civ. Eng. 11(4), 924–932 (1984)
Acknowledgments
We would like to thank the McGill Office of Sustainability and McGill Campus and Space Planning for their feedback and guidance at various stages of this project. We would also like to thank Daniel Schwartz from IT Customer Services for his assistance in developing the online survey and managing the distribution of the survey to the McGill Community. Thanks to Jacob Mason, Marianne Hatzopoulou and Naveen Eluru for their help throughout the survey design process. Also we would like to thank Guillaume Barreau for modeling the transit trips to McGill in Google Maps, as well as Vincent Chakour for his help with data cleaning and manipulation. We would also like to thank all those in the McGill community who took the time to fill out the survey. Thanks also to Eric Anderson who participated in the lively discussions and provided feedback on the new model and terminology proposed in this study. We express our gratitude to the McGill Sustainability Projects Fund for providing funding for this project. Finally we would like to thank the anonymous reviewers for their valuable feedback.
About this article
Cite this article
Jacques, C., Manaugh, K. & El-Geneidy, A.M. Rescuing the captive [mode] user: an alternative approach to transport market segmentation. Transportation 40, 625–645 (2013). https://doi.org/10.1007/s11116-012-9437-2
Keywords
Market segmentation

Captive user

Choice user

Mode choice

Travel behaviour

Active transport