Abstract
The city of Montreal has taken recent initiatives to significantly reduce overall greenhouse (GHG) emissions from the transport sector and has made large investments in alternative transportation. In particular, the city has called upon the participation of all businesses and institutions to further these goals. In light of these recent plans, this study identifies with two objectives: first, to develop a methodology for estimating GHG emissions generated by commuters to McGill University's downtown campus; and secondly, to better understand who, how, and when each commuter to McGill generates travel-related GHG. Mode split, travel distance, age, gender and job category were uncovered by a 2011 travel survey that we conducted across the University, from which daily individual GHG emissions are estimated. Details about these trips not only reveal who the largest polluters are and where they are coming from, but also the seasonality of their emissions. These associations are then used to narrate scenarios which present alternatives to the structure of individuals' commutes by examining the outcomes of selected shifts in travel behavior on total GHG emissions.
Access options
Buy single article
Instant access to the full article PDF.
US$ 39.95
Tax calculation will be finalised during checkout.
Subscribe to journal
Immediate online access to all issues from 2019. Subscription will auto renew annually.
US$ 79
Tax calculation will be finalised during checkout.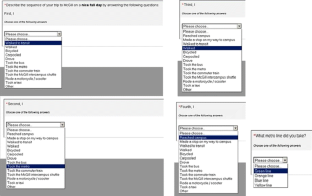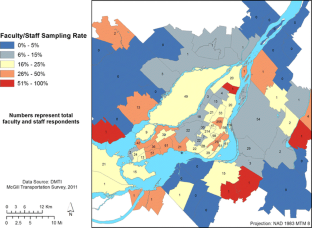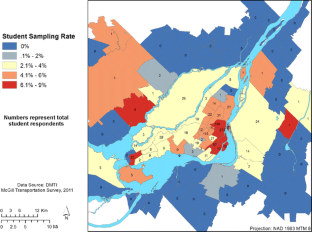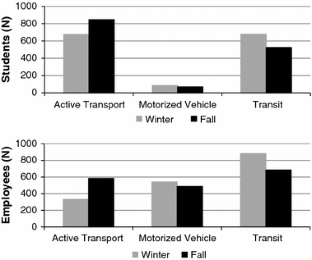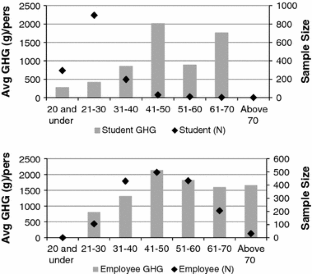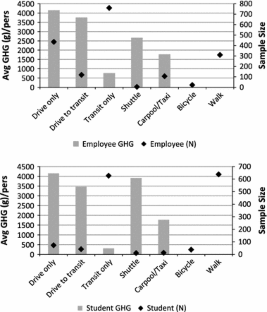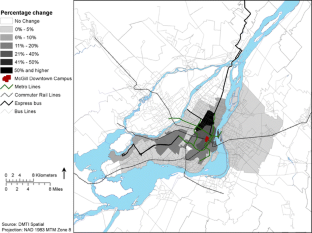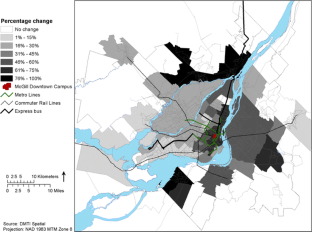 Notes
1.

71 of the 3,216 respondents were removed for this test, as their age was undisclosed. .
References
AASHE: Campus Greenhouse Gas Emissions Inventories. http://www.aashe.org/resources/campus-greenhouse-gas-emissions-inventories (2011). Accessed January 2012

Brand, C., Boardman, B.: Taming of the few—the unequal distribution of greenhouse gas emissions from personal travel in the UK. Energy Policy 36, 224–238 (2008)

Buchanan, C.: The University of Edinburgh travel survey 2010. University of Edinburgh, Edinburgh (2010)

Chapman, L.: Transport and climate change: a review. J. Transp. Geogr. 15(5), 354–367 (2007)

Cotnoir, P.: Attitudes and practices in commuting by McGill University students and staff: survey report. McGill University, Montreal (2004)

Cotnoir, P., Chénier, A.: Rapport d'enquête: Attitudes et pratiques en déplacement pendulaire des étudiants et du personnel de l'Université Concordia. Concordia University, Montreal (2008)

Davey, L., Shelley, K.: Tulane University greenhouse gas inventory. Tulane University, New Orleans (2002)

Division du developpement des transports: Montreal Transportation Plan-Ville de Montreal. Service des infrastructures, transport et environnement, Direction des transports, Division du developpement des transports, Montreal (2008)

Gouvernement du Quebec: 2006–2012 Climate Change Action Plan. Développement durable, Environnement et Parcs Québec, Quebec (2008)

Hickman, R., Banister, D.: Looking over the horizon: transport and reduced CO2 emissions in the UK by 2030. Transp. Policy 14(5), 377–387 (2007)

International Transport Forum. Greehouse Gas Reduction Strategies in the Transport Sector (2008)

Ko, J., Park, D., Lim, H., Hwang, I.: Who produces the most CO2 emissions for trips in the Seoul metropolis area? Transp. Res. D 16, 358–364 (2011)

Kwan, N., Martindill, A., Penumalli, P.: University 303: the impact of CO2. Rice University, Houston (1999)

Lovelace, R., Beck, S., Watson, M., Wild, A.: Assessing the energy implications of replacing car trips with bicycle trips in Sheffield, UK. Energy Policy 39, 2075–2087 (2011)

Newman, P., Kenworthy, J.: The transport energy trade-off: fuel-efficient traffic versus fuel-efficient cities. Transp. Res. A 22(3), 163–174 (1988)

Páez, A., Whalen, K.: Enjoyment of commute: a comparison of different transportation modes. Transp. Res. A 44, 537–549 (2010)

Schipper, L., Marie-Lillu, C., Gorham, R.: Flexing the link between transport and greenhouse gas emissions. International Energy Agency, Paris (2000)

Shannon, T., Giles-Corti, B., Pikora, T., Bulsara, M., Shilton, T., Bull, F.: Active commuting in a university setting: assessing commuting habits and potential for modal change. Transp. Policy 13(3), 240–253 (2006)

Stanley, J.K., Hensher, D., Loader, C.: Road transport and climate change: stepping off the greenhouse gas. Transp. Res. A 45(10), 1020–1030 (2009)

Terefe, B.: Greenhouse gas emissions from private vehicles in Canada, 1990 to 2007. Environment Accounts and Statistics Division, Ottawa (2010)

Walsh, C., Jakeman, P., Moles, R., O'Regan, B.: A comparison of carbon dioxide emissions associated with motorised transport modes and cycling in Ireland. Transp. Res. D 13, 392–399 (2008)
Acknowledgments
We would like to thank the McGill Office of Sustainability and McGill Campus and Space Planning for their feedback and guidance at various stages of this project. We would also like to thank Daniel Schwartz, from IT customer services, for his assistance in developing the online survey and managing the distribution of the survey to the McGill community. Thanks to Naveen Eluru, Jacob Mason and Cynthia Jacques, for their help throughout the survey design process. We would also like to thank Guillaume Barreau for modeling the transit trips to McGill in Google maps. Finally, we express our gratitude to the McGill sustainability projects fund for providing funding for this project.
About this article
Cite this article
Mathez, A., Manaugh, K., Chakour, V. et al. How can we alter our carbon footprint? Estimating GHG emissions based on travel survey information. Transportation 40, 131–149 (2013). https://doi.org/10.1007/s11116-012-9415-8
Keywords
Greenhouse gas emissions

Commuting

Travel survey

Scenario analysis