Abstract
Information produced by travel demand models plays a large role decision making in many metropolitan areas, and San Francisco is no exception. Being a transit first city, one of the most common uses for San Francisco's travel model SF-CHAMP is to analyze transit demand under various circumstances. SF-CHAMP v 4.1 (Harold) is able to capture the effects of several aspects of transit provision including headways, stop placement, and travel time. However, unlike how auto level of service in a user equilibrium traffic assignment is responsive to roadway capacity, SF-CHAMP Harold is unable to capture any benefit related to capacity expansion, crowding's effect on travel time nor or any of the real-life true capacity limitations. The failure to represent these elements of transit travel has led to significant discrepancies between model estimates and actual ridership. Additionally it does not allow decision-makers to test the effects of policies or investments that increase the capacity of a given transit service. This paper presents the framework adopted into a more recent version of SF-CHAMP (Fury) to represent transit capacity and crowding within the constraints of our current modeling software.
Access options
Buy single article
Instant access to the full article PDF.
US$ 39.95
Tax calculation will be finalised during checkout.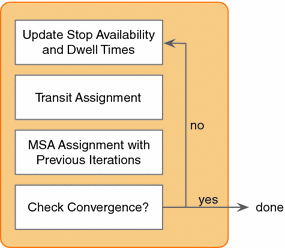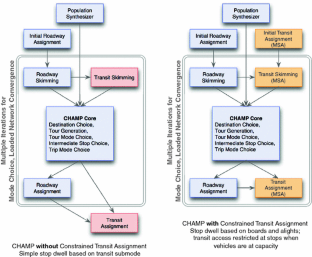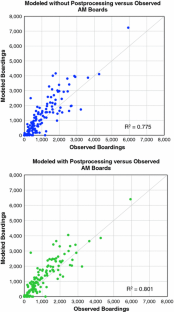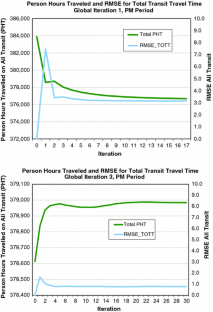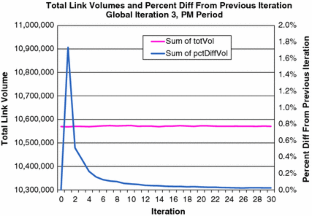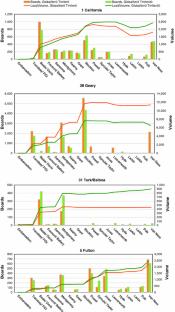 References
Davidson, W., Vovsha, P., Garland, R.: Impact of crowding on rail ridership: Sydney metro experience and forecasting approach. Paper presented at the TRB Planning Applications Conference. Reno, NV (2011)

Dueker, K.J., Kimpel, T.J., Strathman, J.G., Callas, S.: Determinants of bus dwell time. J. Public Transp. 7(1), 21–40 (2004)

Erhardt, G.D., Charlton, B., Freedman, J., Castiglione, J., Bradley, M.: Enhancement and application of an activity-based travel model for congestion pricing. Paper presented at TRB Innovations in Travel Modeling. Portland, OR (2008)

Hood, J., Sall, E., Charlton, B.: A GPS-based bicycle route choice model for San Francisco, California. Transp. Lett. Int. J. Transp. Res. 3(1), 63–75 (2011)

Krantz, J.: New York City Transit. (D. Wu, Interviewer) (2010)

Lam, W.H., Cheung, C.-Y., Lam, C.F.: A study of crowding effects at the Hong Kong light rail transit stations. Transp. Res. 33(5), 401–415 (1999)

Maier, H.: CAPTRAS and CONGTRAS: alternative ways of modeling crowding in RAILPLAN. Paper presented at UK EMME User's Conference. London, UK (2011)

Meyer, M.D., Miller, E.J.: Urban Transportation Planning. McGraw-Hill, New York (2000)

Milkovits, M.: Modeling the factors affecting bus stop dwell time: use of automatic passenger counting, automatic fare counting, and automatic vehicle location data. Transp. Res. Rec. 2072, 125–130 (2008)

MWCOG: Air Quality Conformity Assessment—Maryland Department of Transportation/District of Columbia Department of Public Works Amendments to 1999 Constrained Long Range Plan and FY2000-2006 Transportation Improvement Program. Retrieved from http://www.mwcog.org/uploads/pub-documents/oV5fWVg20101207143229.pdf (2010, December)

Outwater, M.L., Charlton, B.: The San Francisco model in practice: validation, testing, and application. Innovations in travel demand modeling: summary of a conference, vol 2, Papers, Number 42 in Transportation Research Board Conference Proceedings, (pp. 24–29) (2008)

Padgette, R.: American Public Transportation Association. (E. Sall, & D. Wu, Interviewers) (2010)

San Francisco Municipal Transportation Agency: Transit Effectiveness Project (TEP)—market analysis. Retrieved from http://www.sfmta.com/cms/mtep/documents/10.10.07%20SFTEP%20Market%20Analysis%20ppt.pdf (2010, December)

Transit First Policy: San Francisco California City Charter. 115 Section 8A. (1978)

Transport for London: RailPlan Modeling User Guide. (2006)

Transportation Research Board: Report 100 Transit Capacity and Quality of Service Manual. Transportation Research Board of the National Academies, Washington, DC (2003)

Transportation Research Board: Special Report 288 Metropolitan Travel Forecasting: Current Practice and Future Direction. Transportation Research Board of the National Academies, Washington, DC (2007)

Wardman, M.: The value of travel time: a review of British evidence. J. Transp. Econ. Policy 32(3), 285–316 (1998)

Zorn, L.M., Sall, E., Charlton, B.: Incorporating Discrete Characteristics and Network Relationships of Parking into the SF-CHAMP Travel Model. TRB Innovations in Travel Modeling, Tempe, AZ (2011)
Acknowledgments
Zabe Bent, Rachel Hiatt, Jesse Koehler, and Billy Charlton at the San Francisco County Transportation Authority, Viktoriya Wise at the San Francisco Planning Department, and Julie Kirshbaum and Peter Straus at the San Francisco Municipal Transportation Agency.
About this article
Cite this article
Zorn, L., Sall, E. & Wu, D. Incorporating crowding into the San Francisco activity-based travel model. Transportation 39, 755–771 (2012). https://doi.org/10.1007/s11116-012-9405-x
Keywords
Transportation planning

Transit planning

Activity-based travel models

Transit crowding