Abstract
In a survey of 1,402 current and potential cyclists in Metro Vancouver, 73 motivators and deterrents of cycling were evaluated. The top motivators, consistent among regular, frequent, occasional and potential cyclists, were: routes away from traffic noise and pollution; routes with beautiful scenery; and paths separated from traffic. In factor analysis, the 73 survey items were grouped into 15 factors. The following factors had the most influence on likelihood of cycling: safety; ease of cycling; weather conditions; route conditions; and interactions with motor vehicles. These results indicate the importance of the location and design of bicycle routes to promote cycling.
Access options
Buy single article
Instant access to the full article PDF.
USD 39.95
Price excludes VAT (USA)
Tax calculation will be finalised during checkout.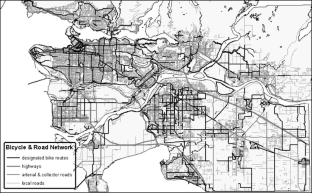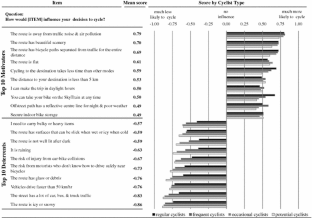 References
Accent Marketing Research: The near market for cycling in London. Transport for London, London, England (2004)

Antonakos, C.L.: Environmental and travel preferences of cyclists. Transp. Res. Rec. 1438, 25–33 (1994)

Aultman-Hall, L., Hall, F.L.: Research design insights from a survey of urban bicycle commuters. Bicycle Ped. Res. 1998(1636), 21–28 (1998)

Aultman-Hall, L., Hall, F.L., Baetz, B.B.: Analysis of bicycle commuter routes using Geographic Information Systems: implications for bicycle planning. Transport Res. Rec. 1578, 102–110 (1997)

Cavill, N., Davis, A.: Cycling and health: What's the evidence?. Cycling England, London, England (2007)

Colman, R., Walker, S.: The Cost of Physical Inactivity in British Columbia. B.C. Ministry of Health Planning, GPI Atlantic (2004)

City of Vancouver (2010) Cycling in Vancouver: Looking forward to 2010/2011. April 30, 2010. Available online at: http://cityofvan-as1.insinc.com/ibc/mp/md/open/c/317/1201/201005060900wv150en,002. Accessed May 6, 2010

Demographia: World Urban Areas & Population Projections, 5th Comprehensive Edition. Belleville, Illinois (2009)

Dill, J., Gliebe, J.: Understanding and Measuring Bicycle Behavior: A Focus on Travel Time and Route Choice, OCREC-RR-08-03, Center for Urban Studies/Center for Transportation Studies. Oregon Transportation Research and Education Consortium. Portland, Oregon (2008)

Dora, C.: A different route to health: implications of transport policies. BMJ 318(7199), 1686–1689 (1999)

Environment Canada (2009) Climate Normals. Available online at http://www.climate.weatheroffice.ec.gc.ca/climate_normals/index_e.html. Accessed March 2, 2009

FHWA: US Department of Transportation Federal Highway Administration, FHWA Course on Bicycle and Pedestrian Transportation. Available online at http://safety.fhwa.dot.gov/PED_BIKE/univcourse/swtoc.htm. Accessed March 1, 2008

Gatersleben, B., Appleton, K.M.: Contemplating cycling to work: attitudes and perceptions in different stages of change. Transp. Res. Pol. Pract. 41(4), 302–312 (2007)

Giles-Corti, B., Donovan, R.J.: The relative influence of individual, social and physical environment determinants of physical activity. Soc. Sci. Med. 54(12), 1793–1812 (2002)

Go For Green (2004). National active transportation survey. Available online at http://www.goforgreen.ca/at/eng/PDF/National_AT_Survey_Report_2006.pdf. Accessed April 12, 2008

Heath, G.W., Brownson, R.C., et al.: The effectiveness of urban design and land use and transport policies and practices to increase physical activity: a systematic review. J. Phys. Activ. Health 3(Suppl 1), S55–S76 (2006)

Hunt, J.D., Abraham, J.E.: Influences on bicycle use. Transportation 34(4), 453–470 (2007)

Katzmarzyk, P.T.: The Canadian obesity epidemic: an historical perspective. Obes. Res. 10(7), 666–674 (2002)

Krizek, K.J.: Two approaches to valuing some of bicycle facilities' presumed benefits. J. Am. Plann. Assoc. 72(3), 309–320 (2006)

Metro Vancouver (2006) Key Facts—Population-2006 Census. Available online at http://www.metrovancouver.org/about/statistics/Pages/KeyFacts.aspx . Accessed November 2, 2009

Moritz, W.E.: Survey of North American bicycle commuters: design and aggregate results. Transp. Res. Rec. 1578, 91–101 (1997)

Prochaska, J.O., Velicer, W.F.: The transtheoretical model of health behavior change. Am. J. Health Promot. 12(1), 38–48 (1997)

Prochaska, J.O., Velicer, W.F.: Stages of change and decisional balance for 12 problem behaviors. Health Psychol. 13(1), 39–46 (1994)

Pucher, J., Buehler, R.: Cycling trends and policies in Canadian cities. World Transp. Pol. Pract. 11(1), 43–61 (2005)

Pucher, J., Buehler, R.: Why Canadians cycle more than Americans: a comparative analysis of bicycling trends and policies. Transp. Pol. 13, 265–279 (2006)

Pucher, J., Buehler, R.: Making cycling irresistible: lessons from the Netherlands, Denmark, and Germany. Transp. Rev. 28(4), 495–528 (2008)

Pucher, J., Dijkstra, P.: Promoting safe walking and cycling to improve public health: lessons from the Netherlands and Germany. Am. J. Public Health 93(9), 1509–1516 (2003)

Sallis, J.F., Frank, L.D., Saelens, B.E., Krafts, K.E.: Active transportation and physical activity: opportunities for collaboration on transportation and public health research. Transp. Res. Pol. Pract. 38(4), 249–268 (2004)

Schneider, R.J., Dunbar, L.C., Toole, J.L., Fink, C.: Avoiding biased interpretation of bicycle surveys: comparing results from four distribution methods in Winston-Salem, North Carolina. Transp. Res. Rec. 1982, 174–186 (2006)

Sener, I.N. Eluru, N., Bhat, C.R.: An analysis of bicycle route choice preferences in Texas, U.S. Transp. 36(5), 511–539 (2009)

Shannon, T., Giles-Corti, B., et al.: Active commuting in a university setting: assessing commuting habits and potential for modal change. Transp. Pol. 13(3), 240–253 (2006)

Statistics Canada (2006) Complete cumulative profile, including Income and earnings, and Shelter costs, Canada, Provinces, Territories, Census Divisions, Census Subdivisions and Dissemination Areas: Census of Canada, 2006 Data. Available online at: http://data.library.ubc.ca/java/jsp/database/production/detail.jsp?id=1057. Accessed May 2, 2008

Gleave, S.D.: Cycling in London. Transport for London, London, England (2008)

Stinson, M.A., Bhat, C.R.: Commuter bicyclist route choice—analysis using a stated preference survey. Transp. Res. Rec. 1828, 107–115 (2003)

Stinson, M.A., Bhat, C.R.: Frequency of bicycle commuting Internet-based survey analysis. Transp. Res. Rec. 1878, 122–130 (2004)

Su, J., Winters, M., Nunes, M., Brauer, M.: Designing a route planner to facilitate and promote cycling in Metro Vancouver, Canada. Transp. Res. Pol. Pract. 44, 495–505 (2010)

Translink: Greater Vancouver Trip Diary Survey. Vancouver, Greater Vancouver Transportation Authority. Vancouver, British Columbia (2004)

Troped, P.J., Saunders, R.P., et al.: Associations between self-reported and objective physical environmental factors and use of a community rail-trail. Prev. Med. 32(2), 191–200 (2001)

Walker, L., Tresidder, M., et al.: Fundamentals of Bicycle Boulevard Planning & Design. Initiative for Bicycle and Pedestrian Innovation, Center for Transportation Studies, Centre for Urban Studies. Portland State University, Portland, Oregon (2009)

Winters, M., Friesen, M.C., Koehoorn, M., Teschke, K.: Utilitarian bicycling: a multilevel analysis of climate and personal influences. Am. J. Prev. Med. 32(1), 52–58 (2007)

Winters, M., Brauer, M., Setton, E.M., Teschke, K.: (Under review) Built environment influences on healthy transportation choices: bicycling versus driving. J. Urban Health

Winters, M., Teschke, K.: Route preferences among adults in the near market for cycling: findings of the cycling in cities study. Am. J. Health Promot. (in press)

Winters, M., Teschke, K., Grant, M., Setton, E.M., Brauer, M.: How far out of the way will we travel? Built environment influences on route selection for bicycle and car travel. Transp. Res. Rec. (in press)
Acknowledgements
We would like to acknowledge Jack Becker, Joan Caravan, Adam DiPaula, Richard Elias, Sheila Hartmann, Cam Pearce, Jason Potter, Mary Sherlock, Peter Stary, and Imelda Wong for their contributions to the survey development and implementation. We also value the feedback of the three reviewers of the paper. This research was funded by the Canadian Institutes of Health Research, Transport Canada Moving on Sustainable Transportation Program, Michael Smith Foundation for Health Research, TransLink, Metro Vancouver, and the Cities of Langley, New Westminster, Richmond, Port Moody, Surrey, Vancouver, White Rock and the Township of Langley.
About this article
Cite this article
Winters, M., Davidson, G., Kao, D. et al. Motivators and deterrents of bicycling: comparing influences on decisions to ride. Transportation 38, 153–168 (2011). https://doi.org/10.1007/s11116-010-9284-y
Published:

Issue Date:

DOI: https://doi.org/10.1007/s11116-010-9284-y
Keywords
Bicycle

Survey

Infrastructure

Influence

Non-motorized transport