ABSTRACT
Among disaggregate vehicle ownership models, which model the number and/or type of vehicles owned at the household level, one can distinguish holdings models, which deal with the (optimal) household fleet at a single point in time, and transactions models. The latter type of model explains changes to the household fleet, such as replacement and disposal. The paper describes previous attempts at such dynamic models and sketches how a vehicle transactions model could look (as an example we discuss an application to The Netherlands). This includes discussions of transaction probabilities, two-stage budgeting, introducing vehicle quality in the utility functions, and the envisaged model structure and data it could use.
Access options
Buy single article
Instant access to the full article PDF.
US$ 39.95
Tax calculation will be finalised during checkout.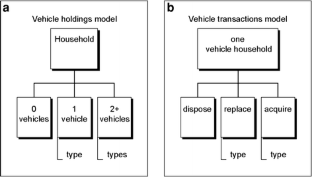 Notes
1.

Vehicle transaction behavior can be represented by either specifying the frequency and types of transaction events per unit time interval, or measuring the duration between successive events and specifying their types. The latter approach is more suitable if the holding duration of a vehicle tends to be predetermined at the time of its acquisition. A duration model will facilitate appropriate prorating of fixed costs. It is also logical to adopt if vehicle transaction behavior is an "optimum stopping" behavior. These assumptions, however, may not be an appropriate characterization of household behavior. Unfortunately, most available data are cross-sectional, precluding the possibility of empirical examination of the two alternative modeling approaches to household vehicle transaction.

2.

Update by Gerard de Jong, 2009: This proposal was not carried out as such. Instead, in The Netherlands a dynamic vehicle transactions model, based on duration modelling, was developed. This was estimated on new data collected among members of the panel of the Consumentenbond. The model, estimation and simulation results are described in 'A disaggregate model system of vehicle holding duration, type choice and use', by Gerard de Jong, published in Transportation Research B, Vol. 30, No. 4 (1996), pp. 263-276.
REFERENCES
Ben-Akiva, M., B. Boccara and T. Morikawa (1991). Psychometric data in travel demand analysis. Paper presented at the 6th International Conference on Travel Behaviour, Quebec.

Cooper, R.J. and K.R. McLaren (1980). Atemporal, temporal and intertemporal duality in consumer theory. International Economic Review, 21 (3), 599–609.

Deaton, A. and J. Muellbauer (1980). Economics and Consumer Behaviour. Cambridge University Press, Cambridge.

Dienst Verkeerskunde (1992). The National Model System for Traffic and Transport; Outline. Dienst Verkeerskunde van de Rijkswaterstaat en Hague Consulting Group, Rotterdam.

Fisher, F.M. and K. Shell (1971). Taste and quality change in the pure theory of the true cost of living index. In Z. Griliches (Ed.) Price Indexes and Quality Change: Studies in New Methods of Measurement. Harvard University Press, Cambridge MA.

Gilbert, C.C.S. (1992). A duration model of automobile ownership. Transportation Research, 26B (2), 97–114.

Golob, T.F. (1990). The dynamics of household travel time expenditures and car ownership decisions. Transportation Research, 24A (6), 443–463.

Hensher, D.A., N.C. Smith, F.W. Milthorpe and P.O. Barnard (1991). Dimensions of Automobile Demand; A Longitudinal Study of Household Automobile Ownership and Use. North-Holland, Amsterdam.

Hocherman, I., J.N. Prashker and M. Ben-Akiva (1983). Estimation and use of dynamic transaction models of automobile ownership. Transportation Research Record, 944, 134–141.

Kitamura, R. (1987). A Panel Analysis of Household Car Ownership and Mobility. Proceedings of the Japan Society of Civil Engineers, No. 383/lV-7, 13–27.

Kitamura, R. (1991). A Review of Selected Car Ownership Models for the Netherlands. Report 8925-1, Hague Consulting Group, The Hague, The Netherlands (prepared for Rijkswaterstaat, Dienst Verkeerskunde, Dutch Ministry of Transport and Public Works).

Kitamura, R. and D.S. Bunch (1990). Heterogeneity and State Dependence in Household Car Ownership: A Panel Analysis Using Ordered-Response Probit Models with Error Components. In M. Koshi (ed.), Transportation and Traffic Theory. Elsevier, Amsterdam.

Kitamura, R. and G.C. de Jong (1991). A Review of Dynamic Vehicle Ownership Models. Report 9036-1, Hague Consulting Group, The Hague, The Netherlands (prepared for Rijkswaterstaat, Dienst Verkeerskunde, Dutch Ministry of Transport and Public Works).

Kitamura, R. and K.G. Goulias (1991), MIDAS: A Travel Demand Forecasting Tool Based on a Dynamic Model System of Household Demographics and Mobility. Final report prepared for Projectbureau Integrale Verkeers- en Vervoerstudies, Dutch Ministry of Transport and Public Works.

Mannering, F. and C. Winston (1985). A dynamic empirical analysis of household vehicle ownership and utilization. Rand Journal of Economics, 16(2), 215–236.

Nederlands Economisch Instituut (H.W.J. van Haselen, J.P. Klooster, 1989). Werkelijke kosten van autobezit en autogebruik. Onderzoek in opdracht van de Dienst Verkeerskunde; NEI, Rotterdam.

Rosen, S. (1974). Hedonic prices and implicit markets: product differentiation in pure competition. Journal of Political Economy, 82, 34–55.

Rouwendal, J. (1988). Discrete Choice Models and Housing Market Analysis; academic thesis, Faculty of Economic Science and Econometrics, Free University, Amsterdam; Uitgeverij Nomen Nescio, Elspeet.

Smith, N.C., D.A. Hensher and N. Wrigley (1991). A dynamic discrete choice sequence model: Method and an illustrative application to automobile transactions. International Journal of Transport Economics, XVIII(2), 123–150.

Stichting voor Economisch Onderzoek der Universiteit van Amsterdam (M.L Ghering and C.N. Teulings, 1989). Levensduur en sloop van personenauto's; Onderzoek in opdracht van de Dienst Verkeerskunde; SEO, Amsterdam.

Train, K. (1986). Qualitative Choice Analysis: Theory, Econometrics, and an Application to Automobile Demand. MIT Press, Cambridge, MA.
ACKNOWLEDGEMENTS
This research is part of a project undertaken for the Transportation and Traffic Research Division (DVK) of Rijkswaterstaat, Ministry of Transport and Public Works in The Netherlands. Valuable advice has been given by Jeroen Klooster of DVK, Tom Golob of the Institute of Transportation Studies of the University of California, Irvine, and Hugh Gunn and Moshe Ben-Akiva of the Hague Consulting Group.
Additional information
Originally appeared as:
de Jong, Gerard C. and Ryuichi Kitamura (1992) A review of household dynamic vehicle ownership models: holdings models versus transactions models. Proceedings of Seminar E, 20th PTRC Summer Annual Meeting, PTRC Education and Research Services Ltd., London, pp. 141–152
About this article
Cite this article
de Jong, G.C., Kitamura, R. A review of household dynamic vehicle ownership models: holdings models versus transactions models. Transportation 36, 733–743 (2009). https://doi.org/10.1007/s11116-009-9243-7
Keywords
Transaction Model

Vehicle Ownership

Indirect Utility Function

Vehicle Service

Holding Model