Abstract
This paper examines the trip chaining complexity of individuals in London. We adopt two definitions of trip chaining. One based on a 30 min dwell time rule and a second based on home-to-home tours. Our focus is on the complexity of the trip chains as measured by the number of stops on a given tour. The analysis uses the London Area Travel Survey and examines the factors associated with trip chaining for people aged over 65. A comparison with those aged under 65 reveals that older people on average make more complex tours when the 30 min dwell time rule is applied as opposed to when the home-to-home definition is applied. It is further shown that the anchor points of the tour are critical for determining tour complexity, suggesting the usefulness of the 30 min definition. Our analysis also suggests that older people reduce total home-to-home tours by combining different trips into single tours. Through descriptive analysis and ordered probit regression models we examine how reported levels of disability affect their trip chaining and we examine household demographic characteristics as well as proxies for accessibility, such as local population density. The analysis shows that disabilities do not necessarily lead to reduced tour complexity except when walking difficulties become so severe that independent travel is not possible. We suggest that tour complexity might further increase in the future, for example as the spread of mobile phone usage appears to have a further positive influence on tour complexity. Implications for land-use and transport planning are discussed.
Access options
Buy single article
Instant access to the full article PDF.
US$ 39.95
Tax calculation will be finalised during checkout.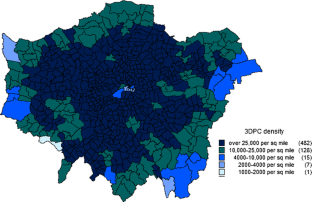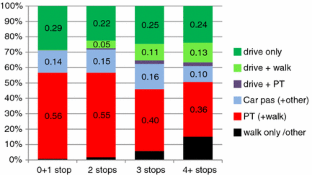 Notes
1.

In the interpretation of results we found that the marginal effects do not add much to our understanding. We note differences in the discussion and for brevity, we therefore omit the (rather large) table of marginal results. This is available on request from the authors.
References
Adler, T., Ben-Akiva, M.: A theoretical and empirical model of trip chaining behaviour. Transp. Res. 13B, 243–257 (1979)

Cao, X., Mokhtarian, P.L., Handy, S.L.: Neighborhood design and aging: an empirical analysis in Northern California, unpublished manuscript. (2007)

CasWeb.: Web interface to census aggregate outputs and digital boundary data. Available from http://casweb.mimas.ac.uk// (2006). Accessed Nov. 2007

Choo, S., Mokhtarian, P.L.: Telecommunications and travel demand and supply: aggregate structural equation models for the US. Transp. Res. Part A 41, 4–18 (2007)

Cirillo, C. and Axhausen, K.W.: Mode choice in complex tours. European transport conference, Cambridge, September (2002)

Department for Transport.: Older people: their transport needs and requirements-main report. Available from http://www.dft.gov.uk/stellent/groups/dft_mobility/documents/pdf/dft_mobility_pdf_506792.pdf (2001). Accessed July 2007

Frank, L., Bradley, M., Kavage, S., Chapman, J., Lawton, K.T.: Urban form, travel time, and cost relationships with tour complexity and mode choice. Transportation 35, 37–54 (2008)

Giuliano, G., Hu, H., Lee, K.: Travel patterns of the elderly: the role of land use final report of METRANS project. University of Southern California. Available from http://www.metrans.org/research/final/00-08_Final.pdf (2003). Accessed November 2007

Golob, T.F.: A nonlinear canonical correlation analysis of weekly trip chaining behaviour. Transp. Res. 20A, 385–399 (1986)

Golob, T.F., Hensher, D.A.: The trip chaining activity of Sydney residents: a cross-section assessment by age group with a focus on seniors. J. Transp. Geogr. 15, 298–312 (2007)

Goulias, K.G., Blain, L., Kilgren, N., Michalowski, T., Murakami, E.: Catching the next big wave: are the observed behaviral dynamics of the baby boomer forcing us to rethink regional travel demand models? Paper presented at transportation research board 86th meeting, Washington D.C. (2007)

Greater London Authority.: Webpage titled Mayor's older people strategy. Available from http://www.london.gov.uk/mayor/strategies/older_people/index.jsp (2006). Accessed November 2007

Handy, S.: Non-work travel of women: patterns, perceptions and preference. Proceedings of the women's travel issues second national conference, Baltimoore, US, October (1996), 316–342

Hanson, S.: The importance of the multi-purpose journey to work in travel behaviour. Transportation 9, 229–248 (1980)

Hensher, D., Reyes, A.J.: Trip chaining as a barrier to the propensity to use public transport. Transportation 27(4), 341–361 (2000)

Kendig, H., Browning, C.J., Young, A.E.: Impacts of illness and disability on the well-being of older people. Disabil. Rehabil. 22(1), 15–22 (2000)

Kim, S.: An analysis of elderly mobility using structural equation modeling. Paper presented at transportation research board 82th meeting, Washington, DC (2004)

Kitamura, R.: Trip chaining in a linear city. Transp. Res. A 19(2), 155–167 (1985)

McGuckin, N., Murakami, E.: Examing trip-chaining behaviour—a comparison of travel by men and women". Transp. Res. Rec. 1693, 1–14 (1999)

McGuckin, N., Zmud, J., Nakamoto, Y.: Trip-chaining trends in the United States. Transp. Res. Rec. 1917, 199–204 (2005)

Metz, D.H.: Mobility of older people and their quality of life. Transp. Policy 7, 149–152 (2000)

Noland, R.B., Thomas, J.V.: Multivariate analysis of trip-chaining behaviour. Environ. Plan. B (Plan. Des.) 34(6), 953–970 (2007)

Noland, R.B., Schmöcker, J.-D., Su, F., Bell, M.G.H.: Trip chaining behaviour of older people in the US and London: effects of medical conditions and urban form. World conference on transport research, Berkeley, CA, (2007)

Rosenbloom, S.: The mobility needs of older Americans: implications for transportation reauthorization. The Brookings institution serious on transportation reform, July (2003)

Rutherford, G., McCormack, E., Wilkinson, M.: Travel impacts of urban form: implications from an analysis of two Seattle area travel diaries. Paper prepared for the travel model improvement program conference on urban design, telecommuting and travel behavior, October (1997)

Schmöcker, J.D., Quddus, M.A., Noland, R.B., Bell, M.G.H.: Estimating trip generation of elderly and disabled people: an analysis of London data. Transp. Res. Rec. 1924, 9–18 (2005)

Schmöcker, J.-D., Quddus M.A., Noland, R.B., Bell, M.G.H.: Transport mode choice of the elderly and disabled in London. Transportation geography, (2007, in press)

Takahashi, S.: Effects of multiple stops on the distance travelled to a grocery store. Geogr. Rev. Jpn. 59(2), 119–127 (1986)

Ye, X., Pendyala, R.M., Gottardi, G.: An exploration of the relationship between mode choice and complexity of trip chaining patterns. Transp. Res. 41B(1), 96–113 (2006)
About this article
Cite this article
Schmöcker, JD., Su, F. & Noland, R.B. An analysis of trip chaining among older London residents. Transportation 37, 105–123 (2010). https://doi.org/10.1007/s11116-009-9222-z
Received:

Revised:

Accepted:

Published:

Issue Date:
Keywords
Trip chaining

Older people

Tour definition