Abstract
Those who oppose tolls and other forms of road pricing argue that low-income, urban residents will suffer if they must pay to use congested freeways. This contention, however, fails to consider (1) how much low-income residents already pay for transportation in taxes and fees, or (2) how much residents would pay for highway infrastructure under an alternative revenue-generating scheme, such as a sales tax. This paper compares the cost burden of a value-priced road, State Route 91 (SR91) in Orange County, California with the cost burden under Orange County's local option transportation sales tax, Measure M. We find that although the sales tax spreads the costs of transportation facilities across a large number of people inside and outside Orange County, it redistributes about $3 million (USD) in revenues from less affluent residents to those with higher incomes. The entire Measure M program redistributes an estimated $26 million from low-income residents to the more affluent. Low-income drivers as individuals save substantially if they do not have to pay tolls, but as a group low-income residents, on average, pay more out-of-pocket with sales taxes.
This is a preview of subscription content,
to check access.
Access this article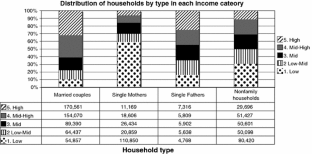 Similar content being viewed by others
Notes
Without more information on the demographics of individuals traveling to Orange County to purchase sales or services, we can only infer a few, limited things. Orange County residents as a group are among the most affluent people in the US. It is likely that visitors to Orange County are on average less affluent at the mid to higher income levels than Orange County residents. Visitors may also be, on average, more affluent than the mid to low-income residents of Orange County. Thus, if we were to relax the geographic constraints of the cost estimations, it is likely that the tax incidence would be more regressive than our constrained estimates at the group level for the whole body of consumers paying into the county coffers—including those outside of Orange County. However, the burden for individual low-income households within Orange County lessens because of the cross-payments from outsiders. That much is evident because the tax base increases. This story would be different in a jurisdiction with a smaller retail base than Orange County or in a place where the jurisdiction levying the tax is on average less affluent than its visitors. Again, context matters.
References
Arnott, R., de Palma, A., Lindsey, R.: The welfare effects of congestion tolls with heterogeneous commuters. J. Transport Econ. Pol. 28, 139–161 (1994)

Baum, D.N.: Economic effects of including services in the sales tax base: an applied general equilibrium analysis. Public Financ. Quart. 19.2, 166–192 (1991)

Besley, T.J., Rosen, H.: Vertical externalities in tax setting: evidence from gasoline and cigarettes. J. Public Econ. 70, 383–398 (1998)

Boarnet, M., Crane, R.: (2001) Travel by Design. Oxford University Press, Oxford (2001)

Brown, J.: Reconsidering the gas tax: paying for what you get. Access 19, 10–15 (2001)

Bullard, R.D., Johnson, G.S.: Introduction. In: Bullard, R., Johnson, G. (eds.) Just Transportation, pp. 1–6. Island Press, Gabriola Island, BC (1997)

Cohen, Y.: Commuter welfare under peak-period congestion tolls: who gains and who loses? Int. J. Transport Econ. 14.3, 239–266 (1987)

Committee for the Study of the Long-Term Viability of Fuel Taxes for Transportation Finance.: The Fuel Tax and Alternatives for Transportation Funding. Transportation Research Board, Washington DC (2006)

Derrick, F.W., Scott, C.E.: Sales tax equity: who bears the burden? Q. Rev. Econ. Finance 38. 2, 227–237 (1998)

Dill, J., Goldstein, T., Wachs, M.: California vehicles fees: incidence and equity. J. Transport Stat. 2. 2, 133–148 (1999)

Due J.F., Mikesell J.C.: (1994) Sales Taxation. Washington, DC, Urban Institute

Fullterton, D., Lim-Rogers, D.: Who Bears the Lifetime Tax Burden. Washington, DC (1993)

Gentry, W.M., Ladd, H.F.: State tax structure and multiple policy objectives. Natl. Tax J. 47.4, 747–769 (1994)

Giuliano, G.: An assessment of the political acceptability of congestion pricing. Transportation 19.4, 335–358 (1992)

Giuliano, G.: Equity and fairness considerations of congestion pricing. In: Curbing Gridlock, pp. 250–279. Transportation Research Board, National Academy Press, Washington, DC (1994)

Glazer, A., Niskanen, E.: Which consumers benefit from congestion tolls? J. Transport Econ. Pol. 34, 43–54 (2000)

Goldstein, T., Corbett, S., Wachs, M.: Local option transportation taxes in the United States: Issues and trends. Berkeley, CA (2001)

Gómez-Ibáñez, J.A.: The political economy of congestion charges. Transport. Q. 46.3, 343–360 (1992)

Harvey, G.W.: Transportation pricing and travel behavior. In: Curbing Gridlock, pp. 89–119. Transportation Research Board, National Academy Press, Washington, DC (1992)

Kalmanje, S., Kockelman, K.M.: Credit-based congestion pricing: travel, land value and welfare impacts. Transport. Res. Rec. 1864, 45–53 (2004)

King, D., Manville, M., Shoup, D.: The political calculus of congestion pricing. Transport Pol. 14, 111–123 (2007)

Mokhtarian, P., Raney, E.: Behavioral response to congestion: identifying patterns and socio-economic differences in adoption. Transport Pol. 4. 3, 147–160 (1997)

Orange County Transportation Authority: 91 Express Lanes Fast Facts (2007). URL: http://centerline.octa.net/pdf/91.pdf

Parkany, E.: Can hot lanes encourage carpooling? A case study of carpooling behavior on the 91 express lanes. Transport. Res. Board Rec. 1682, 46–54 (1999)

Paulin, G.D.: A growing market: expenditures by Hispanic consumers. Monthly Labor Rev. March, 3–21 (1998)

Paulin, G.D., Lee, Y.G.: Expenditures of single parents: how does gender figure in? Monthly Labor Rev. July, 16–37 (2002)

Poterba, J.: Retail price reactions to changes in state and local sales taxes. Natl. Tax J. 27(Fall), 169–179 (1996)

Richardson, H.W., Bae, C.-H.: The equity impacts of road congestion pricing. In: Button, K. Verhoef, E. (eds.) Road Pricing, Traffic Congestion, and the Environment: Issues of Efficiency and Social Feasibility, pp. 247–262. Edward Elgar, Cheltenham (1998)

Santi, L.: Estimates of the state sales and use tax on Arkansas households, 1989–1995. Arkansas Bus. Econ. Rev. 27(1), 10–18 (1994)

Santos, G.: Preliminary results of the London congestion charging scheme. Public Works Manage. Pol. 9.2, 164–181 (2004)

Santos, G., Roley, L.: Distributional impacts of road pricing: the truth behind the myth. Transportation 31, 21–42 (2004)

Schweitzer, L, Valenzuela, A., Jr.: Environmental justice and transportation: the claims and the evidence. J. Plann. Literature 18.4, 383–398 (2004)

Small, K.: Urban Transportation Economics. Harwood Academic Publishers, New York (1992)

Small, K.A.: Unnoticed lessons from London: road pricing and public transit. Access 26, 10–15 (2004)

Small, K.A., Gómez-Ibáñez, J.A.: Urban transportation. In: Chesire, P., Mills, E. (eds.) Handbook of Regional and Urban Economics, pp. 1936–1999. North-Holland, New York (1999)

Small, K.A., Winston, C., Yan, J.: Uncovering the distribution of motorists' preferences for travel time and reliability. Econometrica 73. 4, 1367–1377 (2005)

Sorenson, P., Taylor, B.: Review and Synthesis of Road-Use Metering and Charging Systems. The National Academies Press, Washington, DC (2005)

Sullivan, E.: State Route 91 value-priced express lanes: updated observations. Transport. Res. Rec. 1812, 37–42 (2002)

Sullivan, E., El Harake, J.: The CA Route 91 toll lanes—Impacts and other observations. Transport. Res. Rec. 1649, 55–62 (1998)

Taylor, B.: Public perceptions, fiscal realities, and freeway planning: the California case. J. Am. Plann. Assoc. 61.1, 43–56 (1995)

Vickrey, W.S.: Marginal cost pricing. In: Arnott, R. (ed.) Public Economics: Selected Papers by William, pp. 198–215. Cambridge University Press, Cambridge (1994)

Wachs, M.: Will congestion pricing ever be adopted? Access 4, 15–19 (1994)

Yang, H., Zhang, X.: Multi-class toll design problem with social and spatial equity constraints. J. Transport. Eng. 128. 5, 420–28 (2002)
Acknowledgements
Many thanks to Randall Crane, Casey Dawkins, Ted Koebel, Chris Nelson, Kenneth Small, Max Stephenson, Gen Giuliano, Juliet Musso, Jianping Zhou, Martin Wachs, Sandi Rosenbloom, and three anonymous reviewers for their input into this manuscript. Excellent research support came from Eric Howard, John Linford, and Ryan Walker. This research was funded in part by a grant from the UCLA Academic Senate, and the authors are grateful for this support.
About this article
Cite this article
Schweitzer, L., Taylor, B.D. Just pricing: the distributional effects of congestion pricing and sales taxes. Transportation 35, 797–812 (2008). https://doi.org/10.1007/s11116-008-9165-9
Published:

Issue Date:

DOI: https://doi.org/10.1007/s11116-008-9165-9
Keywords