Abstract
The ability of public organizations to invest in emerging technologies is dependent upon the degree to which they can effectively manage the risks of being a lead-user in a political environment. However, little is known about the dimensions and implications of the different forms of risk faced by innovative public organizations as well as the strategies employed to manage them. This paper addresses these issues by studying how one public agency implements a program of replacing its transportation fleet with alternative fuel vehicles (AFVs).
This is a preview of subscription content,
to check access.
Access this article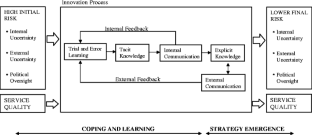 Similar content being viewed by others
Notes
Anticipated federal and state level grants, rebates, emission reduction credits programs and, reductions in fuel use and maintenance, the initial strategy developed by the FPDDC expected the AFV conversion effort to actually net a savings of approximately $150,000 over ten years.

This describes a vehicle that needs significant repairs but, the cost of these is less than the purchase of a new vehicle.

Observations of the FPDDC AFV program at the half-way point of the program paints a picture at odds with this initial plan. For example, 1) to date the department as replaced 102 vehicles, which is more than 50 percent of its 180 on-road vehicles, however, the department anticipates "falling behind" this aggressive replacement schedule, 2) alternative fuel has lagged behind expected use by approximately 10 percent, 3) the net outlay per AFV is 15 percent higher than expected, and 4) the amount of grants and rebates has fallen short of expectations.

In the case of the FPDDC, it was anticipated that these grants would be used to offset the costs of infrastructure development, vehicle purchases and fuel purchases.

Haller et al.'s cost effectiveness analysis explicitly quantifies the difference between the initial strategic plan and outcomes at the mid-point of the AFV program, which is critical for considering the opportunism proposition (P1). Johns et al.'s end user adoption study helped us understand the relationship between internal innovations and the implementation of the AFV program.

Important baseline information with respect to key actors, AFV technology, and program goals and objectives was collected through a series of baseline interviews in 2005. However, the main empirical study was conducted over a three-month period in 2006.

Which costs approximately $800 per air box.

This program provides a cash rebate for 80-percent of the incremental extra cost of an alternative fuel vehicle with a maximum rebate of $4,000 per vehicle. Given that the Forest Preserve is a public agency exempt from property tax, the credit is actually taken by the auto dealer and passed through as a discount on vehicle price to the purchaser.

Which, however, is not to say that technical knowledge is not an important factor in the purchasing decisions. AFV managers made clear that they are less inclined to purchase AFV's in which shop floor mechanics have found recurring problems or are more difficult to work with.

Although, as will be described below, technical knowledge in the FPDDC is still not truly explicit, as most of the technical know how is shared between only two key mechanics.
References
Armistead, C. G., & Clark, G. (1994). The "coping" capacity management strategy in services and the influence on quality performance. International Journal of Service, 5(2), 5–22.

Behn, R. (1988). Management by groping along. Journal of Policy Analysis and Management, 7(4), 643–663. doi:10.2307/3323485.

Brown, M. M., & Brudney, J. L. (2004). Achieving advanced electronic government services: opposing environmental constraints. Public performance and management review, 28(1), 96–113.

Chia, R., & Holt, R. (2006). Strategy as practical coping: A heideggerian perspective. Organization Studies, 27(5), 635–655. doi:10.1177/0170840606064102.

Cyert R. M., & March, J. (1963). A behavioral theory of the firm. Englewood Cliffs, NJ: Prentice-Hall.

Deyle, R. E. (1994). Conflict, uncertainty, and the role of planning and analysis in public policy innovation. Policy Studies Journal: the Journal of the Policy Studies Organization, 22(3), 457–473. doi:10.1111/j.1541-0072.1994.tb01481.x.

Geenhuizen, M. V., & Nijkamp, P. (2003). Coping with uncertainty: an expedition into the field of new transport technology. Transportation Planning and Technology, 26(6), 449–467. doi:10.1080/0308106032000167355.

Golden, O. (1990). Innovation in public sector human services programs: the implications of innovation by groping along. Journal of Policy Analysis and Management, 9(2), 219–248. doi:10.2307/3325413.

Graetz, F. (2002). Strategic thinking versus strategic planning: towards understanding the complementarities. 5. Management Decision, 40, 456–462. doi:10.1108/00251740210430434.

Haller, M., Fulla, S., & Welch, E. (2007). Cost effectiveness and environmental impact of alternative fuel vehicle conversion program: a local case study. Transportation Research D, (forthcoming).

Johns, K., Khovanova, K., & Welch, E. (2006). End user adoption of alternative fuel vehicles in local government: Interim evaluation of factors affecting driver fuel choice. Presented at Transport Chicago Conference, Chicago, IL.

Johns, K. D., Khovanova, K. M., & Welch, E. W. (2009). Fleet Conversion in Local Government: Determinants of Driver Fuel Choice for Bi-Fuel Vehicles. Environment and Behavior, 41(3), 402–426.

Khatri, N., & Ng, H. A. (2000). The role of intuition in strategic decision making. Human Relations, 53, 57–86.

March, J. G. (1988). Variable risk preferences and adaptive aspirations. Journal of Economic Behavior & Organization, 9, 5–24. doi:10.1016/0167-2681(88)90004-2.

March, J. G. (1991). Exploration and exploitation in organizational learning. Organization Science, 2, 71–87. doi:10.1287/orsc.2.1.71.

McNeil, P. (1990). Research methods. London: Routledge.

Mintzberg, H., & Waters, J. A. (1985). Of strategies, deliberate and emergent. Strategic Management Journal, 6(3), 257–272. doi:10.1002/smj.4250060306.

Moon, M. J., & Bretschneider, S. (2002). Does the perception of red tape constrain it innovativeness in organizations? unexpected results from a simultaneous equation model and implications. Journal of Public Administration: Research and Theory, 12(2), 273–291.

Moon, M. J. (2002). The evolution of e-government among municipalities: rhetoric or reality? Public Administration Review, 62(4), 424–433. doi:10.1111/0033-3352.00196.

Mulgan, R. (2000). Comparing accountability in the public and private sectors. Australian Journal of Public Administration, 59(1), 87–97. doi:10.1111/1467-8500.00142.

Nonaka, I., & Takeuchi, H. (1995). The knowledge creating company: how Japanese companies create the dynamics of innovation. USA: Oxford University Press.

Polyani, M. (1967). The tacit dimension. New York: Anchor Books.

Roberts, N. C. (1992). Public Entrepreneurship and innovation. Policy Studies Review, 11(1), 55–74.

Romzek, B. S., & Dubnick, M. (1994). Accountability in the Public Sector: Lessons from the Challenger Tragedy. In F. S. Lane (Ed.), Current Issues in Public Administration. Florence, Kentucky: Wadsworth Publishing.

Romzek, B. S., & Johnston, J. M. (2005). State Social Services Contracting: Exploring Determinants of Effective Contract Accountability. Public Administration Review, 65(4), 436–449.

Sanger, M. B., & Levin, M. A. (1992). Using old stuff in new ways: Innovation as a case of evolutionary tinkering. Journal of Policy Analysis and Management, 11(1), 88–115.

Von Hipple, E. (2005). Democratizing innovation. Cambridge: MIT.

Weick, K. E. (1998). Improvisation as a mindset for organizational analysis. Organization Science, 5, 543–555. doi:10.1287/orsc.9.5.543.

Welch, E. W., & Pandey, S. K. (2007). E-Government and bureaucracy: toward a better understanding of intranet implementation and its effect on red tape. Journal of Public Administration: Research and Theory, 17(3), 379–404. doi:10.1093/jopart/mul013.

Welch, E. W., Rana, A., & Mori, Y. (2004). Promises and Pitfalls of ISO 14001 for Competitiveness and Sustainability: A Comparison of Japan and the United States. Greener Management International: The Journal of Corporate Environmental Strategy and Practice, 44, 59–73.

Whittington, R. (1996). Strategy as practice. Long Range Planning, 29, 731–735. doi:10.1016/0024-6301(96)00068-4.

Winebrake, J. J., & Farrell, A. (1997). The AFV credit program and its role in future AFV market development. Transportation Research Part D Transport and Environment, 2, 125–132. doi:10.1016/S1361-9209(97)00004-7.

Yin, R. K. (1984). Case study research: Design and methods. Thousands Oaks
About this article
Cite this article
Jacob, B., Welch, E. & Simms, T. Emergent Management Strategies in a Public Agency: A Case Study of Alternative Fuel Vehicles. Public Organ Rev 9, 213–234 (2009). https://doi.org/10.1007/s11115-009-0081-z
Published:

Issue Date:

DOI: https://doi.org/10.1007/s11115-009-0081-z
Keywords