Abstract
While many studies deal with comparative public sector reform, the fundamental question of whether and to what extent states are actually able to abolish parts of their administrative structure remains untackled. Despite some efforts to solve this puzzle, the topic remains underestimated. This article identifies the main conceptual and theoretical problems associated with existent research on the termination of public organizations. Furthermore, the article systemizes various causal factors of termination into two broad dimensions: "organizational stickiness" and "political incentives." Taken together, these constitute a typology, which is able to guide future empirical investigation of the termination of public organizations.
Access options
Buy single article
Instant access to the full article PDF.
US$ 39.95
Tax calculation will be finalised during checkout.
Subscribe to journal
Immediate online access to all issues from 2019. Subscription will auto renew annually.
US$ 79
Tax calculation will be finalised during checkout.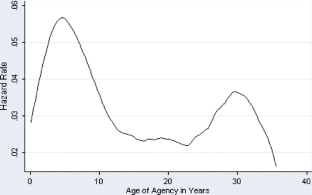 Notes
1.

2.

Note that Carpenter and Lewis assume "that agency defection and failure are exogenous" (Carpenter and Lewis 2004, p. 206).

3.

Carpenter and Lewis "posit an a dynamic utility function under which a politician's losses are equivalent to (1) those costs accruing from defections and failures while the agency is still alive, plus (2) expected losses from termination of the agency under an optimal policy" (Carpenter and Lewis 2004, p. 210).

4.
References
Aldrich, H. E., & Auster, E. 1986. Even dwarfs started small: Liabilities of age and size and their strategic implications. In Aldrich, H. E. (ed.), Population Perspectives on Organizations: 29–60. Uppsala.

Audretsch, D. 1995. Innovation, growth, and survival. International Journal of Industrial Organization, 13: 441–457.

Behn, R. D. 1976. Closing the Massachusetts public training schools. Policy Sciences, 7: 151–171.

Behn, R. D. 1978. How to terminate a public policy: A dozen hints for the would-be terminator. Policy Analysis, 4: 393–413.

Bradley, V. J. 1976. Policy termination in mental health: The hidden agenda. Policy Sciences, 7: 215–224.

Brüderl, J., Preisendörfer, P., & Ziegler, R. 1996. Der Erfolg neugegründeter [sic] Betriebe: Eine empirische Studie zu den Chancen und Risiken von Unternehmensgründungen. Berlin.

Cameron, J. M. (1978). Ideology and policy termination: Restructuring California's mental health system. In May, J. V., Wildavsky, A. B. (Eds.). The Policy Cycle: 301–328. Beverly Hills: Sage.

Carpenter, D., & Lewis, D. E. 2004. Political learning from rare events: Poisson inference, fiscal constraints, and the lifetime of bureaus. Political Analysis, 12: 201–232.

Daniels, M. R. 1995a. Implementing policy termination: Health care reform in Tennessee. Policy Studies Review, 14: 353–374.

Daniels, M. R. 1995b. Organizational termination and policy continuation: Closing the Oklahoma public training schools. Policy Sciences, 28: 301–316.

Daniels, M. R. 1997. Terminating public programs. An American political paradox. Sharpe: Armonk, New York.

deLeon, P. (1978). Public policy termination: An end and a beginning. Policy Analysis, 4: 369–392.

deLeon, P., & Hernandes-Quezada, J. M. 2001. The case of the international solidarity program in Mexico: A study in comparative policy termination. International Journal of Public Administration, 24: 289–309.

Downs, A. 1967. Inside bureaucracy. Boston: Little Brown.

Frantz, J. 1992. Reviving and revising a termination model. Policy Sciences, 25: 175–189.

Frantz, J. 2002. Political resources for policy terminators. Policy Studies Journal, 30: 11–28.

Hannan, M. T., & Freeman, J. 1989. Organizational Ecology. Cambridge, MA: Harvard University Press.

Harris, M. 2001. Policy termination: The case of term limits in Michigan. International Journal of Public Administration, 24: 323–339.

Kaufman, H. 1976. Are government organizations immortal? Washington: Brookings Institution.

Kaufman, H. 1985. Time, change and organizations: Natural selection in a perilous environment. Chatham: Chatham House.

Kieser, A. 2002. Evolutionstheoretische Ansätze. In Kieser, A. (Ed.). Organisationstheorien (5th ed): 253–285. Stuttgart: Kohlhammer.

King, G., Keohane, R. O., & Verba, S. 1994. Designing social inquiry. Princeton, NJ: Princeton University Press.

Kirkpatrick, S. E., Lester, J. P., & Peterson, M. R. 1999. The policy termination process. A conceptual framework and application to revenue sharing. Policy Studies Review, 16, 209–236.

Kuipers, S., & Boin, A. 2005. The life and death of public organizations: Revisiting the New Deal agencies. Paper presented at the 21st EGOS colloquium. Berlin: June 30–July 2.

Lambright, W. H., & Sapolsky, H. M. 1976. Terminating federal research and development programs. Policy Sciences, 7: 199–213.

Lewis, D. E. 2002. The politics of agency termination: Confronting the myth of agency immortality. The Journal of Politics, 64: 89–107.

Lowi, T. J. (1979). The end of liberalism: The second republic of the United States. (2nd ed.). New York: Norton.

Peters, G. B. 1998. Comparative politics: Theories and methods. Basingstoke: Macmillan.

Peters, G. B. 2001. The politics of bureaucracy. (5th ed.). London: Routledge.

Peters, G. B., & Hogwood, B. W. 1988. Births, deaths and marriages: Organizational change in the U.S. Federal Bureaucracy. The American Review of Public Administration, 18: 119–133.

Sato, H., & Frantz, J. E. 2005. Termination of the leprosy isolation policy in the US and Japan: Science, policy changes, and the garbage can model. BMC International Health and Human Rights 5, http://www.biomedcentral.com/1472-698X/5/3.

Selznick, P. 1957. Leadership in administration: A sociological interpretation. Berkeley: University of California Press.

Short, L. M. 1923. The development of national administrative organization in the United States. Baltimore: John Hopkins Press.

Shu-Hsiang, H. 2005. Terminating Taiwan's fourth nuclear power plant under the Chen Shui-bian administration. Review of Policy Research, 22: 171–186.

Shulsky, A. N. 1976. Abolishing the District of Columbia motorcycle squad. Policy Sciences, 7: 183–197.

Woywode, M. 1998. Determinanten der Überlebenswahrscheinlichkeit von Unternehmen: Eine empirische Überprüfung organisationstheoretischer und industrieökonomischer Erklärungsansatze. Baden–Baden: Nomos.
Appendix
Appendix
About this article
Cite this article
Adam, C., Bauer, M.W., Knill, C. et al. The Termination of Public Organizations: Theoretical Perspectives to Revitalize a Promising Research Area. Public Organiz Rev 7, 221–236 (2007). https://doi.org/10.1007/s11115-007-0033-4
Received:

Accepted:

Published:

Issue Date:
Keywords
Termination

Public organizations

Policy termination

Administrative reform