Abstract
Despite the sizeable impact of migration on childbearing, less is known about how it shapes contraceptive use undergirding fertility. We utilize binational survey data collected in 2006/7 by the Migration, Gender, and Health among Immigrant Latinos in Durham, NC study to assess how selection, disruption, and adaptation shape contraceptive use among Mexican migrant women. We address selectivity with respect to both socio-demographic and formative sexual initiation characteristics, comparing migrants to non-migrants in Mexico. We examine the disruptive effect of migration on contraception among migrant women sexually initiated in Mexico. Finally, we compare current methods between Mexican migrants and non-migrants to assess adaptation to U.S. contraceptive practices. We find migrant selectivity is less important than context in shaping immigrant women's contraceptive practices, though migrant women sexually initiated in the United States exhibit earlier and higher levels of contraceptive use than their migrant peers initiated in Mexico. Migration also disrupts contraceptive trajectories. Many migrants discontinue contraceptive use pre-migration in response to their husbands' solo migration. Partner separation also reduces contraceptive use immediately after migration. Finally, migrants show numerous signs of adaptation to the U.S. context, mainly via the adoption of oral contraception. The main obstacle for contraceptive use in Durham is lack of information about where to obtain it. Efforts to improve immigrants' reproductive health should recognize the deleterious effect of policies encouraging family separation. Health care must reach immigrant women soon after arrival, be attuned to pre-migration contraceptive practices, and recognize the unique vulnerabilities of women migrating at older ages.
Access options
Buy single article
Instant access to the full article PDF.
US$ 39.95
Tax calculation will be finalised during checkout.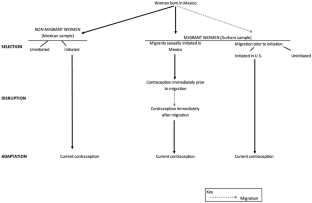 Notes
1.

We also explored the influence of English language ability on contraceptive practices. However, variation in English fluency was very limited in our sample, with few women reporting speaking English well (5.1%) or very well (1.5%), and most speaking either very little (36.5%) or no English (56.8). Moreover, levels of current contraceptive use did not differ significantly between women who spoke English well/very well (57.1%) relative to those who spoke little/no English (58.3%). More importantly, English language ability was highly colinear with age at arrival, making it impossible to estimate their separate effects. It is, thus, worth noting that an important mechanism linking age at arrival to contraceptive practices is potentially its association with English fluency.
References
Åkerman, E., Östergren, P., Essén, B., Fernbrant, C., & Westerling, R. (2016). Knowledge and utilization of sexual and reproductive healthcare services among Thai immigrant women in Sweden. BMC International Health and Human Rights, 16(1), 25. https://doi.org/10.1186/s12914-016-0100-4

Andersson, G. (2004). Childbearing after migration: Fertility patterns of foreign-born women in Sweden. The International Migration Review, 38(2), 747–774.

Betancourt, G., Colarossi, L., & Perez, A. (2013). Factors associated with sexual and reproductive health care by Mexican immigrant women in New York City: A mixed method study. Journal of Immigrant and Minority Health, 15(2), 326–333. https://doi.org/10.1007/s10903-012-9588-4

Bohon, S., & Conley, M. (2015). Immigration and Population. Polity Press.

Christensen, A., Perry, D., Le, H., & Ahmed, S. (2011). Correlates of unintended birth among low-income Hispanic immigrants at high risk for depression. Journal of Immigrant and Minority Health, 13, 478–486.

Choi, A., & Dempsey, A. (2014). Strategies to improve compliance among oral contraceptive pill users: A review of the literature. Open Access Journal of Contraception, 5, 17–22.

Daniele, M., Cleland, J., Benova, L., & Ali, M. (2017). Provider and lay perspectives on intra-uterine contraception: A global review. Reproductive Health, 14(1), 1–11.

Dansereau, E., Schaefer, A., Hernández, B., Nelson, J., Palmisano, E., Ríos-Zertuche, D., Woldeab, A., Zúñiga, M. P., Iriarte, E. M., Mokdad, A. H., & El Bcheraoui, C. (2017). Perceptions of and barriers to family planning services in the poorest regions of Chiapas, Mexico: A qualitative study of men, women, and adolescents. Reproductive Health, 14(1), 129.

Esposito, C., & LoGiudice, J. (2019). Beliefs and use of intrauterine devices (IUDs) among women's health care providers. The Journal for Nurse Practitioners, 15(9), 682–687.

Eeckhaut, M., & Sweeney, M. (2018). Understanding sterilization regret in the United States: The role of relationship context. Journal of Marriage and Family, 80(5), 1259–1270.

Farid, H., Siddique, S., Bachmann, G., Janevic, T., & Pichika, A. (2013). Practice of and attitudes towards family planning among South Asian American immigrants. Contraception, 88(4), 518–522. https://doi.org/10.1016/j.contraception.2013.03.011

Finer, L., & Henshaw, S. (2006). Disparities in rates of unintended pregnancy in the United States, 1994 and 2001. Perspectives on Sexual and Reproductive Health, 38, 90–96.

Flippen, C. (2013). Intersectionality at work: Determinants of labor supply among Immigrant Hispanic women in Durham, NC. Gender and Society, 20, 1–31 (NIHMS736354).

Flippen, C. & Farrell-Bryan, D. (2021). New destinations and the changing geography of immigrant settlement. Annual Review of Sociology.

Flippen, C., & Parrado, A. (2012). Forging Hispanic communities in new destinations: A Case Study of Durham, North Carolina. City & Community, 11(1), 1–30.

Flippen, C., & Parrado, A. (2015). A Tale of two contexts: Mexican women's labor force participation in the United States and Mexico. International Migration Review, 49, 232–259.

Garcés-Palacio, I., Altarac, M., & Scarinci, I. (2008). Contraceptive knowledge and use among low-income Hispanic immigrant women and non-Hispanic women. Contraception, 77(4), 270–275.

Gresenz, C., Derose, K., Ruder, T., Escarce, J., Roan, Gresenz C., et al. (2012). Health care experiences of Hispanics in new and traditional US destinations. Medical Care Research and Review, 69(6), 663–78.

Gutierrez, E., Flippen, C., & Parrado, A. (2018). Migration and depression: A cross-national comparison of Mexicans in sending communities and Durham, NC. Social Science and Medicine, 219, 1–10.

Hasstedt, K., Desai, S., & Ansari-Thomas, Z. (2018). Immigrant women's access to sexual and reproductive health coverage and care in the United States. Commonwealth Fund.

Helström, L., Odlind, V., Zätterström, C., Johansson, M., Granath, F., Correia, N., & Ekbom, A. (2003). Abortion rate and contraceptive practices in immigrant and native women in Sweden. Scandinavian Journal of Public Health, 31(6), 405–410. https://doi.org/10.1080/14034940210165181

Hervitz, H. (1985). Selectivity, adaptation, or disruption? A comparison of alternative hypotheses on the effects of migration on fertility: The case of Brazil. The International Migration Review, 19(2), 293–317.

Kessler, K., Goldenberg, S., & Quezada, L. (2010). Contraceptive Use, Unmet Need for Contraception, and Unintended Pregnancy in a Context of Mexico-U.S. Migration. Field Actions Science Reports. The Journal of Field Actions, (Special Issue 2). Retrieved from http://journals.openedition.org/factsreports/534

Lindstrom, D. P., & Hernández, C. H. (2006). Internal migration and contraceptive knowledge and use in Guatemala. International family planning perspectives, 32(3), 146–153.

Lindstrom, D., Hernandez-Jabalera, A., & Giorguli Saucedo, S. (2020). Migration, Family Formation and Fertility in the Americas. International Migration Review, 0197918320923353.

Livingston, G. (2019). Hispanic women no longer account for the majority of immigrant births in the U.S. Pew Reseacher Center. https://www.pewresearch.org/fact-tank/2019/08/08/hispanic-women-no-longer-account-for-the-majority-of-immigrant-births-in-the-u-s/.

Loeber, O. (2008). Sexual and reproductive health issues of Turkish immigrants in the Netherlands. The European Journal of Contraception & Reproductive Health Care, 13(4), 330–338. https://doi.org/10.1080/13625180802303626

Lübke, C. (2015). How migration affects the timing of childbearing: The transition to a first birth among Polish women in Britain. European Journal of Population, 31(1), 1–20. https://doi.org/10.1007/s10680-014-9326-9

Milewski, N. (2007). First child of immigrant workers and their descendants in West Germany: Interrelation of events, disruption, or adaptation? Demographic Research, 17, 859–896.

Monnat, S. (2017). The new destination disadvantage: Disparities in Hispanic health insurance coverage rates in metropolitan and nonmetropolitan new and established destinations. Rural Sociology, 82(1), 3–43.

Mosher, W., Martinez, G., Chandra, A., Abma, J., & Willson, S. (2004). Use of contraception and use of family planning services in the United States, 1982–2002. Advance Data, 350, 1–36.

Parrado, E., McQuiston, C., & Flippen, C. (2005). Participatory survey research: Integrating community collaboration and quantitative methods for the study of gender and HIV risks among Hispanic migrants. Sociological Methods and Research, 34(2), 204–239.

Parrado, E., Flippen, C., & Uribe, L. (2010). Concentrated disadvantages: Neighborhood context as a structural risk for Latino Immigrants in the US Chapter: 3. In M. Haour-Knipe, P. Aggleton, & F. Thomas (Eds.), Mobility, sexuality and AIDS (pp. 40–54). London: Routledge.

Parrado, E. (2011). How high is Hispanic fertility? Immigration and tempo considerations . Demography, 48(3), 1059–1080.

Parrado, E. A., & Flippen, C. (2010). Community attachment, neighborhood context, and sex worker use among Hispanic migrants in Durham, North Carolina, USA. Social Science & Medicine, 70(7), 1059–1069.

Parrado, E. A., & Flippen, C. A. (2014). Migration, social organization, and the sexual partners of Mexican Men. Social problems, 61(3), 380–401.

Philbin, M., Flake, M., Hatzenbuehler, M., & Hirsch, J. (2018). State-level immigration and immigrant-focused policies as drivers of Latino health disparities in the United States. Social Science & Medicine, 199, 29–38.

Potter, J. (1999). The persistence of outmoded contraceptive regimes: The cases of Mexico and Brazil. Population and Development Review, 25(4), 703–739.

Potter, J., White, K., Hopkins, K., McKinnon, S., Shedlin, M., Amastae, J., & Grossman, D. (2012). Frustrated demand for sterilization among low-income Latinas in El Paso, Texas. Perspectives on Sexual and Reproductive Health, 44(4), 228–235.

Quelopana, A., & Alcalde, C. (2014). Exploring knowledge, belief and experiences in sexual and reproductive health in immigrant Hispanic women. Journal of Immigrant and Minority Health, 16(5), 1001–1006. https://doi.org/10.1007/s10903-013-9807-7

Rhodes, S. D., Hergenrather, K. C., Wilkin, A., Alegría-Ortega, J., & Montaño, J. (2006). Preventing HIV infection among young immigrant Latino men: results from focus groups using community-based participatory research. Journal of the National Medical Association, 98(4), 564.

Rhodes, S., Mann, L., Simán, F., Song, E., Alonzo, J., Downs, M., Lawlor, E., Martinez, O., Sun, C. J., O'Brien, M. C., Reboussin, B. A., & Hall, M. A. (2015). The impact of local immigration enforcement policies on the health of immigrant Hispanics/Latinos in the United States. American Journal of Public Health, 105(2), 329–337.

Sangi-Haghpeykar, H., Ali, N., Posner, S., & Poindexter, A. (2006). Disparities in contraceptive knowledge, attitude and use between Hispanic and non-Hispanic whites. Contraception, 74(2), 125–132.

Schoevers, M., van den Muijsenbergh, M. E. T. C., & Lagro-Janssen, A. L. M. (2010). Illegal female immigrants in The Netherlands have unmet needs in sexual and reproductive health. Journal of Psychosomatic Obstetrics & Gynecology, 31(4), 256–264. https://doi.org/10.3109/0167482X.2010.528090

Singer, A. (2004). The rise of new immigrant gateways. The Brookings Institution.

Sonfield, A., Siddiqui, F., Okunlola, M., Stella-Maris, O., Tokzaka, A., & Ojengbede, O. (2007). Popularity disparity: ATTITUDES about the IUD in Europe and the United States. Guttmacher Policy Review, 10(4), 19–24.

Unger, J., & Molina, G. (1998). Contraceptive use among Latina women: Social, cultural, and demographic correlates. Women's Health Issues, 8(6), 359.

White, K., & Potter, J. (2013). Patterns of contraceptive use among Mexican-origin women. Demographic Research, 28(41), 1199.

Wiebe, E. (2013). Contraceptive practices and attitudes among immigrant and nonimmigrant women in Canada. Canadian Family Physician, 59(10), e451–e455.

Wilson, E. (2009). Differences in contraceptive use across generations of migration among women of Mexican origin. Maternal and Child Health Journal, 13(5), 641.
Additional information
Publisher's Note
Springer Nature remains neutral with regard to jurisdictional claims in published maps and institutional affiliations.
About this article
Cite this article
Flippen, C.A., Schut, R.A. Migration and Contraception among Mexican Women: Assessing Selection, Disruption, and Adaptation. Popul Res Policy Rev (2021). https://doi.org/10.1007/s11113-021-09661-8
Received:

Accepted:

Published:
Keywords
Migrants

Contraception

Sexual behavior

United States

Latin America