Abstract
Children with additional siblings appear to fare worse on a variety of developmental and educational outcomes across social contexts. Yet, the causal relation between sibship size and later attainment remains dubious, as factors that influence parents' fertility decisions also shape children's socioeconomic prospects. We apply instrumental variables methods that treat multiple births (e.g., twins, triplets) and same-sex composition as natural experiments to test whether increases in sibship size have a causal effect on the educational attainment of older siblings in the U.S. We pool several nationally representative datasets, including the Child and Young Adult Cohorts of the NLSY79 and the Panel Study of Income Dynamics, to obtain adequate sample sizes for these methods. Although results indicate that the presence of an additional sibling has a trivial effect on the attainment of older siblings for most families (those with two to four siblings), a large penalty arises with the introduction of a fifth sibling. Our findings imply that the costs associated with sibship size are likely concentrated among the largest families.
This is a preview of subscription content, log in to check access.
Access options
Buy single article
Instant access to the full article PDF.
US$ 39.95
Price includes VAT for USA
Subscribe to journal
Immediate online access to all issues from 2019. Subscription will auto renew annually.
US$ 99
This is the net price. Taxes to be calculated in checkout.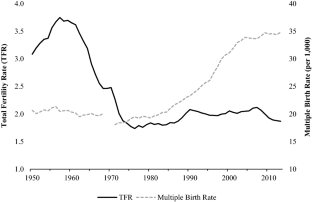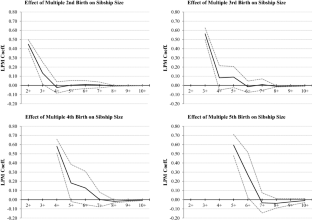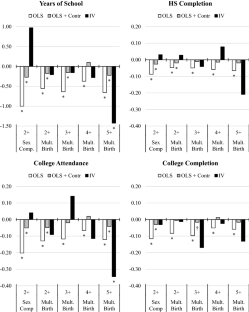 Notes
1.

Our primary analytic sample focuses on children mostly born in the 1970s and 80s, though some were born in earlier years. Estimates from the Current Population Survey suggest that this range of sibship size generalizes to a nontrivial number of families (Downs 2003). The share of women aged 40–44 who had three or more children was around 43% in 1985 (with nearly 10% having five or more children), and was 32% (and 5%) by 1990.

2.

Among women who would have had more than three children regardless of a multiple second birth event, multiple births do not contribute to variation in sibship size. This is not problematic because such women should be equally represented in the multiple birth and singleton birth groups.

3.

The estimates of interest do not change after adjusting for temporal shifts in the average age at childbearing (e.g. tempo effects). Authors' calculations are based on U.S. Vital Statistics.

4.

Although delayed childbearing, which is also associated with MAR, is an important contributor to the increased rate of twinning, it cannot solely account for increases in multiple births.

5.

Nearly all multiple births in our analytic sample (96.1–99.2%, depending on the nth birth event) occurred before 1997—the year in which the Centers for Disease Control (CDC) began systematically collecting data on assisted reproductive technologies.

6.

Results are available upon request.

7.

PSID treats race as a household variable, so each family is coded as the race of the head of household.

8.

To increase sample sizes, we include all observations with educational data reported at age 19 or older for high school completion, at age 20 or older for college attendance, and at age 23 or older for bachelor's degree attainment.
References
Angrist, J. D., & Evans, W. N. (1998). Children and their parents' labor supply: Evidence from exogenous variation in family size. The American Economic Review, 88(3), 450–477.

Angrist, J. D., Imbens, G. W., & Rubin, D. B. (1996). Identification of causal effects using instrumental variables. Journal of the American Statistical Association, 91(434), 444–455.

Angrist, J., Lavy, V., & Schlosser, A. (2010). Multiple experiments for the causal link between the quantity and quality of children. Journal of Labor Economics, 28(4), 773–823.

Åslund, O., & Grönqvist, H. (2010). Family size and child outcomes: Is there really no trade-off? Labour Economics, 17(1), 130–139.

Bagger, J., J. A. Birchenall, H. Mansour and S. Urzúa. (2013). Education, birth order, and family size. National Bureau of Economic Research Working Paper Series No. 19111.

Becker, G. S., & Gregg Lewis, H. (1973). Interaction between quantity and quality of children. Journal of Political Economy, 81(2), S279–S288.

Becker, G. S., & Tomes, N. (1976). Child endowments and quantity and quality of children. Journal of Political Economy, 84(4), S143–S162.

Black, S. E., Devereux, P. J., & Salvanes, K. G. (2005). The more the merrier? The effect of family size and birth order on children's education. Quarterly Journal of Economics, 120(2), 669–700.

Black, S. E., Devereux, P. J., & Salvanes, K. G. (2010). Small family, smart family? Family size and the Iq scores of young men. Journal of Human Resources, 45(1), 33–58.

Blake, J. (1981). Family size and the quality of children. Demography, 18(4), 421–442.

Blake, J. (1989). Number of siblings and educational attainment. Science, 245(4913), 32–36.

Blau, P. M., & Duncan, O. D. (1967). The American occupational structure. New York: Wiley.

Bortolus, R., Parazzini, F., Chatenoud, L., Benzi, G., Bianchi, M. M., & Marini, A. (1999). The epidemiology of multiple births. Human Reproduction Update, 5(2), 179–187.

Bras, H., Kok, J., & Mandemakers, K. (2010). Sibship size and status attainment across contexts: Evidence from the Netherlands, 1840–1925. Demographic Research, 23(4), 73–104.

Bulmer, M. G. (1970). The Biology of twinning in man. Oxford: Clarendon.

Cáceres-Delpiano, J. (2006). The impacts of family size on investment in child quality. Journal of Human Resources, 41(4), 738–754.

Cáceres-Delpiano, J., & Simonsen, M. (2012). The toll of fertility on mothers' wellbeing. Journal of Health Economics, 31(5), 752–766.

Centers for Disease Control and Prevention. (2007). American Society for Reproductive Medicine, Society for Assisted Reproductive Technology: 2005. Assisted Reproductive Technology Success Rates, National Summary and Fertility Clinic Reports: Atlanta, GA

Conley, D. (2000). sibship sex composition: Effects on educational attainment. Social Science Research, 29(3), 441–457.

Conley, D., & Glauber, R. (2006). Parental educational investment and children's academic risk: Estimates of the impact of sibship size and birth order from exogenous variation in fertility. Journal of Human Resources, 41(4), 722–737.

David, C. (1999). The causal effect of education on earnings. In O. Ashenfelter & D. Card (Eds.), Handbook of labor economics (pp. 1802–1859). Amsterdam: Elsevier.

de Haan, M. (2010). Birth order, family size and educational attainment. Economics of Education Review, 29(4), 576–588.

Downey, D. B. (1995). When bigger is not better: Family size, parental resources, and childrens educational performance. American Sociological Review, 60(5), 746–761.

Downs, B. (2003). Fertility of American Women: June 2002. Current Population Reports, U.S. Census Bureau

Fitzsimons, E., & Malde, B. (2014). Empirically probing the quantity-quality model. Journal of Population Economics, 27(1), 33–68.

Frenette, M. (2011). Why do larger families reduce parental investments in child quality, but not child quality per se? Review of Economics of the Household, 9(4), 523–537.

Fretts, R. C., Schmittdiel, J., Mclean, F. H., Usher, R. H., & Goldman, M. B. (1995). Increased maternal age and the risk of fetal death. New England Journal of Medicine, 333(15), 953–957.

Galton, F. (1874). English men of science: Their nature and nurture. London: Macmillan & Co.

Goldin, C., & Katz, L. F. (2009). The Race between Education and Technology. Cambridge: Harvard University Press.

Guo, G., & VanWey, L. K. (1999). Sibship size and intellectual development: Is the relationship causal? American Sociological Review, 64(2), 169–187.

Hanushek, E. A. (1992). The trade-off between child quantity and quality. The Journal of Political Economy, 100(1), 84–117.

Heer, D. M. (1985). Effects of sibling number on child outcome. Annual Review of Sociology, 11, 27–47.

Kao, G., & Thompson, J. S. (2003). Racial and ethnic stratification in educational achievement and attainment. Annual Review of Sociology, 29, 417–442.

Kulkarni, A. D., Jamieson, D. J., Jones, H. W., Kissin, D. M., Gallo, M. F., Macaluso, M., et al. (2013). Fertility treatments and multiple births in the United States. New England Journal of Medicine, 369(23), 2218–2225.

Lee, J. (2008). Sibling size and investment in children's education: An asian instrument. Journal of Population Economics, 21, 855–875.

Li, H., Zhang, J., & Zhu, Yi. (2008). The quantity-quality trade-off of children in a developing country: identification using Chinese Twins. Demography, 45(1), 223–243.

Li, J., Dow, W. H., & Rosero-Bixby, L. (2014). The declining effect of sibling size on children's education in Costa Rica. Demographic Research, 31(48), 1431–1454.

Li, J., Dowm, W. H., & Rosero-Bixby, L. (2017). Education gains attributable to fertility decline: Patterns by gender, period, and country in Latin America and Asia. Demography, 54, 1353–1373.

Lichtenstein, P., Olausson, P. O., & Bengt Kallen, A. J. (1996). Twin births to mothers who are twins: A registry based study. British Medical Journal, 312(7035), 879–881.

Marteleto, L. J., & de Souza, L. R. (2012). The changing impact of family size on adolescents' schooling: Assessing the exogenous variation in fertility using twins in Brazil. Demography, 49, 1453–1477.

Murray, C. A. (1984). Losing ground: American Social Policy, 1950–1980. New York: Basic Books.

Page, E. B., & Grandon, G. M. (1979). Family configuration and mental ability: Two theories contrasted with U.S. Data. American Educational Research Journal, 16(3), 257–272.

Pew Research Center. (2015). Childlessness falls, family size grows among highly educated women. Washington, DC.: May.

Phillips, M. (1999). Sibship size and academic achievement: What we now know and what we still need to know. American Sociological Review, 64(2), 188–192.

Pison, G., & D'Addato, A. V. (2006). Frequency of twin births in developed countries. Twin Research and Human Genetics, 9(2), 250–259.

Pison, G., Monden, C., & Smits, J. (2015). Twinning rates in developed countries: Trends and explanations. Population and Development Review, 41(4), 629–649.

Plomin, R., Owen, M. J., & McGuffin, P. (1994). The genetic basis of complex human behaviors. Science, 264(5166), 1733–1739.

Ponczek, V., & Souza, A. P. (2012). New evidence of the causal effect of family size on child quality in a developing country. The Journal of Human Resources, 47(1), 64–106.

Practice Committee of the American Society for Reproductive Medicine and the Practice Committee of the Society for Assisted Reproductive Technology. (2013). Criteria for number of embryos to transfer: A committee opinion. Fertility and Sterility, 99(1), 44–46.

Rodgers, J. L., Harrington Cleveland, H., van den Oord, E., & Rowe, D. C. (2000). Resolving the debate over birth order, family size, and intelligence. American Psychologist, 55(6), 599–612.

Rosenzweig, M. R., & Wolpin, K. I. (1980a). Life-cycle labor supply and fertility: Causal inferences from household models. Journal of Political Economy, 88(2), 328–348.

Rosenzweig, M. R., & Wolpin, K. I. (1980b). Testing the quantity-quality fertility model: Use of twins as a natural experiment. Econometrica, 48(1), 227–240.

Rosenzweig, M. R., & Zhang, J. S. (2009). Do population control policies induce more human capital investment? Twins, birth weight and China's "One-Child" policy. Review of Economic Studies, 76(3), 1149–1174.

Schieve, L. A., Peterson, H. B., Meikle, S. F., Jeng, G., Danel, I., Burnett, N. M., et al. (1999). Live-birth rates and multiple-birth risk using in vitro fertilization. Jama-Journal of the American Medical Association, 282(19), 1832–1838.

Staiger, D., & Stock, J. H. (1997). Instrumental variables regression with weak instruments. Econometrica, 65(3), 557–586.

Steelman, L. C. (1985). A tale of two variables: A review of the intellectual consequences of sibship size and birth order. Review of Educational Research, 55(3), 353–386.

Steelman, L. C., Powell, B., Werum, R., & Carter, S. (2002). Reconsidering the effects of sibling configuration: Recent advances and challenges. Annual Review of Sociology, 28, 243–269.

Zajonc, R. B., & Markus, G s B. (1975). Birth order and intellectual development. Psychological Review, 82, 74.
Additional information
Publisher's Note
Springer Nature remains neutral with regard to jurisdictional claims in published maps and institutional affiliations.
About this article
Cite this article
Diaz, C.J., Fiel, J.E. When Size Matters: IV Estimates of Sibship Size on Educational Attainment in the U.S.. Popul Res Policy Rev (2020). https://doi.org/10.1007/s11113-020-09619-2
Received:

Accepted:

Published:
Keywords
Siblings

Sibship size

Educational attainment

Instrumental variables