Abstract
Does childrearing affect the biological functioning of parents? To address this question, we analyze cross-sectional survey and biomarker data from Vanderbilt University's Nashville Stress and Health Study, a probability sample of non-Hispanic White and Black working-age adults from Davidson County, Tennessee (2011–2014; n = 1252). Multivariable regression analyses reveal a linear dose–response relationship between the number of children living in a respondent's home and (a) increased allostatic load, and (b) decreased leukocyte telomere length. We found no differences in biological functioning between childless respondents and empty-nest parents. These findings also withstood controls for a battery of socioeconomic factors. The implications of these findings and suggestions for future research are discussed.
Access options
Buy single article
Instant access to the full article PDF.
US$ 39.95
Tax calculation will be finalised during checkout.
Subscribe to journal
Immediate online access to all issues from 2019. Subscription will auto renew annually.
US$ 79
Tax calculation will be finalised during checkout.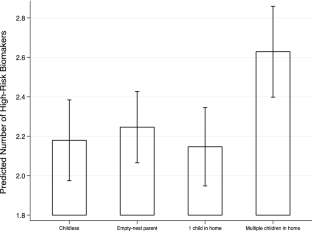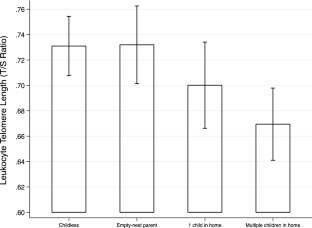 References
Epel, E. S., Blackburn, E. H., Lin, J., Dhabhar, F. S., Adler, N. E., Morrow, J. D., et al. (2004). Accelerated telomere shortening in response to life stress. Proceedings of the National Academy of Sciences, 101(49), 17312–17315.

Hill, T. D., Ellison, C. G., Burdette, A. M., Taylor, J., & Friedman, K. L. (2016). Dimensions of religious involvement and leukocyte telomere length. Social Science and Medicine, 163, 168–175.

Johnson, D. R., & Young, R. (2011). Toward best practices in analyzing datasets with missing data: Comparisons and recommendations. Journal of Marriage and Family, 73(5), 926–945.

Justin, R.-P., McEwen, B. S., & Lupien, S. J. (2010). Allostatic load biomarkers of chronic stress and impact on health and cognition. Neuroscience and Biobehavioral Reviews, 35, 2–16.

Kohn, M., & Schooler, C. (1983). Work and personality: An inquiry into the impact of social stratification. Norwood, NJ: Ablex Publishing.

Seeman, T. E., Singer, B. H., Rowe, J. W., Horwitz, R. I., & McEwen, B. S. (1997). Price of adaptation—Allostatic load and its health consequences: MacArthur studies of successful aging. Archives of Internal Medicine, 157(19), 2259–2268.
Acknowledgements
This work is supported by Grant R01AG034067 from the Office of Behavioral and Social Science Research and the National Institute on Aging. No direct support was received from Grant R01 AG034067 for this analysis.
Additional information
Publisher's Note
Springer Nature remains neutral with regard to jurisdictional claims in published maps and institutional affiliations.
Appendix 1
Appendix 1
See Table 4.
About this article
Cite this article
DeAngelis, R.T., Taylor, J. Parental Status and Biological Functioning: Findings from the Nashville Stress and Health Study. Popul Res Policy Rev 39, 365–373 (2020). https://doi.org/10.1007/s11113-019-09534-1
Received:

Accepted:

Published:

Issue Date:
Keywords
Childrearing

Parental health

Biological functioning

Allostatic load

Telomere length