Abstract
The literature on neighborhoods and child obesity links contextual conditions to risk, assuming that if place matters, it matters in a similar way for everyone in those places. We explore the extent to which distinctive neighborhood types give rise to social patterning that produces variation in the odds of child obesity. We leverage geocoded electronic medical records for a diverse sample of over 135,000 children aged 2 to 12 and latent profile modeling to characterize places into distinctive neighborhood contexts. Multilevel models with cross-level interactions between neighborhood type and family socioeconomic standing (SES) reveal that children with different SES, but living in the same neighborhoods, have different odds of obesity. Specifically, we find lower-SES children benefit, but to a lesser degree, from neighborhood advantages and higher-SES children are negatively influenced, to a larger degree, by neighborhood disadvantages. The resulting narrowing of the gap in obesity by neighborhood disadvantage helps clarify how place matters for children's odds of obesity and suggests that efforts to improve access to community advantages as well as efforts to address community disadvantages are important to curbing obesity and improving the health of all children.
This is a preview of subscription content, log in to check access.
Access options
Buy single article
Instant access to the full article PDF.
US$ 39.95
Price includes VAT for USA
Subscribe to journal
Immediate online access to all issues from 2019. Subscription will auto renew annually.
US$ 99
This is the net price. Taxes to be calculated in checkout.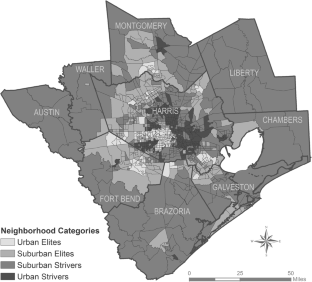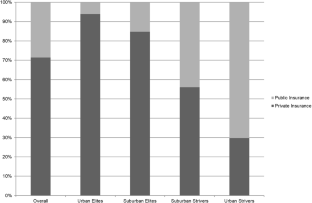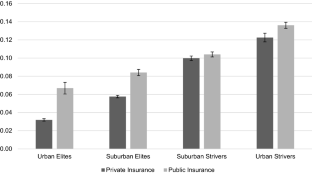 References
Allard, S., & Small, M. L. (2013). Reconsidering the urban disadvantaged: The role of systems, institutions, and organizations. The Annals of the American Academy of Political and Social Sciences, 647(1), 6–20.

Allison, P. D. (2001). Missing data. Thousand Oaks: Sage Publications.

Alvarado, S. E. (2016). Neighborhood disadvantage and obesity across childhood and adolescence: Evidence from the NLSY children and young adults cohort (1986–2010). Social Science Research, 57, 80–98. https://doi.org/10.1016/j.ssresearch.2016.01.008.

American Community Survey: Demographic and Housing Characteristics, 2011–2015, U.S. Census Bureau. Retrieved 28 October, 2017, from https://factfinder.census.gov

Arcaya, M., Graif, C., Waters, M., & Subramanian, S. V. (2016a). Health selection into neighborhoods among families in the moving to opportunity program. American Journal of Epidemiology, 183(2), 130–137.

Arcaya, M., Tucker-Seeley, R., Kim, R., Schnake-Mahl, A., So, M., & Subramanian, S. (2016b). Research on neighborhood effects on health in the United States: A systematic review of study characteristics. Social Science and Medicine, 168, 16–29.

Blaxter, M. (1990). Health and lifestyles. London: Tavistock.

Bray, B. C., Lanza, S. T., & Tan, X. (2015). Eliminating bias in classify-analyze approaches for latent class analysis. Structural Equation Modeling, 22(1), 1–11.

Brooks-Gunn, J., Duncan, G. J., Klebanov, P. K., & Sealand, N. (1993). Do neighborhoods influence child and adolescent development. American Journal of Sociology, 99(2), 353–395.

Carroll-Scott, A., Gilstad-Hayden, K., Rosenthal, L., Peters, S. M., McCaslin, C., Joyce, R., et al. (2013). Disentangling neighborhood contextual associations with child body mass index, diet, and physical activity: the role of built, socioeconomic, and social environments. Social Science and Medicine, 95, 106–114.

Casey, J. A., Curriero, F. C., Cosgrove, S. E., Nachman, K. E., & Schwartz, B. S. (2013). High-density livestock operations, crop field application of manure, and risk of community-associated methicillin-resistant Staphylococcus aureus infection in Pennsylvania. JAMA Internal Medicine, 173, 1980–1990.

Clampet-Lundquist, S., Kling, JR., Edin, K., & Duncan, GJ. (2011). Moving teenagers out of high-risk neighborhoods: how girls fare better than boys. American Journal of Sociology, 116(4), 1154–1189.

Childers, T. L., & Rao, A. R. (1992). The influence of familial and peer-based reference group on consumer decisions. Journal of Consumer Research, 19(2), 198–211.

Crosnoe, R. (2009). Low-income students and the socioeconomic composition of public high schools. American Sociological Review, 74(5), 709–730.

Crowder, K., & South, S. J. (2003). Neighborhood distress and school dropout: the variable significance of community context. Social Science Research, 32, 659–698.

Dubois, L., & Girad, M. (2007). Accuracy of maternal reports of pre-schoolers' weights and heights as estimates of BMI values. International Journal of Epidemiology, 36, 132–138.

Ferraro, K. F., & Kelley-Moore, J. A. (2003). Cumulative disadvantage and health: Long-term consequences of obesity. American Sociological Review, 68, 707–729.

Goyal, N. K., Fiks, A. G., & Lorch, S. A. (2011). Association of late-preterm birth with asthma in young children: Practice-based study. Pediatrics, 128, 830–838.

Grow, H. M. G., Cook, A. J., Arterburn, D. E., Saelens, B. E., Drewnowski, A., & Lozano, P. (2010). Child obesity associated with social disadvantage of children's neighborhoods. Social Science and Medicine, 71(3), 584–591.

Guo, G., & Zhao, H. (2000). Multilevel modeling for binary data. Annual Review of Sociology, 26, 441–462.

Halfon, N., Kandyce, L., & Slusser, W. (2013). Associations between obesity and comorbid mental health, developmental, and physical health conditions in a nationally representative sample of US children aged 10–17. Academic Pediatrics, 13(1), 6–13.

Harding, D. J. (2009). Collateral consequences of violence in disadvantaged neighborhoods. Social Forces, 88(2), 757–782.

Harding DJ, Gennetian L, Winship C, Sanbonmatsu L, Kling J. 2010. Unpacking neighborhood influences on education outcomes: setting the stage for future research. National Bureau of Economic Research Working Paper No. 16055.

Jencks, C., & Mayer, S. E. (1990). The social consequences of growing up in a poor neighborhood. In L. E. Lynn & M. G. H. McGeary (Eds.), Inner city poverty in the United States (p. 111e186). Washington, DC: National Academy.

Kimbro, R. T., & Denney, J. T. (2013). Neighborhood context and racial/ethnic differences in young children's obesity: Structural barriers to interventions. Social Science and Medicine, 95, 97–105. https://doi.org/10.1016/j.socscimed.2012.09.032.

Kling, J. R., Liebman, J. B., Katz, L. F. (2005). Experimental analysis of neighborhood effects. NBER Working Paper: 11577.

Kreider, A. R., French, B., Aysola, J., Saloner, B., et al. (2016). Quality of health insurance coverage and access for children in low-income families. JAMA Pediatrics, 170(1), 44–51.

Kristal, R. B., Blank, A. E., Wylie-Rosett, J., & Selwyn, P. A. (2015). Factors associated with daily consumption of sugar-sweetened beverages among adult patients at four federally qualified health centers, Bronx, New York, 2013. Preventing Chronic Disease, 12, E02.

Lazarsfeld, P. F., & Neil, W. H. (1968). Latent structure analysis. Rancho Cucamonga, CA: Houghton Mifflin.

Leinberger, C. B. (2013). The walkup wake-up call: Atlanta. Washington, DC: The George Washington University School of Business.

Leventhal, T., & Brooks-Gunn, J. (2000). The neighborhoods they live in: The effects of neighborhood residence on child and adolescent outcomes. Psychological Bulletin, 126(2), 309–337.

Lewis, V. A., Emerson, M. O., & Klineberg, S. L. (2011). Who we'll live with: Neighborhood racial composition preferences of Whites, Blacks and Latinos. Social Forces, 89(4), 1385–1407. https://doi.org/10.1093/sf/89.4.1385.

Ludwig, J., Sanbonmatsu, L., Gennetian, L., Adam, E., Duncan, G. J., Katz, L. F., et al. (2011). Neighborhoods, obesity, and diabetes—A randomized social experiment. New England Journal of Medicine, 365, 1509–1519. https://doi.org/10.1056/NEJMsa1103216.

Manski, C. F. (1993). Identification of endogenous social effects: The reflection problem. The Review of Economic Studies, 60(3), 531–542.

Massey, D. S., Gross, A. B., & Shibuya, K. (1994). Migration, segregation, and the geographic concentration of poverty. American Sociological Review, 59, 425–445.

Meyers, J. L., & Natasha Beretvas, S. (2006). The impact of inappropriate modeling of cross-classified data structures. Multivariate Behavioral Research, 41(4), 473–497. https://doi.org/10.1207/s15327906mbr4104_3.

Muttarak, R. (2018). Normalization of plus size and the danger of the unseen overweight and obesity in England. Obesity, 26, 1125–1129. https://doi.org/10.1002/oby.22204.

Oberski, D. L. (2016). Beyond the number of classes: separating substantive from non-substantive dependence in latent class analysis. Advances in Data Analysis and Classification, 10, 171–182.

Powell, A. D., & Kahn, A. S. (1995). Racial differences in women's desires to be thin. International Journal of Eating Disorders, 17, 191–195.

Rabe-Hesketh, S., & Skrondal, A. (2008). Multilevel and longitudinal modeling using stata (2nd ed.). College Station, TX: Stata Press.

Raudenbush, S. W., & Bryk, A. S. (2002). Hierarchical linear models. Thousand Oaks, CA: Sage Publications.

Robert Wood Johnson Foundation (RWJF) and Trust for America's Health. The State of Obesity 2017. Washington, D.C.: 2017.

Roberto, C. A., Swinburn, B., Hawkes, C., Huang, T. T. K., Costa, S. A., Ashe, M., et al. (2015). Patchy progress on obesity prevention: Emerging examples, entrenched barriers, and new thinking. Lancet, 385, 2400–2409.

Rosenbaum, S. (2002). Medicaid. New England Journal of Medicine, 346, 635–640. https://doi.org/10.1056/NEJM200202213460825.

Sampson, R. J., Morenoff, J. D., & Gannon-Rowley, T. (2002). Assessing "neighborhood effects": Social processes and new directions in research. Annual Review of Sociology, 28, 443–478.

Sampson, R. J., & Sharkey, P. (2008). Neighborhood selection and the social reproduction of concentrated racial inequality. Demographics, 45, 1–29.

Sampson, R. J., Sharkey, P., & Raudenbush, S. (2008). Durable effects of concentrated disadvantage on verbal ability among African-American children. Proceedings of the National Academies of Science USA, 105, 845–852.

Sharkey, P. (2006). Navigating dangerous streets: The sources and consequences of street efficacy. American Sociological Review, 71, 826–846.

Sharkey, P. (2010). The acute effect of local homicides on children's cognitive performance. Proceedings of the National Academy of Science USA, 107, 11733–11738.

Sharkey, P. (2013a). Stuck in place: Urban neighborhoods and the end of progress toward racial equality. Chicago: Univ. Chicago Press.

Sharkey, P. (2013b). Stuck in place: Urban neighborhoods and the end of progress toward racial equality. Chicago, IL: University of Chicago Press.

Sharkey, P., & Faber, J. W. (2014). Where, when, why, and for whom do residential contexts matter? Moving away from the dichotomous understanding of neighborhood effects. Annual Review of Sociology, 40, 559–579. https://doi.org/10.1146/annurev-soc-071913-043350.

Shonkoff, J. P., & Phillips, D. A. (Eds.). (2000). From neurons to neighborhoods: The science of early childhood development. Washington, D.C.: National Academy Press.

Singh, G. K., & Ghandour, R. M. (2012). Impact of neighborhood social conditions and household socioeconomic status on behavioral problems among US children. Maternal and Child Health Journal, 16, 158–169.

Singh, G. K., Siahpush, M., & Kogan, M. D. (2010). Neighborhood socioeconomic conditions, built environments, and childhood obesity. Health Affairs, 29, 503–512.

Sokal-Gutierrez, K. (2017). Will overweight children be overweight adults? New England Journal of Medicine Resident, 360, 6.

StataCorp. (2015) Stata statistical software: release 14. College Station: StataCorp LP.

Swinburn, B. A., Sacks, G., Hall, K. D., et al. (2011). The global obesity pandemic: Shaped by global drivers and local environments. The Lancet, 378, 804–815.

Tabarrok, A., Healton, P., & Helland, E. (2010). The measure of vice and sin: A review of the uses, limitations, and implication of crime data. In B. L. Benson & P. R. Zimmerman (Eds.), Handbook on the economics of crime. Northhampton, MA: Edward Elgar Publishing.

Tienda, M. (1991). Poor people and poor places: Deciphering neighborhood effects on poverty outcomes. In J. Huber (Ed.), Macro–micro linkages in sociology (pp. 244–262). Newbury Park, CA: Sage.

Townshend, T., & Lake, A. A. (2009). Obesogenic urban form: Theory, policy and practice. Health & Place, 15(4), 909–916.

Umberson, D., Crosnoe, R., & Reczek, C. (2010). Social relationships and health behavior across the life course. Annual Review of Sociology, 36, 139–157.

Vermunt, J. K., & Magidson, J. (2002). Latent class cluster analysis. In J. A. Hagenaars & A. L. McCutcheon (Eds.), Applied latent class analysis (pp. 89–106). Cambridge: Cambridge University Press.

Wang, Y., & Beydoun, M. A. (2007). The obesity epidemic in the United States—Gender, age, socioeconomic, racial/ethnic, and geographic characteristics: A systematic review and meta-regression analysis. Epidemiologic Reviews, 29(1), 6–28.

Wang, Y., & Chen, H.-J. (2012). Use of percentiles and Z-scores in Anthropometry. In V. R. Preedy (Ed.), Handbook of anthropometry: Physical measures of human form in health and disease. New York: Springer Science Business Media.

Wang, et al. (2011). Trends and racial/ethnic disparities in severe obesity among US children and adolescents 1976–2006. International Journal of Pediatric Obesity, 6(1), 12–20.

White, M. J. (1987). American neighborhoods and residential differentiation. New York: Russell Sage Foundation.
Funding
Funding was provided by Houston Endowment (Grant No. 2012-249-0270).
Electronic Supplementary Material
Below is the link to the electronic supplementary material.
About this article
Cite this article
Kranjac, A.W., Denney, J.T., Kimbro, R.T. et al. Child Obesity and the Interaction of Family and Neighborhood Socioeconomic Context. Popul Res Policy Rev 38, 347–369 (2019). https://doi.org/10.1007/s11113-018-9504-2
Received:

Accepted:

Published:

Issue Date:
Keywords
Neighborhoods

Child obesity

Multilevel modeling

Socioeconomic status

Electronic medical records

Latent profile analysis