Abstract
This paper analyzes the selection processes behind post-schooling transitions into college enrollment, military service, long-term unemployment, and incarceration relative to civilian employment, examining to what extent these processes are racialized. Rather than analyzing a complete set of alternatives, previous research typically focuses on a limited set of these alternatives at a time, and rarely accounts for incarceration or long-term unemployment. Using individual-level panel data on the first post-high school transition from the National Longitudinal Survey of Youth 1997 Cohort, results show that white men experience positive transitions (college enrollment and military service) at higher rates and for longer periods than black men, who experience negative transitions (long-term unemployment and incarceration) at higher rates for longer periods than whites. Competing risk Cox regression analyses reveal that blacks' transitions are polarized, showing that blacks in the upper distributions of standardized test scores and socioeconomic status are more likely to pursue a college education relative to their white counterparts, whereas blacks in the bottom of the standardized test score and socioeconomic status distribution are more likely to experience negative transitions than whites. Unlike prior research finding that military service provided "bridging careers" for racial minorities, black men are no longer more likely to join the military than whites. Instead, blacks now face a much higher risk of incarceration. Implications for intra-generational mobility and changing opportunity structures for racial minorities are discussed.
This is a preview of subscription content, log in to check access.
Access options
Buy single article
Instant access to the full article PDF.
US$ 39.95
Price includes VAT for USA
Subscribe to journal
Immediate online access to all issues from 2019. Subscription will auto renew annually.
US$ 99
This is the net price. Taxes to be calculated in checkout.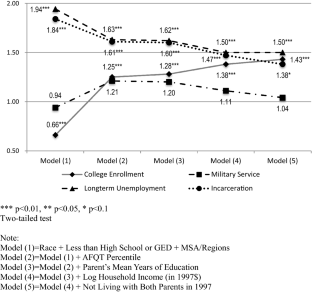 Notes
1.

For several reasons, I limit the study to young men. First, males disproportionately experience military service and incarceration, and the sample sizes for women are too small to analyze in these data. Second, there are different types of life events concerning labor market processes, such as motherhood for women, which are beyond the scope of this study, but deserve an analysis in their own right.

2.

As MacLean and Elder (2007) document, the effects of military service are different across racial groups, depending on the timing of service in one's life, exposure to war, and time of service, whether the Vietnam War, peacetime draft, or AVF eras. For instance, it has been found that the employment probability of veterans for entry-level jobs varies depending on the type of job held in the military and whether its skills are transferable to the civilian labor market, rather than on race of veterans (Kleykamp 2009). See also Phillips et al. (1992).

3.

Since being unemployed means staying in the labor market while seeking a job, the selection into long-term unemployment is not a choice but a forced consequence of failure to secure a job. Thus, it may be argued that, unlike military service and higher education, long-term unemployment cannot be considered an institution. However, even the military is considered to be a best-available alternative to others, and the least-preferred experience of incarceration is a forced consequence.

4.

Propensity is measured in nationally representative sample surveys as the percentage of youths willing to enlist.

5.

After three years, in 2000, the census estimate of the sum of male non-Hispanic whites and African-American men between the ages of 15 and 19 is 8,151,427, close to the weighted population of the same groups in the NLSY97 sample, 8,113,858.

6.

Data from the 15th round were recently released, but are not included in this analysis.

7.

8.

I define this in contrast to long-term unemployment, as either being employed or looking for a job while being unemployed for a short period (less than 6 consecutive months).

9.

In the analysis, those who enrolled in a two-/four-year college for more than three consecutive months are coded as college enrollment. Considering Weiss and Roksa's (2016) finding that an increasing number of college students work while attending college, the delineation of full-time students from part-time students is important to clearly define the reference state of being in the civilian labor market.

10.

Cameron and Heckman (1993) find that the observed higher earnings of GED holders than of high school dropouts come from their vocational trainings or work experiences after leaving high school earlier rather than from the GED itself. Jepsen et al. (2012) also find that GED has no significant effect on employment and earnings, while it only slightly increases post-secondary education by 4% for male and 8% for female. More importantly, GED is not considered equivalent to high school diplomas in the enlistment application process.

11.

It is necessary to note that there are considerable debates on the validity of AFQT scores. For example, Cordero-Guzmán (2001) argues that AFQT is influenced by cultural exposure to the white upper middle class, material resources, etc. On the contrary, Rodgers and Spriggs (1996) insist that AFTQ scores are a racially unbiased predictor of wage. Despite such debates, I use the standardized measure of AFQT rather than school grades since grading standards/expectations likely vary by schools.

12.

Because it is technically difficult to run a Cox regression with values from multiple imputation and to adjust for sampling weight at the same time, although one at a time is possible, the mean values of ten times of imputation based on other covariates is imputed and a Cox regression is separately run. Covariates used for multiple imputations are race, educational attainment, AFQT score percentile, parent composition, log-household income, parents' mean year of education, and regions. Random component is present in multiple imputations but restricted between maximum and minimum of the nonmissing values.

13.

Erola et al. (2016) find that the combination of father's and mother's education levels better explain children's occupational outcomes than either one alone, indicating that father's and mother's independent effects on children's mobility are small and differ during the different life-course stages of the children. For respondents with only one parent's education reported, father's and mother's education years are separately imputed using multiple imputation before calculating the mean between the imputed and reported values.

14.

Because a competing risk Cox regression estimates the risk of the first transition while treating observations of other transitions as censored, logistic regression of each first transition is used to calculate its predicted probability.
References
Angrist, J. (1988). Estimating the labor market impact of voluntary military service using social security data on military applicants. Econometrica, 66(2), 249–288.

Armor, D., & Gilroy, C. (2010). Changing minority representation in the U.S. military. Armed Forces & Society, 36(2), 223–249.

Autor, D., Katz, L., & Kearney, M. (2008). Trends in U.S. wage inequality: Revising the revisionists. The Review of Economics and Statistics, 90(2), 300–323.

Bennet, P., & Xie, Y. (2003). Revisiting racial differences in college attendance: The role of historically black colleges and universities. American Sociological Review, 68, 567–580.

Boucai, M. (2007). Balancing your strengths against your felonies: Considerations for military recruitment of ex-offenders. University of Miami Law Review, 61(4), 997–1032.

Bouffard, L. (2005). The military as a bridging environment in criminal careers: Differential outcomes of the military experience. Armed Forces & Society, 31(2), 273–295.

Browning, H., Lopreato, S. C., & Poston, D. L., Jr. (1973). Income and veteran status: Variations among Mexican Americans, blacks and Anglos. American Sociological Review, 38(1), 74–85.

Cameron, S. V., & Heckman, J. J. (1993). The nonequivalence of high school equivalents. Journal of Labor Economics, 11(1), 1–47.

Cordero-Guzmán, H. (2001). Cognitive skills, test scores, and social stratification: The role of family and school-level resources on racial/ethnic differences in scores on standardized tests (AFQT). The Review of Black Political Economy, 28(4), 31–71.

Craig, J., & Connell, N. (2015). The all-volunteer force and crime: The effects of military participation on offending behavior. Armed Forces & Society, 41(2), 329–351.

Crutchfield, R., & Pitchford, S. (1997). Work and crime: The effects of labor stratification. Social Forces, 76(1), 93–118.

DiPrete, T., & Eirich, G. (2006). Cumulative advantage as a mechanism for inequality: A review of theoretical and empirical developments. Annual Review of Sociology, 32, 271–297.

Elder, G. H., Wang, L., Spence, N. J., Adkins, D. E., & Brown, T. H. (2010). Pathways to all-volunteer military. Social Science Quarterly, 91(2), 455–475.

Elman, C., & O'Rand, A. M. (2007). The effects of social origins, life events, and institutional sorting on adults' school transitions. Social Science Research, 36, 1276–1299.

Erola, J., Jalonen, S., & Lehti, H. (2016). Parental education, class and income over early life course and children's achievement. Research in Social Stratification and Mobility, 44, 33–43.

Gangl, M. (2006). Scar effects of unemployment: An assessment of institutional complementarities. American Sociological Review, 71, 986–1013.

GED Testing Service. (2012). Annual Statistical Report on the GED Test. https://www.gedtestingservice.com/uploads/files/8d4558324628dfcf1011dc738acca6eb.pdf

Ghayad, R., & Dickens, W. (2012). What can we learn by disaggregating the unemployment-vacancy relationship? (pp. 12–13). No: Federal Reserve Bank of Boston Public Policy Brief.

Gupta, S., & Lundquist, J. H. (2013). The converging proportions of the U.S. adult population in the military and in prison, 1960 to 2010. Paper presented at the annual meeting of the Population Association of America, New Orleans.

Goffman, A. (2009). On the run: Wanted men in a Philadelphia Ghetto. American Sociological Review, 74(3), 339–357.

Hagan, J., & McCarthy, B. (1997). Mean streets: Youth crime and homelessness. New York: Cambridge University Press.

Han, J. (2017). African Americans in the U.S. Military. In D. Rohall, M. G. Ender, & M. D. Matthews (Eds.), Inclusion in the American Military: A force for diversity (pp. 19–36). Lanham, MD: Lexington Books.

Han, J. (2018). Where Did All Those Prisoners Come From?: Military to Prison Channeling of Black Male Youths 1980-2010. Working Paper.

Holzer, H., Raphael, S., & Stoll, M. (2003). Employment Barriers Facing Ex-Offenders. Paper presented at the Urban Institute Reentry Roundtable, New York.

Hout, M. (2012). Social and economic returns to college education in the United States. Annual Review of Sociology, 38, 379–400.

Jackman, R., & Layard, R. (1991). Does long-term unemployment reduce a person's chance of a job? A time-series test. Economica, 58(229), 93–106.

Jepsen, C., Mueser, P., & Troske, K. (2012). Labor-market returns to the GED using regression discontinuity analysis. The Institute for the Study of Labor's (IZA) Discussion Paper, No. 6758.

Kleykamp, M. (2006). College, jobs, or the military? Enlistment during a time of war. Social Science Quarterly, 87(2), 272–290.

Kleykamp, M. (2009). A great place to start? The effect of prior military service on hiring. Armed Forces & Society, 35(2), 266–285.

Kleykamp, M. (2010). Where did the soldiers go? The effects of military downsizing on college enrollment and employment. Social Science Research, 39, 477–490.

Kosanovich, K., & Sherman, E. T. (2015). Trends in long-term unemployment. New York: U.S. Bureau of Labor Statistics' Spotlight on Statistics.

Lundquist, J. H. (2008). Ethnic and gender satisfaction in the military: The effect of a meritocratic institution. American Sociological Review, 73(3), 477–496.

Lundquist, J. H., Pager, D., & Strader, E. (2018). Does a criminal past predict worker performance? Evidence from one of America's Largest Employers. Social Forces, 96(3), 1039–1068.

Lutz, A. (2008). Who joins the military?: A look at race, class, and immigration status. Journal of Political and Military Sociology, 36(2), 167–188.

MacLean, A., & Elder, G., Jr. (2007). Military service in the life course. Annual Review of Sociology, 33, 175–196.

Mangum, S. L., & Ball, D. E. (1987). Military skill training: Some evidence of transferability. Armed Forces and Society, 13, 425–441.

Mare, R., & Winship, C. (1984). The paradox of lessening racial inequality and joblessness among black youth: Enrollment, enlistment, and employment, 1964-1981. American Sociological Review, 49, 39–55.

Mayer, K. U. (2009). New directions in life course research. Annual Review of Sociology, 35, 413–433.

Merolla, D., & Jackson, O. (2014). Understanding differences in college enrollment: Race, class and cultural capital. Race and Social Problems, 6(3), 280–292.

Newman, K. (1999). No shame in my game: The working poor in the inner city. New York: Russell Sage.

Pager, D. (2009). Marked: Race, crime, and finding work in an era of mass incarceration. Chicago: University of Chicago Press.

Perna, L. W. (2000). Differences in the decision to attend college among African Americans, Hispanics, and whites. The Journal of Higher Education, 71(2), 117–141.

Pettit, B., & Western, B. (2004). Mass imprisonment and the life course: Race and class inequality in U.S. incarceration. American Sociological Review, 69(2), 151–169.

Pettit, B., & Lyons, C. J. (2007). Status and the Stigma of incarceration: The labor-market effects of incarceration, by race, class, and criminal involvement. In S. Bushway, M. A. Stoll, D. F. Weiman (Eds.), Barriers to reentry? The labor market for released prisoners in post-industrial America (pp. 203–226). New York: Russell Sage Foundation.

Phillips, R. L., Andrisani, P. J., Daymont, T. N., & Gilroy, C. L. (1992). The economic returns to military service: Race-Ethnic differences. Social Science Quarterly, 73, 340–359.

Rodgers, W., & Spriggs, W. (1996). What does the AFQT really measure: Race, wages, schooling and the AFQT Scores. The Review of Black Political Economy, 24(4), 13–46.

Sampson, R., & Laub, J. (1996). Socioeconomic achievement in the life course of disadvantaged men: Military service as a turning point, circa 1940–1965. American Sociological Review, 61(3), 347–367.

Sampson, R., & Wilson, W. J. (1995). Toward a theory of race, crime, and urban inequality. In J. Hagan & R. D. Peterson (Eds.), Crime and inequality (pp. 37–54). Stanford, CA: Stanford University Press.

Shanahan, M. (2000). Pathways to adulthood in changing societies: Variability and mechanisms in life course perspective. Annual Review of Sociology, 26, 667–692.

Shimer, R. (2008). The probability of finding a job. American Economic Review, 98(2), 268–273.

Sutton, J. (2000). Imprisonment and social classification in five common-law democracies, 1955–1985. American Journal of Sociology, 106(2), 350–386.

Teachman, J. (2007a). Race, military service, and marital timing: Evidence from the NLSY-79. Demography, 44, 389–404.

Teachman, J. (2007b). Veterans in state and federal prison in 2004. Washington, DC: Special Report.

U.S. Bureau of Justice Statistics. (2003). Education and Correctional Populations. Washington, DC: Special Report.

U.S. Bureau of Justice Statistics. (2007). Veterans in state and federal prison in 2004, Special Report. Washington, DC.

U.S. Department of Defense. (2000). Population representation in the military services.

Weiss, F., & Roksa, J. (2016). New dimensions of educational inequality: Changing patterns of combining college and work in the U.S. over time. Research in Social Stratification and Mobility, 44, 44–53.

Western, B. (2002). The impact of incarceration on wage mobility and inequality. American Sociological Review, 67, 526–546.

Western, B. (2007). Punishment and inequality in America. New York: Russell Sage Foundation.

Western, B., & Beckett, K. (1999). How unregulated is the U.S. labor market? The penal system as a labor market institution. American Journal of Sociology, 104(4), 1030–1060.

Wilson, W. J. (1978). The declining significance of race: Blacks and changing American Institutions. Chicago: University of Chicago Press.

Wilson, W. J. (1987). The truly disadvantaged: The inner city, the underclass, and public policy. Chicago: University of Chicago Press.

Wilson, W. J. (2011). The declining significance of race: Revisited & revised. Dædalus, 40(2), 55–79.
Acknowledgement
The author is grateful to Sanjiv Gupta, Jennifer Lundquist, Donald Tomaskovic-Devey, Meredith Kleykamp, Amy Bailey, Ken-Hou Lin, and anonymous reviewers from Population Research & Policy Review for their helpful comments on earlier drafts.
Appendix
Appendix
About this article
Cite this article
Han, J. Who Goes to College, Military, Prison, or Long-Term Unemployment? Racialized School-to-Labor Market Transitions Among American Men. Popul Res Policy Rev 37, 615–640 (2018). https://doi.org/10.1007/s11113-018-9480-6
Received:

Accepted:

Published:

Issue Date:
Keywords
Military service

Incarceration

Long-term unemployment

Racial inequality

Life course

First life transition