Abstract
In 2009 Argentina introduced a large poverty-alleviation program (AUH) that provides monthly cash transfers per child to households without workers in the formal sector. In this paper we study the potential unintended effect of this program on fertility. We apply a difference-in-difference strategy comparing the probability of having a new child among eligible and ineligible mothers both before and after the program inception. The intention to treat estimations suggest a significant positive impact on fertility in households with at least one child (around 2 percentage points), but no significant effect on childless households. Given the short time window since the implementation of the AUH, we are unable to identify whether this positive effect reflects changes in the timing of births or in the equilibrium number of children.
This is a preview of subscription content, log in to check access.
Access options
Buy single article
Instant access to the full article PDF.
US$ 39.95
Price includes VAT for USA
Subscribe to journal
Immediate online access to all issues from 2019. Subscription will auto renew annually.
US$ 99
This is the net price. Taxes to be calculated in checkout.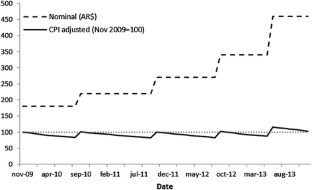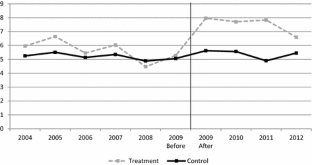 Notes
1.

2.

Some countries have introduced programs to explicitly affect fertility rates. In some developed countries the literature of financial incentives on fertility decisions has focused mainly on the evaluation of policies specifically designed to counteract the fall in birthrates (see Milligan 2005; Cohen et al. 2013). Also, some developing countries have used financial incentives to intentionally discourage fertility. See for instance Oster (2005) and Ebenstein (2010) for a detailed explanation of China's policy in this regard.

3.

This objective places our study within a more extensive literature of CCTs that also analyzes the effects on other variables associated with long-run poverty. For instance, on the impact of CCT programs on labor market outcomes see Alzúa et al. (2013), Gonzalez-Rozada and Pinto (2011) and Azuara and Marinescu (2013).

4.

However, the main goal of this study is to evaluate the impact of the PANES program on birth outcomes, particularly on birthweight.

5.

Todd et al. (2012) find that the Red de Protección Social in Nicaragua generates an increase in birth spacing.

6.

Registered workers already had a similar benefit. A public system of child allowances for formal workers was first introduced in Argentina in 1957, partly as the result of advocacy by the Catholic Church and labor unions. The current system was implemented by law 24.714 in 1996. See Groisman et al. (2014), Moreno (2006), and Rofman and Olivieri (2011).

7.

The program also provides transfers to households with disabled children with no age restrictions, and to pregnant women.

8.

Given the discrepancies regarding the accuracy of official CPI statistics, we use private CPI estimations from Estudio GB for the Greater Buenos Aires area.

9.

Unfortunately, we cannot explore whether the impact started with the announcement of the program or with the effective delivery of the cash transfers, because the program was announced and implemented in just two months. The program was announced on October 29th, 2009 and the decree that created the new program (1602/09) was signed by the president that day. The first transfers were made in November and by December the program had reached 3,408,222 beneficiaries, almost its equilibrium size. For instance, one year later, in December 2010, the number of beneficiaries was 3,513,064 (ANSES 2012). In addition, the announcement of a large conditional cash transfer program in October 2009 was hardly expected, since just four months before, in June 2009, the government had announced that social policy was going to be based on workfare programs aimed at specific geographic areas and at-risk groups, and not on broad-based cash transfer programs (Groisman et al. 2014; Rofman and Olivieri 2011; Garganta and Gasparini 2015).

10.

20% of the monthly benefit can only be made effective if the following requirements are met: vaccination and health checks for children under 4 years old and attendance at a public school for those between 5 and 18 years old. In addition, the transfer is contingent on the beneficiary not receiving any allowances from existing contributory and tax-relief programs.

11.

The ENGHo is the only source of information in Argentina that enables one to capture both eligible households and effective beneficiaries of the AUH. The ENGHo only provides information for the year 2012, and hence it is not useful for the purpose of our study.

12.

Cigno and Pinal (2004) study fertility decisions in a poor province in Argentina in the framework of the endogenous survival probability hypothesis, although for a period prior to the implementation of the AUH.

13.

14.

The conditions of the AUH may be more relevant only for the last years of high school, when drop-outs increase. However, it is unlikely that fertility decisions now are highly affected by the potential cost of sending a youngster to (a free of charge) high school in about 16 years.

15.

Of course, there are cases where fertility is not a decision (e.g. impossibility to get pregnant, or forced pregnancy), and the role of economic incentives are null.

16.

Our data comes from the national household survey (EPH) and not from an evaluation survey of the program. It is thus very unlikely that people misreport any variable in our data source in order to affect the probability of becoming eligible to the AUH program. Although there are concerns that self-reported income in the survey is under-reported, the ranking in the distribution is probably not affected very much by this phenomenon (Deaton 2003; Gasparini et al. 2013), as a result, households in the first four deciles of the self-reported income distribution are likely those in the bottom deciles of the actual income distribution.

17.

We also carry out a separate analysis for these two groups.

18.

Our newborn variable allows for some waiting time for pregnancy. Since the EPH does not provide information on age in months for children under 1 year old, even if we assume that the fertility decision is taken in time t, we cannot know the exact duration of the delay. Also, even for a given delay there can be some inclusion error, i.e. children conceived before time t who were born in t + 2 or t + 3, when we do not observe the household. Unfortunately, the EPH has no information on pregnancy either. If this data existed, it would be possible to extend the window and also to more accurately distinguish whether births in early 2010 correspond to fertility decisions that were taken after or before the AUH inception.

19.

We also include region and time fixed effects in the estimations.

20.

These variables are never statistically significant to explain the probability of being a beneficiary of the AUH using alternative specifications of a linear probability model.

21.

We carried out several robustness checks by changing the definition of the treatment group (in particular changing the definition of "poor" to more or less than four deciles). All the results hold. Results are available upon request.

22.

See Badaracco et al. (2016) for a recent assessment of the direct impact of the changing patterns of fertility in Latin America on income poverty and inequality.
References
Aaronson, D., Lange, F., & Mazumder, B. (2014). Fertility transitions along the extensive and intensive margins. American Economic Review, 104(11), 3701–3724.

Acs, G. (1996). The impact of welfare on young mothers' subsequent childbearing decisions. Journal of Human Resources, 31(4), 898–915.

Agis, E., Cañete, C., & Panigo, D. (2010). El Impacto de la Asignación Universal por Hijo en Argentina. Colección de Textos del Bicentenario, CICCUS/CEIL-PIETTE.

Ajzen, I. (1991). The theory of planned behavior. Organizational Behavior and Human Decision Processes, 50, 179–211.

Alzúa, M. L., Cruces, G., & Ripani, L. (2013). Welfare programs and labor supply in developing countries. Experimental evidence from Latin America. Journal of Population Economics, 26(4), 1255–1284.

Amarante, V., Manacorda, M., Miguel, E., & Vigorito, A. (2016). Do cash transfers improve birth outcomes? Evidence from matched vital statistics, and program and social security data. American Economic Journal, 8(2), 1–43.

ANSES. (2012). Boletín Cuatrimestral Asignación Universal por Hijo para Protección Social. III Cuatrimestre 2012. Observatorio de la Seguridad Social, Administración Nacional de la Seguridad Social (ANSES).

Azuara, O., & Marinescu, I. (2013). Informality and the expansion of social protection programs. Evidence from Mexico. Journal of Health Economics, 32(5), 938–950.

Badaracco, N., Gasparini, L., & Marchionni, M. (2016). Distributive implications of fertility changes in Latin America. International Journal of Population Research, 2016, Article ID 8717265.

Baudin, T., de la Croix, D., & Gobbi, P. E. (2015). Fertility and childlessness in the United States. American Economic Review, 105(6), 1852–1882.

Becker, G. S. (1960). An economic analysis of fertility. In Demographic and economic change in developed countries (pp. 209–231), National Bureau of Economic Research. Princeton, NJ: Princeton University Press.

Becker, G. S., & Lewis, H. G. (1973). On the interaction between the quantity and quality of children. Journal of Political Economy, 81(2), S279–S288.

Bertrand, M., Duflo, E., & Mullainathan, S. (2004). How much should we trust difference-in-difference estimates? Quarterly Journal of Economics, 119(1), 249–275.

Bertranou, F. (2010). Aportes para la construcción de un piso de protección social en Argentina: El caso de las asignaciones familiares. Buenos Aires: OIT.

Billari, F. C., Philipov, D., & Testa, M. R. (2009). Attitudes, norms and perceived behavioural control: Explaining fertility intentions in Bulgaria. European Journal of Population, 25, 439–465.

Blau, D., & Robbins, P. (1989). Fertility, employment and child-care costs. Demography, 26(2), 287–299.

Card, D. (1990). The impact of the Mariel boatlift on the Miami Labor market. Industrial and Labor Relations Review, 43(2), 245–257.

Card, D., & Krueger, A. (1994). Minimum wages and employment: A case of study of the fast-food industry in New Jersey and Pennsylvania. American Economic Review, 84, 772–793.

Cigno, A., & Pinal, G. (2004). Endogenous child mortality, price of child-specific goods and fertility decisions: Evidence from Argentina. In D. Heymann, F. Navajas, & E. Bour (Eds.), Latin American economic crises. London: Palgrave Macmillan.

Cohen, A., Dehejia, R., & Romanov, D. (2013). Financial incentives and fertility. Review of Economics and Statistics, 95(1), 1–20.

D'Elia, V., Calabria, A., Calero, A., Gaiada, J., & Rottenschweiler, S. (2010). Asignación Universal por Hijo para Protección Social: Una política de Protección para los más vulnerables. Revista del Centro Interamericano de Estudios de la Seguridad Social (CIESS) No 260.

D'Elia, V., & Navarro, A. (2011). The impact of the universal child allowance on Argentina´s children schooling gap. Proceedings of the AAEP.

Deaton, A. (2003). How to monitor poverty for the millennium development goals. Journal of Human Development, 4(3), 353–378.

Duflo, E., Glennerster, R., & Kremer, M. (2006). Using randomization in development economics research: A toolkit. NBER Technical Working Paper 333.

Dyer, W., & Fairlie, R. (2003). Do family caps reduce out-of-wedlock births? Evidence from Arkansas, Georgia, Indiana, New Jersey, and Virginia. Yale University, Economic Growth Center Discussion Paper No. 877.

Ebenstein, A. (2010). The 'Missing Girls' of China and the unintended consequences of the one child policy. Journal of Human Resources, 45(1), 87–115.

Edo, M., Marchionni, M., & Garganta (2015). Conditional cash transfer programs and enforcement of compulsory education laws. The case of Asignación Universal por Hijo in Argentina. CEDLAS Working Paper N. 190.

Fairlie, Robert W., & London, Rebecca A. (1997). The effect of incremental benefit levels on births to AFDC recipients. Journal of Policy Analysis and Management, 16(4), 575–597.

Fiszbein, A., Schady, N., Ferreira, F., Grosh, M., Keleher, N., Olinto, P., & Skoufias, E. (2009). Conditional cash transfers: Reducing present and future poverty. Washington, DC: World Bank Publications.

Garganta, S., & Gasparini, L. (2015). The impact of a social program on labor informality: The case of AUH in Argentina. Journal of Development Economics, 115, 99–110.

Gasparini, L., Cicowiez, M., & Sosa Escudero, W. (2013). Pobreza y Desigualdad en América Latina: Conceptos, herramientas y aplicaciones. Buenos Aires: Editorial Temas.

Gasparini, L., & Cruces, G. (2010). Las asignaciones universales por hijo. impacto, discusión y alternativas. Revista Económica. LVI, 1, 105–146.

Gonzalez-Rozada, M., & Pinto, F. L. (2011). The effects of a CCT on the labor market: The human development bonus in Ecuador. Universidad Torcuato Di Tella, Department of Economics Working Papers, 2011.

Grogger, J., Karoly, L., & Klerman, A. (2002). Consequences of welfare reform: A research synthesis. Los Angeles, CA: The RAND Corporation.

Groisman, F., Bossert, F., & Sconfienza, M. E. (2014). Políticas de protección social y participación económica de la población en Argentina (2003–2010). Desarrollo Económico, 51, 202–203.

Hoynes, H. M. (1997). Work, welfare, and family structure. In A. J. Auerbach (Ed.), Fiscal policy: Lessons from economic research. Cambridge, MA: MIT Press.

Joyce, T., Kaestner, R., & Korenman, S. (2003). Welfare Reform and non-marital fertility in the 1990s: Evidence from birth records. Advances in Economic Analysis and Policy, 3(1), Article 6.

Kearny, M. (2004). Is there an effect of incremental welfare benefits on fertility behavior? A look at the family cap. Journal of Human Resources, 39, 295–325.

Laroque, G., & Salanié, B. (2013). Identifying the response of fertility to financial incentives. Journal of Applied Econometrics, 29, 314–332.

Lustig, N., Jaramillo, M., Pessino, C., & Scott, J. (2012). Commitment to equity: An assessment of fiscal policies in Argentina, Mexico and Peru. New York: Mimeo.

Milligan, K. (2005). Subsidizing the stork. New evidence on tax incentives and fertility. Review of Economics and Statistics, 87(3), 539–555.

Moffitt, R. (1998). The effect of welfare on marriage and fertility: What do we know and what do we need to know? In R. Moffitt (Ed.), The family and reproductive behavior: Research perspectives. Washington: National Academy Press.

Moreno, J. M. (2006). La protección social en Argentina. Banco Mundial, manuscript.

Nandi, A., & Laxminarayan, R. (2016). The unintended effects of cash transfers on fertility: Evidence from the Safe Motherhood Scheme in India. Journal of Population Economics, 29(2), 457–491.

Oster, E. (2005). Hepatitis B and the case of the missing women. Journal of Political Economy, 113(6), 1163–1216.

Pacharoni, V., & Ronconi, L. (2014). El impacto de la Asignación Universal por Hijo sobre la Tasa de Fecundidad. Proceedings of the AAEP.

Palermo, T., Handa, S., Peterman, A., Prencipe, L., & Seidenfeld, D. (2015). Unconditional government social cash transfer in Africa does not increase fertility. Innocenti Working Paper, 2015-09 (UNICEF Office of Research).

Paz, J., & Golovanevsky, L. (2014), Programa Asignación Universal por Hijo para la Protección Social. Un ejercicio de evaluación de sus efectos sobre los hogares. III Jornadas Nacionales sobre Estudios Regionales y Mercados de Trabajo, Jujuy, Argentina.

Philipov, D., Spéder, Z., & Billari, F. C. (2006). The impact of anomie and social capital on fertility intentions in Bulgaria (2002) and Hungary (2001). Population Studies, 60, 289–308.

Puhani, P. (2012). The treatment effect, the cross difference and the interaction term in nonlinear difference-in-difference models. Economics Letters, 115(1), 85–87.

Rofman, R., & Oliveri, M. (2011). Las Políticas de Protección social y su impacto en la distribución del Ingreso en Argentina. Working Paper Series on Social Policy No 6, World Bank.

Rosenzweig, Mark R. (1999). Welfare, marital prospects, and nonmarital childbearing. Journal of Political Economy, 107(6), S3–S32.

Rosenzweig, M. R., & Schultz, T. P. (1985). The demand for and supply of births: Fertility and its life cycle consequences. American Economic Review, 75(5), 992–1015.

Schultz, T. P. (1997). Demand for children in low income countries. In M.R. Rosenzweig & O. Stark (Eds.), Handbook of population and family economics. New York: Elsevier.

Signorini, B. A., & Queiroz, B. (2011). The impact of the Bolsa Família program in the beneficiary fertility. Texto para Discussão 439, Cedeplar-Universidade Federal de Minas Gerais (UFMG).

Stampini, M., & Tornarolli, L. (2013). The growth of conditional cash transfers in Latin America and the Caribbean: Did they go too far? Proceedings of the AAEP, Rosario.

Stecklov, G., Winters, P., Todd, J., & Regalia, F. (2007). Unintended effects of poverty programmes on childbearing in less developed countries: Experimental evidence from Latin America. Population Studies, 61(2), 125–140.

Todd, J., Winters, P., & Stecklov, G. (2012). Evaluating the impact of conditional cash transfer programs on fertility: The case of Red de Protección Social in Nicaragua. Journal of Population Economics, 25(1), 267–290.

Whittington, L., Alm, J., & Peters, H. (1990). Fertility and the personal exemption-implicit pronatalist policy in the United States. American Economic Review, 80(3), 545–556.
Additional information
This research project was carried out in part while Mariana Marchionni and Leonardo Gasparini were visiting scholars at the University of British Columbia. The paper includes material from Santiago Garganta's Ph.D. dissertation at Universidad Nacional de La Plata. We are grateful to seminar participants at the Annual Conference of the Canadian Economic Association (Vancouver), Asociación Argentina de Economía Política (Posadas), Network of Inequality and Poverty (Buenos Aires), Universidad de San Andrés and Universidad Nacional de La Plata, and to Kevin Milligan, Alessandro Cigno, Ana Navarro, Jorge Paz, Roxana Maurizio, María Laura Alzúa, Alberto Porto, and Walter Cont, for their valuable comments and suggestions. We are also grateful to three anonymous referees for their insightful suggestions that contributed to improve a previous version of the paper. All errors and omissions are our sole responsibility.
About this article
Cite this article
Garganta, S., Gasparini, L., Marchionni, M. et al. The Effect of Cash Transfers on Fertility: Evidence from Argentina. Popul Res Policy Rev 36, 1–24 (2017). https://doi.org/10.1007/s11113-016-9417-x
Received:

Accepted:

Published:

Issue Date:
Keywords
Fertility

Cash transfers

Social protection

AUH

Argentina
JEL Classification