Abstract
Household spending on children's pre-tertiary education is exceptionally high in Japan and South Korea, and has been cited as a cause of low fertility. Previous research attributes this high spending to a cultural emphasis on education in East Asian countries. In this paper, we argue that institutional factors, namely higher education and labor market systems, play an important role in reinforcing the pressure on parents to invest in their children's education. We review evidence showing that graduating from a prestigious university has very high economic and social returns in Japan and South Korea, and examine the implications for fertility within the framework of quantity–quality models. Finally, we put forward 'reverse one-child' policies that directly address the unintended consequences of these institutional factors on fertility. These policies have the additional virtues of having very low fiscal requirements and reducing social inequality.
Access options
Buy single article
Instant access to the full article PDF.
US$ 39.95
Tax calculation will be finalised during checkout.
Subscribe to journal
Immediate online access to all issues from 2019. Subscription will auto renew annually.
US$ 79
Tax calculation will be finalised during checkout.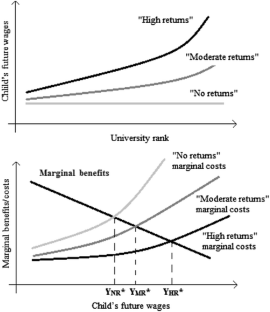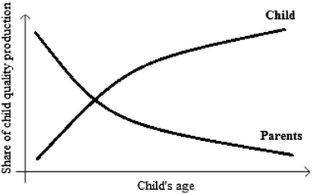 Notes
1.

Public expenditures on pre-tertiary education in 2004 account for 2.7 and 3.6 % of GDP in Japan and South Korea, compared to 3.6 % in the EU. However, Japan has a lower proportion of students in the population (OECD 2011) and public expenditures on primary and secondary educational institutions per student in 2004 were $12,934 and $8945 in Japan and South Korea, respectively, compared to $12,203 in the EU (OECD 2007). These values are adjusted for purchasing power parity.

2.

Hence, one reason why prestigious private six-year schools, which combine middle and high school curricula, are highly sought after despite their enormous school fees is that they allow their students to avoid this arduous event (Okada 1999).

3.

Greenhalgh (1988) makes a similar observation with regard to how education was viewed during the Qing dynasty: it "was universally prized, although not so much for its contents—mostly moral standards and norms of conduct—as for its 'face value'" as a requisite for entry to the coveted imperial bureaucratic class.

4.

Kim and Lee (2010) finds that South Korean graduates from the top five universities earn 42 % more than graduates who did not go to the top 30 universities, whereas graduates from the next top five earn less than 10 % more. For the studies on Japan, no wage data on graduates from the highest ranked universities were available.

5.

Indeed, for certain mass activities such as online courses, high demand may actually drive down prices due to economies of scale.

6.

Takeuchi (1991) notes that while students who fail to enter the academic track at the high school have little chance of entering a prestigious university, Japanese high school students who fail their first university entrance examinations may reapply in future years. Hence, academic achievement is arguably even more crucial at younger than at older ages.

7.
References
Ahn, N., & Mira, P. (2001). Job bust, baby bust? Evidence from Spain. Journal of Population Economics, 14, 501–521.

Anderson, T. M., & Kohler, H.-P. (2013). Education fever and the east asian fertility puzzle: A case study of the low fertility in South Korea. Asian Population Studies, 9(2), 196–215.

Becker, G. S., & Lewis, H. G. (1973). On the interaction between the quantity and quality of children. Journal of Political Economy, 81(2), S279–S288.

Becker, G. S., & Tomes, N. (1976). Child endowments and the quantity and quality of children. Journal of Political Economy, 84(4), S143–S162.

Black, D. A., & Smith, J. A. (2004). How robust is the evidence on the effects of college quality? Evidence from matching. Journal of Econometrics, 121, 99–124.

Bray, M., & Lykins, C. (2012). Shadow education: Private supplementary tutoring and its implication for policy makers in Asia. Asian Development Bank CERC Monograph Series in Comparative and International Education and Development No. 9.

Chang, S. J. (2008). A cultural and philosophical perspective on Korea's education reform: A critical way to maintain Korea's economic momentum. Korea Economic Institute Academic Paper Series No. 3(2)

Cho, J., & Kwon, T. (2010). Affirmative action and corporate compliance in South Korea. Feminist Economics, 16(2), 111–139.

Chung, B. G. (2002). Korea's war on private tutoring. Cheongju: The Korea National University of Education.

Chung, Y. S., & Choe, M. K. (2001). Sources of family income and expenditure on children's private, after-school education in Korea. International Journal of Consumer Studies, 25(3), 193–199.

Dale, S. B., & Krueger, A. B. (1999). Estimating the payoff to attending a more selective college quality: An application of selection on observables and unobservables. NBER Working Paper No. 7322.

Dalla Zuanna, G. (2007). Social mobility and fertility. Demographic Research, 17(15), 441–464.

Dawson, W. (2010). Private tutoring and mass schooling in East Asia: Reflections of inequality in Japan, South Korea, and Cambodia. Asia Pacific Education Review, 11(1), 14–24.

Del Boca, D. (2003). Why are fertility and participation rates so low in Italy (and Southern Europe)? Italian Academy for Advanced Studies Working Paper.

Ellington, L. (2005). Japanese education. Japan digest, national clearinghouse for United States—Japan Studies. Bloomington: Indiana University.

European Commission. (2005). Private household spending on education and training. Final Project Report.

Frank, R. H., & Cook, P. J. (1996). The winner-take-all society: Why the few at the top get so much more than the rest of us. New York: Penguin Books.

Greenhalgh, S. (1988). Fertility as mobility: Sinic transitions. Population and Development Review, 14(4), 629–674.

Hotz, V. J., Klerman, J. A., & Willis, R. J. (1997). The economics of fertility in developed countries. In M. R. Rosenzweig & O. Stark (Eds.), Handbook of population and family economics. Philadelphia: Elsevier.

Hwang, Y. (2001). Why do South Korean students study hard? Reflections on Paik's Study. International Journal of Educational Research, 35, 609–618.

Jang, S. (2011). The effects of after-school programs on students' achievement and shadow education expenditures. PhD thesis, Department of Education, Graduate School of Seoul National University.

Kang, C. (2007). Does money matter? The effect of private educational expenditures on academic performance. NUS Department of Economics Working Paper No. 0704.

Kariya, T., & Rosenbaum, J. E. (1999). Bright flight: Unintended consequences of detracking policy in Japan. American Journal of Education, 107(3), 210–230.

Katsuki, N. (1988). The learning business. Tokyo Business Today, (January), 34–36.

KEDI (Korea Education Development Institute). (1999). Sakyoyukui siltae josa [Surveyon private tutoring]. Seoul: KEDI.

Kim, S., & Lee, J.-H. (2002). The secondary school equalization policy in South Korea. Unpublished manuscript.

Kim, S., & Lee, J.-H. (2010). Private tutoring and demand for education in South Korea. Economic Development and Cultural Change, 58(2), 259–296.

KNSO (Korea National Statistical Office). (2011). The 2010 survey of private education expenditure. Seoul: Korea National Statistical Office. http://kostat.go.kr/portal/english/news/1/8/index.board?bmode=read&bSeq=&aSeq=246584&pageNo=1&rowNum=10&navCount=10&currPg=&sTarget=title&sTxt=.

Koh, B. C. (1989). Chapters 4–5. Japan's administrative elite. Berkeley: University of California Press. http://ark.cdlib.org/ark:/13030/ft7t1nb5d6/.

Korean Ministry of Education. (2013). Higher education. http://english.moe.go.kr/web/1734/site/contents/en/en_0228.jsp. Cited January 24, 2014.

Lee, S. K. (2012). Local perspectives of korean shadow education. Reconsidering Development and the Local, 2(1), 1–22.

Lee, S., & Brinton, M. C. (1996). Elite education and social capital: The case of South Korea. Sociology of Education, 69(3), 177–192.

Lee, M., & Larson, R. (2000). The Korean 'Examination Hell': Long hours of studying, distress and depression. Journal of Youth and Adolescence, 29(2), 249–271.

Lee, R., & Mason, A. (2010). Some macroeconomics aspects of global population aging. Demography, 47(Supplement), 8151–8172.

Liu, J. (2012). Does cram schooling matter? Who goes to cram schools? Evidence from Taiwan. International Journal of Educational Development, 32, 46–52.

McDonald, P. (2006). Low fertility and the state: The efficacy of policy. Population and Development Review, 32(3), 485–510.

Nakamura, T. (2003). Educational aspirations and the warming-up/cooling-down process: A comparative study between Japan and South Korea. Social Science Japan Journal, 6(2), 199–220.

Nam, K. (2007). Sakyoyukbi kyumoei sikyeol choyi Bunseok [Time-series analysis of the scale of private supplementary tutoring]. Kyoyuk Jaejeong Kyongjie Yeonku [Economic study of educational finance], 16(1), 57–79.

Nishioka, H., Suzuki, T., Yamauchi, M., & Suga, K. (2011). Household projections for Japan: 2005–2030. Outline of methods and results. Japanese Journal of Population, 9(1), 40–77.

OECD. (2007). Education at a glance. In OECD indicators. OECD Publishing.

OECD. (2011). Education reform in Japan. In OECD economic surveys: Japan 2011. OECD Publishing.

OECD. (2012a). OECD family database. Paris: OECD. www.oecd.org/social/family/database.

OECD. (2012b). Promoting social cohesion in Korea. In OECD economic surveys: Korea 2012. OECD Publishing.

Ogawa, N., Mason, A., Chawla, A., Matsukura, R., & Tung, A.-C. (2009). Declining fertility and the rising cost of children. Asian Population Studies, 5(3), 289–307.

Okada, A. (1999). Secondary education reform and the concept of equality of opportunity in Japan. Compare, 29(2), 171–189.

Ono, H. (2001). Who goes to college? Features of institutional tracking in Japanese higher education. American Journal of Education, 109(2), 161–195.

Ono, H. (2004). College quality and earnings in the Japanese labor market. Industrial Relations, 43(3), 595–617.

Sautman, B. (1998). Affirmative action, ethnic minorities and china's Universities. Pacific Rim Law and Policy Journal, 7(1), 77–116.

Sorensen, C. W. (1994). Success and education in South Korea. Comparative Education Review, 38(1), 10–35.

Stevenson, D. L., & Baker, D. P. (1992). Shadow education and allocation in formal schooling: Transition to university in Japan. American Journal of Sociology, 97(6), 1639–1657.

Suzuki, T. (2008). Korea's strong familism and lowest-low fertility. International Journal of Japanese Sociology, 17, 30–41.

Takeuchi, Y. (1991). Myth and reality in the Japanese educational selection system. Compare, 27(1), 101–112.

Tsuya, N. O., & Choe, M. K. (2004). Investments in children's education, desired fertility and women's employment. In N. O. Tsuya & L. L. Bumpass (Eds.), Marriage, work, and family life in comparative perspective: Japan, South Korea, and the United States (pp. 76–94). Honolulu: University of Hawaii Press.

Van der Velden, R., van der Loo, P., & Meng, C. (2007). Chapter 4: University and college differences in the returns to education in Japan and the Netherlands. In J. Allen et al. (Eds.), Competencies, higher education and career in Japan and the Netherlands. Higher education dynamics, vol. 21 (pp. 77–95).

World Bank. (2013). Household Final consumption expenditure, etc. (% of GDP). http://data.worldbank.org/indicator/NE.CON.PETC.ZS. Cited on January 4, 2014.

Yoon, J. I., Huh, T. J., Lee, B. G., Hong, S. P., Kim, J. R., Kim, D. Y., Kang, T. H., & Kim, E. O. (1997). Research on the actual condition of extracurricular lessons.
Appendix: Spread of Estimates in Table 1 for Japan and South Korea
Appendix: Spread of Estimates in Table 1 for Japan and South Korea
The estimates in Table 1 for Japan and South Korea are based on different data sources and estimation methods. In general, estimates based on survey data tend to be higher than those based on industry revenue data, which do not include informal tutoring or other forms of private educational expenditures. However, there continues to be substantial variation within the former set of estimates, potentially due to differences in survey methodology or included categories of expenditures.
For Japan, the estimates suggest that expenditures on shadow education are comparatively low compared to expenditures on school fees. The estimate from Bray and Lykins (2012) is taken from Dawson (2010), while the estimate from Stevenson and Baker (1992) is taken from Katsuki (1988). Both of these sources use private tutoring industry revenues. The estimate from European Commission (2005) is based on household expenditure survey data and includes both school fees and shadow education costs. It is unclear from the report whether their estimates include tertiary-level expenditures.
For South Korea, expenditures on shadow education are much larger than private school fees. Most of the estimates are based on expenditure surveys with the exception of the estimate from Chang (2008) for shadow education costs in 2006 and the estimate from c for school fees, which are based on private industry taxable revenues and private school revenues, respectively. The highest estimate of shadow education costs is from Chang (2008) for 2007, which is taken from a Bloomberg Businessweek Magazine article (which does not cite its source). In the middle range, Kim and Lee (2010)'s 2006 estimates are taken from Nam (2007), who uses household expenditure survey data, while their 1998 estimates are taken from KEDI (1999), who conduct a survey of Korean parents. Similarly, Kang (2007)'s estimate is based on a 2003 media briefing by KEDI in 2003. (This briefing could not be located, and is assumed to be based on a later wave of the survey.) Another middle range estimate is from EC (2005) Annex, which is taken from Yoon et al. (1997) and based on survey data. Finally, the lower range estimates are from Bray and Lykins (2012), OECD (2012b), and Chung (2002). Their estimates are taken from Jang (2011) and KNSO (2011), who use labor survey data and educational expenditure survey data, the Ministry of Education, Science and Technology, who uses educational expenditure survey data, and the Ministry of Education, who uses survey data, respectively. Hence, estimates based on government reports appear to be somewhat lower. The estimates from Bray and Lykins (2012) and OECD (2012b) may also be lower due to a decline in spending in 2010 compared to previous years (KNSO 2011).
About this article
Cite this article
Tan, P.L., Morgan, S.P. & Zagheni, E. A Case for "Reverse One-Child" Policies in Japan and South Korea? Examining the Link Between Education Costs and Lowest-Low Fertility. Popul Res Policy Rev 35, 327–350 (2016). https://doi.org/10.1007/s11113-016-9390-4
Received:

Accepted:

Published:

Issue Date:
Keywords
Lowest-low fertility

Japan

South Korea

Education

Quantity–quality model

Policy