Abstract
It is well established that the timing of childbearing is transmitted from parents to children in the United States. However, little is known about how the intergenerational link has changed over time and under structural and ideological transformations associated with fertility behaviors. This study first considers changes across two birth cohorts from the National Longitudinal Survey of Youth (NLSY) in the extent to which parents' age at first birth is transmitted to their children. The first cohort includes individuals born during the late 1950s through the early 1960s (NLSY79), while the second includes individuals born in the early 1980s (NLSY97). Results from discrete-time event history analyses indicate that the intergenerational transmission of age at first birth significantly increased for both daughters and sons. These results were confirmed by analyses of data from three cycles of the National Survey of Family Growth spanning the same time period. Over this period, age at first childbirth became increasingly younger for children born to teenage mothers and increasingly older for those born to mothers who began parenthood after age 25. These patterns have important implications for the reproductive polarization hypothesis.
Access options
Buy single article
Instant access to the full article PDF.
USD 39.95
Price excludes VAT (USA)
Tax calculation will be finalised during checkout.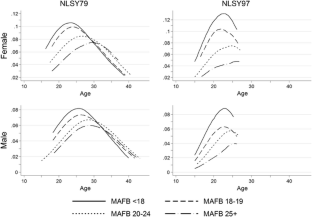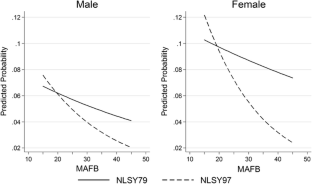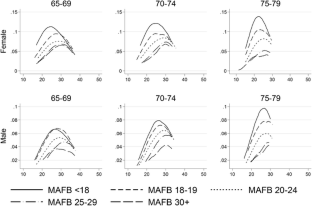 Notes
This categorization of the religion in which the respondent was raised is crude. In particular, combining all Protestants into one group may raise concerns given significant heterogeneity in religious ideologies related to fertility behaviors. However, the three data sets in the present study used widely different classifying schemes for religious affiliations. For instance, NLSY79 coded religion into one hundred categories, while NSFG includes only ten. In the absence of consistent criteria for classifying religions, the current study divided the religions into three broad groups in order to enhance the comparability of results across the data sets.

Paul et al. (2008) simulations indicated that, contrary to Allison (2001), considerable bias in coefficients arises when case-wise (i.e., listwise) deletion is used, even under the condition of missing at random. They also found that coefficient bias increases in all imputation techniques, except mean imputation with a dummy variable, with little increase in non-random missingness. Notably, their results show that full Bayesian multiple imputations, one of the most sophisticated methods, performed no better than other imputation techniques.

Despite these concerns, we estimated models with variables related to marriages, but the results were virtually the same as those in the main analysis (results are available upon request).

A comparison of results across alternative specifications of the effect of time, such as cubic, 4th-order, or 5th-order polynomials, indicated better fit to the data for the model including quadratic and linear terms. Substantial heterogeneity in fertility behaviors by sub-populations in English-speaking countries, such as the U.S., U.K., and Ireland, may produce bimodal patterns in the hazard of fertility (Chandola et al. 1999), in which case a curvilinear relationship may not fit the data well. Nonetheless, a quadratic relation is specified in this study for ease of interpretation and consistency with past studies.

Summary statistics are not shown here due to space constraints but these are available upon request.

Hazard functions by FAFB show similar patterns for both samples, but they are not presented here due to trivial effects in the multivariate results. Also note that the NLSY97 cohort was born between 1980 and 1984, and thus the age range of participants was 25–29 as of 2009. Thus, the hazard functions for the NLSY97 are available only up to age 29.

We reestimated the models in Table 1 separately for NLSY79 and NLSY97 without the interaction term between MAFB and cohort, and the results are in accordance with the main results.

As MAFB is measured categorically, its unit is age-group categories rather than continuous years. Initially, MAFB was included as a categorical variable, and we estimated 16 interaction terms with birth cohort. However, according to the Bayesian information criterion (BIC) statistic, models treating MAFB as a continuous variable are favored over those treating it as a categorical variable.
References
Aldous, J., & Hill, R. (1965). Social cohesion, lineage type, and intergenerational transmission. Social Forces, 43(4), 471–482.

Allison, P. D. (1982). Discrete-time methods for the analysis of event histories. Sociological Methodology, 13, 61–98.

Allison, P. D. (2001). Missing data. Thousand Oaks, CA: Sage.

Alwin, D. F. (1990). Cohort replacement and changes in parental socialization values. Journal of Marriage and Family, 52(2), 347–360.

Aquilino, W. S. (1991). Family structure and home-leaving: A further specification of the relationship. Journal of Marriage and Family, 53(4), 999–1010.

Axinn, W. G., Clarkberg, M. E., & Thornton, A. (1994). Family influences on family size preferences. Demography, 31(1), 65–79.

Axinn, W. G., & Thornton, A. (1992). The influence of parental resources on the timing of the transition to marriage. Social Science Research, 21(3), 261–285.

Barber, J. S. (2000). Intergenerational influences on the entry into parenthood: Mothers' preferences for family and nonfamily behavior. Social Forces, 79(1), 319–348.

Barber, J. S. (2001). The intergenerational transmission of age at first birth among married and unmarried men and women. Social Science Research, 30(2), 219–247.

Belsky, J., Steinberg, L., & Draper, P. (1991). Childhood experience, interpersonal development, and reproductive strategy: An evolutionary theory of socialization. Child Development, 62(4), 647–670.

Bengtson, V. L. (1975). Generation and family effects in value socialization. American Sociological Review, 40(3), 358–371.

Bengtson, V. L., & Troll, L. (1978). Youth and their parents: Feedback and intergenerational influence in socialization. In R. M. Lerner & G. B. Spanier (Eds.), Child influences on marital and family interaction: A life-span perspective (pp. 215–240). New York: Academic Press.

Booth, A. L., & Kee, H. J. (2009). Intergenerational transmission of fertility patterns. Oxford Bulletin of Economics and Statistics, 71(2), 183–208.

Capaldi, D. M., Crosby, L., & Stoolmiller, M. (1996). Predicting the timing of first sexual intercourse for at-risk adolescent males. Child Development, 67(2), 344–359.

Casper, L. M., & Bianchi, S. M. (2002). Continuity and change in the American family. Thousand Oaks, CA: Sage.

Chandola, T., Coleman, D. A., & Hiorns, R. W. (1999). Recent European fertility patterns: Fitting curves to "distorted" distributions. Population Studies, 53(3), 317–329.

Cleves, M., Gould, W., Gutierrez, R. G., & Marchenko, Y. V. (2010). An introduction to survival analysis using Stata (3rd ed.). College Station, TX: Stata Press.

Edin, K., & Kefalas, M. (2005). Promises I can keep: Why poor women put motherhood before marriage. Berkeley, CA: University of California Press.

Foster, C. (2000). The limits to low fertility: A biosocial approach. Population and Development Review, 26(2), 209–234.

Frejka, T., & Westoff, C. F. (2008). Religion, religiousness and fertility in the US and in Europe. European Journal of Population, 24(1), 5–31.

Glass, J., Bengtson, V. L., & Dunham, C. C. (1986). Attitude similarity in three-generation families: Socialization, status inheritance, or reciprocal influence? American Sociological Review, 51(5), 685–698.

Goldin, C., & Katz, L. F. (2002). The power of the pill: Oral contraceptives and women's career and marriage decisions. Journal of Political Economy, 110(4), 730–770.

Goldscheider, F., & Goldscheider, C. (1993). Whose nest? A two-generational view of leaving home during the 1980s. Journal of Marriage and Family, 55(4), 851–862.

Hendershot, G. E. (1969). Familial satisfaction, birth order, and fertility values. Journal of Marriage and Family, 31(1), 27–33.

Hofferth, S. L., & Goldscheider, F. (2010). Family structure and the transition to early parenthood. Demography, 47(2), 415–437.

Högnäs, R. S., & Carlson, M. J. (2012). Like parent, like child? The intergenerational transmission of nonmarital childbearing. Social Science Research, 41(6), 1480–1494.

Johnson, N. E., & Stokes, C. S. (1976). Family size in successive generations: The effects of birth order, intergenerational change in lifestyle, and familial satisfaction. Demography, 13(2), 175–187.

Kirk, K. M., Simon, P. B., Duffy, D. L., Heath, A. C., Owens, I. P. F., & Martin, N. G. (2001). Natural selection and quantitative genetics of life-history traits in western women: A twin study. Evolution, 55(2), 423–435.

Kohler, H. P., Billari, F. C., & Ortega, J. A. (2002). The emergence of lowest-low fertility in Europe during the 1990s. Population and Development Review, 28(4), 641–680.

Kohler, H. P., Rodgers, J. L., & Christensen, K. (1999). Is fertility behavior in our genes? Findings from a Danish twin study. Population and Development Review, 25(2), 253–288.

Lareau, A. (2002). Invisible inequality: Social class and childrearing in black families and white families. American Sociological Review, 67(5), 747–776.

Lesthaeghe, R. (1980). On the social control of human reproduction. Population and Development Review, 6(4), 527–548.

Manlove, J. (1997). Early motherhood in an intergenerational perspective: The experiences of a British cohort. Journal of Marriage and Family, 59(2), 263–279.

Mare, R. D. (1997). Differential fertility, intergenerational educational mobility, and racial inequality. Social Science Research, 26(3), 263–291.

Mare, R. D. (2011). A multigenerational view of inequality. Demography, 48(1), 1–23.

McLanahan, S. (2004). Diverging destinies: How children are faring under the second demographic transition. Demography, 41(4), 607–627.

Murphy, M. (1999). Is the relationship between fertility of parents and children really weak? Biodemography and Social Biology, 46(1–2), 122–145.

Murphy, M., & Wang, D. (2001). Family-level continuities in childbearing in low-fertility societies. European Journal of Population, 17(1), 75–96.

Parnell, A. M., Swicegood, G., & Stevens, G. (1994). Nonmarital pregnancies and marriage in the United States. Social Forces, 73(1), 263–287.

Paul, C., Mason, W., McCaffrey, D., & Fox, S. (2008). A cautionary case study of approaches to the treatment of missing data. Statistical Methods and Applications, 17(3), 351–372.

Pearce, L. D. (2002). The influence of early life course religious exposure on young adults' dispositions toward childbearing. Journal for the Scientific Study of Religion, 41(2), 325–340.

Pearson, K., Lee, A., & Bramley-Moore, L. (1899). Mathematical contributions to the theory of evolution. vi. genetic (reproductive) selection: Inheritance of fertility in man, and of fecundity in thoroughbred racehorses. Philosophical Transactions of the Royal Society of London Series A, 192, 257–330.

Rendall, M. S., Ekert-Jaffé, O., Joshi, H., Lynch, K., & Mougin, R. (2009). Universal versus economically polarized change in age at first birth: A French-British comparison. Population and Development Review, 35(1), 89–115.

Rijken, A. J., & Liefbroer, A. C. (2009). Influences of the family of origin on the timing and quantum of fertility in the Netherlands. Population Studies, 63(1), 71–85.

Rindfuss, R. R., Morgan, S. P., & Swicegood, C. G. (1984). The transition to motherhood: The intersection of structural and temporal dimensions. American Sociological Review, 49(3), 359–372.

Schwartz, C. R., & Mare, R. D. (2005). Trends in educational assortative marriage from 1940 to 2003. Demography, 42(4), 621–646.

Sipsma, H., Biello, K. B., Cole-Lewis, H., & Kershaw, T. (2010). Like father, like son: The intergenerational cycle of adolescent fatherhood. American Journal of Public Health, 100(3), 517–524.

Smith, T. E. (1988). Parental control techniques. Journal of Family Issues, 9(2), 155–176.

Smith, E. A., Udry, J. R., & Morris, N. M. (1985). Pubertal development and friends: A biosocial explanation of adolescent sexual behavior. Journal of Health and Social Behavior, 26(3), 183–192.

Steenhof, L., & Liefbroer, A. C. (2008). Intergenerational transmission of age at first birth in the Netherlands for birth cohorts born between 1935 and 1984: Evidence from municipal registers. Population Studies, 62(1), 69–84.

Thornton, A., & Camburn, D. (1987). The influence of the family on premarital sexual attitudes and behavior. Demography, 24(3), 323–340.

Udry, J. R. (1996). Biosocial models of low-fertility societies. Population and Development Review, 22, 325–336.

Udry, J. R., & Cliquet, R. L. (1982). A cross-cultural examination of the relationship between ages at menarche, marriage, and first birth. Demography, 19(1), 53–63.

Zelnik, M., & Kantner, J. F. (1980). Sexual activity, contraceptive use and pregnancy among metropolitan-area teenagers: 1971–1979. Family Planning Perspectives, 12(5), 230–237.
About this article
Cite this article
Kim, K. Intergenerational Transmission of Age at First Birth in the United States: Evidence from Multiple Surveys. Popul Res Policy Rev 33, 649–671 (2014). https://doi.org/10.1007/s11113-014-9328-7
Received:

Accepted:

Published:

Issue Date:

DOI: https://doi.org/10.1007/s11113-014-9328-7
Keywords
Age at first birth

Intergenerational transmission

Transition to parenthood

Discrete-time event history analysis