Abstract
Several decades ago, marriage among women in most of sub-Saharan Africa could reasonably be described as early and near-universal. However, it is apparent from a number of studies published in the past two decades that in many countries in the region, there is a trend toward delays in the onset of marriage, with early marriage becoming less prevalent. This trend is most notable among the urban and better-educated segments of the population. Rising age at first marriage, in turn, has played an important role in the ongoing fertility transition in some parts of sub-Saharan Africa. This paper examines union patterns of young women (aged 15–29) in more than two dozen countries in sub-Saharan Africa, with the objective of documenting and analyzing the extent and nature of the ongoing changes in entry to union that are taking place in the region. We use data from the Demographic and Health Surveys (DHSs), and focus on those countries that have had multiple DHSs, so as to allow examination of within-country trends in union patterns. These countries represent nearly three-quarters of the population of sub-Saharan Africa. In addition to examining national-level data, the paper looks at data separately for urban and rural places, and includes as well an examination of data on union patterns in capital cities. After looking at trends in marriage, we analyze factors associated with these trends, most notably women's education and economic well-being. The final part of the paper assesses the role of the observed declines in the percentages of women in union in contributing to the fertility transition that is taking place in sub-Saharan Africa.
Access options
Buy single article
Instant access to the full article PDF.
USD 39.95
Price excludes VAT (USA)
Tax calculation will be finalised during checkout.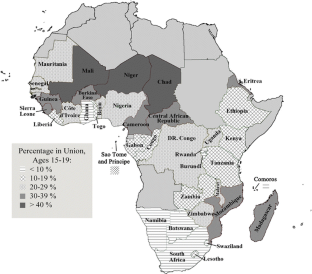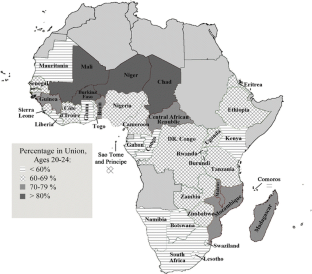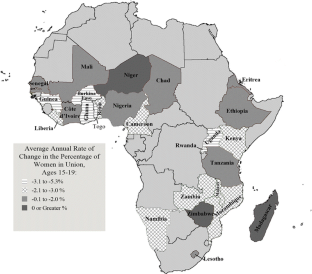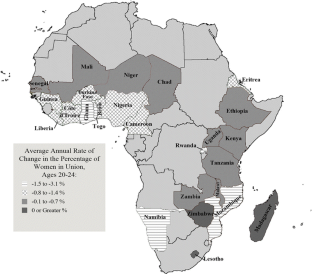 Notes
Following the standard practice in the literature, we count women as being "married" if they are in a sexual union, whether they have completed formal marriage ceremonies or not.

This is in fact the question that has been used since DHS III, which began in the early 1990s. Previous DHSs had a slightly different question: "Have you ever been married or lived with a man?" and had simply "Yes" and "No" responses. We have examined the data to see if this change in wording of the marriage question had any impact on the reported percentages of women in union, but we did not find any such effect.

Overall, typically 80–90 % of these women were in their first union, with the percentage being 90 % or more among those aged 15–19 and declining as one moves to the two older age groups.

We have not produced a comparable figure for those aged 25–29 because, as we shall see below, there is much more limited variation in the percentage in union for this age range.

For women in their 20s, Namibia is the outlier at the low end, with only 21 % of those aged 20–24 in union and 39 % of those aged 25–29 in union. The next-lowest percentages in union for these two age groups as of the last survey are 37 % (Rwanda) and 69 % (Lesotho), respectively.

Detailed data for Eritrea are not publicly available, and hence we could not calculate the significance of the reported changes.

This is the case for 145 out of 150 comparisons (data for Eritrea were not available separately for urban and rural places; hence, 25 countries are covered by the table). The exceptions are for 15–19 year olds in Kenya for both the first and last surveys, and for 20–24 year olds in the first survey and 25–29 year olds in both surveys in Namibia.

As noted earlier, Madagascar was unique: in the 6-year interval between the two surveys there, the reported percentages of women in union increased for each of the six age group-place of residence categories. Lesotho and Rwanda already had comparatively low percentages of women in union as of the first survey and hence limited scope for further declines.

Data were not available for the capitals of Eritrea and Nigeria. In addition, for Namibia and Tanzania data on the capitals were not available for the first survey but were available for the second survey, so these data are used. Data for Cameroon in the first survey were reported jointly for Yaoundé, the political capital, and Douala, the economic capital, and we have retained the combination of the two.

Data needed for this analysis were not available for Eritrea. Because there are multiple observations per country, there is a potential econometric problem here with ordinary least squares (OLS) regression, since observations are not independent. Hence, we have used the generalized estimating equations (GEE) method rather than OLS; the GEE method is a technique that can be used to account for the lack of independence among observations in generalized linear regression models (Liang and Zeger 1986; Zeger and Liang 1986; Diggle et al. 1994).

The education and Muslim variables are specific to the corresponding place of residence. The education variable is also specific to each age group, while the Muslim variable is not (given place of residence, variation by age group in the percentage Muslim was minimal, and the variable provides the percentage Muslim for all women of reproductive age). However, place-specific data on real GDP per capita are not available, so the national level of this variable is used for both urban and rural places. In effect, then, this introduces measurement error—underestimating the level of GDP per capita for urban places and overestimating it for rural locations, assuming that urban income is higher.

In addition to the analyses reported in the paper, we have also examined the percentages of women in union in the capitals as a function of economic growth in the 5 years preceding each survey, with a quadratic specification of growth to allow for nonlinearities in the effects of changes in economic well-being. However, these supplementary analyses provided no indication of delays in marriage associated with poor economic performance.

The Bongaarts index of marriage is constructed and used on the assumption that childbearing takes place within marriage. In a number of countries in sub-Saharan Africa, especially in Southern Africa, there is considerable childbearing outside of marriage. Jolly and Gribble (1993) tried to account for this non-marital childbearing by developing an index of births outside marriage and an adjusted index of marriage. We have calculated but not reported these measures here, and they indeed show high values of births outside marriage for Lesotho and Namibia, the two countries from Southern Africa. These additional estimates are available on request.

Two countries—Ethiopia and Lesotho—did not show declines in C m, but they stand out as having especially low values of the index of marriage for urban places and the capitals, for both the first and last surveys.
References
Antoine, P. (2006). Analyse biographique de la transformation des modèles matrimoniaux dans quatre capitales africaines: Antananarivo, Dakar, Lomé et Yaoundé. Cahiers québecois de démographie, 35(2), 5–38.

Bongaarts, J. (1978). A framework for analyzing the proximate determinants of fertility. Population and Development Review, 4(1), 105–132.

Bongaarts, J., & Potter, R. G. (1983). Fertility, biology, and behavior: An analysis of the proximate determinants. New York: Academic Press.

Chow, G. C. (1960). Tests of equality between sets of coefficients in two linear regressions. Econometrica, 28(3), 591–605.

Diggle, P. J., Liang, K.-Y., & Zeger, S. L. (1994). Analysis of longitudinal data. Oxford: Clarendon Press.

Ersado, L. (2005). Child labor and schooling decisions in urban and rural areas: Comparative evidence from Nepal, Peru, and Zimbabwe. World Development, 33(3), 455–480.

Garenne, M. (2004). Age at marriage and modernisation in sub-Saharan Africa. Southern African Journal of Demography, 9(2), 59–79.

Gurmu, E., & Mace, Ruth. (2008). Fertility decline driven by poverty: The case of Addis Ababa, Ethiopia. Journal of Biosocial Science, 40, 339–358.

Harwood-Lejeune, A. (2001). Rising age at marriage and fertility in Southern and Eastern Africa. European Journal of Population, 17(3), 261–280.

Heston, A., Summers, R., & Aten, B. (2011). Penn World Table Version 7.0. Philadelphia, PA: Center for International Comparisons of Production, Income and Prices, University of Pennsylvania.

Huisman, J., & Smits, J. (2009). Effects of household- and district-level factors on primary school enrollment in 30 developing countries. World Development, 37(1), 179–193.

Jolly, C. L., & Gribble, J. N. (1993). The proximate determinants of fertility. In K. A. Foote, K. H. Hill, & L. G. Martin (Eds.), Demographic change in sub-Saharan Africa (pp. 68–116). Washington, DC: National Academy Press.

Liang, K.-Y., & Zeger, S. L. (1986). Longitudinal data analysis using generalized linear models. Biometrika, 73, 13–22.

Mabika, C. M., & Shapiro, D. (2012). School enrollment in the Democratic Republic of the Congo: Family economic well-being, gender, and place of residence. African Population Studies, 26(2), 197–220.

Mensch, B. S., Singh, S., & Casterline, J. B. (2005). Trends in the timing of first marriage among men and women in the developing world. In C. B. Lloyd, J. R. Behrman, N. P. Stromquist, & B. Cohen (Eds.), The changing transitions to adulthood in developing countries: Selected studies (pp. 118–171). Washington, DC: National Academies Press.

National Research Council and Institute of Medicine. (2005). Schooling. In Committee on Population, Panel on Transitions to Adulthood in Developing Countries, C. B. Lloyd (Eds.), Growing up global: The changing transitions to adulthood in developing countries (pp. 67–167). Washington, DC: National Academies Press.

Schultz, T. P. (1993). Investments in the schooling and health of women and men: Quantities and returns. Journal of Human Resources, 28(4), 694–734.

Shapiro, D. (2012). Enduring economic hardship, women's education, and fertility transition in Kinshasa. Working Paper. University Park, PA: Department of Economics, Pennsylvania State University.

Shapiro, D., & Tambashe, B. O. (2002). Fertility transition in urban and rural sub-Saharan Africa: Preliminary evidence of a three-stage process. Journal of African Policy Studies, 8(2&3), 103–127.

Shapiro, D., & Tambashe, B. O. (2003). Kinshasa in transition: women's education, employment, and fertility. Chicago, IL: University of Chicago Press.

Soler-Hampejsek, E., Mensch, B. S., & Hewett, P. C. (2009). Education and the timing of sexual initiation and marriage in rural Malawi: A longitudinal analysis of the effect of attendance, attainment and repetition. Paper Presented at Population Association of America Annual Meeting, Detroit, 2 May.

Tambashe, B. O., & Shapiro, D. (1996). Family background and early life course transitions in Kinshasa. Journal of Marriage and the Family, 58(4), 1029–1037.

van de Walle, E. (1993). Recent trends in marriage ages. In K. A. Foote, K. H. Hill, & L. G. Martin (Eds.), Demographic change in sub-Saharan Africa (pp. 117–152). Washington, DC: National Academy Press.

Westoff, C. F. (1992). Age at marriage, age at first birth, and fertility in Africa. World Bank Technical Paper Number 169. Washington, DC: The World Bank.

Westoff, C. F. (2003). Trends in marriage and early childbearing in developing countries. DHS Comparative Reports No. 5. Calverton, MD: ORC Macro.

Zeger, S. L., & Liang, K.-Y. (1986). Longitudinal data analysis for discrete and continuous outcomes. Biometrics, 42, 121–130.
Acknowledgments
We are grateful to Nathan Bartell for excellent research assistance, and for reviewer comments that improved the paper. Responsibility for the contents of the paper rests solely with the authors.
About this article
Cite this article
Shapiro, D., Gebreselassie, T. Marriage in Sub-Saharan Africa: Trends, Determinants, and Consequences. Popul Res Policy Rev 33, 229–255 (2014). https://doi.org/10.1007/s11113-013-9287-4
Received:

Accepted:

Published:

Issue Date:

DOI: https://doi.org/10.1007/s11113-013-9287-4
Keywords