Abstract
This paper discusses the potential of family policies to reconcile the multiple objectives that they are expected to serve, over and above their role in offsetting the economic cost of children. We start by emphasizing the need to consider the multiple challenges that family policies in European Union—and/or OECD—countries have to address through a broadening of the standard economic approach to the cost of children. Policies indeed aim to reduce the "direct" monetary cost of raising children, but they also aim to minimise the indirect cost arising from the incidence of children on the parents' work-life balance and on the aggregate level of employment. Moreover, motives for policy intervention such as concerns about child development, gender equity or aggregate fertility levels are not fully captured by cost measurements. We thus analyse how, and to what extent, family policies can successfully reconcile these multidimensional objectives. We offer a holistic approach, pointing out that a coherent family policy mix supporting working parents with preschool children is the only way to reconcile or limit the conflicts between work, family and child outcomes. Three main dichotomies are identified to explain cross-country differences in family policy packages: the emphasis on poverty alleviation; the supposed antagonism between fertility and female employment; and the potential conflict between this latter and child development. Ways to reconcile these objectives and to improve the effectiveness and efficiency of family policies are further discussed.
Access options
Buy single article
Instant access to the full article PDF.
USD 39.95
Price excludes VAT (USA)
Tax calculation will be finalised during checkout.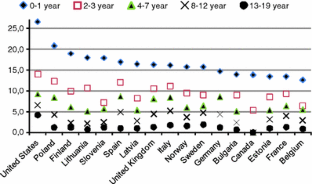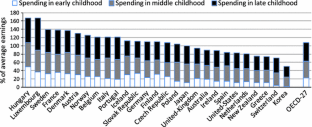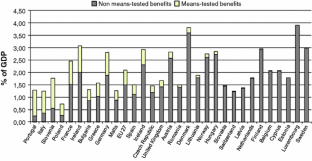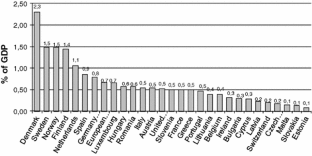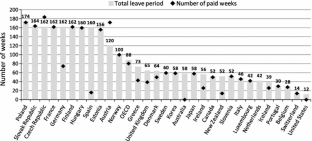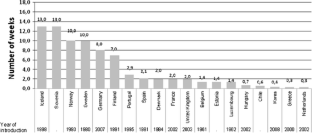 Notes
Action and development plan for the economy of the European Union between 2000 and 2010, set out by the European Council in Lisbon in March 2000. One explicit objective of this plan is to raise female employment rates to min. 60 % in all European countries, and to develop formal childcare services accordingly.

The analysis of indirect costs is limited to measurable, indirect economic costs. Non-economic indirect costs or economic indirect costs that appear only in the medium and long term are not taken into account by most statistics (as for example the loss of networks and social contacts or the loss of skills which can reduce future income options…).

Most research in the United States emphasises that maternal employment can have negative consequences for the cognitive development and health of children during their early years (Han et al. 2001; Brooks-Gunn et al. 2002; Baum 2003; Ruhm 2004a, b; Baker et al. 2005). However, another series of studies find a mitigated effect of parents' employment and even a negative effect on child development of childcare provided permanently and exclusively by mothers (Gregg et al. 2005; Waldfogel et al. 2002).

Most of the available evidence on preschool experiments shows positive effects on pupil and student outcomes (Currie 2001; OECD 2011; Huerta et al. 2011). However, some studies point out negative impacts of early enrolment in day care centres or kindergarten on behavorial outcomes or test scores (Lefebvre et al. 2011; Smith 2011). Overlong hours spent in childcare centers are potential factors for explaining why the low-fee childcare policy did not have the expected positive influence on child outcomes in Quebec (Lefebvre et al. 2011). This hypothesis is accredited by Datta-Gupta and Simonsen (2010) who found for Denmark that increasing hours in family daycare from 30–40 to 40–50 h per week and hours in pre-school from 20–30 h per week to 30–40 h leads to significantly lower child non-cognitive outcomes.

Basically, Heckman and Masterov (2007) argue that investments during early childhood provide a means to benefit from the complementarities that exist when young children acquire cognitive and social capacities, as the acquisition of these capacities at an early age favours self-production of human capital. Higher investment at very young ages would reduce the investments required at later stages, so that early spending can in fact lower later expenditures.

Prolonged periods out of work affect career development and are key determinants of the so-called "family pay gap" that measures the lifetime differential in earnings between mothers and childless women. In Sweden, for example, taking 16 months of parental leave negatively affects career profiles (Eversston and Duvander 2010). Available evidence for France and Germany suggests that extending paid leave increases the likelihood of precarious employment conditions after the return to work and reduces the wage growth of those who take prolonged leave by 5–20 % (Meurs et al. 2010; Ondrich et al. 2002); while differences decrease over time they are still observable long after the return to work. Nevertheless, some evidence for Canada suggests that despite substantial income losses incurred by mothers in the first 2 years after childbirth, mothers returning to work seem to regain the lost earnings within about 7 years, and this recovery is quicker for mothers who go back to work with their original employer.
References
Anxo, D., Flood, L., Mencarini, L., Pailhé, A., Solaz, A., & Tanturri, M. L. (2007). Time allocation between work and family over the life-cycle: A comparative gender analysis of Italy, France, Sweden and the United States. IZA discussion paper no. 3193, Bonn.

Apps, P., & Rees, R. (2002). Household consumption, full consumption and the costs of children. Labour Economics, 8, 621–648.

Baker, M., Gruber, J., & Milligan, K. (2005). Universal child care, maternal labour supply and family well-being. Toronto: University of Toronto, Department of Economics.

Baum, Ch. (2003). Does early maternal employment harm child development? An analysis of the potential benefits of leave taking. Journal of Labor Economics, 21(2), 409–448.

Baxter, J., & Smart, D. (2011). Fathering in Australia among couple families with young children. Occasional paper 37. Department of Families, Housing, Community Services and Indigenous Affairs, Australian Government.

Becker, G. (1960). An economic analysis of fertility. Demographic and economic change in developed countries. Princeton/Cambridge: Princeton University Press/NJ and NBER.

Belsky, J., Vandell, D., Burchinal, M., Clarke-Stewart, K. A., McCartney, K., Owen, M., et al. (2007). Are there long-term effects of early child care? Child Development, 78(2), 681–701.

Bradbury, B. (2008). Time and the cost of children. Review of Income and Wealth, 54(3), 305–323.

Brooks-Gunn, J., Han, W., & Waldfogel, J. (2002). Maternal employment and child cognitive outcomes in the first three years of life: The NICHD study of early child care. Child Development, 73(4), 1052–1072.

Browning, M. (1992). Children and household economic behavior. Journal of Economic Literature, 30(3), 1434–1475.

Browning M., Chiappori P. A., & Lewbel A. (2006). Estimating consumption economies of scale, adult equivalence scales, and household bargaining power. Working paper 289, Department of Economics, University of Oxford.

Craig, L., & Bittman, M. (2008). The incremental time costs of children: An analysis of children's impact on adult time use in Australia. Feminist Economics, 14(2), 59–88.

Currie, J. (2001). Early childhood education programs. Journal of Economic Perspectives, 15(2), 213–238.

Currie, J., & Ghavari, F. (2008). Tansfers in-cash and in-kind: Theory meets data. Journal of Economic Literature, 46(2), 333–383.

Datta-Gupta, N., Smith, N., & Verner, M. (2008). The impact of Nordic countries' family friendly policies on employment, wages and children. Review of the Economics of Households, 6, 65–89.

Datta-Gupta, N., & Simonsen, M. (2010). Non cognitive children outcomes and universal high quality child care. Journal of Public Economics, 94(1–2), 30–43.

Davies, R., & Pierre, G. (2005). The family gap in pay in Europe: A cross-country study. Labour Economics, 12(4), 469–486.

DeCicca Ph., & Smith J. (2011). The long-run impacts of early childhood education evidence from a failed policy experiment. National Bureau of Economic Research (NBER), working paper 17085.

Dex, S., & Ward, K. (2007). Parental care and employment in early childhood: Analysis of the Millennium Cohort Study (MCS) Sweeps 1 and 2. Research series. Manchester: Equal Opportunities Commission.

Esping-Andersen, G. (2008). Trois leçons sur l'Etat Providence, Seuil, coll. Paris: La république des Idées.

Esping-Andersen, G., Garfinkel, I., Han, W.-J., Magnuson, K., Wagner, S., & Waldfogel, J. (2012). Child care and school performance in Denmark and the United States. Children and Youth Services Review, 34(3), 576–589.

Eversston, M., & Duvander, A. Z. (2010). Parental leave—possibility or trap? Does family leave length effect Swedish women's labour market opportunities? European Sociological Review. doi:10.1093/esr/jcq018.

Fernandez-Kranz, D., & Rodriguez-Planas, N. (2011). Unintended effects of a family-friendly law in a segmented labour market. IZA (Institue for the Study of Labor) discussion paper 5709.

Gauthier, A., Smeeding, T. M., & Furstenberg, F. F. Jr. (2004). Are parents investing less time in children? Trends in selected industrialized countries. Population and Development Review, 30(4), 647–671.

Goux, D., & Maurin, E. (2010). Public school availability for two-year olds and mothers' labour supply. Labour Economics, 17(6), 951–962.

Gregg, P., Washbrook, E., Propper, C., & Burgess, S. (2005). The effects of a mother's return to work decision on child development in the UK. Economic Journal, 115(501), F48–F80.

Han, W., Waldfogel, J., & Brooks-Gunn, J. (2001). The effects of maternal employment on later cognitive and behavioral outcomes. Journal of Marriage and the Family, 63, 336–354.

Harkness, S., & Waldfogel, J. (2003). The family gap in pay: Evidence from seven industrialized countries. Research in Labor Economics, 22, 369–414.

Heckman, J., & Masterov, D. (2007). The productivity argument for investing in children. NBER working paper 13016.

Hotz, V. J., Klerman, J. A., & Willis, R. (1997). The economics of fertility in developed countries. In M. Rosenzweig & O. Stark (Eds.), Handbook of population and family economics (Vol. 1A, pp. 276–347). Amsterdam: Elsevier.

Huerta, M., Adema, W., Baxter, J., Corak, M., Deding, M., Gray, M. C., Han, W. J., & Waldfogel, J. (2011). Early maternal employment and child development in five OECD countries. Social, employment and migration working papers. OECD, Paris.

Kamerman, S. (2006). Parental leave policies: The impact on child well-being. In P. Moss & M. O'Brien (Eds.), International Review of Leave Policies and Related Research 2006. DTI Employment Relations Research Series 57.

Klasen, S. (2002). Low schooling for girls, slower growth for all? World Bank Economic Review, 16, 345–373.

Kögel, T. (2004). Did the association between fertility and female employment within OECD countries really change its sign? Journal of Population Economics, 17, 45–65.

Korpi, W., & Palme, J. (1998). The paradox of redistribution and strategies of equality: Welfare state institutions, inequality, and poverty in western countries. American Sociological Review, 63(5), 661–687.

Le Minez, S., & Roth, N. (2007). Transferts monétaires et compensation du coût de l'Etat. Informations Sociales, 137, 68–79.

Lefebvre P., Merrigan Ph., & Roy-Desrosiers F. (2011). Quebec's childcare universal low fees policy 10 years after: Effects, costs and benefits. Working paper 11-01. Centre Interuniversitaire sur le Risque, les Politiques Economiques et l'Emploi (CIRPEE), Montréal.

Letablier, M.-Th., Luci, A., Math, A., & Thévenon, O. (2009). The costs of raising children and the effectiveness of policies to support parenthood in European countries: A literature review. Report for the European Commission. http://ec.europa.eu/social/families/docs/EU_Report_Cost_of_children_Final_11-05-2009.pdf.

Luci, A. (2011). Frauen auf dem Arbeitsmarkt in Deutschland und Frankreich—Warum es Französinnen besser gelingt, Familie und Beruf zu vereinbaren. (Reconciliation possibilities in France and Germany) Research report for the Friedrich Ebert Foundation.

Luci A., & Thévenon O. (2011). The impact of family policy packages on fertility trends in developed countries. INED working paper no 174. Annual Conference of the Population Association of America, Washington.

Lundberg, S., Pollak, R., & Wales, T. (1997). Do husbands and wives pool their resources? Evidence from the united kingdom child benefit. Journal of Human Resources, 32(3), 463–480.

Mandel, H., & Semyonov, M. (2006). A welfare state paradox: State interventions and women's employment opportunities in 22 countries. American Journal of Sociology, 111(6), 1910–1949.

Meurs, D., Pailhé, A., & Ponthieux, S. (2010). Child-related career interruptions and the gender wage gap in France. Annales d'Economie et de Statistique, (99–100), 15–46.

Miranda, V. (2011). Cooking, cleaning and volunteering: Unpaid work around the world. Social, employment and migration working papers. OECD, Paris.

Misra, J., Budig, M., & Boeckmann, I. (2011). Cross-national patterns in individual and household employment and work hours by gender and parenthood. Research in the Sociology of Work, 22, 169–208.

Moffitt, R. (1983). An economic model of welfare stigma. American Economic Review, 73(5), 1023–1035.

Nelson, J. (1993). Household equivalence scales: Theory versus policy? Journal of Labor Economics, 11(3), 471–473.

Nelson, V. (2007). L'universalisme ou le ciblage: la vulnérabilité de l'assurance sociale et de la protection du revenu minimum sous condition de ressources dans 18 pays, 1990–2002. Revue Internationale de Sécurité Sociale (p. 37).

OECD. (2009a). Doing better for children. Paris: OECD Publishing.

OECD. (2009b). Is work the best antidote to poverty? In Employment Outlook (Chap. 3, pp. 165–210). OECD Publishing, Paris.

OECD. (2010). How good is part-time work? In Employment Outlook (Chap. 4, pp. 211–266). OECD Publishing, Paris.

OECD. (2011). Doing better for families. Paris: OECD Publishing.

OECD. (2012). Gender Equality in education, employment and entrepreneurship. Final report to the meeting council of ministers, Paris. http://www.oecd.org/dataoecd/20/5/50423364.pdf. Accessed May.

Ondrich, J., Spiess, K., & Yang, Q. (2002). The effect of maternity leave on women's pay in Germany 1984–1994. Berlin: DIW, German Institute for Economic Research.

Ruhm, C. (2004a). How well do parents with young children combine work and family life. NBER working paper no. 10247. National Bureau of Economic Research, Cambridge, MA.

Ruhm, C. (2004b). Parental employment and child cognitive development. Journal of Human Resources, 39(1), 155–192.

Salles, A., Rossier, C., & Brachet, S. (2010). Understanding the long term effects of family policies on fertility: The diffusion of different family models in France and Germany. Demographic Research, 22(34), 1057–1096.

Sigle-Rushton, W., & Waldfogel, J. (2007). Motherhood and women's earnings in Anglo-American, continental European, and Nordic countries. Feminist Economics, 13(2), 55–91.

Smolensky, E., Reilly, S., & Evenhouse, E. (1995). Should public assistance be targeted? Journal of Post Keynesian Economics, 18, 3–28.

Thévenon, O. (2009). Increased women's labour force participation in Europe: Progress in the work-life balance or polarization of behaviours? Population, 64(2), 235–272 (english edition).

Thévenon, O. (2011). Family policies in OECD countries: A comparative analysis. Population and Development Review, 37(2), 57–87.

Thévenon, O., & Gauthier, A. (2011). Family policies in developed countries: A 'fertility-booster' with side-effects. Community, Work and Family, 14(2), 197–216.

Waldfogel, J., Wen-Jui, H., & Brooks-Gunn, J. (2002). The effects of early maternal employment on child cognitive development. Demography, 39(2), 369–392.

Witheford P., & Adema W. (2007). What works best in reducing child poverty: A benefit or work strategy? OECD Social, employment and migration working papers 51. OECD, Paris.

Zhang, X. (2010). Can motherhood earnings losses be ever regained? Evidence from Canada. Journal of Family Issues, 31(12), 1671–1688.
Acknowledgments
This paper builds upon reports made for the European Commission (Letablier et al. 2009) and from OECD (2011), Doing Better for Families, to which the authors have contributed, and is complemented by additional material. Willem Adema, Maria Huerta and Dominic Richardson are especially thanked. The views expressed cannot be attributed to the OECD or its Member governments; they are the responsibility of the authors only.
About this article
Cite this article
Thévenon, O., Luci, A. Reconciling Work, Family and Child Outcomes: What Implications for Family Support Policies?. Popul Res Policy Rev 31, 855–882 (2012). https://doi.org/10.1007/s11113-012-9254-5
Received:

Accepted:

Published:

Issue Date:

DOI: https://doi.org/10.1007/s11113-012-9254-5
Keywords
Family policy

Costs of children

Child poverty

Women's labour market participation

Fertility

Work-life balance