Abstract
Recently, there has been significant debate about whether 'environmental migration' can constitute a form of adaptation to environmental change, as opposed to forced or flight migration. The Foresight Report on Migration and Environmental Change (2011) suggested environmental factors are one driver of migration, as well as political, social, economic and demographic drivers, and that—under the right conditions—migration can be a form of adaptation to changing climatic conditions. However, this is dependent on migrants having adequate social and financial capital to undertake beneficial types of migration; it further argues that environmental change may result in 'trapped populations' whereby people who lack the necessary resources to re-establish livelihoods elsewhere may be left exposed to increasingly severe environmental shocks and stresses in situ. Research on the climate-migration nexus in West Africa has largely focused on out-migration from the semi-arid Sahel with more limited evidence about how sea flooding interacts with migration flows. This paper attempts to help fill this knowledge gap. Using data from a representative survey of households across three coastal communities in Ghana's Volta River Delta, this paper concludes that exposure to sea flooding may not be a primary cause of out-migration as other community, economic and political factors influence migration intentions and decisions. Thus, it is important for planned adaptation interventions to be strengthened in situ to enable households, particularly farming households, sustain their livelihoods.
Access options
Buy single article
Instant access to the full article PDF.
US$ 39.95
Tax calculation will be finalised during checkout.
Subscribe to journal
Immediate online access to all issues from 2019. Subscription will auto renew annually.
US$ 79
Tax calculation will be finalised during checkout.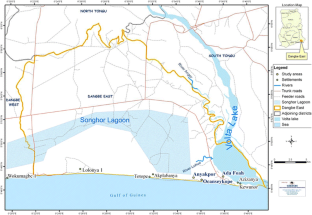 Notes
1.

According the 2010 national census, the population of the case study sites was as follows: Ocanseykope—9835, Anyakpor—8572 and Ada-Foah—17,456.
References
Abu, M., Codjoe, S. N. A., & Sward, J. (2014). Climate change and internal migration intentions in the forest-savannah transition zone of Ghana. Population and Environment, 35, 341–364.

Acheampong, S. Y., & Hess, J. W. (1998). Hydrogeologic and hydrochemical framework of the shallow groundwater system in the southern Voltaian Sedimentary Basin, Ghana. Journal of Hydrogeology, 6, 527–537.

Afifi, T. (2011). Economic or environmental migration? The push factors in Niger. International Migration, 49(s1), e95–e124.

Afifi, T., Milan, A., Etzold, B., Schraven, B., Rademacher-Schulz, C., Sakdapolrak, P., Reif, A., van der Geest, K., & Warner, K. (2016). Human mobility in response to rainfall variability: opportunities for migration as a successful adaptation strategy in eight case studies. Migration and Development, 5(2), 254–274.

Agadjanian, V., Nedoluzhko, L., & Kumskov, G. (2008). Eager to leave? Intentions to migrate abroad among young people in Kyrgyzstan. International Migration Review, 42(3), 620–651.

Bawakyillenuo, S., Yaro, J. A., & Teye, J. (2014). Exploring the autonomous adaptation strategies to climate change and climate variability in selected villages in the rural northern savannah zone of Ghana. Local Environment : The International Journal of Justice and Sustainability. doi:10.1080/13549839.2014.965671.

Becerra, D., & Gurrola, M. (2010). Poverty and other factors affecting migration intentions among adolescents in Mexico. Journal of Poverty, 14, 1–16.

Black, R., Kniveton, D., Skeldon, R., Coppard, D., Murata, A., & Schmidt-Verkerk, K. (2008). Demographics and climate change: future trends and their policy implications for migration. Migration DRC Working Paper T28. Brighton: Development Research Centre on Migration, Globalisation and Poverty.

Boateng, I. (2012). An assessment of the physical impacts of sea-level rise and coastal adaptation: a case study of the eastern coast of Ghana. Climatic Change, 114(2), 273–293.

Boncour, P., & Burson, B. (2009). Climate change and migration in the South Pacific region: policy perspectives. Policy Quarterly, 5(4). Retrieved from http://igps.victoria.ac.nz/publications/files/8e3850c0a1d.pdf.

Campbell, J. R. (2014). Climate-change migration in the Pacific. The Contemporary Pacific, 26, 1–28.

Carling, J. (2002). Migration in the age of involuntary immobility: theoretical reflections and Cape Verdean experiences. Journal of Ethic and Migration Studies, 28(1), 5–42.

Constant, A., & Massey, D. S. (2002). Return migration by German guest workers: neoclassical versus new economic theories. International Migration, 40(4), 5–32.

Dangbe East District Assembly (2010). Annual Report. Ada-Foah.

De Jong, G. F. (2000). Expectations, gender, and norms in migration decision-making. Population Studies, 54(3), 307–319.

de Haan, A., Brock, K., & Coulibaly, N. (2002). Migration, livelihoods and institutions: contrasting patterns of migration in Mali. Journal of Development Studies, 38(5), 37–58.

de Haas, H. (2010). Migration and development: a theoretical perspective. International Migration Review, 44, 227–264.

Dickson, K. G., & Benneh, G. (1980). A new geography of Ghana. London: Longman.

Doevenspeck, M. (2011). The thin line between choice and flight: environment and migration in rural Benin. International Migration, 49(s1), e50–e68.

Dun, O., & Gemenne, F. (2008). Defining 'environmental migration'. Forced Migration Review, 31, 10–11.

Epstein, G. S., & Gang, I. N. (2006). The influence of others on migration plans. Review of Development Economics, 10, 652–665.

Foresight. (2011). Foresight report on migration and global environmental change. London: UK Government Office for Science.

Gemenne, F., Zickgraf, C., & Ionesco, D. (2014). The state of environmental migration 2015—a review of 2014. Geneva: International Organization for Migration (IOM).

Getis, A. (2015). Analytically derived neighborhoods in a rapidly growing West African city: the case of Accra, Ghana. Habitat International, 45, 126–134.

Ghana Dsitricts (2014). Dangbe East District. Ada-Foah.

Ghana Statistical Service. (2012). 2010 population and housing census. Accra: Summary of Final Results. Sakoa Press.

Hampshire, K. (2002). Fulani on the move: seasonal economic migration in the Sahel as a social process. Journal of Development Studies, 38(5), 15–36.

Henry, S., Piché, V., Ouedraogo, D., & Lambin, E. F. (2004a). Descriptive analysis of the individual migratory pathways according to environmental typologies. Population and Environment, 25(5), 397–422.

Henry, S., Schoumaker, B., & Beauchemin, C. (2004b). The impact of rainfall on the first out-migration: a multi-level event-history analysis in Burkina Faso. Population and Environment, 25(5), 423–460.

Hillmann, F., & Ziegelmayer, U. (2016). Environmental change and migration in coastal regions: examples from Ghana and Indonesia. Die Erde, 147(2), 119–138. doi:10.12854/erde-147-9.

Ivlevs, A., & King, R. M. (2012). Family migration capital and migration intentions. Journal of Family and Economic Issues, 33, 118–129.

Kelman, I. (2015). Difficult decisions: migration from Small Island developing states under climate change. Earth's Future, 3(4), 133–142.

Lauby, J., & Stark, O. (1988). Individual migration as a family strategy: young women in the Philippines. Population Studies, 42, 473–486.

Li, Y., López-Carr, D., & Chen, W. (2014). Factors affecting migration intentions in ecological restoration areas and their implications for the sustainability of ecological migration policy in arid Northwest China. Sustainability, 6, 8639–8660. doi:10.3390/su6128639.

Macleod, L. (1996). The migration intentions of young people in Ullapool. Scottish Affairs, 15, 70–82.

Martin, M., Billah, M., Siddiqui, T., Abrar, C. R., Black, R., & Kniveton, D. (2014). Climate-related migration in rural Bangladesh: a behavioural model. Population and Environment, 36, 85–110.

McLeman, R., & Smit, B. (2006). Migration as an adaptation to climate change. Climatic Change, 76(1–2), 31–53.

McLeman, R., & Hunter, L. (2010). Migration in the context of vulnerability and adaptation to climate change: insights from analogues. Wiley Interdisciplinary Reviews: Climate Change, 1(3), 450–461.

Mendoza, R.U., Yap II, D.B., Tanjangco, M.B.A.D., & Siriban, C.I. (2013). Arrested development? An empirical analysis of education choices and migration intentions. Asian Institute of Management, Working Paper 13–028.

Morrissey, J. (2012). Rethinking the 'debate on environmental refugees': from 'maximilists and minimalists' to 'proponents and critics'. Journal of Political Ecology, 19.

Morrissey, J. (2014). Environmental change and human migration in sub-Saharan Africa. In E. Piguet & F. Laczko (Eds.), People on the move in a changing climate: the regional impact of environmental change on migration (pp. 81–109). New York, London: Springer.

Mortimore, M. (1989). Adapting to drought: farmers, famines and desertification in West Africa. Cambridge: Cambridge University Press.

Papapanagos, H., & Sanfey, P. (2001). Intention to emigrate in transition countries: the case of Albania. Journal of Population Economics, 14, 491–504.

Pismennaya, E. E., Karabulatova, I. S., Ryazantsev, S. V., Luk'yanets, A. S., & Manshin, R. V. (2015). Impact of climate change on migration from Vietnam to Russia as a factor of transformation of geopolitical relations. Mediterranean Journal of Social Sciences, 6(3), 202–207. S2. doi:10.5901/mjss.2015.v6n3s2p202.

Rademacher-Schulz, C., Schraven, B., & Mahama, E. S. (2014). Time matters: shifting seasonal migration in Northern Ghana in response to rainfall variability and food insecurity. Climate and Development, 6(1), 46–52.

Rain, D., Engstrom, R., Ludlow, C., & Antos, S. (2011). Accra Ghana: a city vulnerable to flooding and drought-induced migration. Global report on human settlements 2011.

Sen, A. (1985). Commodities and capabilities. Amsterdam: North Holland.

Sow, P., Adaawen, S. A., & Scheffran, J. (2012). Migration, social demands and environmental change amongst the Frafra of Northern Ghana and the Biali in Northern Benin. Sustainability, 6(1), 375–398.

Stark, O. (1991). The migration of labor. Cambridge: Basil Blackwell.

Suckall, N., Fraser, E., Forster, P., & Mkwambisi, D. (2015). Using a migration systems approach to understand the link between climate change and urbanisation in Malawi. Applied Geography, 63, 244–252. doi:10.1016/j.apgeog.2015.07.004.

Sutton, S. (1998). Predicting and explaining intentions and behavior: how well are we doing? Journal of Applied Social Psychology, 28(15), 1317–1338.

Sward, J. (2012). LAC regional findings of foresight report. Briefing paper published by Foresight. London: Government Office for Science.

Sward, J. (2016). Moving to 'greener pastures'? The complex relationship between internal migration, land tenure and poverty in mid-Ghana. Migrating out of Poverty RPC Working Paper No. 33. Brighton: Migrating out of Poverty Research Programme Consortium, University of Sussex.

Tsikata, D. (2006). Living in the shadow of the large dams: long term responses of downstream and lakeside communities of Ghana's Volta River Project (p. 452). Accra: Woeli Publishing Services.

van Apeldoorn, G. (1981). Perspectives on drought and famine in Nigeria. London: George Allen & Unwin.

van der Geest, K., Vrieling, A., & Dietz, T. (2010). Migration and environment in Ghana: a cross-district analysis of human mobility and vegetation dynamics. Environment and Urbanization, 22(1), 107–123.

Van Dalen, H. P., Groenewold, G., & Fokkema, T. (2005). The effect of remittances on emigration intentions in Egypt, Morocco, and Turkey. Population Studies, 59, 375–392.

Van Dalen, H. P., & Henkens, K. (2008). Emigration intentions: mere words or true plans? Explaining international migration intentions and behavior. Center Discussion Paper No. 2008–60. Tilburg: Tilburg University.

Wetzel, F. T., Kissling, W. D., Beissmann, H., & Penn, D. J. (2012). Future climate change driven sea-level rise: secondary consequences from human displacement for island biodiversity. Global Change Biology, 18(9), 2707–2719.

Wyett, K. (2014). Escaping a rising tide: sea level rise and migration in Kiribati. Asia & the Pacific Policy Studies, 1(1), 171–185.

Zickgraf, C., Vigil, S., de Longueville, F., Ozer, P., & Gemmene, F. (2016). The impact of vulnerability and resilience to environmental changes on mobility patterns in West Africa. KNOMAD Working Paper 14. Washington DC: KNOMAD Global Knowledge Partnership on Migration and Development Available online: <http://www.knomad.org/docs/working_papers/KNOMAD%20WP%20The%20Impact%20of%20Vulnerability%20and%20Resilience%20to%20Environmental%20Change%20and%20Migration.pdf> [accessed 25 January 2017].
Acknowledgments
We are grateful to the International Development Research Centre of Canada for providing funding for this study through the Climate Change Adaptation Research Training Capacity for Development (CCARTCD) Project with Component Number: 106548-001. The data for this study can be obtained from the second author at nyamedorhayford@yahoo.com.
About this article
Cite this article
Codjoe, S.N.A., Nyamedor, F.H., Sward, J. et al. Environmental hazard and migration intentions in a coastal area in Ghana: a case of sea flooding. Popul Environ 39, 128–146 (2017). https://doi.org/10.1007/s11111-017-0284-0
Keywords
Environmental hazard

Sea flooding

Climate change

Coastal communities

Migration intentions

Ghana