Abstract
Household air pollution is a leading cause of death globally, as 4.3 million people die prematurely each year from illness attributable to use of solid fuels (WHO 2016a). Many studies contend that gender inequalities are likely to greatly shape the global distribution of solid fuel use and its negative health consequences. We conduct an analysis of 91 developing nations using structural equation models on the prevalence of female indoor air pollution deaths among women and the ratio of female to male indoor air pollution deaths. The results illustrate that women's status is a robust predictor of solid fuel use, and that improved women's status also correlates directly with lower female to male indoor air pollution deaths ratios and indirectly with reduced female death prevalence through lower solid fuel dependence. Women's status additionally mediates the effects of some other notable predictors, such as economic development. Overall, the results bring attention to a "silent killer" in less-developed nations and illustrate that greater female empowerment is an important avenue in addressing this global pandemic.
Access options
Buy single article
Instant access to the full article PDF.
US$ 39.95
Tax calculation will be finalised during checkout.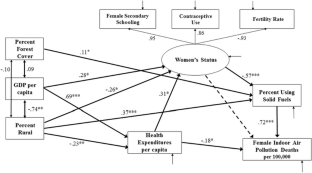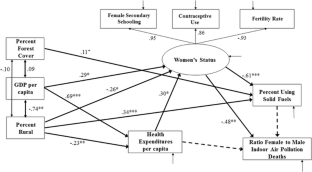 Notes
1.

In this article, we use the phrases "household air pollution" and "indoor air pollution" interchangeably.

2.

As previously mentioned, these data do not fully capture within-nation differences in exposure, such as those that are likely experienced by men and women in developing societies. Also, there could be concerns over the quality of the data for additional reasons, such as the use of household surveys from limited regions to estimate national levels of solid fuel use. Despite these concerns, these data represent the only available estimates of indoor air pollution and thus are a necessary starting point for attempting to gain understanding on the causes and consequences of household air pollution across nations. As a robustness check, all analyses were also tested with data on chronic respiratory deaths, as these represent some of the key causes of death from exposure to solid fuels, and the results were entirely consistent with those presented here on indoor air pollution deaths. These results are available from the authors upon request.

3.

In addition to the measures listed, we also tested for the influence of a variety of other indicators, such as levels of democracy, foreign debt, international trade measures, etc. None of these were found to have a significant relationship to solid fuel use or deaths from indoor air pollution and compromised model fit; thus, they were excluded from the analysis.

4.

Although there were some missing data points among the control variables, the level of missing data was generally low and there appeared to be no pattern to the missing values that would bias the results. The maximum likelihood (ML) missing value estimation used here creates a likelihood for the entire sample by summing the likelihoods for each case, using whatever information each case has available. This means that each country contributes the maximum amount of information possible to the estimation (Arbuckle 1996; Enders and Bandalos 2001). The estimates are consistent and efficient under the condition that the data are missing at random (MAR). This is an easier condition to meet than missing completely at random (MCAR), which is required for methods of listwise deletion. Nonetheless, we also performed the analyses using methods of listwise deletion, on a sample of 60 nations to confirm the reliability of the results. The results were consistent across the two samples, thus demonstrating that the substantive findings are not driven by sample size or the cases under investigation.

5.

These are available from the author upon request.

6.

These results are available from the authors upon request.

7.

These results are also available for the saturated models presented in the Appendix from the authors upon request.

8.
References
Arbuckle, JL. (1996). Full information estimation in the presence of incomplete data. In G. A. Marcoulides & R. E. Schumacker (Eds.), Advanced structure equation modeling issues and techniques (pp.243–277). Mahway, N.J.: L. Erlbaum Associates.

Austin, K., & Noble, M. (2014). Measuring gender disparity in the HIV pandemic: a cross-national investigation of female empowerment, inequality, and disease in less-developed nations. Sociol Inq, 84(1), 102–130.

Banik, B. K. (2010). Female perceptions of health hazards associated with indoor air pollution in Bangladesh. Journal of Sociology and Anthropology, 2(9), 206–212.

Blumberg, R.L. 1984. A general theory of gender stratification. Sociological Theory 2, 23–101.

Boadi, K. O., & Kuitunen, M. (2005). Factors affecting the choice of cooking fuel, cooking place and respiratory health in the Accra Metropolitan Area, Ghana. J Biosoc Sci, 38, 403–412.

Bollen, K. A. (1989). Structural equations with latent variables. New York: John Wiley Press.

Bollen, K.A. & Pearl, J. (2013). Eight myths about causality and structural equation models. Pp 310–328 in Handbook of Causal Analysis for Social Research, edited by Stephen Morgan. New York: Springer Press.

Brady, D., Kaya, Y., & Beckfield, J. (2007). Reassessing the effect of economic growth on well-being in less-developed countries, 1980-2003. Stud Comp Int Dev, 42, 1–35.

Bruce, N., Perez-Pailla, R., & Albalak, R. (2000). Indoor air pollution in developing countries: a major environmental and public health challenge. Bull World Health Organ, 78, 1078–1092.

Burke, P. J. (2013). The national-level energy ladder and its carbon implications. Environ Dev Econ, 18(4), 484–503.

Burke, P. J., & Dundas, G. (2015). Female labor force participation and HouseholdDependence on biomass energy: evidence from National Longitudinal Data. World Dev, 67, 424–437.

Burroway, R. (2012). A cross-national analysis of sex-specific HIV prevalence rates and women's access to property land, and loans in developing countries. Int J Sociol, 42(2), 47–67.

Cai, L., & Chongsuvivatwong, V. (2006). Rural-urban differentials of premature mortality burden in south-west China. Int J Equity Health, 5(13), 1–9.

Coburn, C., & Restivo, M. and Shandra, J. M. (2014). The African Development Bank and Women's Health: a cross-national analysis of structural adjustment and maternal mortality. Social Science Research. In press; available online 16 October 2014.

Collins, R. 1993. Towards and integrated theory of gender stratification. Sociologial Perspectives, 36(3), 185–216.

Collins, R., Chafetz, J. S., Blumberg, R. L., & Turner, J. (1993). Toward an integrated theory of gender stratification. Sociol Perspect, 36(3), 185–216.

Dutta, S. (2003) Mainstreaming gender in energy planning and policies. Available via United Nations Development Programme (UNDP). http://www.energia.org/fileadmin/files/media/reports/DropBox/dutta_egmbckgr.pdf. Cited 9 Nov 2014.

Fullerton, D. G., Bruce, N., & Gordon, S. B. (2008). Indoor air pollution from biomass fuel smoke is a major health concern in the developing world. Trans R Soc Trop Med Hyg, 102(9), 843–851.

Gajate-Garrido, G. (2013). The impact of indoor air pollution on the incidence of life threatening respiratory illnesses: evidence from young children in Peru. J Dev Stud, 49(4), 500–515.

Heltberg, R. (2004). Fuel switching: evidence from eight developing countries. EnergyEconomics, 26(5), 869–887.

Hosier, R. (2004). Energy ladder in developing nations. Encyclopedia of Energy, 2, 423–425.

Jin, Y., Ma, X., Chen, X., Cheng, Y., Baris, E., & Ezzati, M. (2006). Exposure to indoor air pollution from household energy use in rural China: the interactions of technology, behavior, and knowledge in health risk management. Soc Sci Med, 62, 3161–3176.

Kaplan, D. 2009. Structural equation modeling: foundations and extensions. Thousand Oaks, CA: SAGE Publications.

Knight, K. W., & Rosa, E. A. (2012). Household dynamics and Fuelwood consumption in developing countries: a cross-National Analysis. Popul Environ, 33(4), 365–378.

Lewin, K. M. (2009). Access to education in sub-Saharan Africa: patterns, problems, and possibilities. Comp Educ, 45(2), 151–174.

Lim, S. S., Vos, T., Flaxman, A. D., Danaei, G., Shibuya, K., Adair-Rohani, H., et al. (2012). A comparative risk assessment of burden of disease and injury attributable to 67 risk factors and risk factor clusters in 21 regions, 1990–2010: a systematic analysis for the global burden of disease study 2010. Lancet, 380(9859), 2224–2260.

Link, C. F., Axinn, W. G., & Ghimire, D. J. (2012). Household energy consumption: community context and the Fuelwood transition. Soc Sci Res, 41(3), 598–611.

Matinga, M. N., Annegarn, H. J., & Clancy, J. S. (2013). Healthcare provider views on the health effects of biomass fuel collection and use in rural eastern cape, South Africa: an ethnographic study. Soc Sci Med, 97, 192–200.

McKinney, L. (2014). Gender, democracy, development, and overshoot: a cross-national analysis. Popul Environ, 36(2), 193–218.

Medalia, C. and Chang, V. 2011. Gender equality, development, and cross-national sex gaps in life expectancy. Int J Comp Sociol, 52(5):371–89.

Mishra, V., Smith, K. R., & Retherford, R. D. (2005). Effects of cooking smoke and environmental tobacco smoke on acute respiratory infections in young Indian children. Popul Environ, 26(5), 375–396.

Muthen, L. K. and Muthen, B. O. 2007. Mplus User's Guide. 5th ed. Los Angeles, CA: Muthen and Muthen.

Pandey, V. L., & Chaubal, A. (2011). Comprehending household cooking energy choice in Rural India. Biomass Bioenergy, 35(11), 4724–4731.

Person, B., Loo, J. D., & Cohen, A. L. (2012). It is good for my Family's health and cooks food in a way that my hear loves?' qualitative findings and implications for scaling up an improved cook stove project in rural Kenya. Int J Environ Res Public Health, 9, 1566–1580.

Ridgeway, C. L., & Smith-Lovin, L. (1999). The gender system and interaction. Annu Rev Sociol, 25, 191–216.

Shandra, J. M., Shandra, C. L., & London, B. (2008). Women, non-governmental organization, and deforestation: a cross-national study. Popul Environ, 30(1), 48–72.

Shen, C., & Williamson, J. B. (2001). Accounting for cross-national differences in infant mortality decline (1965–1991) among less developed countries: effects of Women's status, economic dependency, and state strength. Soc Indic Res, 53(3), 257–288.

Shrestha, I. L., & Shrestha, S. L. (2005). Indoor air pollution from biomass fuels and respiratory health of the exposed population in Nepalese households. Int J Occup Environ Health, 11, 150–160.

Van de Poel, E., O'Donnell, O., & Van Doorslear, E. (2007). Are urban children really healthier? Evidence from 47 developing countries. Soc Sci Med, 65(7), 1986–2003.

Wermuth, L., & Monges, M. M. (2012). Gender stratification: a structural model for examining case examples of women in less-developed countries. Frontiers, 23(1), 1–22.

West, C., & Zimmerman, D. (1987). Doing gender. Gend Soc, 1(2), 125–151.

Wickrama, K. A. S., & Lorenz, F. O. (2002). Women's status, fertility decline, and women's health in developing countries: direct and indirect influences of social status on health. Rural Sociol, 67(2), 255–277.

World Bank (2014) World Development Indicators Online. Available via World Bank. http://devdata.worldbank.org/dataonline. Cited 10 Jun 2013.

World Health Organization (WHO) (2014) Global Health Observatory Data Repository. Available via World Health Organization. http://apps.who.int/gho/data/?theme=main. Accessed 1 Jul 2014.

World Health Organization (WHO) (2016a). Household air pollution and health. Available via World Health Organization Fact Sheets, Fact Sheet No 292. http://www.who.int/mediacentre/factsheets/fs292/en/. Cited 5 Feb 2016.

World Health Organization (WHO) (2016b). Global Health Observatory Data Repository. Available via World Health Organization. http://apps.who.int/gho/data/?theme=main. Accessed 7 Jul 2016.

World Health Organization (WHO) (2016c). Indicator and measurement registry, mortality attributed to household air pollution. Available at: http://apps.who.int/gho/indicatorregistry/App_Main/view_indicator.aspx?iid=2256. Accessed on 15 Jul 2016.

World Health Organization (WHO) (2016d). Burning opportunity: clean household energy for health, sustainable development, and well-being of women and children. Available at: http://apps.who.int/iris/bitstream/10665/204717/1/9789241565233_eng.pdf?ua=1 Accessed 10 Nov 2016.
Appendix
Appendix
About this article
Cite this article
Austin, K.F., Mejia, M.T. Household air pollution as a silent killer: women's status and solid fuel use in developing nations. Popul Environ 39, 1–25 (2017). https://doi.org/10.1007/s11111-017-0269-z
Keywords
Gender

Global health

Indoor air pollution

Solid fuels

Women's health