"All this here was once for the Toro Kingdom, but now there are many Bakiga here. We are brothers and welcomed them, but now the land is too little and we do not know what the future will be like in this place" (Toro Kingdom regent).
Abstract
Migration is a major factor shaping protected area landscapes. Combining historical narratives with interview, census, and satellite data, we investigate the ways in which migration has transformed the landscape surrounding Kibale National Park in western Uganda. We show that the region has gone from sparsely populated bushland to densely settled subsistence agricultural landscape occupied by tens of thousands of small-scale farming households since the last half of the twentieth century. Population density closer to the park has grown to 1.5 times higher than places more distant from the park. Migration to areas near the park has not necessarily been driven by economic benefits from the park itself, but rather by important push and pull factors at different scales. Results indicate that understanding the social and cultural underpinnings of human migration to, and environmental change along, the borders of protected areas is fundamental to developing appropriate people–park policy as a result of neighboring land use intensification brought about by changing demographics.
This is a preview of subscription content,
to check access.
Access this article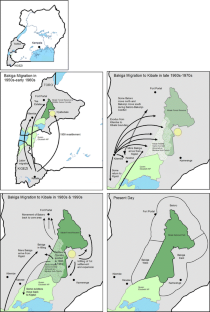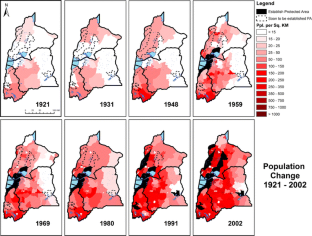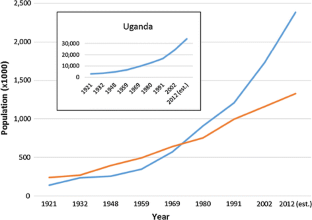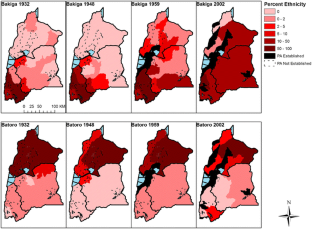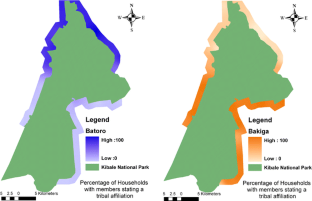 Notes
Prior to Kigezi being administered as a district by the colonial government, this area was comprised of Bakiga and also known as Bushengyera, Kayoza, Mpororo, and Bufumbira. The Bakiga were a highly decentralized society where power was diffused through various family units. The region acquired the name "Kigezi" from a misinterpretation of the word ikigezi (meaning small lake in Rufumbira/Kinyarwanda) (Denoon 1972). Although Kigezi does not formally exist in name, it continues to represent the cultural home of the Bakiga. Thus, we refer to it in the present tense.

The general policy under the Game Management Authority, the Forestry Department and then under Uganda Wildlife Authority was, and is, to prohibit settlement within these areas (some settlements in Queen Elizabeth National Park exist, but they have a negligible effect on overall population density).

The regent for Rukirabasaija Oyo Nyimba Kabamba Iguru Rukidi IV (King Oyo) was responsible for overseeing King Oyo's growth into the role of King and with handling the cultural affairs of the Kingdom during the King's youth.

Due to major differences in topography and intensity of cultivation, using Kigezi as a control site was not possible, as we had hoped.

The total is greater than 100 % because 13 % of the survey households self-identified more than one tribal affiliation.

Sub-counties are subdivided over time as new sub-counties are created. When KNP was created, there were fewer, but bigger sub-counties adjacent to the park boundary, whose areas extended farther from the park, compared to the present.
References
Adepoju, A. (2004). Trends in international migration in and from Africa. In D. S. Massey & J. E. Taylor (Eds.), International migration: Prospects and policies in a global market (pp. 59–76). Oxford: Oxford University Press.

Aluma, J., Drennon, C., Kigula, J., Lawry S. W., Muwanga-Zake, E. S. K., & Were, J. (1989). Settlement in forest reserves, game reserves and national parks in Uganda. A study of social, economic and tenure factors affecting land use and deforestation in Mabira Forest Reserve, Kibale Forest Reserve, and Kibale Game Reserve/Corridor. In Land Tenure Center Research Papers, 79. Madison: Wisconsin: Land Tenure Center, University of Wisconsin-Madison.

Baker, S. J. K. (1958). The geographical background of western Uganda. The Uganda Journal, 22(1), 1–10.

Baryaruha, A. (1967). Factors affecting industrial employment. A study of Ugandan experience 1954–1964. Occasional paper 1. Easter African Institute of Social Research. Kampala.

Basalirwa, C. P. K. (1995). Delineation of Uganda into climatological rainfall zones using the method of principal component analysis. International Journal of Climatology, 15, 1161–1177.

Bassett, T., & Zuéli, K. B. (2000). Environmental discourses and the Ivorian savanna. Annals of the Association of American Geographers, 90(1), 67–95.

Berrang-Ford, L., Odiit, M., Maiso, F., Wltner-Toews, D., & McDermott, J. (2006). Sleeping sickness in Uganda: Revisiting current and historical distributions. African Health Sciences, 6(14), 223–231.

Bilsborrow, R. (1992). Population growth, internal migration, and environmental degradation in rural areas of developing countries. European Journal of Population, 8(2), 125–148.

Bolwig, S. (2002), Land use change and soil degradation in the Southwestern highlands of Uganda. A contribution to the strategic criteria for rural investments in productivity (SCRIP) program of the USAID Uganda Mission. Washington, DC: The International Food Policy Research Institute.

Breytenbach, E. (2013). Following the rains: Evidence and perceptions relating to rainfall variability in western Uganda. MA thesis. Atlanta: Georgia State University.

Bruner, A. G., Gullison, R. E., Rice, R. E., & da Fonseca, G. A. B. (2001). Effectiveness of parks in protecting tropical biodiversity. Science, 291, 125–128.

Carr, D. (2009). Population and deforestation: Why rural migration matters. Progress in Human Geography, 33(3), 355–378.

Carr, D. L., Suter, L., & Barbieri, A. (2005). Population dynamics and tropical deforestation: State of the debate and conceptual challenges. Population and Environment, 27(1), 89–113.

Carswell, G. (2002). Farmers and following: Agricultural change in Kigezi District, Uganda. The Geographical Journal, 168(2), 130–140.

Carswell, G. (2003a). Continuities in environmental narratives: The case of Kabale, Uganda, 1930–2000. Environment and History, 9, 3–29.

Carswell, G. (2003b). Food crops as cash crops: The case of colonial Kigezi, Uganda. Journal of Agrarian Change, 3(4), 521–551.

Carswell, G. (2007). Cultivating success in Uganda: Kigezi farmers and colonial policies. Oxford: James Curry.

Chambers, J. Q., Asner, G. P., Morton, D. C., Anderson, L. O., Saatchi, S. S., Espírito-Santo, F. D. B., et al. (2007). Regional ecosystem structure and function: Ecological insights from remote sensing of tropical forests. Trends in Ecology & Evolution, 22(8), 414–423.

Chapman, C. A., Lawes, M. J., & Eeley, H. A. (2006). What hope for African primate diversity? African Journal of Ecology, 44, 1–18.

Chapman, C. A., & Peres, C. (2001). Primate conservation in the new millennium: The role of scientists. Evolutionary Anthropology, 10, 16–33.

Conservation International. (2011). Global map of deforestation indicators derived from the MODIS percent tree-cover change product. Unpublished data set, Conservation International. Arlington, Virginia, USA. http://www.conservation.org/how/science/Pages/deforestation-guides-for-commodity-sourcing.aspx.

Dak, O. (1968). A geographical analysis of the distribution of migrants in Uganda. Occasional Paper 11. Department of Geography. Makerere University, Kampala.

De Haan, A. (1999). Livelihoods and poverty: The role of migration-a critical review of the migration literature. The Journal of Development Studies, 36, 1–47.

DeFries, R. S., Foley, J. A., & Asner, G. P. (2004). Land-use choices: Balancing human needs and ecosystem function. Frontiers in Ecology and the Environment, 2, 249–257.

DeFries, R., Hansen, A., Newton, A. C., & Hansen, M. C. (2005). Increasing isolation of protected areas in tropical forests over the past twenty years. Ecological Applications, 15, 19–26.

DeFries, R., Hansen, A., Turner, B. L., Reid, R., & Liu, J. (2007). Land use change around protected areas: Management to balance human needs and ecological function. Ecological Applications, 17, 1031–1038.

Denoon, Donald (Ed.). (1972). A History of Kigezi in south west Uganda. Kampala: National Trust.

Diem, J., Hartter, J., Ryan, S. J., & Palace, M. (2014). Validation of satellite-based rainfall products for western Uganda. Journal of Hydrometeorology, 15(5), 2030–2038.

Drennon, C. (1997). Agricultural encroachment in two of Uganda's forest and game reserves. PhD dissertation. Madison: University of Wisconsin.

Ellis, F., & Bahiigwa, G. (2003). Livelihoods and rural poverty reduction in Uganda. World Development, 31, 997–1013.

Fairhead, J., & Leach, M. (1995). False forest history, complicit social analysis: Rethinking some West African environmental narratives. World Development, 23(6), 1023–1036.

Fairhead, J., & Leach, M. (1998). Reframing Deforestation: Global analysis and local realities: Studies in West Africa. London: Routledge.

Farley, C. (1996). Smallholder knowledge, soil resource management and land use change in the highlands of Southwest Uganda. Ph.D. dissertation. Gainesville, FL: University of Florida.

Feeney, P. (1998). Accountable aid: Local participation in major projects. Oxford: Oxfam.

Fisher, B., & Christopher, T. (2007). Poverty and biodiversity: Measuring the overlap of human poverty and the biodiversity hotspots. Ecological Economics, 62, 93–101.

Friedl, M. A., Sulla-Menashe, D., Tan, B., Schneider, A., Ramankutty, N., Sibley, A., & Huang, X. (2010). MODIS Collection 5 global land cover: Algorithm refinements and characterization of new datasets. Remote Sensing of Environment, 114, 168–182.

Frolking, S., Hagen, S., Milliman, T., Palace, M., Shimbo, J. Z., & Fahnestock, M. (2012). Estimating deforestation rates of pan-tropical humid forests 2000–2009 with the SeaWinds Ku-bandscatterometer. IEEE Transactions on Geoscience and Remote Sensing, 50, 2603–2617.

Geist, H. J., & Lambin, E. F. (2002). Proximate causes and underlying driving forces of tropical deforestation. BioScience, 52, 143–150.

Global Administrative Areas. (2012). GADM database of Global Administrative Areas, version 2.0. [online] URL:www.gadm.org.

Goddard, A. D., Gould, W. T. S., & Masser, F. I. (1975). Census data and migration analysis in tropical Africa. Geografiska Annaler Series B, Human Geography, 57, 26–41.

Goldman, A., Hartter, J., Southworth, J., & Binford, M. (2008). The human landscape around the island park: Impacts and responses to Kibale National Park. In R. Wrangham & E. Ross (Eds.), Science and Conservation in African Forests: The benefits of longterm research (pp. 129–144). Cambridge: Cambridge University Press.

Gould, W. T. S. (1995). Migration and recent economic and environmental change in East Africa. In J. Baker & T. A. Aina (Eds.), The migration experience in Africa (pp. 122–145). Nordiska Afrikainstitutet: Sweden.

Government of Uganda. (1960). General African Census. (1959). Age sex analysis (Vol. 1). Entebbe: East African Statistical Department.

Gray, C. (2011). Soil quality and human migration in Kenya and Uganda. Global Environmental Change, 21(2), 421–430.

Gray, C., & Bilsborrow, R. (2013). Environmental influences on human migration in rural ecuador. Demography, 50(4), 1217–1241.

Grenier, C., & Sakdapolrak, P. (2013). Rural-urban migration, agrarian change, and the environment in Kenya: A critical review of the literature. Population and Environment, 34, 524–553.

Hansen, A. J., & DeFries, R. (2007). Ecological mechanisms linking protected areas to surrounding lands. Ecological Applications, 17(4), 974–988.

Hansen, M., DeFries, R. S., Townshend, J. R. G., Carroll, M., Dimiceli, C., & Sohlberg, R. A. (2003). Global percent tree cover at a spatial resolution of 500 meters: First results of the MODIS vegetation continuous fields algorithm. Earth Interactions, 7, 1–15.

Hansen, M. C., Townshend, J. R. G., DeFries, R. S., & Carroll, M. (2005). Estimation of tree cover using MODIS data at global, continental and regional/local scales. International Journal of Remote Sensing, 26, 4359–4380.

Hartter, J. (2009). Attitudes of rural communities towards wetlands and forest fragments around Kibale National Park, Uganda. Human Dimensions of Wildlife, 14, 433–447.

Hartter, J. (2010). Resource use and ecosystem services in a forest park landscape. Society & Natural Resources, 23, 207–233.

Hartter, J., & Goldman, A. (2011). Local responses to a forest park in western Uganda: Alternate narratives on fortress conservation. Oryx, 45(01), 60–68.

Hartter, J., Goldman, A. C., & Southworth, J. (2011). Responses by households to resource scarcity and crop raiding in communities near a forest park. Journal for Nature Conservation, 19, 79–86.

Hartter, J., Solomon, J., Ryan, S. J., & Jacobson, S. (2014). Contrasting perceptions of ecosystem services of an African forest park. Environmental Conservation, 41(4), 330–340.

Hartter, J., & Southworth, J. (2009). Dwindling resources and fragmentation of landscapes around parks: Wetlands and forest fragments around Kibale National Park, Uganda. Landscape Ecology, 24, 643–656.

Hartter, J., Stampone, M. D., Ryan, S. J., Kirner, K., Chapman, C. A., & Goldman, A. (2012). Patterns and perceptions of climate change around a biodiversity conservation hotspot. PLoS ONE, 7(12), e32408.

Henry, S., Boyle, P., & Lambin, E. F. (2003). Modelling inter-provincial migration in Burkino Faso, West Africa: The role of socio-demographic and environmental factors. Applied Geography, 23, 115–136.

Henry, S., Piché, V., Ouédraogo, D., & Lambin, E. (2004). Descriptive analysis of the individual migratory pathways according to environmental typologies. Population and Environment, 25(5), 397–422.

Hoffman, D. M., Fay, D., & Joppa, L. (2011). Human migration to protected area edges in Africa and Latin America: Questioning large-scale statistical analysis. Conservation and Society, 9(1), 1–7.

Howard, P., Davenport, T., Kigenyi, F., Viskanic, P., Baltzer, M., Dickinson, C., et al. (2000). Protected area planning in the tropics: Uganda's national system of forest nature reserves. Conservation Biology, 14(3), 858–875.

Joppa, L. N., Loarie, S. R., & Pimm, S. L. (2008). On the protection of "protected areas". Proceedings of the National Academy of Sciences, 105, 6673–6678.

Just, L., & Murray, E. (1996). Women and agroforestry: A human ecology approach to understanding the needs and priorities of Women Farmers in Africa, rural economy paper no. 3, University of Alberta–University of Zimbabwe joint working paper series on Agroforestry. University of Alberta, Canada.

Kabarole District. (2006). Kabarole District (Production and Environment Management) Ordinance Suppliment No. 1. UPPC, Entebbe.

Kabera, J. B. (1983). Land settlement in Uganda: A comparative study of rural migrations from Kigezi and Bugisu. PhD dissertation. Kampala: Makerere University.

Kahimbaara, J. A., & Langlands, B. W. (1970). The human factor in the changing ecology of Mwenge. Occasional paper 16. Department of Geography. Kampala: Makerere University.

Langlands, B. W. (1971a). The population geography of Kigezi District. Occasional paper 26. Department of Geography. Kampala: Makerere University.

Langlands, B. W. (1971b). Population geography of Toro District. Occasional Paper 34. Department of Geography. Kampala: Makerere University.

Langlands, B. W. (1971c). Population distribution in Uganda 1959–1969. East African Geographic Review, 9, 59–68.

Langlands, B. W. (1974). Atlas of population census 1969 in Uganda. Occasional paper 48. Department of Geography. Kampala: Makerere University.

Leach, M., & Fairhead, J. (2000). Challenging neo-Malthusian deforestation analyses in West Africa's dynamic forest landscapes. Population and Development Review, 26(1), 17–43.

Lee, E. S. (1966). A theory of migration. Demography, 3, 47–57.

Lindblade, K. A., Carswell, G., & Tumuhairwe, J. K. (1998). Mitigating the relationship between population growth and land degradation. Ambio, 27, 565–571.

MacKenzie, C. A. (2012). Accruing benefit or loss from a protected area: Location matters. Ecological Economics, 76, 119–129.

MacKenzie, C. A., & Ahabyona, P. (2012). Elephants in the garden: Financial and social costs of crop raiding. Ecological Economics, 75, 72–82.

MacKenzie, C. A., Chapman, C. A., & Sengupta, R. (2012). Spatial patterns of illegal resource extraction in Kibale National Park, Uganda. Environmental Conservation, 39, 38–50.

MacKenzie, C. A., & Hartter, J. (2013). Demand and proximity: Drivers of illegal forest resource extraction. Oryx, 47, 288–297.

Marquardt, M. (1994). Settlement and resettlement: Experience from Uganda's national parks and reserves. In C. C. Cook (Ed.), Involuntary resettlement in Africa, World Bank Technical Paper 227 (pp. 147–149). Washington DC: World Bank.

Matson, P. A., Parton, W. J., Power, A. G., & Swift, M. J. (1997). Agricultural intensification and ecosystem properties. Science, 277, 504–508.

Myers, N., Mittermeier, R. A., Mittermeier, C. G., da Fonseca, G. A. B., & Kent, J. (2000). Biodiversity hotspots for conservation priorities. Nature, 403, 853–858.

Newmark, W. D., & Hough, J. L. (2000). Conserving wildlife in Africa: Integrated conservation and development projects and beyond. BioScience, 50, 585–592.

Ngabirano, E. (2008). The environment in Uganda: An ethical and theological assessment of the conservation-preservation controversy. VDM Verlag.

Nicholson, S. E. (1996). A review of climate dynamics and climate variability in Eastern Africa. The limnology, climatology and paleoclimatology of the East African Lakes. New York: Gordon and Breach.

Olson, J. M. (1996). Initial results concerning the use of fallow in Kabale District, Uganda. Nairobi: International Centre for Research. in Agroforestry.

Phalan, B., Bertzky, M., Butchart, S. H. M., et al. (2013). Crop expansion and conservation priorities in tropical countries. PLoS ONE, 8, e51759.

Place, F., & Otsuka, K. (2000). Population pressure, land tenure, and tree resource management in Uganda. Land Economics, 76, 233–251.

Place, F., & Otsuka, K. (2002). Land tenure systems and their impacts on agriculture investments and productivity in Uganda. Journal of Development Studies, 38, 105–128.

Population Reference Bureau. (2012). World population data sheet. Washington DC.

Puhalla, J. (2009). Agricultureal intensification and resource use in Mugandu wetland, Kabale District, Uganda. Ph.D. dissertation. Gainesville, FL: University of Florida.

Purseglove, J. W. (1946). Land use in the over-populated areas of Kabale, Kigezi District, Uganda. The East African Agricultural Journal, 1, 3–10.

Purseglove, J. W. (1950). Kigezi resettlement. The Uganda Journal, 14(2), 139–152.

Ravenstein, E. G. (1885). The laws of migration. Journal of the Royal Statistical Society, 44, 420–423.

Roberts, L. (2011). 9 Billion? Science, 333, 540–543.

Ryan, S. J., Hartter, J., Dowhaniuk, N., Fuda, R., & Diem, J. E. (in review). Household level influences on fragmentation in an African park landscape. Applied Geography.

Ryan, S. J., & Hartter, J. (2012). Beyond ecological success of corridors: Integrating land use history and demographic change to provide a whole landscape perspective. Ecological Restoration, 30(4), 320–328.

Salerno, J. D., Borgerhoff Mulder, M., & Kefauver, S. C. (2014). Human migration, protected areas, and conservation outreach in Tanzania. Conservation Biology, 28(3), 841–850.

Stark, O., & Levhari, D. (1982). On migration and risk in LDCs. Economic Development and Change, 31, 191–196.

Struhsaker, T. T. (1997). Ecology of an African rain forest: Logging in Kibale and the conflict between conservation and exploitation. Gainesville: The University Press of Florida.

Terborgh, J., Van Schaik, C. P., Davenport, L., & Rao, M. (2002). Making parks work: Strategies for preserving tropical nature. New York: Island Press.

Thornton, P. K., Kruska, R. L., Henninger, N., Kristjanson, P. M., Reid, R. S., Atieno, F., et al. (2002). Mapping poverty and livestock in the developing world. Nairobi: International Livestock Research Institute.

Todaro, M. P. (1969). A model of labor migration and urban unemployment in less developed countries. The American Economic Review, 59, 138–149.

Toulmin, C., & Quan, J. F. (2000). Evolving land rights, policy and tenure in Africa. London: DFID/IIED/NRI.

Turner, I., & Corlett, R. (1996). The conservation value of small, isolated fragments of lowland tropical rain forest. Trends in Ecology & Evolution, 11, 330–333.

Uganda Bureau of Statistics (UBOS). (2006). The 2002 Uganda population and housing census: Population composition. Kampala: Uganda Bureau of Statistics.

Uganda Bureau of Statistics (UBOS). (2007). Projections of demographic trends in Uganda, 2007–2017. Kampala: Uganda Bureau of Statistics.

Uganda Bureau of Statistics (UBOS). (2009). Uganda National Household Survey 2005/2006. Kampala: Uganda Bureau of Statistics.

Ugands Wildlife Authority (UWA). (2009). Visitor Statistics. UWA Internal Report. Kampala: Uganda Wildlife Authority.

Van Orsdol, K. G. (1986). Agricultural encroachment in Uganda's Kibale Forest. Oryx, 20, 115–117.

Wambi, M. (2012). Overpopulation on Uganda's Mount Elgon kills Hundreds. Inter Press Agency. July 4, 2012. Accessed http://www.ipsnews.net/2012/07/overpopulation-on-ugandas-mount-elgon-kills-hundreds/.

Wittemyer, G., Elsen, P., Bean, W. T., Burton, A. C. O., & Brashares, J. S. (2008). Accelerated human population growth at protected area edges. Science, 321, 123–125.

Zommers, Z., & MacDonald, D. W. (2012). Protected areas as frontiers for human migration. Conservation Biology, 26(3), 547–556.
Acknowledgments
This research was supported by National Science Foundation (0624265, 1114977) and National Geographic Committee for Research and Exploration, and NASA Terrestrial Ecology (NNX08AL29G) grants. We are grateful to Ahabyona Peter for his hard work and dedication, Kangabe Edith, who was gracious in providing time and her network, Elvira Breytenbach for her tireless effort at the National Archives, and Justin McMullen, Silvia Bellasai, and Irene Feretti for data entry. Makerere University Biological Field Station, Uganda Wildlife Authority, Uganda Council for Science and Technology and many local officials provided useful assistance and granted permission for this research. We thank Christina Herrick for additional work on the satellite analysis. We also thank our study participants who gave their valuable time and knowledge.
About this article
Cite this article
Hartter, J., Ryan, S.J., MacKenzie, C.A. et al. Now there is no land: a story of ethnic migration in a protected area landscape in western Uganda. Popul Environ 36, 452–479 (2015). https://doi.org/10.1007/s11111-014-0227-y
Published:

Issue Date:

DOI: https://doi.org/10.1007/s11111-014-0227-y
Keywords