Abstract
Current theories conceptualize return migration to New Orleans after Hurricane Katrina as an individual-level assessment of costs and benefits. Since relocation is cost prohibitive, return migration is thought to be unlikely for vulnerable populations. However, recent analyses of longitudinal survey data suggest that these individuals are likely to return to New Orleans over time despite achieving socioeconomic gains in the post-disaster location. I extend the "context of reception" approach from the sociology of immigration and draw on longitudinal data from the Resilience in the Survivors of Katrina Project to demonstrate how institutional, labor market, and social contexts influence the decision to return. Specifically, I show how subjective comparisons of the three contexts between origin and destination, perceived experiences of discrimination within each context, and changing contexts over time explain my sample's divergent migration and mobility outcomes. I conclude with implications for future research on, and policy responses to, natural disasters.
Access options
Buy single article
Instant access to the full article PDF.
USD 39.95
Price excludes VAT (USA)
Tax calculation will be finalised during checkout.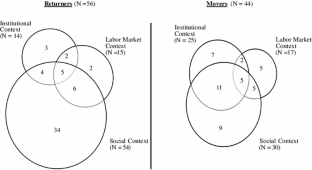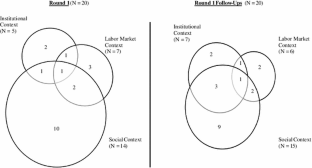 Notes
Factors influencing the expected utility of living in any given area include the amount of real income an individual can expect to receive, an individual's stock of location-specific capital, the receiving area's amenities, locally produced public and private services, and an individual's sense of place.

Vulnerability is determined by "the characteristics of a person or group in terms of their capacity to anticipate, cope with, resist, and recover from the impact of a natural hazard" (Wisner et al. 2004: 11).

I limit my discussion here to disaster-related research in the US context. See Morrissey (2009) for an abundant literature on post-disaster migration in developing contexts.

Following the sociology of immigration literature, I use the phrase "in origin" to refer to the migrant-sending region and "in destination" to refer to the migrant-receiving region.

Zelinsky et al.'s (1971) "mobility transition" hypothesis is not reviewed here because it deals directly with migration in developing countries.

Two predominant theoretical approaches, the spatial assimilation and the place stratification models, guide urban sociologists interested in understanding why, when given the opportunity to move from high- to low-poverty neighborhoods, people often move back to disadvantaged contexts. The former emphasizes the importance of sociodemographic characteristics for residential mobility, while the latter highlights the role of institutional barriers to residential attainment net of sociodemographic controls. Neither theory is applicable here, as this literature largely addresses questions of between-neighborhood moves and not cross-metropolitan or cross-state migration. Furthermore, the uniqueness of the post-disaster context presented in this article necessitates a theoretical approach better suited for understanding migration decisions in the face of natural disasters.

Following Allard and Small (2013: 9), this includes, but is not limited to, disaster-related benefits, welfare agencies, schools, police agencies, employment centers, and the like. While some institutional support (e.g., disaster-related public assistance) is provided to evacuees regardless of their settlement location, perceptions of institutional support are localized in the sense that respondents' differential experiences with accessing these resources in origin and destination shape how they think about a particular context's amenability to their presence.

An alternative theory suggests that place-specific considerations of the amenities afforded by one context and unavailable in another (e.g., safety from crime, the availability of affordable housing, infrastructure, how functional public services such as schools and hospitals, etc.) may lead an individual to settle in destination after initial displacement. This approach is compatible with the theory presented here, whereby individuals make relative comparisons between origin and destination when deciding whether to settle or not. As I show, however, situating individual-level interactions within the broader institutional, labor market, and social contexts reveals that subjective experiences matter above and beyond these objective, place-specific considerations.

The International Organization for Migration defines environmental migrants as "persons or a group of persons who, for compelling reasons of sudden or progressive changes in the environment that adversely affect their lives or living conditions, are obliged to leave their habitual homes, or choose to do so, either temporarily or permanently, and who move either within a country or abroad" (IOM 2007: 1). I use this term for the sake of clarity, but note the politicization of different labels used to categorize those displaced by natural disasters (see Morrissey 2009).

Migrant selectivity suggests that individual migrants may select into more desirable locations post-disaster, demonstrative of typical selection bias. Qualitatively comparing individuals who moved in Round 1 (right after Hurricane Katrina, who presumably have less of a choice) to those in Round 2 who moved later (and have time to make an informed decision) the processes through which individuals made the decision to return, though Asad (2014) shows that selection effects operate differently over time for the sample depending on respondents' social roles.

Scholars long have conceptualized migration as an economic decision. The theory of migrant selectivity suggests that individuals make a cost-benefit calculation about a potential move before migrating (Sjaastad 1962; Lee 1966). In this framework, an individual moves if, in terms of potential labor market outcomes, the benefits of migrating outweigh the costs. The theoretical approach presented here calls into question this purely rational decision-making process. As past work has shown, objective measures of mobility (e.g., employment) have not been associated with the return migration decision. Instead, individual-level encounters with the three contextual dimensions provide insight into the importance of subjective experiences for the migration choice.

Several theories in the sociology of immigration suggest the presence of social mechanisms in an individual's decision to migrate. Garip and Asad (forthcoming) recently employed a taxonomy of network effects (see DiMaggio and Garip 2012) that cogently summarizes the social mechanisms underlying network effects in migration. Social facilitation is at work when network peers (typically family or other community peers) provide useful information or help that reduces the costs or increases the expected benefits associated with migration. The second mechanism, normative influence, is at work if network peers offer social rewards or impose sanctions to encourage or discourage migration. The third mechanism, network externalities, operates if prior adopted of a behavior generate a pool of common resources that increase the value or reduce the cost of the behavior to potential adopters. These processes are captured within the social context outlined here.

Despite these restrictions on eligibility, these data are advantageous to the current study. The requirement that participants be low-income parents necessarily implies that respondents interacted with institutional, labor market, and social pressures. Past work has demonstrated this group to be most vulnerable to natural disasters (Norris et al. 2002; Oliver-Smith 2006) and, as such, understanding how their interactions with the context of reception shape the return migration decision should reveal new insights into post-disaster migration and mobility outcomes.

See Graif (2012) for additional information on how the data were geocoded.

In separate analyses, I assess whether there are significant differences between the full survey and the qualitative sample in terms of respondents' K6 scores. (The K6 score is a general measure of psychological distress that is standard in the psychological literature.) I find no significant differences between the full survey and the qualitative subsample in terms of the K6 score at baseline. Moreover, I find no significant difference between returners and movers at baseline, wave 1, or wave 2 in terms of the K6 score, both in the full survey and the qualitative subsample. These analyses are available upon request.

The team of interviewers included 1 African American, 1 Asian American, and 5 whites. Although previous analyses of these interview data have revealed differences in how respondents discuss topics such as discrimination based on the interviewer's race (Lowe et al. 2011), no evidence suggests respondents avoided reporting these experiences based on the interviewer's race.

Despite sampling on the mental health trajectories, there was no substantial variation in how individuals with mental health problems approached the discussion of the return migration decision compared to those who do not have mental health problems.

I use the "movers" and "returners" typology for the remainder of this article. Overall, 16 % of the sample was not able to evacuate before Hurricane Katrina; similar proportions of returners (15 %) and movers (17 %) were not able to leave New Orleans before the storm. There are approximately 6 secondary movers in the qualitative subsample, or individuals who moved out of their post-disaster location at Wave 1 and into another non-baseline location at Wave 2. I include these secondary movers within the "movers" category, or those individuals who do not live in New Orleans by the final wave of the study.

There is an apparently substantial but statistically insignificant difference between returners' ($6.78) and movers' ($8.11) most recent hourly wage at baseline. This sizable difference is likely the result of a small sample size and large variation in movers' self-reported wages.

Respondents often mentioned an institutional, labor market, or social context of reception in response to an unrelated question. For example, when asked if she had trouble sleeping, Eva described how her new neighbors were rude when compared to New Orleans. This mention was coded as an example of the social context of reception. Given the inductive and conservative coding used here, my results are likely conservative and understate the importance of these three factors.

I measured a dimension's salience by coding whether a respondent referred to the institutional, labor market, and/or social contexts as contributing to how she made her return migration decision. For example, if a respondent described the post-disaster institutional context as factoring in her decision to return to New Orleans, I coded this as "1." Not mentioning a factor or mentioning one only with respect to New Orleans is coded conservatively as "0."

All respondents have been assigned pseudonyms to protect their confidentiality.

"Refugee," as defined by the 1951 Refugee Convention and enforced by the United Nations High Commissioner for Refugees, refers to someone who "owing to a well-founded fear of being persecuted for reasons of race, religion, nationality, membership of a particular social group or political opinion, is outside the country of his nationality, is unable to, or owing to such fear, and is unwilling to avail himself of the protection of that country."

While both movers and returners spoke negatively about the social context in destination, movers spoke more positively about it than the returners. Furthermore, movers were more likely to note the possibilities for mobility a difficult social context afforded them. Movers' framing of their evaluations of destination in terms of mobility—a previously overlooked process in the study of urban disadvantage (see Asad and Bell 2014)—thus made them less likely to return to origin.

Census tracts are used as proxies for neighborhoods at baseline and at the final wave. Figures are based on geocoded data from the 2000 US Census. Pre- and post-Katrina neighborhoods are measured at the same time in order to account for the theoretical possibility that the neighborhood attributes pre-hurricane have changed in a way that might have rendered them similar to the neighborhoods in which respondents eventually find themselves. With respect to selection effects, I follow Arcaya et al. (2014) and conduct a sensitivity analysis to explore the timing of any observed selective migration effects by exploiting the data collected in 2006–2007. I hypothesized that displacement was random immediately following Hurricane Katrina since there would not have been enough time for sorting to occur, though selective migration might have been evident in the 2009–2010 survey wave. In models adjusting for race/ethnicity, sex, age, marital status, number of children, welfare assistance, food stamp assistance, and flood depth, I find no evidence of selection into neighborhoods in the 7–19 months following Hurricane Katrina. These analyses are available upon request.

FEMA and the Department of Housing and Urban Development's Katrina Disaster Housing Assistance Program (KDHAP) offered rental assistance through housing vouchers to those individuals affected by Hurricane Katrina. FEMA maintained its rental assistance through October 2007. Beginning November 1, 2007, individuals were required to make rent payments independently. KDHAP began phasing out its payments in March 2008, asking families to pay incrementally more toward their rent until the program concluded on March 1, 2009.

While this article does not study international migration flows, this finding is likely to hold in that setting as well. See, e.g., Garip and Asad (2012).

Put differently, the results suggest that individuals make relative comparisons between origin and destination. As such, more appropriate measures to include in our studies of migration and mobility should be, for example, the difference between the unemployment rate in destination and origin (i.e., subtracting the unemployment rate in origin from that in destination).
References
Aldrich, D. P. (2012). Building resilience: Social capital in post-disaster recovery. Chicago: University of Chicago Press.

Aldrich, D. P., & Crook, K. (2008). Strong civil society as a double-edged sword: Siting trailers in post-Katrina New Orleans. Political Research Quarterly, 61(3), 379–389.

Allard, S. W., & Small, M. L. (2013). Reconsidering the urban disadvantaged the role of systems, institutions, and organizations. The Annals of the American Academy of Political and Social Science, 647(1), 6–20.

Arcaya, M., Subramanian, S. V., Rhodes, J. E., & Waters, M. C. (2014). Health selection into neighborhoods following Hurricane Katrina. Proceedings of the National Academy of Sciences.

Asad, A. L. (2014). Causal heterogeneity in between-neighborhood selection. Available at SSRN 2485970.

Asad, A. L., & Bell, M. C. (2014). Winning to learn, learning to win: Evaluative frames and practices in urban debate. Qualitative Sociology, 37(1), 1–26.

Bartlett, S. (1997). The significance of relocation for chronically poor families in the USA. Environment and Urbanization, 9(1), 121–132.

Bates, D. C. (2002). Environmental refugees? Classifying human migrations caused by environmental change. Population and Environment, 23(5), 465–477.

Berube, A., & Katz, B. (2005). Katrina's window: Confronting concentrated poverty across America. Washington: Metropolitan Policy Program, Brookings Institute.

Borjas, G. J. (1989). Economic theory and international migration. International Migration Review, 23(3), 457–485.

Brazile, D. L. (2006). New Orleans: Next steps on the road to recovery. In The State of Black America, 2006 (pp. 233–237). Washington, DC: National Urban League.

Chen, A. C.-C., Keith, V. M., Airriess, C., Li, W., & Leong, K. J. (2007). Economic vulnerability, discrimination, and Hurricane Katrina: Health among black Katrina survivors in eastern New Orleans. Journal of the American Psychiatric Nurses Association, 13(5), 257–266.

Clair, M., & Denis, J. (forthcoming). Sociology of Racism. In J. D. Wright (Ed.), The International Encyclopedia of the Social and Behavioral Sciences, 2nd Edn. Oxford: Elsevier.

Curran, S. R., Garip, F., Chung, C. Y., & Tangchonlatip, K. (2005). Gendered migrant social capital: Evidence from Thailand. Social Forces, 84(1), 225–255.

Curran, S. R., Shafer, S., Donato, K. M., & Garip, F. (2006). Mapping gender and migration in sociological scholarship: Is it segregation or integration? International Migration Review, 40(1), 199–223.

Cutter, S. L., & Emrich, C. T. (2006). Moral hazard, social catastrophe: The changing face of vulnerability along the hurricane coasts. The Annals of the American Academy of Political and Social Science, 604(1), 102–112.

Davis, B. C., & Bali, V. A. (2008). Examining the role of race, NIMBY, and local politics in FEMA trailer park placement*. Social Science Quarterly, 89(5), 1175–1194.

DeJong, G. F., & Fawcett, J. T. (1981). Motivations for migration: An assessment and a value-expectancy research model. In: G. F. DeJong & R. W. Gardner (Eds.), Migration decision making: multidisciplinary approaches to microlevel studies in developed and developing countries (pp. 13–58). New York: Pergamon.

Dimaggio, P., & Garip, F. (2012). Network effects and social inequality. Annual Review of Sociology, 38, 93–118.

Elliott, J. R., & Pais, J. (2006). Race, class, and Hurricane Katrina: Social differences in human responses to disaster. Social Science Research, 35(2), 295–321.

Enarson, E. (1999). Women and housing issues in two US disasters: Case studies from Hurricane Andrew and the Red River Valley flood. International Journal of Mass Emergencies and Disasters, 17(1), 39–63.

Frey, W. H., & Singer, A. (2006). Katrina and Rita impacts on gulf coast populations: First census findings. Washington: Brookings Institution, Metropolitan Policy Program.

Fussell, E. (2007). Constructing New Orleans, constructing race: A population history of New Orleans. The Journal of American History, 94(3), 846–855.

Fussell, E. (2009). Post-Katrina New Orleans as a new migrant destination. Organization & Environment, 22(4), 458–469.

Fussell, E., & Harris, E. (forthcoming). Homeownership and housing displacement after Hurricane Katrina among low-income African-American mothers in New Orleans. Social Science Quarterly.

Fussell, E., Sastry, N., & Vanlandingham, M. (2010). Race, socioeconomic status, and return migration to New Orleans after Hurricane Katrina. Population and Environment, 31(1), 20–42.

Gardner, R. W. (1981). Macrolevel influences on the migration decision process. In: G. F. De Jong & R. W. Gardner (Eds.), Migration decision making: Multidisciplinary approaches to microlevel studies in developed and developing countries (pp. 59–89). New York: Pergamon.

Garip, F., & Asad, A. L. (2013). Mexico-US migration in time: from economic to social mechanisms. Work. Pap. WP-67-2013, International Migration Institute: Univ. Oxford.

Garip, F., & Asad, A. L. (forthcoming) Social mechanisms underlying network effects in Mexico-U.S. migration. In C. Edling & J. Rydgren (Eds.), Social mechanisms at work.

Giroux, H. A. (2006). Reading Hurricane Katrina: Race, class, and the biopolitics of disposability. College Literature, 33(3), 171–196.

Glaser, B. G., & Strauss, A. L. (2009). The discovery of grounded theory: Strategies for qualitative research. Piscataway: Transaction.

Graif, C. (2012). Moving to opportunity in the wake of disaster: From spatial displacement to neighborhood attainment (under review).

Greenwood, M. J. (1975). Research on internal migration in the United States: A survey. Journal of Economic Literature, 13(2), 397–433.

Greenwood, M. J. (1985). Human migration: Theory, models, and empirical studies*. Journal of regional Science, 25(4), 521–544.

Groen, J. A., & Polivka, A. E. (2010). Going home after Hurricane Katrina: Determinants of return migration and changes in affected areas. Demography, 47(4), 821–844.

Hopkins, D. J. (2012). Flooded communities Explaining local reactions to the post-Katrina migrants. Political Research Quarterly, 65(2), 443–459.

Hunter, L. M. (2005). Migration and environmental hazards. Population and Environment, 26(4), 273–302.

Hunter, L. M. & David, E. (2011). Climate change and migration. In E. Piguet, P. de Guchteneire & A. Pecoud (Eds.), Considering gender dimensions. Cambridge, UK: UNESCO Publishing and Cambridge University Press.

Hurlbert, J. S., Haines, V. A., & Beggs, J. J. (2000). Core networks and tie activation: What kinds of routine networks allocate resources in nonroutine situations? American Sociological Review, 65(4), 598–618.

International Organization for Migration. (2007). "Migration and the Environment." Geneva: International Organization for Migration.

Kage, R. (2011). Civic engagement in postwar Japan: The revival of a defeated society. Cambridge: Cambridge University Press.

Kates, R. W., Colten, C. E., Laska, S., & Leatherman, S. P. (2006). Reconstruction of New Orleans after Hurricane Katrina: A research perspective. Proceedings of the National Academy of Sciences, 103(40), 14653–14660.

Knabb, R. D., Rhome, J. R., & Brown, D. P. (2005). Tropical cyclone report: Hurricane. Miami: National Hurricane Center.

Koerber, K. (2006). Migration patterns and mover characteristics from the 2005 ACS Gulf coast area special products. Paper presented at Southern Demographic Association Conference. Durham, North Carolina.

Lamont, M., Beljean, S., & Clair, M. (2014). What is missing? Cultural processes and causal pathways to inequality. Socio-Economic Review, 12(3), mwu011.

Landry, C. E., Bin, O., Hindsley, P., Whitehead, J. C., & Wilson, K. (2007). Going home: Evacuation-migration decisions of Hurricane Katrina survivors. Southern Economic Journal, 74(2), 326–343.

Lee, E. S. (1966). A theory of migration. Demography, 3(1), 47–57.

Lowe, S. R., Lustig, K., & Marrow, H. B. (2011). African American women's reports of racism during Hurricane Katrina: Variation by interviewer race. The New School Psychology Bulletin, 8(2), 46–57.

Lowe, S. R., & Rhodes, J. E. (2013). Trajectories of psychological distress among low-income, female survivors of Hurricane Katrina. American Journal of Orthopsychiatry, 83(2–3), 398.

Marrow, H. B., Mcdermott, M., Esses, V. M., Kaiser, C. R., & Hopkins, D. J. (2013). Measuring perceptions of discrimination among immigrants: Methodological considerations and a pilot study.

Massey, D., & Denton, N. R. (1993). American apartheid: Segregation and the making of the underclass. Cambridge: Harvard University Press.

Maxwell, N. L. (1988). Economic returns to migration: Marital status and gender differences. Social Science Quarterly, 69(1), 108–121.

Maxwell, J. A. (2004). Causal explanation, qualitative research, and scientific inquiry in education. Educational researcher, 33(2), 3–11.

Maxwell, J. A. (2012). Qualitative research design: An interactive approach. Thousand Oaks: Sage.

Mcintosh, M. F. (2008). Measuring the labor market impacts of Hurricane Katrina migration: Evidence from Houston, Texas. The American Economic Review, 98(2), 54–57.

Merdjanoff, A. A. (2013). There's no place like home: Examining the emotional consequences of Hurricane Katrina on the displaced residents of New Orleans. Social Science Research, 42(5), 1222–1235.

Miles, M. B., & Huberman, A. M. (1994). Qualitative data analysis: An expanded sourcebook. Thousand Oaks: Sage.

Mills, C. W. (1940). Situated actions and vocabularies of motive. American Sociological Review, 5(6), 904–913.

Morrissey, J. (2009). Environmental change and forced migration. Oxford: Refugee Studies Centre.

Murakami-Ramalho, E., & Durodoye, B. A. (2008). Looking back to move forward: Katrina's black women survivors speak. NWSA Journal, 20(3), 115–137.

Myers, C. A., Slack, T., & Singelmann, J. (2008). Social vulnerability and migration in the wake of disaster: The case of Hurricanes Katrina and Rita. Population and Environment, 29(6), 271–291.

Norris, F. H., Friedman, M. J., Watson, P. J., Byrne, C. M., Diaz, E., & Kaniasty, K. (2002). 60, 000 disaster victims speak: Part I. An empirical review of the empirical literature, 1981–2001. Psychiatry: Interpersonal and Biological Processes, 65(3), 207–239.

Oliver-Smith, A. (2006). Disasters and forced migration in the 21st century. In: Understanding Katrina: Perspectives from the social sciences. New York: Social Science Research Council.

Paxson, C., & Rouse, C. E. (2008). Returning to New Orleans after Hurricane Katrina. The American Economic Review, 98(2), 38.

Phillips, B. D., & Morrow, B. H. (2007). Social science research needs: Focus on vulnerable populations, forecasting, and warnings. Natural Hazards Review, 8(3), 61–68.

Pina, A. A., Villalta, I. K., Ortiz, C. D., Gottschall, A. C., Costa, N. M., & Weems, C. F. (2008). Social support, discrimination, and coping as predictors of posttraumatic stress reactions in youth survivors of Hurricane Katrina. Journal of Clinical Child & Adolescent Psychology, 37(3), 564–574.

Portes, A., & Bach, R. L. (1985). Latin journey: Cuban and Mexican immigrants in the United States. Berkeley: University of California Press.

Portes, A., & Borocz, J. (1989). Contemporary immigration: Theoretical perspectives on its determinants and modes of incorporation. International Migration Review, 23(2), 606–630.

Portes, A., & Rumbaut, R. (2006). Immigrant America: A portrait. Berkeley: University of California Press.

Ragin, C. C. (1989). The comparative method: Moving beyond qualitative and quantitative strategies. Oakland: University of California Press.

Reid, M. (2010). Gender and race in the history of housing policy and research: From industrialization to Hurricane Katrina. Sociology Compass, 4(3), 180–192.

Richburg Hayes, L., Brock, T., Leblanc, A., Paxson, C., Rouse, C., & Barrow, L. (2009). Rewarding persistence: Effects of a performance-based scholarship program for low-income parents. Available at SSRN 1353360.

Sastry, N., & Gregory, J. (2012). The location of displaced New Orleans residents in the year after Hurricane Katrina. US Census Bureau Center for Economic Studies Paper No. CES-WP-12-19.

Schildkraut, D. J. (2011). Americanism in the twenty-first century. Cambridge: Cambridge University Press.

Seidman, K. F. (2013). Coming home to New Orleans: Neighborhood rebuilding after Katrina. Oxford: Oxford University Press.

Sjaastad, L. A. (1962). The costs and returns of human migration. Journal of Political Economy, 70(5, part 2), 80–93.

Smits, J. (2001). Career migration, self-selection and the earnings of married men and women in the Netherlands, 1981–93. Urban Studies, 38(3), 541–562.

Speare, A. (1974). Residential satisfaction as an intervening variable in residential mobility. Demography, 11(2), 173–188.

Tolnay, S. E. (2003). The African American 'great migration' and beyond. Annual Review of Sociology, 29, 209–232.

Vigdor J. L. (2007). The Katrina effect: Was there a bright side to the evacuation of greater New Orleans? The B.E. Journal of Economic Analysis and Policy. 7: 64. Available at: http://www.bepress.com/bejeap/vol7/iss1/art64.

Waters, M. C., Kasinitz, P., & Asad, A. L. (2014). Immigrants and African Americans. Annual Review of Sociology, 40(1), 369–390.

Weber, L., & Peek, L. (2012). Displaced: Life in the Katrina diaspora. Austin: University of Texas Press.

Wisner, B., Blaikie, P., Cannon, T., & Davis, I. (2004). At risk: Natural hazards, people's vulnerability and disasters. London: Routledge.

Wolpert, J. (1966). Migration as an adjustment to environmental stress. Journal of Social Issues, 22(4), 92–102.

Wooten, T. (2012). We shall not be moved: Rebuilding home in the wake of Katrina. Boston: Beacon Press.

Zelinsky, W., Flinn, W., Cartano, D., Byerlee, D., Simmons, A., Cardona, R., et al. (1971). The hypothesis of mobility transition. Geographical Review, 61(2), 219–249.

Zissimopoulos, J., & Karoly, L. (2010). Employment and self-employment in the wake of Hurricane Katrina. Demography, 47(2), 345–356.

Zottarelli, L. K. (2008). Post-Hurricane Katrina employment recovery: The interaction of race and place*. Social Science Quarterly, 89(3), 592–607.
Acknowledgments
For comments on earlier versions of this article, I thank four anonymous reviewers, Monica C. Bell, Matthew Clair, Kathryn Edin, Filiz Garip, Anthony Jack, Cassandra Robertson, Patrick Sharkey, Jessica Tollette, Alba Villamil, Mary C. Waters, William Julius Wilson, Chris Winship, and Alix S. Winter, as well as participants in the Multidisciplinary Program on Inequality and Social Policy. A previous version of this paper was presented at the 2014 American Sociological Association Annual Meeting in San Francisco, where I received invaluable feedback from Alexis Merdjanoff and Lori Peek. I am indebted to Mariana Arcaya and Meghan DeNubila for research assistance. I acknowledge support from the National Science Foundation Graduate Research Fellowship and the Multidisciplinary Program in Inequality and Social Policy at Harvard. The National Science Foundation and the MacArthur Foundation generously provided support for the Resilience in Survivors of Katrina Project.
Ethical standard
The data collection procedures described above were approved by Institutional Review Boards at Harvard University and Princeton University and, as such, comply with US federal law.
About this article
Cite this article
Asad, A.L. Contexts of reception, post-disaster migration, and socioeconomic mobility. Popul Environ 36, 279–310 (2015). https://doi.org/10.1007/s11111-014-0221-4
Published:

Issue Date:

DOI: https://doi.org/10.1007/s11111-014-0221-4
Keywords
Contexts of reception

Post-disaster migration

Socioeconomic mobility

Natural disasters

Hurricane Katrina

Vulnerable populations

Mixed methodology