Abstract
This paper examines the contribution of forest provisioning ecosystem services (FPES) to rural households and assesses the contributions of forests to the annual incomes of households in Africa's Miombo woodlands. The study employed focus group meetings, in-depth interviews, and interviews of households, as stratified by wealth class and head of household gender in Copperbelt, Zambia. The results show that FPES are vitally important in providing food, medicine, fodder, and construction materials to rural livelihoods. FPES provided 43.9 % of the average household's income and contributed a 10 % income equalisation effect among households, as revealed by the Gini-coefficient analysis. Poorer households received a lower mean annual income from forests than did their intermediate and wealthy counterparts, but in relative terms, forest income made the greatest contribution to the total household incomes of poor households. When stratified by gender, forests contributed 44.4 and 41.8 % of the income of male- and female-headed households, respectively. The study indicates that wealth, rather than gender, was the key determinant of a household's engagement in the sale of FPES. The inter- and intra-community differentiation in the use and sale of FPES, as revealed in this study, enables more effective targeting of forest management interventions and informs efforts to reconcile the goals of poverty reduction and forest conservation.
Access options
Buy single article
Instant access to the full article PDF.
US$ 39.95
Tax calculation will be finalised during checkout.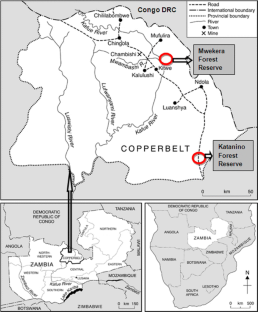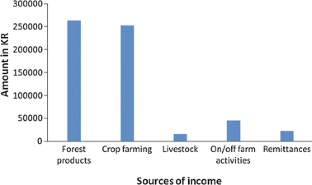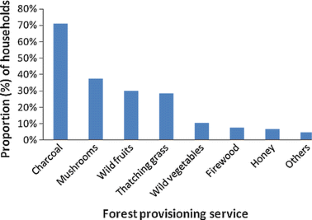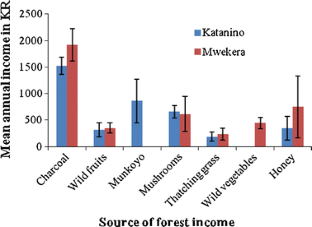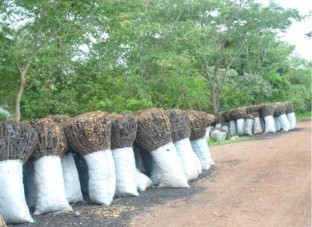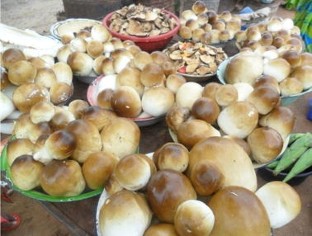 Notes
1.

The average distance of the sampled villages to the main road is 11 km.
References
Adhikari, B., Di Falco, S., & Lovett, J. C. (2004). Household characteristics and forest dependency: Evidence from common property forest management in Nepal. Ecological Economics, 48(2), 245–257.

Alelign, A., Yemshaw, Y., Teketay, D., & Edwards, S. (2011). Socio-economic factors affecting sustainable utilization of woody species in Zegie Peninsula, northwestern Ethiopia. Tropical Ecology, 52(1), 13–24.

Ambrose-Oji, B. (2003). The contribution of NTFPs to the livelihoods of the 'forest poor': Evidence from the tropical forest zone of south-west Cameroon. International Forestry Review, 5(2), 106–117.

Babulo, B., Muys, B., Nega, F., Tollens, E., Nyssen, J., Deckers, J., et al. (2008). Household livelihood strategies and forest dependence in the highlands of Tigray Northern Ethiopia. Agricultural Systems, 98(2), 147–155.

Belcher, B., Ruíz-Pérez, M., & Achdiawan, R. (2005). Global patterns and trends in the use and management of commercial NTFPs: Implications for livelihoods and conservation. World Development, 33(9), 1435–1452.

Blake, B., Kasanga, K., Adam, M., Nsiah-Gyabaah, K., Pender, J., Quashie-Sam, S. J., Warburton, K., Williams, K. (1997). Kumasi Natural Research Management Research Project Inception Report. The University of Greenwich, p. 133.

Cavendish, W. (2000). Empirical regularities in the poverty-environment relationship of rural households: Evidence from Zimbabwe. World Development, 28(11), 1979–2003.

Central Statistics Office. (2005). Living conditions monitoring survey report 2004. Lusaka: Central Statistics Office.

Chidumayo, E. N. (1987). Woodland structure, destruction and conservation in the Copperbelt area of Zambia. Biological Conservation, 40(2), 89–100.

Chirwa, P. W., Syampungani, S., & Geldenhuys, C. J. (2008). The ecology and management of the Miombo woodlands for sustainable livelihoods in southern Africa: the case for non-timber forest products. Southern Forests, 70(3), 237–245.

Cocks, M. L., Bangay, L., Shackleton, C. M., & Wiersum, K. F. (2008). 'Rich man poor man'—inter-household and community factors influencing the use of wild plant resources amongst rural households in South Africa. International Journal of Sustainable Development and World Ecology, 15(3), 198–210.

Davidar, P., Arjunan, M., & Puyravaud, J.-P. (2008). Why do local households harvest forest products? A case study from the southern Western Ghats India. Biological Conservation, 141(7), 1876–1884.

de Merode, E., Homewood, K., & Cowlishaw, G. (2004). The value of bushmeat and other wild foods to rural households living in extreme poverty in Democratic Republic of Congo. Biological Conservation, 118(5), 573–581.

Dewees, P. A., Campbell, B. M., Katerere, Y., Sitoe, A., Cunninghams, A. B., Angelsen, A., et al. (2010). Managing the Miombo woodlands of southern Africa: Policies, incentives and options for the rural poor. Natural Resources Policy Research, 2(1), 57–73.

Ellis, F. (2000). The determinants of rural livelihood diversification in developing countries. Journal of Agricultural Economics, 51(2), 289–302.

FAO. (2010). Global forest resource assessment. Rome: FAO.

Fisher, M. (2004). Household welfare and forest dependence in Southern Malawi. Environment and Development Economics, 9(02), 135–154.

Fisher, B., Lewis, S. L., Burgess, N. D., Malimbwi, R. E., Munishi, P. K., Swetnam, R. D., et al. (2011). Implementation and opportunity costs of reducing deforestation and forest degradation in Tanzania. Nature Climate Change, 1(3), 161–164.

Fonjong, L. (2008). Gender roles and practices in natural resources management in the North West Province of Cameroon. Local Environment, 13(5), 461–475.

Gbadegesin, A. (1996). Management of forest resources by women: A case study from the Olokemeji forest reserve area, southwestern Nigeria. Environmental Conservation, 23(2), 115–119.

GRZ. (1998). An overview of Copperbelt Forestry Action Plan. Ndola: PFAP.

Hetherington, J. C. (1975). Samples? What shape? How large? How many? Scottish Forestry, 29, 260–267.

Heubach, K., Wittig, R., Nuppenau, E.-A., & Hahn, K. (2011). The economic importance of non-timber forest products (NTFPs) for livelihood maintenance of rural west African communities: A case study from northern Benin. Ecological Economics, 70(11), 1991–2001.

Hill, P. (1986). Development economics on trial: the anthropological case for a prosecution. Cambridge: Cambridge University Press.

Jumbe, C. B. L., Bwalya, S. M., & Husselman, M. (2009). Contribution of dry forests to rural livelihoods and the national economy in Zambia. XIII World Forestry Congress (pp. 18–23). Argentina: Buenos Aires.

Kalaba, F. K., Chirwa, P. W., Prozesky, H., & Ham, C. (2009). The role of indigenous fruit trees in rural livelihoods: The case of communities in Mwekera area, Copperbelt Province, Zambia. Acta Hort (ISHS), 806, 129–136.

Kamanga, P., Vedeld, P., & Sjaastad, E. (2009). Forest incomes and rural livelihoods in Chiradzulu District, Malawi. Ecological Economics, 68(3), 613–624.

Kepe, T. (2008). Beyond the numbers: Understanding the value of vegetation to rural livelihoods in Africa. Geoforum, 39(2), 958–968.

Kideghesho, J. R., & Msuya, T. S. (2010). Gender and socio-economic factors influencing domestication of indigenous medicinal plants in the West Usambara Mountains, northern Tanzania. International Journal of Biodiversity Science Ecosystem Services and Management, 6(1–2), 3–12.

Kiptot, E., & Franzel, S. (2012). Gender and agroforestry in Africa: A review of women's participation. Agroforestry Systems, 84(1), 35–58.

MA. (2005). Ecosystems and human well-being: Synthesis Washington. DC: World Resource Institute.

Maass, J. M., Balvanera, P., Castillo, A., Daily, G. C., Mooney, H. A., Ehrlich, P., et al. (2005). Ecosystem services of tropical dry forests: Insights from long-term ecological and social research on the Pacific Coast of Mexico. Ecology and Society, 10(1), 1–17.

Malla, Y. B., Neupane, H. R., & Branney, P. J. (2003). Why aren't poor people benefiting more from community forestry? Journal of forest and livelihood, 3, 78–92.

Mamo, G., Sjaastad, E., & Vedeld, P. (2007). Economic dependence on forest resources: A case from Dendi district, Ethiopia. Forest Policy and Economics, 9(8), 916–927.

McSweeney, K. (2004). Forest product sale as natural insurance: the effects of household characteristics and the nature of shock in eastern Honduras. Society and Natural Resources, 17(1), 39–56.

Mitchell, J. C., & Barnes, J. A. (1950). The Lamba village: Report of a social survey University of Cape Town.

Pardo, A., de Juan, J. A., & Pardo, J. E. (2001). Post-harvest physiology, quality, and conservation of the cultivated mushroom, Agaricus bisporus (Lange) Imbach. Alimentaria, 38(322), 107–117.

Paumgarten, F., & Shackleton, C. M. (2009). Wealth differentiation in household use and trade in non-timber forest products in South Africa. Ecological Economics, 68(12), 2950–2959.

Paumgarten, F., & Shackleton, C. M. (2011). The role of non-timber forest products in household coping strategies in South Africa: The influence of household wealth and gender. Population and Environment, 33(1), 108–131.

Pearson, G. A. (1937). Conservation and use of forests in the southwest. Scientific Monthly, 45, 150–157.

Phillips, D., Williams, K., Andrews, G., Clarke, J., Carter, M., Kinsman, P., et al. (1999). Literature review on peri urban natural resource conceptualisation and management approaches, Final Technical Report (p. 210). University of Nottingham and University of Liverpool: DFID Natural Resources Systems Programme.

PRSP. (2002). Poverty Reduction Strategic Paper. Lusaka: Government of the Republic of Zambia.

Reddy, S. R. C., & Chakravarty, S. P. (1999). Forest dependence and income distribution in a subsistence economy: evidence from India. World Development, 27(7), 1141–1149.

Rodgers, A., Salehe, J., Howard, G. (1996). The biodiversity of Miombo woodlands. In: B. Campbell (Ed), The Miombo in transition: Woodlands and welfare in Africa (p. 12). Bogor: Center for international forestry research (CIFOR).

Shackleton, C., & Shackleton, S. (2004). The importance of non-timber forest products in rural livelihood security and as safety nets: A review of evidence from South Africa. South African Journal of Science, 100(11–12), 658–664.

Shackleton, C. M., & Shackleton, S. E. (2006). Household wealth status and natural resource use in the Kat River valley South Africa. Ecological Economics, 57(2), 306–317.

Shackleton, C. M., Shackleton, S. E., Buiten, E., & Bird, N. (2007). The importance of dry woodlands and forests in rural livelihoods and poverty alleviation in South Africa. Forest Policy and Economics, 9(5), 558–577.

Silverman, S. F. (1966). Ethnographic approach to social stratification-prestige in a central Italian community. American Anthropologist, 68(4), 899–921.

Simon, D., McGregor, D., & Nsiah-Gyabaah, K. (2004). The changing urban-rural interface of African cities: Definitional issues and an application to Kumasi, Ghana. Environment and Urbanization, 16(2), 235–248.

Strauss, A., & Corbin, J. (1990). Basics of qualitative research: Grounded theory procedures and techniques. Newbury Park: Sage Publications.

Sunderlin, W. D., Angelsen, A., Belcher, B., Burgers, P., Nasi, R., Santoso, L., et al. (2005). Livelihoods, forests, and conservation in developing countries: An overview. World Development, 33(9), 1383–1402.

Syampungani, S., Geldenhuys, C. J., & Chirwa, P. W. (2010). The use of species-stem curves in sampling the development of the Zambian Miombo woodland species in charcoal production and slash-and-burn regrowth stands. Southern Forests, 72(2), 83–89.

Tesfaye, Y., Roos, A., Campbell, B. M., & Bohlin, F. (2011). Livelihood strategies and the role of forest income in participatory-managed forests of Dodola area in the bale highlands, southern Ethiopia. Forest Policy Economics, 13(4), 258–265.

Tschakert, P., Coomes, O. T., & Potvin, C. (2007). Indigenous livelihoods, slash-and-burn agriculture, and carbon stocks in Eastern Panama. Ecological Economics, 60(4), 807–820.

Twine, W., Moshe, D., Netshiluvhi, T., & Siphugu, V. (2003). Consumption and direct-use values of savanna bio-resources used by rural households in Mametja, a semi-arid area of Limpopo province, South Africa. South African Journal of Science, 99, 467–473.

von der Heyden, C. J., & New, M. G. (2004). Groundwater pollution on the Zambian Copperbelt: deciphering the source and the risk. Science of the Total Environment, 327(1–3), 17–30.

Whitford, H. N. (1923). The use of tropical land and tropical forests. Scientific Monthly, 17, 135–145.

Yemiru, T., Roos, A., Campbell, B. M., & Bohlin, F. (2010). Forest incomes and poverty alleviation under participatory forest management in the Bale Highlands, Southern Ethiopia. International Forestry Review, 12(1), 66–77.
Acknowledgements
Sincere thanks to Dr. Monica Di Gregorio and the anonymous reviewers for their comments on earlier drafts of this paper. We are grateful for the funding made available through a Commonwealth Scholarship awarded to Felix Kanungwe Kalaba. Additional fieldwork funding was provided by the Copperbelt University and the University of Leeds (SRI fieldwork bursary). This study was approved by the Ethics Committee of the University of Leeds.
Appendix
Appendix
See Table 6.
About this article
Cite this article
Kalaba, F.K., Quinn, C.H. & Dougill, A.J. Contribution of forest provisioning ecosystem services to rural livelihoods in the Miombo woodlands of Zambia. Popul Environ 35, 159–182 (2013). https://doi.org/10.1007/s11111-013-0189-5
Keywords
Rural livelihoods

Ecosystem services

Gender

Wealth

Miombo woodlands