Abstract
China represents the third largest economy and the highest level of national carbon dioxide emissions when compared to other nations across the globe. Yet, little social science research has focused on the environmentally oriented behaviors of Chinese nationals, key to understanding levels of environmental impact. This study examines, in China, gender differences in environmentally oriented behaviors, environmental knowledge, and general environmental concern. Making use of path analyses, we identify a pattern of gender differences similar to common findings in the West: women demonstrated greater participation in environmental behaviors inside of the home (e.g., recycling), while outside of the home (e.g., environmental organization donations) no gendered patterns were exhibited. However, Chinese women expressed lower levels of concern than men—a finding opposite of most Western studies. Also distinct from other settings, in China, higher levels of knowledge regarding environmental issues did, indeed, translate into pro-environmental behaviors—thereby not exhibiting the knowledge-behavior gap demonstrated elsewhere.
Access options
Buy single article
Instant access to the full article PDF.
USD 39.95
Price excludes VAT (USA)
Tax calculation will be finalised during checkout.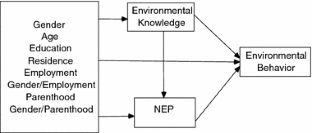 Notes
The New Environmental Paradigm (NEP) Scale was originally developed by Dunlap and Van Liere in 1978 and has 12 items measuring three aspects of the NEP, "limits to growth," "anti-anthropocentrism," and "balance of nature." Dunlap and colleague revised this scale in 2000. The new version includes 15 items and adds measures for two additional aspects, "human exemptionalism" and "possibility of eco-crisis".

Normally such a situation would call for a confirmatory factor analysis. However, with only three data points each, these items are not suitable for confirmatory factor analysis (see Bollen 1989). Similarly, the ten items of environmental knowledge are also not suitable.
References
Aoyogi-Usui, M., Vinken, H., & Kuribayashi, A. (2003). Pro-environmental attitudes and behaviors: An international comparison. Human Ecology Review, 10(1), 23–31.

Berenguer, J., Corraliza, J. A., & Martin, R. (2005). Rural-urban differences in environmental concern, attitudes, and actions. European Journal of Psychological Assessment, 21(2), 128–138.

Blankenau, J., Snowden, M., & Langan, M. (2008). Understanding environmentalism in a red, agricultural state: The impact of political party identification and place of residence. Sociological Spectrum, 28(1), 55–80.

Bollen, K. (1989). Structural equations with latent variables. New York: Wiley.

Carter, N. T., & Mol, A. P. J. (2007). Ecological governance in China. London: Routledge.

Chen, F. N. (2005). Employment transitions and the household division of labor in China. Social Forces, 84(2), 831–851.

Chodorow, N. (1978). Family structure and feminine personality. In M. Rosaldo & L. Lamphere (Eds.), Women, culture and society (pp. 42–66). Stanford, CA: Stanford University Press.

Chung, S., & Poon, C. (1999). The attitudes of Guangzhou citizens on waste reduction and environmental issues. Resources, Conservation and Recycling, 25, 35–59.

Chung, S., & Poon, C. (2001). A comparison of waste-reduction practices and new environmental paradigm of rural and urban Chinese citizens. Journal of Environmental Management, 62, 3–19.

Currier, C. L. (2008). Investing in the future: The one child policy and reform. Journal of Women, Politics & Policy, 29(3), 365–393.

Davidson, D. J., & Freudenburg, W. R. (1996). Gender and environmental risk concerns, a review and analysis of available research. Environment and Behavior, 28(3), 302–339.

Dunlap, R. E., & Van Liere, K. (1978). A proposed measuring instrument and preliminary results: The 'New Environmental Paradigm'. The Journal of Environmental Education, 9, 10–19.

Dunlap, R. E., Van Liere, K., Mertig, A. G., & Jones, R. E. (2000). Measuring endorsement of the new ecological paradigm: A revised NEP scale. Journal of Social Issues, 56, 425–442.

Eisler, A. D., Eisler, H., & Yoshida, M. (2003). Perception of human ecology: Cross-cultural and gender comparisons. Journal of Environmental Psychology, 23, 89–101.

Gilligan, C. (1982). In a different voice. Cambridge, MA: Harvard University Press.

Greenbaum, A. (1995). Taking stock of two decades of research on the social bases of environmental concern. In M. D. Mehta & E. Ouellet (Eds.), Environmental sociology: Theory and practice (pp. 125–152). North York, Ontario, Canada: Captus Press.

Harris, P. G. (2006). Environmental perspectives and behavior in China: Synopsis and bibliography. Environment and Behavior, 38(1), 5–21.

Harris, P. G. (2008). Grenn or grown? Environmental attitudes and governance in greater China. Nature and Culture, 3(2), 151–182.

Hayes, B. C. (2001). Gender, scientific knowledge, and attitudes toward the environment: A cross-national analysis. Political Research Quarterly, 54(3), 657–671.

Hong, D. Y., & Xiao, C. Y. (2007a). Gender and environmental concern in China. Sociological Studies (Chinese), 2007(2), 111–135.

Hong, D. Y. & Xiao, C. Y. (2007b). The growth of Chinese environmental sociology. Published on the website of the International Sociological Association: Research Committee 24 (Environment and Society): http://www.columbia.edu/~drf2004/ISA-RC24/Resources.html.

Hunter, L. M., Hatch, A., & Johnson, A. (2004). Cross-national gender variation in environmental behaviors. Social Science Quarterly, 85(3), 677–694.

Hussain, A. (2002). Demographic transition in China and its implications. World Development, 30(10), 1823–1834.

Johnson, C., Bowker, J. M., & Cordell, H. K. (2004). Ethnic variation in environmental belief and behavior: An examination of the new ecological paradigm in a social psychological context. Environment and Behavior, 36(2), 157–186.

Lee, Y. F. (2005). Public environmental consciousness in China. In K. A. Day (Ed.), Chapter 2 in China's environment and the challenge of sustainable development. Armonk, New York: East Gate.

Lopez, A., Torres, C. C., Boyd, B., Silvy, N. J., & Lopez, R. R. (2007). Texas Latino college student attitudes toward natural resources and the environment. Journal of Wildlife Management, 71(4), 1275–1280.

Luo, Y., & Deng, J. (2008). The new environmental paradigm and nature-based tourism motivation. Journal of Travel Research, 46, 392–402.

Matthies, E., Kuhn, S., & Klockner, C. (2002). Travel mode choice of women: The result of limitation, ecological norm, or weak habit? Environment and Behavior, 34(2), 163–177.

Mohai, P. (1997). Gender differences in the perceptions of most important environmental problems. Race, Gender & Class, 5(1), 153–169.

Oates, C. J., & McDonald, S. (2006). Recycling and the domestic division of labor: Is green pink or blue? Sociology, 40(3), 417–433.

Pimentel, E. E. (2006). Gender ideology, household behavior, and backlash in urban China. Journal of Family Issues, 27(3), 341–365.

Rosenthal, E. (2008). China increases lead as biggest carbon dioxide emitter. The New York Times June 14, 2008.

Shen, J. Y., & Saijo, T. (2008). Reexamining the relations between socio-demographic characteristics and individual environmental concern: Evidence from Shanghai data. Journal of Environmental Psychology, 28, 42–50.

Sherkat, D. E., & Ellison, C. G. (2007). Structuring the religion-environment connection: Identifying religious influences on environmental concern and activism. Journal of the Scientific Study of Religion, 46(1), 71–85.

Theodori, G. L., & Luloff, A. E. (2002). Position on environmental issues and engagement in proenvironmental behaviors. Society and Natural Resources, 15, 471–482.

Tindall, D. B., Davies, S., & Mauboules, C. (2003). Activism and conservation behavior in an environmental movement: The contradictory effects of gender. Society and Natural Resources, 16, 909–932.

Wehrmeyer, W., & McNeil, M. (2000). Activists, pragmatists, technophiles and tree-huggers? Gender differences in employees' environmental attitudes. Journal of Business Ethics, 28, 211–222.

Xu, A. Q., Xie, X. L., Liu, W. L., Xia, Y., & Liu, D. L. (2007). Chinese family strengths and resiliency. Marriage & Family Review, 41(1), 143–164.

Zelezny, L., Chua, P. P., & Aldrich, C. (2000). Elaborating on gender differences in environmentalism. Journal of Social Issues, 56(3), 443–457.

Zeng, Y. (2002). A demographic analysis of family households in China: 1982–1995. Journal of Comparative Family Studies, 33(1), 15–34.

Zhang, Y. P., Hannum, E., & Wang, M. Y. (2008). Gender-based employment and income differences in urban China: Considering the contributions of marriage and parenthood. Social Forces, 86(4), 1529–1560.
About this article
Cite this article
Xiao, C., Hong, D. Gender differences in environmental behaviors in China. Popul Environ 32, 88–104 (2010). https://doi.org/10.1007/s11111-010-0115-z
Published:

Issue Date:

DOI: https://doi.org/10.1007/s11111-010-0115-z
Keywords
Gender

Environmental behavior

Environmental knowledge

Environmental concern

China

Chinese General Social Survey

CGSS