Abstract
This research contributes to an understanding of the relationship between climate change, economic impacts and migration. We model the long-term relationship (up to 45 years of projection) between demographic dynamics—particularly migration—driven by changes in the performance of the economy due to climate changes in the Northeast region of Brazil. The region is of particular relevance to the study of climate change impacts given its large human population (28% of Brazil's population) and high levels of impoverishment, having an extensive semi-dry area which will be severely impacted by growing temperatures. Ultimately, the integrated model generates state- and municipal-level migration scenarios based on climate change impacts on the primary economic sectors and their articulations with other sectors. Results suggest that the predicted climate changes will impact severely the agriculture sector in the region, acting as a potential migration push factor to other regions in the country. Finally, we discuss how the increased vulnerability of some groups, particularly migrants, can be factored into Brazilian public policy and planning.
This is a preview of subscription content,
to check access.
Access this article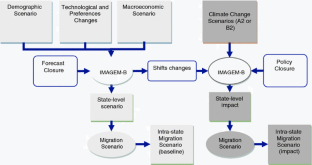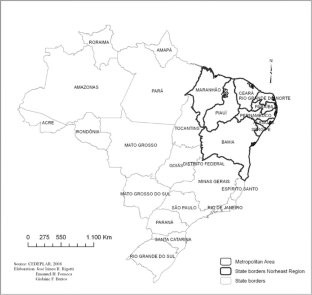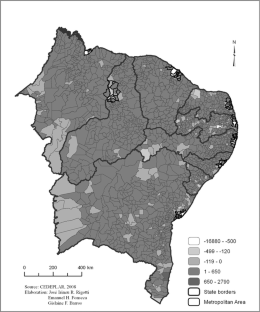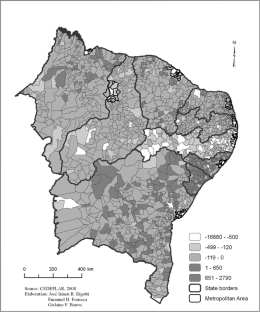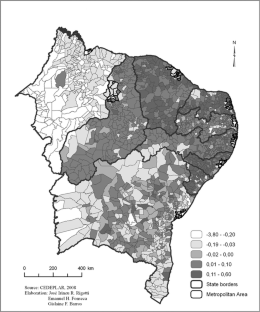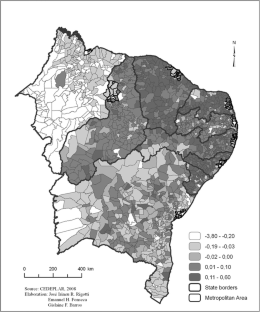 Similar content being viewed by others
Notes
The A2 and B2 regional scenarios were the two available from INPE at the time of this study.

See also McGranahan et al. (2007) for a study of the impact of sea level rise on migration from urban areas.

Adamo (2008) reviews estimates of potential population displacements due to climate change impacts (particularly sea level rise) focusing on less comprehensive methods and found that several estimates usually reflect populations at risk as surrogates for population displacements. As a result, these studies suggest a great variation in estimates, depending on the methods and data used.

See further discussion on Füssel (2007).

TFR is the average number of sons and daughters a woman in a given population will have during her reproductive ages (usually defined as being 15–49 years of age). The underlying assumption is that the TFR refers to a woman who completes the reproductive age, or in other words, who survives from age 15 to 49.

Recent trends of higher longevity and lower fertility will lead to a process of population ageing in the Northeast: the population 65 years of age or more in 2050 will be 19%, against 6% in 2000; and the proportion of the population below 15 years of age will decrease from 33% in 2000 to 16% in 2050 (CEDEPLAR 2007).

See further details on the projection of demographic components in CEDEPLAR (2007).

The Apportionment Method consists in projecting a population of a smaller area (e.g. municipalities) and considering its relative contribution to the growth of a larger area (e.g. states), while the Method of Cohort Relations consists in following the age and sex structure of the population in the smaller area and assuring its consistency with the structure of the larger area.

The model closure represents considerations about the operating hypothesis of the model, associated with the hypothetical time horizon of the simulations, related to the amount of time needed for the change in endogenous variables towards a new equilibrium. We assume that these changes take 4 years, so we can relate the simulations with the macroeconomic scenario and land shocks on a 4-year basis. Take, for instance, the adjustment in the markets for primary production factors, labor and capital. The closures can be for the short-run and the long-run. The main difference between the two closures relates to the adjustment in the capital stock and in the mobility of labor. In the short run, the capital stock is given, whereas in the long run capital and labor can move between sectors and between regions. On CGE model closures, see Dixon et al. (1982).

For a detailed discussion of agricultural scenarios by EMBRAPA, see Pinto and Assad (2008).

This result is robust and significant, and consistent with other studies for Brazil using different data and methodologies (see, e.g. Lima 1995).

The concept of 'Net Migration' in this article and its estimation in Eqs. 1–4 is not equivalent to the usual concept in the literature, as the difference between in-migrants and out-migrants in between two points in time. In the same way, the term 'Net Migration' in Eqs. 5 and 6 does not reflect a typical measure of 'Net Migration Rate' in the literature given the peculiarity of the numerator (the NM) in this article.
References
Adamo, S. (2008). Addressing environmentally induced population displacements: A delicate task. Background article for the population-environment research network cyberseminar on "Environmentally Induced Population Displacements", 20 pp. Available at www.populationenvironmentresearch.org.

Barbieri, A. F., Bilsborrow, R. E., & Pan, W. K. (2006). Farm household lifecycles and land use in the Ecuadorian Amazon. Population and Environment, 27(1), 1–27.

Barbieri, A. F., Carr, D., & Bilsborrow, R. (2009). Migration within the frontier: the second generation colonization in the Ecuadorian Amazon. Population Research and Policy Review, 28(3), 291–320.

Becker, G. S. (1964). Human capital: A theoretical and empirical analysis, with special reference to education. New York: National Bureau of Economic Research; distributed by Columbia University Press.

Bettrel, C. B., & Hollifield, J. F. (2000). Migration theory. In C. B. Bettrel & J. F. Hollifield (Eds.), Migration theory: Talking across disciplines. New York: Routledge.

Bilsborrow, R. (1987). Population pressures and agricultural development in development countries: A conceptual framework and recent evidence. World Development, 15(2), 183–203.

Bilsborrow, R. (2002). Migration, population change, and the rural environment. Environment Change and Security Project Report, summer(8), 69–94.

Booth, H. (1984). Transforming Gompertz's function for fertility analysis: The development of a standard for the relational Gompertz function. Population Studies, 38(3), 495–506.

Carvalho, J. A., & Garcia, R. A. (2002). Estimativas decenais e quinquenais de saldos migratorios e taxas líquidas de migração do Brasil. Belo Horizonte: CEDEPLAR/UFMG.

Castles, S., & Miller, M. J. (2003). The age of migration: International population movements in the modern world. New York: The Guilford Press.

CEDEPLAR (2007). Projeção Populacional para o Brasil e Unidades de Federação por Idade, 2000–2020, Cenário Básico. Relatório de Pesquisa (Research Report). Belo Horizonte: CEDEPLAR.

CEDEPLAR (2008a). Mudanças climáticas, migrações e saúde: cenários para o Nordeste brasileiro, 2000–2050. Relatório de Pesquisa (Research Report). Belo Horizonte: CEDEPLAR.

CEDEPLAR (2008b). Cenário Tendencial do Modelo Econômico de Projeções Territoriais—Período 2007/2027. Research Report: PPA 2008-2011. Belo Horizonte: CEDEPLAR/UFMG.

Davis, K. (1963). The theory of change and response in modern demographic history. Population Index, 29(4), 345–366.

de Haas, H. (2008). Migration and development: A theoretical perspective. Oxford: IMI.

Dixon, P. B., Parmenter, B. R., Sutton, J., & Vincent, D. P. (1982). Orani, a multisectoral model of the Australian economy. Amsterdam: North-Holland Pub. Co.

Domingues, E. P., Magalhães, A. S., & Faria, W. R. (2009). Infraestrutura, crescimento e desigualdade regional: uma projeção dos impactos dos investimentos do programa de aceleração do crescimento (pac) em Minas Gerais. Pesquisa e Planejamento Econômico, 39(1), 121–158.

Döös, B. R. (1997). Can large-scale environmental migrations be predicted? Global Environmental Change, 7(1), 41–61.

Duchesne, L. (1989). Proyecciones de poblacion por sexo e edad para areas intermedias e menores: metodo 'relation de cohortes'. In M. P. Gramados (Ed.), Metodos para proyecciones subnacionales de poblacion. Bogotá: CELADE.

Ezra, M. (2003). Environmental vulnerability, rural poverty, and migration in Ethiopia: A contextual analysis. Genus, 59(2), 63–91.

Ferreira, A. H. B. (1996). Os movimentos migratórios e as diferencias de renda per capita entre os estados no Brasil (1970–1980). Revista Brasileira de Estudos de População, 13(1), 67–78.

Findley, S. E. (1987). An interactive contextual model of migration in Ilocos Norte, the Philippines. Demography, 24(2), 163–190.

Findley, S. E. (1994). Does drought increase migration? A study of migration from rural Mali during the 1983–1985 drought. International Migration Review, 28(3), 539–553.

Franke, C. R., Ziller, M., Staubach, C., & Latif, M. (2002). Impact of the El Niño: Southern oscillation on visceral leishmaniasis, Brazil. Emerging Infectious Diseases, 8(9), 914–917.

Füssel, H.-M. (2007). Vulnerability: A generally applicable conceptual framework for climate change research. Global Environmental Change, 17(2), 155–167.

Golgher, A. B. (2001). Determinantes da Migração e Diferenciais entre Migrantes e Não-Migrantes em Minas Gerais. PhD Dissertation in Demography, UFMG, Belo Horizonte.

Golguer, A. B., & Araújo-Júnior, A. (2004). Migrantes e Não-Migrantes em Minas Gerais: A influencia de fatores pessoais e do contexto socioeconômico e criminal. Revista de Economia e Administração, 3(2), 111–134.

Guilhoto, J. J. M., & Sesso-Filho, U. A. (2005). Estimação da Matriz Insumo-Produto a Partir de Dados Preliminares das Contas Nacionais. Economia Aplicada, 9(2), 277–299.

Harris, J. L., & TODARO, M. P. (1970). Migration, unemployment, and development: A two-sector analysis. American Economic Review, 60, 126–142.

Henry, S., Schoumaker, B., & Beauchemin, C. (2004). The impact of rainfall on the first out-migration: A multi-level event-history analysis in Burkina Faso. Population and Environment, 25(5), 423–460.

Horridge, M., Madden, J., & Wittwer, G. (2005). The impact of the 2002–2003 drought on Australia. Journal of Policy Modeling, 27(3), 285–308.

Hunter, L. (2005). Migration and environmental hazards. Population and Environment, 26(4), 273–302.

IBGE. (2000). Brazilian population census, 2000. Available at www.ibge.gov.br.

IPCC. (2001). Third assessment report: Climate change 2001 (TAR). Cambridge: Cambridge University Press, 94 pp. Available at http://www.ipcc.ch/publications_and_data/publications_and_data_reports.htm.

Kahn, A. S., & Campus, R. T. (1992). Effects of drought on agricultural sector of Northeast Brazil. Presented at ICID, Fortaleza, Brazil, January 27, 1992.

Kniveton, D., Schmidt-Verkerk, K., Smith, C., & Black, R. (2008). Climate change and migration: Improving methodologies to estimate flows. Brighton, UK: International Organization for Migration.

Lee, E. S. A. (1966). Theory of migration. Demography, 3(1), 47–57.

Lewis, W. A. (1954). Economic development with unlimited supplies of labor. The Manchester School, 22, 139–191.

Lima, R. (1995). Um Exame dos Determinantes da Migração Rural-Urbana no Brasil. Cadernos de Ciência and Tecnologia, 12(1/3), 55–67.

Machado, C. C. (1993). Projeções Multirregionais de população: o caso brasileiro (1980–2020). PhD Dissertation, Department of Demography, CEDEPLAR, Belo Horizonte.

Marquette, C., & Bilsborrow, R. E. (1999). Population and environment relationships in developing countries: A select review of approaches and methods. In B. Baudot & W. Moomaw (Eds.), Population, environment, security equation. New York: Macmillian.

Martine, G., & Guzmán, J. (2002). Population, poverty, and vulnerability: Mitigating the effects of natural disasters. Environment Change and Security Project Report, 8, 45–68.

Massey, D. (1990). Social structure, household strategies, and the cumulative causation of migration. Population Index, 56(1), 3–26.

Massey, D., Arango, J., Hugo, G., Kouaouci, A., Pellegrino, A., & Taylor, E. (1993). Theories of international migration: A review and appraisal. Population and Development Review, 19(3), 431–466.

McGranahan, G., Balk, D., & Anderson, B. (2007). The rising tide: Assessing the risks of climate change and human settlements in low elevation coastal zones. Environment and Urbanization, 19(1), 17–37.

McLeman, R., & Smit, B. (2006). Migration as an adaptation to climate change. Climatic Change, 76, 31–53.

Meze-Hausken, E. (2000). Migration caused by climate change: How vulnerable are people in dryland areas? A case study in northern Ethiopia. Mitigation and Adaptation Strategies for Global Change, 5, 379–406.

Perch-Nielsen, S. L., Bättig, M. B., & Imboden, D. (2008). Exploring the link between climate change and migration. Climatic Change, 91(3–4), 375–393.

Pinto, H. S., & Assad, E. (2008). Aquecimento Global e Cenários Futuros da Agricultura Brasileira (Research Report). Project FCO-GOF: PGL GCC 0214, Campinas, Brazil.

Preston, S., Heuveline, P., & Guillot, M. (2001). Demography: Measuring and modeling population processes. Malden, MA: Blackwell Publishers.

Ramos, C., & Araújo, H. (1999). Fluxos migratórios, desemprego e diferenciais de renda. Texto para discussão do IPEA 657. Brasilia, Brazil, 22 pp.

Ranis, G., & Fei, J. C. H. (1961). A theory of economic development. The American Economic Review, 51(4), 533–565.

Ravenstein, E. G. (1889). The laws of migration. Journal of the Royal Statistical Society. Series A (Statistics in Society), 52(2), 241–305.

Ribot, J. C., Najam, A., & Watson, G. (1996). Climate variation, vulnerability and sustainable development in the semi-arid tropics. In J. C. Ribot, A. R. Magalhães, & S. S. Panagides (Eds.), Climate variability, climate change and social vulnerability in the semi-arid tropics. Cambridge: Cambridge University Press. (Chap. 1).

Ruiz, R. M., & Domingues, E. P. (2008). Aglomerações Econômicas no Sul-Sudeste e no Nordeste Brasileiro: Estruturas, Escalas e Diferenciais. Revista Estudos Econômicos, 38(4), 701–746.

Sahota, G. (1968). An economic analysis of internal migration in Brazil. Journal of Political Economy, 76(2), 218–245.

Sherbinin, A., VanWey, L., McSweeney, K., Aggarwal, R. M., Barbieri, A., Henry, S., et al. (2008). Rural household demographics, livelihoods and the environment. Global Environmental Change, 18, 38–53.

Sjaastad, L. A. (1962). The costs and returns of human migration. The Journal of Political Economy, 70(50), 80–93. (Part 2: Investment in human beings).

Todaro, M. P. (1969). A model of labor migration and urban unemployment in less developed countries. American Economic Review, 59(1), 138–148.

Wang, X., Auler, A. S., Edwards, L., Cheng, H., Cristalli, P. S., Smart, P. L., et al. (2004). Wet periods in northeastern Brazil over the past 210 kyr linked to distant climate anomalies. Nature, 432, 740–743.
Acknowledgements
The authors thank the United Kingdom Embassy in Brazil for supporting the execution of this research project, which was funded by the Global Opportunities Fund, the United Kingdom Ministry of Foreign Affairs and had the institutional support of CEDEPLAR/UFMG and FIOCRUZ. Thanks also are due to INPE for the data on climate scenarios and EMBRAPA for providing the agricultural scenarios. The authors, however, take full responsibility for the results and interpretation described here.
About this article
Cite this article
Barbieri, A.F., Domingues, E., Queiroz, B.L. et al. Climate change and population migration in Brazil's Northeast: scenarios for 2025–2050. Popul Environ 31, 344–370 (2010). https://doi.org/10.1007/s11111-010-0105-1
Published:

Issue Date:

DOI: https://doi.org/10.1007/s11111-010-0105-1
Keywords