Abstract
This study investigates the consequences of out-migration and migrant remittances for smallholder agriculture in a rural and environmentally marginal study area in the southern Ecuadorian Andes. Migration and remittances have the potential for transformative impacts on agriculture in origin areas of migration due to consequent declines in labor availability and increases in income, but previous studies have primarily found mixed and weak effects. This study provides additional insight by considering the gender and destination of migrants, key factors given gender norms influencing participation in agriculture, and the large gap in remittances sent by internal and international migrants. Building on recent methodological innovations, the study uses original household survey data and multivariate statistical models to examine the consequences of migration and remittances for multiple agricultural outcomes, including maize production, agrodiversity, female participation in agriculture, and the use of land, labor, and chemical inputs. Consistent with previous studies, the results indicate that migration and remittances have mixed and countervailing effects on smallholder agriculture. Specifically, out-migration has lost-labor effects that differ between men and women, and international remittances have investment-promotion effects that result in increased maize production. Together, the results highlight the resilience of smallholder agriculture in the face of dramatic demographic change.
Access options
Buy single article
Instant access to the full article PDF.
USD 39.95
Price excludes VAT (USA)
Tax calculation will be finalised during checkout.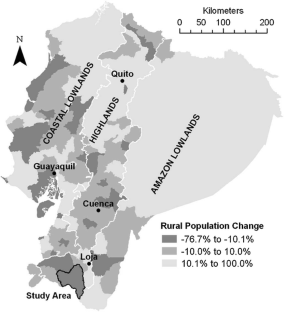 Notes
The study area includes the cantons (roughly equivalent to US counties) of Calvas, Gonzanama, Espindola, Quilanga, and Sozoranga of Loja province.

These values were derived the household survey data, described below, and excludes parcels not owned or managed by residents of the community.

Only 6% of adults participated in temporary labor migration in 2005 according to the household survey. Additionally, agricultural activities and temporary migration are likely part of a joint decision-making process, and thus temporary migration is likely endogenous to the outcomes described below. This is a less of a concern for long-term out-migration, which on average occurred approximately 5 years prior to the survey and was thus unlikely to be part of a joint decision-making process with agricultural activities in the year of the survey.

Missing data on the outcomes leads to smaller sample sizes in some cases. Additionally, to account for missing data for the predictors, 0.3% of predictor values were manually imputed based on other information in the questionnaire.

One tarea, a local unit of area, is equal to 0.05 hectares.

A quintal is unit of mass equal to 100 pounds or 45.4 kg.

Improved varieties, which were planted by few households, were excluded from this measure.

Parallel analyses conducted with ordinary least squares indicate that collinearity among the predictors is low and non-problematic.

I also explored categorizing migrants by destination rather than gender as well as categorizing remittances by migrant gender rather than destination. The specification described provided the best fit.

These household-level values differ from Table 3 due to the departure from many households of multiple migrants to the same destination type.

Alternative models for censored outcomes include two-part models in which the dichotomous decision to participate and the continuous level of participation are modeled separately (Smith and Brame 2003), e.g., a logit model of participation followed by linear regression on the positive values. I instead elected to use the Tobit model for the following reasons: (1) the small number of censored or positive values for some outcomes, (2) an interest in overall effects on participation and the extent of participation, and (3) parsimony, given the large number of models. A comparison of the results reveals that the direction and significance of effects are largely consistent across the two approaches.

Marginal effects were calculated using Stata's mfx command for effects on the outcome conditional on the outcome being greater than zero.

This model was selected over the negative binomial model because the additional parameter in negative binomial models was consistently non-significant.

This value was calculated by multiplying the natural logarithm of the mean value of remittances per male international migrant ($552, including non-remitters) by the marginal effect of international remittances on maize production (Table 5), and adding to it the marginal effect from the departure of one male migrant (Table 5).
References
Abbott, J. (2005). Counting beans: Agrobiodiversity, indigeneity, and agrarian reform. The Professional Geographer, 57, 198–212.

Adams, R. (2006). Remittances, poverty and investment in Guatemala. In Ç. Özden & M. Schiff (Eds.), International migration, remittances, and the brain drain (pp. 53–80). Washington, DC: World Bank.

Agarwal, R., & Horowitz, A. (2002). Are international remittances altruism or insurance? Evidence from Guyana using multiple-migrant households. World Development, 30(11), 2033–2044.

Amuedo-Dorantes, C., & Pozo, S. (2006). Remittances as insurance: Evidence from Mexican immigrants. Journal of Population Economics, 19, 227–254.

Benjamin, D. (1992). Household composition, labor markets, and labor demand: Testing for separation in agricultural household models. Econometrica, 60, 287–322.

Binford, L. (2003). Migrant remittances and (under)development in Mexico. Critique of Anthropology, 23(3), 305–336.

Black, R. (1993). Migration, return, and agricultural development in the Serra Do Alvao, Northern Portugal. Economic Development and Cultural Change, 41, 563–585.

Brookfield, H. (2001). Exploring agrodiversity. New York: Columbia University Press.

Brown, P. (1987). Population growth and the disappearance of reciprocal labor in a highland Peruvian community. Research in Economic Anthropology, 8, 225–245.

Brown, L., Brea, J., & Goetz, A. (1988). Policy aspects of development and individual mobility: Migration and circulation from Ecuador's rural sierra. Economic Geography, 64, 147–170.

Brown, L., & Sierra, R. (1994). Frontier migration as a multi-stage phenomenon reflecting the interplay of macroforces and local conditions: The Ecuador Amazon. Papers in Regional Science, 73, 267–288.

Brownrigg, L. (1981). Economic and ecological strategies of Lojano migrants to El Oro. In N. Whitten (Ed.), Cultural transformation and ethnicity in modern Ecuador (pp. 303–326). Urbana, IL: University of Illinois Press.

Brush, S. (2004). Farmers' bounty: Locating crop diversity in the contemporary world. New Haven: Yale University Press.

Bydekerke, L., Van Ranst, E., Vanmechelen, L., & Groenemans, R. (1998). Land suitability assessment for cherimoya in southern Ecuador using expert knowledge and GIS. Agriculture, Ecosystems & Environment, 69, 89–98.

De Haas, H. (2006). Migration, remittances and regional development in Southern Morocco. Geoforum, 37, 565–580.

De la Briere, B., Sadoulet, E., de Janvry, A., & Lambert, S. (2002). The roles of destination, gender, and household composition in explaining remittances: An analysis for the Dominican Sierra. Journal of Development Economics, 68, 309–328.

Deere, C. (2005). The feminization of agriculture? Economic restructuring in rural Latin America. Occasional Paper 1, United Nations Research Institute for Social Development.

Durand, J., Parrado, E., & Massey, D. (1996). Migradollars and development: A reconsideration of the Mexican case. International Migration Review, 30, 423–444.

Ellis, F. (2000). Rural livelihoods and diversity in developing countries. Oxford: Oxford University Press.

Entwisle, B., & Tong, Y. (2005). The impact of migration and remittances on households in rural Thailand. Paper presented at the Annual Meeting of the Population Association of America, Philadelphia, March 31–April 2.

Foster, A., & Rosenzweig, M. (1995). Learning by doing and learning from others: Human capital and technical change in agriculture. The Journal of Political Economy, 103, 1176–1209.

Gilligan, D. (2004). The economics of agricultural labor exchange with evidence from Indonesia. Unpublished doctoral dissertation, The University of Maryland, College Park, MA.

Gratton, B. (2007). Ecuadorians in the United States and Spain: History, gender and niche formation. Journal of Ethnic and Migration Studies, 33, 581–599.

Gray, C. (2008). Out-migration and rural livelihoods in the southern Ecuadorian Andes. Doctoral dissertation for the University of North Carolina at Chapel Hill. http://dc.lib.unc.edu/u?/etd,1671.

Gray, C. (2009). Environment, land and rural out-migration in the southern Ecuadorian Andes. World Development, 37, 457–468.

Gray, C., Bilsborrow, R., Bremner, J., & Holt, F. (2008). Indigenous land use in the Ecuadorian Amazon: A cross-cultural and multilevel analysis. Human Ecology, 36, 97–109.

Grosh, M., & Glewwe, P. (2000). Designing household survey questionnaires for developing countries: Lessons from 15 years of the living standards measurement study. Washington, DC: The World Bank.

Guillet, D. (1980). Reciprocal labor and peripheral capitalism in the Central Andes. Ethnology, 19, 151–167.

Hull, J. (2007). Migration, remittances, and monetization of farm labor in subsistence sending areas. Asian and Pacific Migration Journal, 16, 451–484.

IADB. (2006). Remittances 2005: Promoting financial democracy. Inter-American Development Bank.

INEC. (2003). Sistema integrado de consultas a los censos nacionales. www.inec.gov.ec. National Census and Statistical Institute of Ecuador.

Jokisch, B. (2002). Migration and agricultural change: The case of smallholder agriculture in highland Ecuador. Human Ecology, 30, 523–550.

Jokisch, B., & Pribilsky, J. (2002). The panic to leave: Economic crisis and the 'new emigration' from Ecuador. International Migration Review, 40, 75–101.

Katz, E. (2003). The changing role of women in the rural economies of Latin America. In B. Davis (Ed.), Current and emerging issues for economic analysis and policy research. Volume I: Latin America and the Caribbean (pp. 31–66). Rome, Italy: Food and Agriculture Organization.

Long, J. (1997). Regression models for categorical and limited dependent variables. Thousand Oaks: Sage Publications.

López, E., Boccoa, G., Mendoza, M., Velázquez, A., & Aguirre-Rivera, J. (2006). Peasant emigration and land-use change at the watershed level: A GIS-based approach in Central Mexico. Agricultural Systems, 90, 62–78.

Lucas, R. (1987). Emigration to South Africa's mines. The American Economic Review, 77, 313–330.

Massey, D., & Zenteno, R. (2000). A validation of the ethnosurvey: The case of Mexico-U.S. migration. International Migration Review, 34(3), 766–793.

McCarthy, N., Carletto, G., Davis, B., & Maltsoglou, I. (2006). Assessing the impact of massive out-migration on agriculture. Working Paper No 06-14, Agricultural and Development Economics Division of the Food and Agriculture Organization of the United Nations.

Mendola, M. (2008). Migration and technological change in rural households: Complements or substitutes? Journal of Development Economics, 85, 150–175.

Mora, J. (2005). The impact of migration and remittances on distribution and sources of income: The Mexican rural case. United Nations Expert Group Meeting on International Migration and Development, New York, July 6–8.

Muller, D., & Sikor, T. (2006). Effects of postsocialist reforms on land cover and land use in South-Eastern Albania. Applied Geography, 26, 175–191.

Netting, R. (1993). Smallholders, householders: Farm families and the ecology of intensive, sustainable agriculture. Stanford, CA: Stanford University Press.

OAS. (1992). Plan integral de desarrollo de los recursos hídricos de la provincia de Loja. www.oas.org/dsd/publications/Unit/oea02s/begin.htm. Organization of American States.

Perz, S. (2007). Grand theory and context-specificity in the study of forest dynamics: Forest transition theory and other directions. The Professional Geographer, 59, 105–114.

Pfeiffer, L., & Taylor, J. (2007). Gender and the impacts of international migration: Evidence from rural Mexico. In A. Morrison, M. Schiff, & M. Sjöblom (Eds.), The international migration of women (pp. 99–123). Washington, DC: World Bank Publications.

Preston, D., Macklin, M., & Warburton, J. (1997). Fewer people, less erosion: The twentieth century in southern Bolivia. The Geographical Journal, 163, 198–205.

Preston, D., & Taveras, G. (1980). Changes in land tenure and land distribution as a result of rural emigration in Highland Ecuador. Tijdschrift voor Economische en Sociale Geografie, 71, 98–107.

Ramírez-Gallegos, F., & Ramírez, J. (2005). La estampida migratoria ecuatoriana: Crisis, redes transnacionales y repertorios de acción migratoria. Quito, Ecuador: Abya Yala.

Reardon, T., Berdegué, J., & Escobar, G. (2001). Rural nonfarm employment and incomes in Latin America: Overview and policy implications. World Development, 29, 395–409.

Reichert, J. (1981). The migrant syndrome: Seasonal US wage labor and rural development in central Mexico. Human Organization, 40, 56–66.

Rigg, J. (2006). Land, farming, livelihoods, and poverty: Rethinking the links in the Rural South. World Development, 34, 180–202.

Rudel, T., Coomes, O., Moran, E., Achard, F., Angelsen, A., Xu, J., et al. (2005). Forest transitions: Towards a global understanding of land use change. Global Environmental Change Part A, 15, 23–31.

Rudel, T., Perez-Lugo, M., & Zichal, H. (2000). When fields revert to forests: Development and spontaneous reforestation in post-war Puerto Rico. The Professional Geographer, 52, 386–397.

Sana, M. (2008). Growth of migrant remittances from the United States to Mexico, 1990–2004. Social Forces, 86, 995–1025.

Sana, M., & Massey, D. (2005). Household composition, family migration, and community context: Migrant remittances in four countries. Social Science Quarterly, 86, 509–528.

Smith, D., & Brame, R. (2003). Tobit models in social science research: Some limitations and a more general alternative. Sociological Methods and Research, 31, 364–388.

Stark, O., & Bloom, D. (1985). The new economics of labor migration. American Economic Review, 75, 173–178.

Taylor, J., Arango, J., Hugo, G., Kouaouci, A., Massey, D., & Pellegrino, A. (1996). International migration and community development. Population Index, 62, 397–418.

Taylor, J., & Dyer, G. (2006). Migration and the sending economy: A disaggregated rural economy wide analysis. Working Paper 06-002, Department of Agricultural and Resource Economics, University of California, Davis.

Taylor, M., Moran-Taylor, M., & Ruiz, D. (2006). Land, ethnic, and gender change: Transnational migration and its effects on Guatemalan lives and landscapes. Geoforum, 37, 41–61.

Taylor, J., Rozelle, S., & De Brauw, A. (2003). Migration and incomes in source communities: A new economics of migration perspective from China. Economic Development and Cultural Change, 52, 75–101.

Van Dusen, M., & Taylor, J. (2005). Missing markets and crop diversity: Evidence from Mexico. Environment and Development Economics, 10, 513–531.

Walker, R., Perz, S., Caldas, M., & Silva, L. (2002). Land use and land cover change in forest frontiers: The role of household life cycles. International Regional Science Review, 25, 169–199.

Wong, R., Palloni, A., & Soldo, B. (2007). Wealth in middle and old age in Mexico: The role of international migration. International Migration Review, 41, 127–151.

Wouterse, F., & Taylor, J. (2008). Migration and income diversification: Evidence from Burkina Faso. World Development, 36, 625–640.

Zimmerer, K. (1993). Soil erosion and labor shortages in the Andes with special reference to Bolivia, 1953–1991: Implications for 'conservation-with-development'. World Development, 21, 1659–1675.
Acknowledgments
Funding for this research was provided by a Doctoral Dissertation Research Improvement grant from the National Science Foundation (NSF) and a Research Residency grant from the Carolina Population Center (CPC). The author was supported as a doctoral student by an NSF Graduate Research Fellowship and by an NSF grant to the CPC for graduate training in population-environment research. I thank Richard Bilsborrow and Thomas Whitmore for providing advice throughout the project and also members of my dissertation committee and the anonymous reviewers for their comments. For making the fieldwork possible I am indebted to the participating communities, the field staff, and the Center for Population and Social Development Studies in Quito.
About this article
Cite this article
Gray, C.L. Rural out-migration and smallholder agriculture in the southern Ecuadorian Andes. Popul Environ 30, 193–217 (2009). https://doi.org/10.1007/s11111-009-0081-5
Received:

Accepted:

Published:

Issue Date:

DOI: https://doi.org/10.1007/s11111-009-0081-5
Keywords
Migration

Remittances

Agriculture

Land use

Gender