Abstract
Racial-spillover theory proposes that salient associations between prominent racialized politicians and particular political objects—e.g., links between a party leader and her policy proposals—can generate associations between racial and political attitudes via the politician's perceived racial characteristics. Thus, opinion in relation to policies and other political objects with no manifest connection to race becomes infused with racial attitudes. While multiple studies of Barack Obama's influence on political attitudes uncover such effects, we test the generality of the phenomenon by examining the case of Jagmeet Singh, the first non-White leader of a major party in Canada. Using an experimental study of policy attitudes and an observational study of 31 years of party evaluations, we uncover clear evidence of racial spillover. The findings suggest racial spillover does not depend on peculiar features of U.S. politics or of the U.S. presidency, and may generalize to racialized political leaders in other contexts.
Access options
Buy single article
Instant access to the full article PDF.
USD 39.95
Price excludes VAT (USA)
Tax calculation will be finalised during checkout.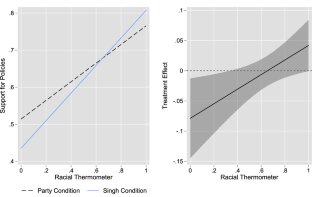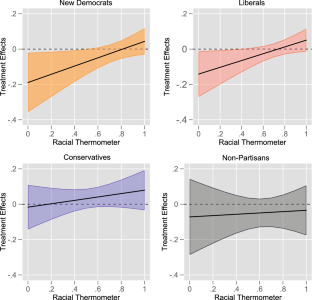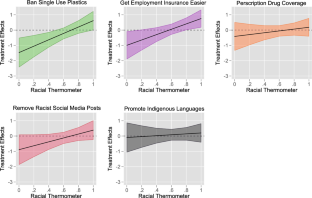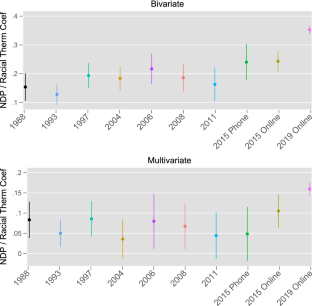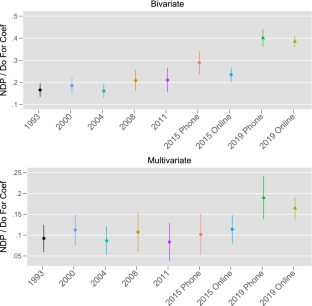 Notes
Tesler (2015) notes evidence consistent with racial spillover in two additional cases, including another case in the domain of presidential politics, Jesse Jackson's historic 1984 nomination campaign.

One explanation for the historic consensus on multiculturalism is the incentives parties have to compete for the votes of non-White immigrants in key electoral battlegrounds (Besco and Tolley, 2019).

The blackface controversy arguably proves the rule that race is rarely a source of explicit division in Canadian politics: in the days after the revelations, the party leaders, including Trudeau, were united in their condemnation of Trudeau's past actions. Note also that, while the controversy likely heightened attention to Singh, it did not draw prominent attention to his party's policies and his centrality in the political system changed little over the campaign (see also fns. 13 and 17).

This claim does not exclude the possibility that the contextual features in question increase the likelihood of or strengthen racial spillover.

Recall that, as suggested above, a racialized politician's "political centrality" may promote racial spillover either through wide dissemination of information about them or through the enhanced political significance of that information.

Our experimental sample is a randomly selected subset of the 2019 CES's online wave.

Note that, throughout the paper, our analyses are not conditioned on racial identification.

One question asked whether the respondent "personally supported" the policy, while the other asked whether the policy "would be good for Canada".

It should be noted that attitudes toward Indigenous people can be quite distinct from those toward other racialized communities (see Harell et al., 2016). Nonetheless, we do not expect these distinctions to moderate racial spillover in this case.

Notably, if racial spillover were indeed confined to the center-left Liberals and New Democrats, the finding would be broadly consistent with Tesler's (2015) analysis of spillover and health care opinion in the U.S., which finds the phenomenon limited to Democrats (pp. 110–111).

Note that we do not think the non-effects we observe in this section (among Conservatives and non-partisans and on certain policies) reflect error in the measurement of racial attitudes related to social desirability concerns. As we show in the next section, observational evidence of racial spillover is very similar across measures and survey modes that likely vary in the degree to which they induce socially desirable responding.

Conversely, the correlations between the racial thermometer and the other immigrant-focused items are less than 0.50.

We also considered the role of exposure to the blackface controversy in the moderation of the racial spillover effect. As noted above, we surmise that the Singh-Trudeau dialogue in the controversy's aftermath may have solidified associations between Singh and his perceived racial group. In analyses reported in the OR Appendix (Tables 9A and 10A), we test this conjecture by modelling the three-way interaction between the treatment, the racial thermometer and, in separate estimations, political interest and daily news consumption. If these variables track exposure to the campaign—and, thus, the blackface controversy—then the coefficients on these interactions should be positive. While both interaction terms are indeed positive, neither is statistically significant.

Indeed, we might anticipate stronger evidence of racial spillover using the "do for minorities" measure. In this regard, note that responses to the "do for minorities" measure have less obvious evaluative implications for racial minorities per se, relative to responses to the thermometer item, given that there is a variety of considerations beyond racial group evaluations (e.g., beliefs about existing levels of effort regarding racial minorities) that respondents are likely to perceive as obviously relevant to whether "more should be done for racial minorities". As such, those reluctant to express racial animus on the thermometer measure, owing to a fear of being seen as racist, may be comfortable expressing such sentiments on the "do for minorities" item. As it happens, the results are quite similar, whichever measure we use (see below). We thank an anonymous reviewer for directing our attention to this analytical consideration.

For most attitude-election combinations, we have just one sample. However, because of the addition of an online wave to both the 2015 and 2019 surveys, we have two samples for certain years in some analyses.

Prior research indicates that attitudes in the domain of gender and sexuality are a distinct source of Canadian political attitudes, though not entirely unrelated to racial attitudes (Matthews & Erickson, 2005). We selected the feminist thermometer over the possible alternatives as it is consistently measured over time.

In a further test of the racial spillover argument, we examined whether the onset of the blackface controversy increases the impact of the racial thermometer on the NDP thermometer. As noted above, we expect the high-profile dialogue between Singh and Trudeau in the wake of the controversy will have strengthened associations between Singh and his perceived racial group. As such, the link between the racial and NDP thermometers ought to be stronger for those interviewed on or after the date when the photos were released (September 18th) than before. Accordingly, we model the two-way interaction between the racial thermometer and a dummy variable for interview date (after September 17th = 1). The results (Table 12A in the OR Appendix) indicate the interaction is positive but relatively small in magnitude, and just outside the range of statistical significance (p = .0.12). We thank one of our anonymous reviewers for suggesting this test.

Specifically, in multivariate estimations, the strength of the correlation between the racial and Conservative thermometers appears to increase when comparing the 2015 phone sample with the 2019 online sample, but within survey mode—i.e., comparing the 2015 online and 2019 online samples—there is no difference.
References
Ambrose, E., & Mudde, C. (2015). Canadian multiculturalism and the absence of the far right. Nationalism and Ethnic Politics, 21(2), 213–236.

Angus Reid. (2017). Could our national leader be: _____? Most in Canada, U.S. say they'd vote for more diverse candidates. Retrieved January 29, 2021, from http://angusreid.org/who-could-be-prime-minister-president/.

Angus Reid. (2019). Immigration: Half back current targets, but colossal misperceptions, pushback over refugees, cloud debate. Retrieved January 29, 2021, from http://angusreid.org/election-2019-immigration/.

Banting, K., & Thompson, D. (2016). The puzzling persistence of racial inequality in Canada. In J. Hooker & A. B. Tillery (Eds.), The double bind: The politics of racial and class inequalities in the Americas. American Political Science Association.

Benegal, S. D. (2018). The spillover of race and racial attitudes into public opinion about climate change. Environmental Politics, 27(4), 733–756.

Besco, R., & Erin, T. (2019). Does everyone cheer? The politics of immigration and multiculturalism in Canada. In E. Goodyear-Grant, R. Johnston, W. Kymlicka, & J. Myles (Eds.), Federalism and the welfare state in a multicultural world (pp. 306–318). McGill-Queen's University Press.

Bird, K. (2005). The political representation of visible minorities in electoral democracies: A comparison of France, Denmark, and Canada. Nationalism and Ethnic Politics, 11(4), 425–465.

Blais, A. (2005). Accounting for the electoral success of the liberal party in Canada. Canadian Journal of Political Science/revue Canadienne De Science Politique, 38(4), 821–840.

Bobo, L. D., & Johnson, D. (2004). A taste for punishment. Black and white Americans' views on the death penalty and the war on drugs. Du Bois Review: Social Science Research on Race. https://doi.org/10.1017/S1742058X04040081

Bouchard, J. (2021). 'I think Canadians look like all sorts of people': Ethnicity, political leadership, and the case of Jagmeet Singh. Journal of Race, Ethnicity, and Politics. https://doi.org/10.1017/rep.2020.51

Carmines, E., & Stimson, J. (1980). The two faces of issue voting. American Political Science Review, 74(1), 78–91.

CBC. (2015). NDP's Jagmeet Singh wants to legislate an end to police carding. Retrieved from https://www.cbc.ca/news/canada/toronto/ndp-s-jagmeet-singh-wants-to-legislate-an-end-to-police-carding-1.3091167.

CBC. (2019a). Singh says he'll talk with trudeau only if it's in private and politics-free. Retrieved from https://www.cbc.ca/news/politics/singh-trudeau-meeting-blackface-1.5292001.

CBC. (2019b). What we know about Justin Trudeau's blackface photos—and what happens next. Retrieved from https://www.cbc.ca/news/politics/canada-votes-2019-trudeau-blackface-brownface-cbc-explains-1.5290664.

Ford, R. (2006). Prejudice and white majority welfare attitudes in the UK. Journal of Elections, Public Opinion and Parties, 16(2), 141–156.

Gilens, M. (2000). Why Americans hate welfare: Race, media, and the politics of antipoverty policy. University of Chicago Press.

Harell, A., Soroka, S., & Iyengar, S. (2016). Race, prejudice and attitudes toward redistribution: A comparative experimental approach. European Journal of Political Research, 55(4), 723–744.

Hui, A., & Janice, D. (2019). Federal election 2019: Jagmeet Singh's comeback fails to materialize as NDP falls to fourth party. The Globe and Mail. Retrieved from: https://www.theglobeandmail.com/canada/article-federal-election-2019-jagmeet-singhs-comeback-fails-to-materialize/.

Iyengar, S. (2019). The origins and consequences of affective polarization in the United States. Annual Review of Political Science, 22, 129–146.

Johnston, R. (2019). The Canadian party system: An analytic history. University of British Columbia Press.

Kevins, A., & Soroka, S. N. (2018). Growing apart? Partisan sorting in Canada, 1992–2015. Canadian Journal of Political Science, 51(1), 103–133.

Lenz, G. (2012). Follow the leader? University of Chicago Press.

Luttig, M. D., & Motta, M. (2017). President Obama on the ballot: Referendum voting and racial spillover in the 2014 midterm elections. Electoral Studies, 50, 80–90.

Matthews, J. S., & Erickson, L. (2005). Public opinion and social citizenship in Canada. Canadian Review of Sociology and Anthropology, 42(4), 373–401.

Mendelberg, T. (2001). The race card: Campaign strategy, implicit messages, and the norm of equality the race card: Campaign strategy, implicit messages, and the norm of equality. Princeton University Press.

Quillian, L., et al. (2019). Do some countries discriminate more than others? Evidence from 97 field experiments of racial discrimination in hiring. Sociological Science, 6, 467–496.

Reitz, J. G. (1988). Less racial discrimination in Canada, or simply less racial conflict?: Implications of comparisons with britain. Canadian Public Policy/analyse De Politiques, 14(4), 424.

Reitz, J. G., & Rupa, B. (2003). Racial inequality, social cohesion and policy issues in Canada. In Keith Banting, Thomas Courchene, & Leslie Seidle (Eds.), Belonging? Diversity, recognition and shared citizenship in Canada. Institute for Research on Public Policy.

Research Co. (2019). Canadians express lukewarm support for multiculturalism. Retrieved January 29, 2021, from https://researchco.ca/2019/02/08/multiculturalism/.

Scherer, S. (2019). Canada's Singh may revive party with deft response to Trudeau blackface scandal. Reuters. Retrieved from: https://www.reuters.com/article/us-canada-election-singh/canadas-singh-mayrevive-party-with-deft-response-to-trudeau-blackface-scandal-idUSKBN1WA0D0.

Sheagley, G., Chen, P., & Farhart, C. (2017). Racial resentment, hurricane sandy, and the spillover of racial attitudes into evaluations of government organizations. Analyses of Social Issues and Public Policy, 17(1), 105–131.

Tesler, M. (2012). The spillover of racialization into health care: How president Obama polarized public opinion by racial attitudes and race. American Journal of Political Science, 56(3), 690–704.

Tesler, M. (2015). The conditions ripe for racial spillover effects. Political Psychology, 36(S1), 101–117.

Tesler, M. (2016). Post-racial or most-racial?: Race and politics in the Obama era. University of Chicago Press.

Valentino, N. A., Hutchings, V. L., & White, I. K. (2020). Cues that matter: How political ads prime racial attitudes during campaigns. American Political Science Review, 96(1), 75–90.

Zimonjic, P. (2017). Meet Jagmeet Singh: Sikh lawyer, martial artist and new NDP leader. CBC. Retrieved from: https://www.cbc.ca/news/politics/jagmeet-singh-profile-biography-win-1.4315780.
Acknowledgements
The data collection for this paper was funded by SSHRC Grant 430-2016-00650. The authors thank, for comments on a previous version, Angelia Wagner, David Peterson, Chris Cochrane and Nadia Lajevardi; for helpful feedback on an early presentation of the findings, the participants in "The Politics of Race, Ethnicity, Indigeneity, and Gender in Contemporary Canadian Electoral Politics Workshop" at Memorial University, St. John's, NL, Canada, February, 2020; and for excellent research assistance, Andrew Plummer and Manmeet Sangha.
Ethics declarations
Conflict of interest
The authors have no conflicts of interest to declare that are relevant to the content of this article.
Additional information
Publisher's Note
Springer Nature remains neutral with regard to jurisdictional claims in published maps and institutional affiliations.
Supplementary Information
Below is the link to the electronic supplementary material.
About this article
Cite this article
Besco, R., Matthews, J.S. Racial Spillover in Political Attitudes: Generalizing to a New Leader and Context. Polit Behav 45, 1531–1551 (2023). https://doi.org/10.1007/s11109-022-09777-3
Accepted:

Published:

Issue Date:

DOI: https://doi.org/10.1007/s11109-022-09777-3
Keywords