Abstract
Reciprocity is a foundational concept of cooperative societies with roles in face-to-face and anonymous transactions. In essence, we trust others, follow social norms, and abide by formal laws with the expectation that others will do the same. Absent some understanding that others will also play by the rules of the game, however, we may no longer feel compelled to abide by those rules ourselves. Numerous experimental studies infer that reciprocity plays just such a role. Curiously, however, we are unaware of any attempts to operationalize the concept in a direct way. We attempt to remedy this lacuna by introducing a series of original survey items that are geared toward tapping the belief in reciprocal respect for basic rights and liberties by a range of groups. Data from an internet-based panel reveal that the belief in rights reciprocity is not widespread, moves with the political context, and is shaped by a variety of dispositional measures. Reciprocity, as likely another dimension of threat, builds political tolerance—a relationship which we confirm with both panel and experimental evidence.
Access options
Buy single article
Instant access to the full article PDF.
USD 39.95
Price excludes VAT (USA)
Tax calculation will be finalised during checkout.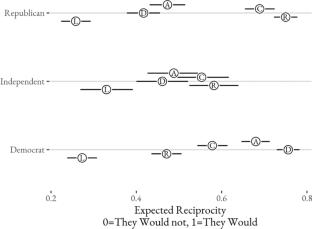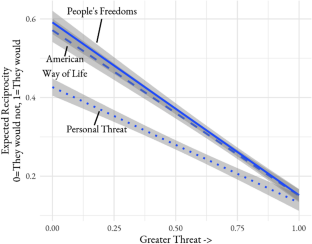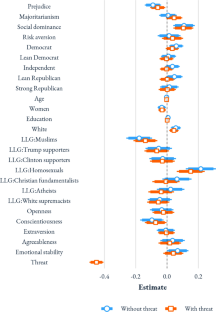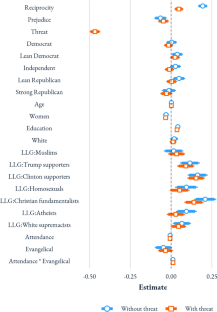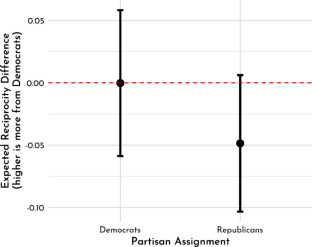 Notes
Most discussions of reciprocity rely on behavioral inferences in nature, commonly derived from trust games that involve an exchange between two individuals (e.g., Carlin and Love 2013; Van den Bos et al., 2009; Fehr and Gӓchter, 2000; Fehr and Gintis 2007; Schubert and Lambsdorff 2014; Youngs, 1986; cf. Eisenberger et al., 2004).

The literature on political tolerance has long suffered from similar such ambiguities. As Hurwitz and Mondak (2002) note, there are multiple ways to interpret an individual's reluctance to extend political rights to another individual or group. Simple group animus may be at play, but it is perhaps equally plausible that such a response indicates an across-the-board distaste for a particular type of political expression (e.g., rallies) (see also Verkuyten and Yogeeswaran, 2017). Or, we might add, expressions of intolerance might also be conflated with an abiding concern for democratic norms and buy-in to a system of reciprocal rights extension.

Content-controlled or "self-selected" approaches to measuring tolerance are not without drawbacks, however, as it is often thought to encourage respondents to focus on extremist groups, thereby driving down observed levels of tolerance (Lee, 2014). Content-controlled measures of political tolerance have also been criticized on the grounds that they do not account for "justified" or "principled" intolerance (Lee, 2014; Petersen et al., 2011). The present study seeks to remedy this particular issue by measuring perceptions of rights reciprocity.

It is possible that people understand "your rights" to be theirs personally rather than about people like them. Future iterations of reciprocity research should systematically explore this possibility.

To bring the sample closer to national distributions, we employed raking weights incorporating education, gender, age, and race (even though weighted results do not differ from unweighted estimates). Moreover, our partisan distribution in both waves closely matches other high-quality estimates: our sample is 46% Democratic (including leaners), 19% independent, and 35% Republican. In wave 2, our sample shifted very slightly to 45% Democrats, 18% independents, and 37% Republicans, perhaps showing some losers' fatigue. In wave 3, the same was 42% Democratic, 18% independent, and 40% Republican.

The data and code necessary to replicate the results detailed in this article are available here:

See the Appendix Figure A1 and accompanying discussion to see how expected reciprocity varies across least-liked groups.

A factor analysis of these four items indicates that they hang together with an Eigenvalue for the first factor of 2.1. At the same time, the personal threat and reciprocity measures have rather high uniqueness scores (0.61 for personal threat and 0.79 for reciprocity), suggesting that while related they are capturing different aspects of the common concept.

A discussion in the Appendix (p. 10 with Figure A3) discusses whether feelings toward the group are linked to expected reciprocity, conditional on selecting them as their least-liked group for all partisans.

A post-hoc power analysis was conducted using G × Power 3.1.9.7. A sample size of 284 was used for the power analysis. Our baseline model included six predictors. The alpha level used was p < 0.05. Given the size of the effect of the treatment on expected reciprocity (f2 = 0.007), the statistical power was 0.299. Of course, this means that our test is underpowered. On the other hand, this exercise also serves to underscore the fact that the effect of answering a battery of tolerance questions on reciprocity expectations is extraordinarily small, if it exists at all.

To be clear, Mouritsen and Olsen (2013) are specifically referring to European societies, but the argument could be made that much the same process may be unfolding in the United States.
References
Alvarez, R. M. (1998). Information and elections. University of Michigan Press.

Bowles, S., & Gintis, H. (2004). The evolution of strong reciprocity: cooperation in heterogeneous populations. Theoretical Population Biology, 65(1), 17–28.

Carlin, R. E., & Love, G. J. (2013). The politics of interpersonal trust and reciprocity: an experimental approach. Political Behavior, 35(1), 43–63.

Chong, D. (1993). How people think, reason, and feel about rights and liberties. American Journal of Political Science, 37(3), 867–899.

Claassen, R. L., Djupe, P. A., Lewis, A. R., & Neiheisel, J. R. (2021). Which party represents my group? the group foundations of partisan choice and polarization. Political Behavior. https://doi.org/10.1007/s11109-019-09565-6

Cohen, A. J. (2004). What toleration is. Ethics, 115, 68–95.

Davis, D. W., & Silver, B. D. (2003). Civil liberties vs. security: public opinion in the context of the terrorist attacks on America. American Journal of Political Science, 48(1), 28–46.

Djupe, P. A., & Burge, R. P. (2020). One in five Americans believe that a democrat will ban the Bible. https://religioninpublic.blog/2020/06/02/one-in-five-americans-believe-that-a-democrat-will-ban-the-bible/. Accessed 9 May 2021.

Eisenberger, R., Lynch, P., Aselage, J., & Rohdieck, S. (2004). Who takes the most revenge? individual differences in negative reciprocity norm endorsement. Personality and Social Psychology Bulletin, 30(6), 787–799.

Fehr, E., & Gӓchter, S. (2000). Fairness and retaliation: the economics of reciprocity. Journal of Economic Perspectives, 14(3), 159–181.

Fehr, E., & Gintis, H. (2007). Human motivation and social cooperation: experimental and analytical foundations. Annual Review of Sociology, 33, 43–64.

Friesen, A. J., & Djupe, P. A. (2017). Conscientious women under the stained-glass ceiling: the dispositional conditions of institutional treatment on civic engagement. Politics & Gender, 13(1), 57–80.

Gibson, J. L. (2006). Enigmas of intolerance: fifty years after stouffer's communism, conformity, and civil liberties. Perspectives on Politics, 4(1), 21–34.

Gibson, J. L. (2013). Measuring political tolerance and general support for pro-civil liberties policies: notes, evidence, and cautions. Public Opinion Quarterly, 77(1), 45–68.

Gibson, J. L., Claassen, C., & Barcelo, J. (2020). Deplorables: emotions, political sophistication, and political intolerance. American Politics Research, 48(2), 252–262.

Gibson, J. L., Duch, R. M., & Tedin, K. L. (1992). Democratic values and the transformation of the Soviet Union. Journal of Politics, 52(2), 329–371.

Gosling, S. D., Rentfrow, P. J., & Swann, W. B., Jr. (2003). A very brief measure of the big five personality domains. Journal of Research in Personality, 37(December), 504–528.

Gouldner, A. W. (1960). The norm of reciprocity: a preliminary statement. American Sociological Review, 25(2), 161–178.

Helm, B., Bonoma, T. V., & Tedeschi, J. T. (1972). Reciprocity for harm done. The Journal of Social Psychology, 87(1), 89–98.

Huddy, L., Feldman, S., Capelos, T., & Provost, C. (2002). Disentangling the effects of personal and national threat. Political Psychology, 23(3), 485–509.

Hurwitz, J., & Mondak, J. J. (2002). Democratic principles, discrimination and political intolerance. British Journal of Political Science, 32(1), 93–118.

Iyengar, S., Lelkes, Y., Levendusky, M., Malhotra, N., & Westwood, S. J. (2019). The origins and consequences of affective polarization in the United States. Annual Review of Political Science, 22, 129–146.

Lee, F. L. F. (2014). 'Tolerated One Way but Not the Other': levels and determinants of social and political tolerance in Hong Kong. Social Indicators Research, 118(2), 711–727.

Marcus, G. E., Sullivan, J. L., Theiss-Morse, E., & Wood, S. L. (1995). With malice toward some: how people make civil liberties judgments. Cambridge University Press.

Marcus, G. E., Wood, S. L., & Theiss-Morse, E. (1998). Linking neuroscience to political intolerance and political judgment. Politics and the Life Sciences, 17(2), 165–178.

Mondak, J. J. (2010). Personality and the foundations of political behavior. Cambridge University Press.

Mouritsen, P., & Olsen, T. V. (2013). Liberalism and the diminishing space of tolerance. In J. Dobbernack & T. Modood (Eds.), Tolerance, intolerance and respect: hard to accept? New York: Palgrave Macmillan.

Nowak, M. A., & Sigmund, K. (1998). The evolution of indirect reciprocity by image scoring. Nature, 393, 573–577.

Nowak, M. A., & Sigmund, K. (2005). The evolution of indirect reciprocity. Nature, 437, 1291–1298.

Petersen, M., Slothuus, R., Stubager, R., & Togeby, L. (2011). Freedom for all? the strength and limits of political tolerance. British Journal of Political Science, 41(3), 581–597.

Popper, K. (2002). The open society and its enemies (7th ed.). Routledge.

Rawls, J. (1999). A theory of justice (Revised). Harvard University Press.

Rohrschneider, R. (1996). Institutional learning versus value diffusion: the evolution of democratic values among parliamentarians in Eastern and Western Germany. Journal of Politics, 58(2), 422–446.

Schildkraut, D. J. (2010). Americanism in the twenty-first century: public opinion in the age of immigration. Cambridge University Press.

Schubert, M., & Lambsdorff, J. G. (2014). Negative reciprocity in an environment of violent conflict: experimental evidence from the occupied Palestinian territories. Journal of Conflict Resolution, 58(4), 539–563.

Sidanius, J., van Laar, C., Levin, S., & Sinclair, S. (2003). Social hierarchy maintenance and assortment into social roles: a social dominance perspective. Group Processes and Intergroup Relations, 6(4), 333–352.

Sniderman, P. M., Tetlock, P. E., Glaser, J. M., Green, D. P., & Hout, M. (1989). Principled tolerance and the American mass public. British Journal of Political Science, 19(1), 25–45.

Sowerby, S. (2013). Making toleration: the repealers and the glorious revolution. Harvard University Press.

Stoneburner, B. (2019). Ralph Reed: if Christians don't re-elect trump, they deserve to be persecuted. https://friendlyatheist.patheos.com/2019/11/06/ralph-reed-if-christians-dont-re-elect-trump-they-deserve-to-be-persecuted/. Accessed 11 July 2020.

Sullivan, J. L., Piereson, J., & Marcus, G. E. (1982). Political tolerance and American democracy. University of Chicago Press.

Testa, P. F., Hibbing, M. V., & Ritchie, M. (2014). Orientations toward conflict and the conditional effects of political disagreement. Journal of Politics, 76(3), 770–785.

Theiss-Morse, E. (2009). Who counts as an American? the boundaries of national identity. Cambridge University Press.

Trump, D. J. (2020). Remarks by President Trump at the 2020 conservative political action conference | National Harbor, MD. https://www.presidency.ucsb.edu/documents/remarks-the-2020-conservative-political-action-conference-national-harbor-maryland Accessed 11 May 2021.

Van den Bos, W., van Dijk, E., Westenberg, M., Rombouts, S. A., & Crone, E. A. (2009). What motivates repayment? neural correlates of reciprocity in the trust game. Social Cognitive and Affective Neuroscience, 4(3), 294–304.

Verkuyten, M., & Yogeeswaran, K. (2017). The social psychology of intergroup toleration: a roadmap for theory and research. Personality and Social Psychology Review, 21(1), 72–96.

Walzer, M. (1999). On toleration. Yale University Press.

Youngs, G. A., Jr. (1986). Patterns of threat and punishment reciprocity in a conflict setting. Journal of Personality and Social Psychology, 51(3), 541–546.
Additional information
Publisher's Note
Springer Nature remains neutral with regard to jurisdictional claims in published maps and institutional affiliations.
A previous version of this article was presented at the 2018 annual meeting of the MPSA, Palmer House, Chicago, April 5–8. We thank James Gibson and George Marcus for their helpful comments. Code and data to replicate the analyses are available at https://doi.org/10.7910/DVN/RCMBRP.
Supplementary Information
Below is the link to the electronic supplementary material.
About this article
Cite this article
Djupe, P.A., Neiheisel, J.R. The Dimensions and Effects of Reciprocity in Political Tolerance Judgments. Polit Behav 44, 895–914 (2022). https://doi.org/10.1007/s11109-021-09748-0
Accepted:

Published:

Issue Date:

DOI: https://doi.org/10.1007/s11109-021-09748-0
Keywords
Reciprocity

Political tolerance

Threat

Prejudice