Abstract
Sexism and feminism are often seen as opposing belief systems on a single dimension in American politics. Gender scholars, however, have noticed that these forces are not equal and opposite. The 2016 election represents a critical case for examining how gender-related attitudes and identities push and pull voters. Hillary Clinton was the first female presidential nominee of a major party and a self-proclaimed feminist facing an opponent considered by many to be hostile to women. As such, many observers predicted a substantial increase in the gender gap. However, the gap did not widen much compared to previous races, and nearly half of women chose Trump. Why? We argue that sexism – as commonly measured – mixes attitudes about women in general with those about feminists in particular. When feminism becomes salient, as in 2016, attitudes about this subgroup become more relevant to the vote. Relying on three studies – a 2016 survey on SSI, the 2018 CCES, and the 2016 ANES, we assess the role of anti-feminist attitudes and feminist identity across gender, race, and party. We find that sexism directed against feminists powerfully dampened support for Clinton across genders. However, feminist identity was much less common in the electorate, and had little effect on men's votes. Thus, although countervailing, these two forces are not equivalent. In 2016, the benefit of appealing to feminists was overwhelmed by the cost of activating voters who intensely dislike the group. These results reveal a consequential imbalance in the power of sexism and feminism in U.S. politics.
Access options
Buy single article
Instant access to the full article PDF.
US$ 39.95
Tax calculation will be finalised during checkout.
Subscribe to journal
Immediate online access to all issues from 2019. Subscription will auto renew annually.
US$ 79
Tax calculation will be finalised during checkout.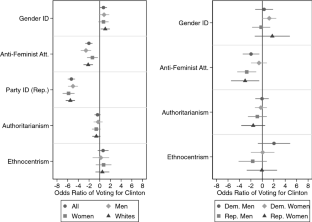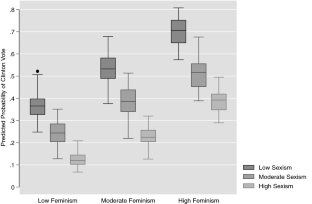 Notes
1.

2.

3.

While we often refer to differences between men and women in this paper, we do not conceptualize gender in a binary way. Unfortunately, our surveys only asked for self-reported gender in a binary sense. Future studies should explore the political consequences of non-binary gender identification.

4.

5.

The sample, though not randomly drawn, was balanced on partisanship. Eligibility was restricted to U.S. citizens 18 or older. Nearly 54% of the sample was female, 70.1% was White, and 62.9% self-identified as Christian (15.8% as Evangelical). The sample was relatively well-educated, skewed older, and the median sample income was close to that of the U.S.

6.

These studies are observational. Therefore, results reveal correlations between anti-feminist attitudes and feminist identification, on the one hand, and vote choice on the other.

7.

This study contained a pre-registered experiment with an emotional induction task (EGAP ID 20160625AA). Unfortunately, the manipulation suffered from failure to treat: many respondents ignored the task. The results are therefore analyzed cross-sectionally. Robustness checks using only the control condition reveal substantively similar results (Tables A11-A14, Appendix).

8.

Conceptually, hostile sexism is intended to capture attitudes about women pushing for gender equality and empowerment in the public sphere. Some items in the scale mention feminists explicitly, while others mention women in general. We focus on items that directly invoke feminists, comparing them with those that invoke all women (Tables A23-A24, Appendix).

9.

Race is accounted for in the subgroup analyses presented below.

10.

The question wording for all these scales is provided in the Appendix.

11.

See also Tables A1-A2, Appendix.

12.

This difference in the impact of negative attitudes toward feminists between men and women does not reach statistical significance (Table A19, Appendix).

13.

We could not examine differences by race in this study since there were too few African American respondents.

14.

We also ran models controlling for political ideology (see Tables A7-A8, Appendix). Anti-feminist attitudes still dominated in these models, among all subgroups except Democratic women.

15.

See Tables A5-A6, A9-A10, and A20, Appendix.

16.

Marital status and parental status were not asked in Study 1. They are included here to account for the potential impact of having children – specifically daughters – on gender attitudes in politics (Glynn & Sen, 2015). We also include employment status, as this may affect attitudes toward gender roles (Cassidy & Warren, 1996). Ethnocentrism is not included in the CCES, so we use the four-item racial resentment battery. Finally, the CCES does not measure authoritarianism, so we are unable to control for it.

17.

The larger, more representative sample of the CCES study allows us to run all these fine-grained subgroup analyses, which we were not able to do in Study 1 due to power limitations.

18.

We also ran models including political ideology (Tables A21-A22, Appendix). Anti-feminist attitudes remained a large, positive predictor across all subgroups, including Black men.

19.

20.

Importantly, much of this difference is driven by the impact of feminism among non-White women, reinforcing the importance of an intersectional approach. This pattern holds when controlling for ideology (Tables A28-A29, Appendix).

21.

See Tables A26-A27, Appendix.

22.

Again, see Tables A26-A27, Appendix.
References
Aronson, P. (2003). Feminists or "postfeminists"? Young women's attitudes toward feminism and gender relations. Gender and Society, 17(6), 903–922.

Barnes, T. D., & Cassese, E. C. (2017). American party women: A look at the gender gap within parties". Political Research Quarterly, 70(1), 127–141.

Bizumic, B., & Duckitt, J. (2008). 'My group is not worthy of me': Narcissism and ethnocentrism. Political Psychology, 29(3), 437–453.

Box-Steffensmeier, J., De Bouf, S., & Lin, T. (2004). The dynamics of the partisan gender gap. The American Political Science Review, 98(3), 515–528.

Bracic, A., Israel-Trummel, M., & Shortle, A. F. (2018). Is sexism for White people? Gender stereotypes, race, and the 2016 presidential election. Political Behavior, 41(2), 281–307.

Burn, S. M., Aboud, R., & Moyles, C. (2000). The relationship between gender social identity and support for feminism. Sex Roles, 42(11–12), 1081–1089.

Cadei, E. (2016). Differences between men and women voters widen in 2016. Newsweek, March 15.

Cassese, E. C., & Barnes, T. D. (2019). Reconciling sexism and women's support for Republican candidates: A look at gender, class, and whiteness in the 2012 and 2016 presidential races. Political Behavior, 41(3), 677–700.

Cassese, E. C., & Holman, M. R. (2019). Playing the woman card: Ambivalent sexism in the 2016 U.S. presidential race. Political Psychology, 40(1), 55–74.

Cassidy, M. L., & Warren, B. O. (1996). Family employment status and gender role attitudes: A comparison of women and men college graduates. Gender & Society, 10(3), 312–329.

Chaney, C. K., Alvarez, R. M., & Nagler, J. (1998). Explaining the gender gap in U.S. presidential elections, 1980–1992. Political Research Quarterly, 51(2), 311–39.

Chaturved, R. (2016). A closer look at the gender gap in presidential voting. Pew Research Center.

Conover, P. J. (1988). Feminists and the gender gap. The Journal of Politics, 50(4), 985–1010.

Conroy, M. (2018). Strength, stamina, and sexism in the 2016 presidential race. Politics & Gender, 14(1), 116–121.

Cook, E. A., & Wilcox, C. (1991). Feminism and the gender gap–a second look. The Journal of Politics, 53(4), 1111–1122.

Dolan, K. A. (2004). Voting for women: How the public evaluates women candidates. Westview.

Eisele, H., & Stake, J. (2008). The differential relationship of feminist attitudes and feminist identity to self-efficacy. Psychology of Women Quarterly, 32(3), 233–244.

Engelhardt, A. M. (2019). Trumped by race: Explanations for race's influence on Whites' votes in 2016. Quarterly Journal of Political Science, 14(3), 313–328.

Feldman, S., & Stenner, K. (1997). Perceived threat and authoritarianism. Political Psychology, 18(4), 741–770.

Frasure-Yokley, L. (2018). Choosing the velvet glove: Women voters, ambivalent sexism, and vote choice in 2016. Journal of Race, Ethnicity and Politics, 3(1), 3–25.

Gay, C., & Tate, K. (1998). Doubly bound: The impact of gender and race on the politics of Black women. Political Psychology, 19(1), 169–184.

Glick, P., Diebold, J., Bailey-Werner, B., & Zhu, L. (1997). The two faces of Adam: Ambivalent sexism and polarized attitudes toward women. Personality and Social Psychology Bulletin, 23, 1323–1334.

Glick, P., & Fiske, S. T. (1996). The ambivalent sexism inventory: Differentiating hostile and benevolent sexism. Journal of Personality and Social Psychology, 70(3), 491–512.

Glick, P., & Fiske, S. T. (2001). An ambivalent alliance: Hostile and benevolent sexism as complementary justifications for gender inequality. American Psychologist, 56(2), 109–118.

Glick, P., & Fiske, S. T. (2011). Ambivalent sexism revisited. Psychology of Women Quarterly, 35(3), 530–535.

Glynn, A. N., & Sen, M. (2015). Identifying judicial empathy: Does having daughters cause judges to rule for women's issues? American Journal of Political Science, 59(1), 37–54.

Goode, W. J. (1982). Why men resist. In B. Thornet & M. Yalom (Eds.), Rethinking the family: Some feminist questions (pp. 287–310). Longman.

Gurin, P. (1985). Women's gender consciousness. Public Opinion Quarterly, 49(2), 143–163.

Hall, E. J., & Rodriguez, M. S. (2003). The myth of postfeminism. Gender & Society, 17(6), 878–902.

Henderson-King, D. H., & Stewart, A. J. (1994). Women or feminists? Assessing women's group consciousness. Sex Roles, 31(9), 505–516.

hooks, B. (2000). Feminism is for everybody: Passionate politics. South End Press.

Huddy, L, & Willmann, J. (2017). Partisan sorting and the feminist gap in American politics. Working paper.

Huddy, L., Neely, F. K., & Lafay, M. R. (2000). Trends: Support for the women's movement. Public Opinion Quarterly, 64(3), 309–350.

Junn, J., & Masuoka, N. (2019). The gender gap is a race gap: Women voters in US presidential elections. Perspectives on Politics, 18, 1–11.

Klar, S. (2018). When common identities decrease trust: An experimental study of partisan women. American Journal of Political Science, 62(3), 610–622.

Kroløkke, C., & Sørensen, A. S. (2006). Gender communication theories & analyses: From silence to performance. Sage Publications.

Landrine, H., & Klonoff, E. A. (1997). Discrimination against women: Prevalence, consequences, remedies. Sage Publications.

Leaper, C., & Arias, D. M. (2011). College women's feminist identity: A multidimensional analysis with implications for coping with sexism. Sex Roles, 64(7–8), 475–490.

Liss, M., Crawford, M., & Popp, D. (2004). Predictors and correlates of collective action. Sex Roles, 50(11–12), 771–779.

MacWilliams, M. C. (2016). Who decides when the party doesn't? Authoritarian voters and the rise of Donald Trump. PS Political Science & Politics, 49(4), 716–721.

Mansbridge, J. J. (1985). Myth and reality: The ERA and the gender gap in the 1980 elections. Public Opinion Quarterly, 49(2), 164–178.

McCabe, J. (2005). What's in a label? The relationship between feminist self identification and "feminist" attitudes among US women and men. Gender & Society, 19(4), 480–505.

Oceno, M. (2020). The feminist paradox: How labels keep women candidates from equal representation. Ph.D. dissertation. University of Michigan. https://deepblue.lib.umich.edu/handle/2027.42/155249

Philpot, T. S. (2018). Race, gender, and the 2016 presidential election. Political Science and Politic, 51(4), 751–761.

Ratliff, K. A., Redford, L., Conway, J., & Smith, C. T. (2019). Engendering support: Hostile sexism predicts voting for Donald Trump over Hillary Clinton in the 2016 US presidential election. Group Processes & Intergroup Relations, 22(4), 578–593.

Reid, A., & Purcell, N. (2004). Pathways to feminist identification. Sex Roles, 50(11/12), 759–769.

Reny, T. T., Collingwood, L., & Valenzuela, A. A. (2019). Vote switching in the 2016 election: How racial and immigration attitudes, not economics, explain shifts in White voting. Public Opinion Quarterly, 83(1), 91–113.

Roy, R. E., Weibust, K. S., & Miller, C. T. (2007). Effects of stereotypes about feminists on feminist self-identification. Psychology of Women Quarterly, 31(2), 146–156.

Schaffner, B. F., MacWilliams, M., & Nteta, T. (2018). Understanding white polarization in the 2016 vote for president: The sobering role of racism and sexism. Political Science Quarterly, 133(1), 9–34.

Sears, D. O., & Huddy, L. (1992). On the origins of political disunity among women. In L. A. Tilly & P. Gurin (Eds.), Women, politics and change (pp. 249–277). Russell Sage Foundation.

Sharrow, E. A., Strolovitch, D. Z., Heaney, M. T., Masket, S. E., & Miller, J. M. (2016). Gender attitudes, gendered partisanship: Feminism and support for Sarah Palin and Hillary Clinton among party activists. Journal of Women, Politics & Policy, 37(4), 394–416.

Silver, N. (2017). The invisible undecided voter. https://fivethirtyeight.com/features/the-invisible-undecided-voter/.

Simien, E. M., & Clawson, R. A. (2004). The intersection of race and gender: An examination of black feminist consciousness, race consciousness, and policy attitudes. Social Science Quarterly, 85(3), 793–810.

Strolovitch, D. Z., Wong, J. S., & Proctor, A. (2017). A possessive investment in White heteropatriarchy? The 2016 election and the politics of race, gender, and sexuality. Politics, Groups, and Identities, 5(2), 353–363.

Swim, J. K., Aikin, K. J., Hall, W. S., & Hunter, B. A. (1995). Sexism and racism: Old-fashioned and modern prejudices. Journal of Personality and Social Psychology, 68(2), 199–214.

Tajfel, H. (1978). Social categorization, social identity and social comparison. In H. Tajfel (Ed.), Differentiation between social groups: Studies in the social psychology of intergroup relations (pp. 61–76). Academic Press Inc.

Tolbert, C. J., Redlawsk, D. P., & Gracey, K. J. (2018). Racial attitudes and emotional responses to the 2016 Republican candidates. Journal of Elections, Public Opinion and Parties, 28(2), 245–262.

Valentino, N. A., Wayne, C., & Oceno, M. (2018). Mobilizing sexism: The interaction of emotion and gender attitudes in the 2016 U.S. presidential election. Public Opinion Quarterly, 82(1), 213–235.

Williams, R., & Wittig, M. A. (1997). "I'm not a feminist, but…": Factors contributing to the discrepancy between pro-feminist orientation and feminist social identity. Sex Roles, 37(11–12), 885–904.

Zucker, A. N. (2004). Disavowing social identities: What it means when women say, "I'm not a feminist but…." Psychology of Women Quarterly, 28(4), 423–435.

Zucker, A. N., & Bay-Cheng, L. Y. (2010). Minding the gap between feminist identity and attitudes: The behavioral and ideological divide between feminists and non-labelers. Journal of Personality, 78(6), 1895–1924.
Acknowledgements
We are grateful to Nancy Burns, Elizabeth Cole, Donald Kinder, and Suzanne Mettler for helpful conversations and insightful feedback.
Funding
No funding was received to assist with the preparation of this manuscript.
Additional information
Publisher's Note
Springer Nature remains neutral with regard to jurisdictional claims in published maps and institutional affiliations.
Supplementary Information
Below is the link to the electronic supplementary material.
About this article
Cite this article
Oceno, M., Valentino, N.A. & Wayne, C. The Electoral Costs and Benefits of Feminism in Contemporary American Politics. Polit Behav (2021). https://doi.org/10.1007/s11109-021-09692-z
Keywords
Sexism

Feminism

Gender gap

Political identity

Public opinion

Voting behavior