Abstract
Unlike citizens in nearly all other democracies, most U.S. citizens bear the responsibility for registering to vote. We test whether states can help citizens overcome the barriers to registration and turnout using a simple postcard. To do this, we leverage a new program that brings states together to improve the quality of their voter registration rolls and generate lists of eligible but unregistered citizens. Using a unique list of eligible but unregistered citizens from the Pennsylvania Department of Transportation, we partnered with the Pennsylvania Department of State's Office to conduct a large-scale voter registration field experiment prior to the 2016 election. We provide new tests of traditional theories related to lowering the costs of registration as well as new theories related to promoting government responsiveness. We find that contact in the form of a single postcard from the Department of State led to a one percentage point increase in registration and a 0.9-point increase in turnout, regardless of the content of the postcard. Registration effects were strongest among young, first-time voters. Importantly, new registrants voted at a rate far exceeding rates found in previous registration drives.
Access options
Buy single article
Instant access to the full article PDF.
US$ 39.95
Tax calculation will be finalised during checkout.
Subscribe to journal
Immediate online access to all issues from 2019. Subscription will auto renew annually.
US$ 79
Tax calculation will be finalised during checkout.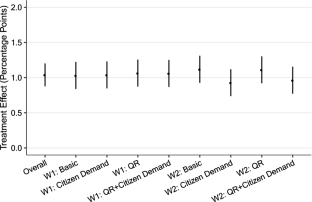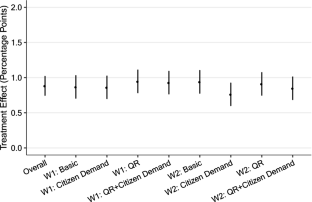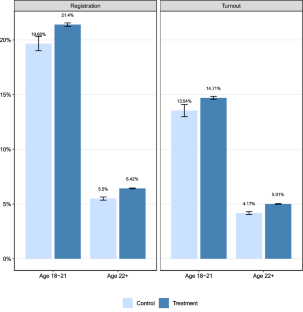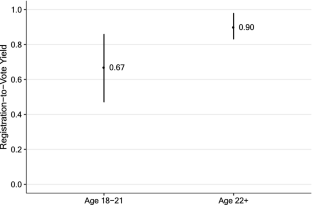 Notes
1.

2.

ERIC seeks to improve the accuracy of voter rolls by tracking moves within states, moves across ERIC states, and checking records against death records. States share the costs of obtaining information on deaths and changes of address and communicate with one another regarding moves across the member states. States are also required to contact those identified as EBUs and encourage them to register.

3.

Here and throughout, we refer to those who registered in 2016 as "new registrants" to distinguish them from those who did not register and those who were already registered.

4.

Although we did not pre-register the study our proposal to the funding organization included hypotheses related to this group.

5.

The research team and PA elections officials had hoped for a 2 to 3-week gap between the waves. The PA officials reported that issues with the agency used for printing and mailing caused a delay with sending out the wave 1 postcards.

6.

Standard statistical tests showed that the randomization process was successful as treatment assignment could not be predicted by available indicators (zip code and household size): Berks χ2 = 0.46, p = 0.79; Lehigh χ2 = 1.70, p = 0.43; Philadelphia: χ2 = 2.76, p = 0.25; Rest of State χ2 = 3.28, p = 0.19.

7.

We follow Ansolabehere and Hersh (2017), who find combinations of information from a handful of fields including name, date of birth, and address, can uniquely identify individuals. A small number could not be uniquely identified (N = 104). In these cases, an observation was selected at random. Because of the procedure used, all individuals in the EBU data who match to the voter file are treated as having registered, while those who do not match are treated as having not registered. We recognize that this approach can lead to errors whereby true registrants fail to meet the exact matching criteria, though this is ultimately the more conservative approach, biasing our treatment effects downward. While we initially attempted to use a probabilistic "fuzzy" matching approach as an alternate, a review of the matches showed an unacceptably large number of errors.

8.

The minimum detectable effect for a study with our sample was 0.28 percentage points.

9.

To determine whether any meaningful differences existed, we employed an F-Test on the registration (F = 1.44, p = 0.18) and voting rates (F = 1.62, p = 0.12) across the treatment conditions.

10.

We calculate vote yield via two-stage least squares regression, using registration as the instrument for turnout. See Gerber and Green (2012) for a demonstration.

11.

Using an estimated cost per postcard between $0.20 and $0.50, including printing and postage, we estimate the cost per additional registrant is between $19.19-$47.97 while the cost per vote is between $22.56-$56.39.

12.

We performed additional tests for heterogeneity of treatment effects looking at the party affiliation individuals selected on their registration forms. We did not find that new registrations significantly benefitted any particular party (results in Online Appendix B).

13.

Given that the results do not differ across treatments or waves, we present the remaining findings pooling respondents regardless of the card they received or the wave to which they were assigned.

14.

FairVote, which tracked 2016 campaign visits, noted that Pennsylvania was behind only Florida and North Carolina with 54 total visits. This represents 13.5 percent of all candidate events.
References
Ansolabehere, S., & Hersh, E. D. (2017). ADGN: An algorithm for record linkage using address, date of birth, gender, and name. Statistics and Public Policy,4(1), 1–10.

Arceneaux, K., & Nickerson, D. W. (2009). Who is mobilized to vote? A re-analysis of 11 field experiments. American Journal of Political Science,53(1), 1–16.

Bennion, E. A., & Nickerson, D. W. (2011). The cost of convenience: An experiment showing email outreach decreases voter registration. Political Research Quarterly,64, 858–869.

Bennion, E. A., & Nickerson, D. W. (2016). I will register and vote, if you teach me how: A field experiment testing voter registration in college classrooms. PS: Political Science & Politics,49(4), 867–871.

Dale, A., & Strauss, A. (2009). Don't forget to vote: Text message reminders as a mobilization tool. American Journal of Political Science,53(4), 787–804.

Duff, B., Hanmer, M. J., Park, W., & White, I. K. (2007). Good excuses: Understanding who registers with an improved turnout question. Public Opinion Quarterly,71(1), 67–90.

Gerber, A. S., & Green, D. P. (2012). Field experiments: Design, analysis, and interpretation. New York: W.W. Norton & Company.

Green, D. P., & Gerber, A. S. (2015). Get out the vote: How to increase voter turnout. Washington, DC: Brookings Institution Press.

Green, D. P., McGrath, M. C., & Aronow, P. M. (2013). field experiments and the study of voter turnout. Journal of Elections, Public Opinion & Parties,23(1), 27–48.

Hanmer, M. J. (2009). Discount voting: Voter registration reforms and their effects. Cambridge: Cambridge University Press.

Herrnson, P. S., Hanmer, M. J., & Koh, H. Y. (2018). Mobilization around new convenience voting methods: A field experiment to encourage voting by mail with a downloadable ballot and early voting. Political Behavior.,41, 871–895.

Kropf, M., & Kimball, D. (2012). Helping America vote. New York: Routledge.

Malhotra, N., Michelson, M. R., & Valenzuela, A. A. (2012). Emails from official sources can increase turnout. Quarterly Journal of Political Science,7(3), 321–332.

Mann, C. B., & Bryant, L. A. (2020). If you ask, they will come (to register and vote): Field experiments with state election agencies on encouraging voter registration. Electoral Studies,63, 102021.

Mendelson, J., & Romano Bergstrom, J. C. (2013). Age differences in the knowledge and usage of QR codes. In Stephanidis, C., & Antona M. (Eds.), Universal access in human-computer interaction. User and context diversity. Lecture notes in computer science (Vol. 8010). Berlin: Springer.

Menger, A., & Stein, R. M. (2018). Enlisting the public in facilitating election administration: A field experiment. Public Administration Review,78(6), 892–903.

Michelson, M. R., & Nickerson, D. W. (2011). Voter mobilization. In J. N. Druckman, D. P. Green, J. H. Kuklinski, & A. Lupia (Eds.), Cambridge handbook of experimental political science. Cambridge: Cambridge University Press.

Nickerson, D. W. (2015). Do voter registration drives increase participation? For whom and when? The Journal of Politics,77(1), 88–101.

Nickerson, D. W. (2007). Quality is job one: Professional and volunteer voter mobilization calls. American Journal of Political Science,51(2), 269–282.

Nickerson, D. W. (2005). Scalable protocols offer efficient design for field experiments. Political Analysis,13(3), 233–252.

Niemi, R. G., Craig, S. C., & Mattei, F. (1991). Measuring internal political efficacy in the 1988 national election study. American Political Science Review,85(4), 1407–1413.

Panagopoulos, C. (2011). Timing is everything? Primacy and recency effects in voter mobilization. Political Behavior,33(1), 79–93.

Piven, F. F., & Cloward, R. A. (2000). Why Americans still don't vote: And why politicians want it that way. Boston: Beacon Press.

Powell, G. B. (1986). American voter turnout in comparative perspective. American Political Science Review,80(1), 17–43.

Radwanick, S. (2011). 14 Million Americans scanned QR codes on their mobile phones in June 2011. Press release, comScore. Retrieved July 11, 2018, from https://www.comscore.com/Insights/Press-Releases/2011/8/14-Million-Americans-Scanned-QR-or-Bar-Codes-on-their-Mobile-Phones-in-June-2011.

Salesforce Marketing Cloud. (2014). 2014 Mobile behavior report: Combining mobile device tracking and consumer survey data to build a powerful mobile strategy. Retrieved July 11, 2018, from https://brandcdn.exacttarget.com/sites/exacttarget/files/deliverables/etmc-2014mobilebehaviorreport.pdf.

Schneider, A., & Ingram, H. (1990). Behavioral assumptions of policy tools. The Journal of Politics,52(2), 510–529.

Stein, R. M., Mann, C. B., Vonnahme, G. W., Bryant, L. A., & Atkeson, L. A. (2012). When is it convenient to vote? Testing alternative methods of voting in two large field experiments. Presented at the Midwest Political Science Association annual meeting, Chicago, IL, 12–15 April.

U.S. Census Bureau. (2008). Voting and registration in the election of November 2006. Current Population Reports.

Verba, S., Schlozman, K. L., & Brady, H. E. (1995). Voice and equality: Civic voluntarism in American politics. Cambridge, MA: Harvard University Press.

Wolfinger, R. E., & Rosenstone, S. J. (1980). Who votes?. New Haven: Yale University Press.
Acknowledgements
For their tremendous support throughout the project we owe a special debt to Sam Derheimer and Keara Costaldo. As with Sam and Keara, this project would not have been possible without the outstanding work of Ericka Haas, Shane Hamlin, and John Lindback at ERIC and Marian Schneider, Michael Moser and their team at the PA Department of State. Chris Mann's advice throughout the project was invaluable. We also thank David Becker, Heather Creek, Tate Hausman, and Patrick Ruffini for their contributions in the early stages of the project. For guidance on Post Office requirements we thank Moose, aka Kenneth McMillan. For helpful comments and advice we thank Dan Biggers, Barry Burden, Judd Choate, Bernard Fraga, Analia Gomez-Vidal, Don Green, Eric McGhee, David Nickerson, Stella Rouse, seminar participants at Georgetown University and The University at Buffalo, and participants at the 2018 Election Sciences Reform and Administration conference at the University of Wisconsin. We thank the editors and reviewers for their thoughtful suggestions. All errors are our own. Replication data and code are at the Political Behavior Dataverse: https://doi.org/10.7910/DVN/RINGFV.
Funding
Support for this project was provided by The Pew Charitable Trusts (Grant No. 29785). The views expressed herein are those of the authors and do not necessarily reflect the views of The Pew Charitable Trusts.
Additional information
Publisher's Note
Springer Nature remains neutral with regard to jurisdictional claims in published maps and institutional affiliations.
Electronic supplementary material
Below is the link to the electronic supplementary material.
About this article
Cite this article
Bryant, L.A., Hanmer, M.J., Safarpour, A.C. et al. The Power of the State: How Postcards from the State Increased Registration and Turnout in Pennsylvania. Polit Behav (2020). https://doi.org/10.1007/s11109-020-09625-2
Keywords
Turnout

Registration

Field experiment

Voting