'Today you are You,

That is truer than true.

There is no one alive who is Youer than You' – (Dr. Seuss 1959)
Abstract
In recent electoral contests, political observers and media outlets increasingly report on the level of "authenticity" of political candidates. However, even though this term has become commonplace in political commentary, it has received little attention in empirical electoral research. In this study, we identify the characteristics that we argue make a politician "authentic". After theoretically discussing the different dimensions of this trait, we propose a survey battery aimed at measuring perceptions of the authenticity of political candidates. Testing our measure using data sets from different countries, we show that the answers to our items load on one latent concept that we call "authenticity". Furthermore, perceptions of candidate authenticity correlate strongly with evaluations of political parties and leaders, and with vote intention, while they are empirically distinguishable from other traits. We conclude that candidate authenticity is an important trait that should be taken into account by future research.
Access options
Buy single article
Instant access to the full article PDF.
USD 39.95
Price includes VAT (USA)
Tax calculation will be finalised during checkout.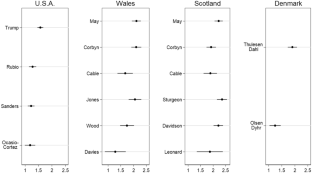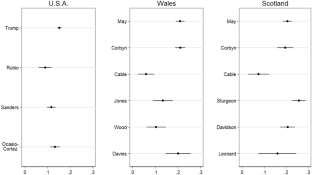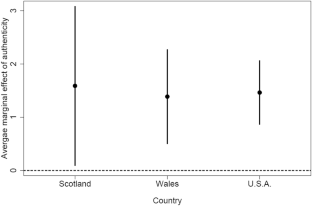 Notes
1.

Figures from April 2019, for instance, show that only 17% of Americans trust the government in Washington to do what is right 'just about always' or 'most of the time' (Pew Research Center 2019).

2.

"Alexandria Ocasio-Cortez's viral campaign video was a masterclass in authenticity" (Colton 2018), "What if Donald Trump is an authentic douchebag?" (Potter 2017), "Nigel Farage Sounds 'More Authentic' Than Us, Warns Labour's Margaret Hodge" (Simons 2015), "Mrs May is no longer winning the battle for authenticity—Mr Corbyn is" (Moore 2017), "The Authenticity of Jacinda Ardern" (Michail 2018).

3.

A commercial news data base that contains 35,000 news sources in 200 countries. [Consulted December 2018].

4.

5.

When a politician exerts democratically antithetical values authentically, they may gain support among a part of their parties' supporters that adhere to such values. However, two cautionary notes need to be made here. First, one's "true self" can be at odds with core democratic values to such an extent that it decreases overall public support. Second, by no means do we argue that authenticity is only beneficial for increasing support among in-partisans. As with other traits that can be conceived desirable, authenticity can increase support among many, if not all, parts of the electorate, due to the reasons discussed above.

6.

In a search of the New York Times online archive from 1 January 1981 to 8 April 2019, the phrases "authentic" and "populist" appear together in 318 articles.

7.

See Online Appendix C for a list of such statements, used in our research.

8.

For a recent comprehensive comparative collection on political leadership characteristics and democratic elections, see Aarts et al. (2013).

9.

With this item, we are capturing perceptions of whether a candidate has convictions. These convictions may be judged "good" or "bad"; however, the test item is value-neutral in that regard, simply assessing whether the candidate is perceived to act from some conviction he or she holds. This then differentiates it from the "honest" and "moral" items that are used for other standard measures, such as integrity.

10.

Initially, we phrased this item as follows: 'candidate X's public persona is the same as their private persona'. When we fielded the pilot study, the respondents seemed to be able to respond to all the questions about one candidate. However, in the Welsh and the Scottish data, we recorded very high numbers of missing values (i.e., "don't know" answers) on the last item—even for the better-known candidates. In the Danish data we obtained even higher levels of missing answers (see Online Appendix B). Apparently, respondents were not able to judge the private persona of political candidates, or they did not understand the word "persona" itself. Hence, as this item seems to be problematic and listwise deletion would result in the loss of many observations, we exclude this item from the analyses reported below. Furthermore, as an alternative, and following the suggestion by an anonymous reviewer, we replaced the question with the current item in the survey fielded in the U.S. In this survey, we were also able to distinguish respondents not knowing the candidate from respondents knowing the candidate but not being able to answer the question. This showed us that, of the respondents knowing each respective candidate, about 20% were not able to answer this last question (see Online Appendix B). While this proportion is lower than that for the original question, it is still somewhat higher than that of the other items. Hence, future studies might want to look for alternatives to improve the measure of this dimensions of authenticity even more.

11.

In the U.S. survey, we used a slightly adjusted scale: (1) strongly disagree, (2) disagree, (3) somewhat disagree, (4) neither agree nor disagree, (5) somewhat agree, (6) agree, (7) strongly agree.

12.

We also conducted a pilot study among first year bachelor students in political science at KU Leuven (Belgium). The students seemed to be able to answer all our questions, and the answers seemed to be substantially correlated and to load onto one latent factor.

13.

Note that here we report analyses based on a long data set. The full tables—for every candidate separately—are included in Online Appendix D.

14.

We do not include the results of the Belgian data, as there were only two authenticity items included.

15.

Note that we work with a long data set. The full tables—for every candidate separately—are included in Online Appendix E.

16.

In Denmark, we do not have candidate evaluations, so we use the evaluation of their respective parties.

17.

We also tested whether authentic behavior brings politically disenchanted voters back into the process. As a preliminary test, we included in each model an interaction between perceptions of authenticity and political interest. The results, reported in Online Appendix G, show that there is a strong correlation between authenticity and general evaluations for the least interested voters, and there is no evidence for a significant difference at higher levels of interest. Hence, it seems like perceptions of authenticity work in the same way for interested and uninterested voters alike.

18.

Note that we do not include the Spanish data in this analysis, as the traits were measured with one item only.

19.

We also conducted the factor analysis for the U.S. data on those items that were included in Belgium as well. The results are reported in Online Appendix K.

20.

In principle, these models are problematic, as the different traits that are included as independent variables are strongly correlated. Therefore, rather than attempting to present a full model of the vote, we estimate fixed-effects conditional logit models only including the variables of specific interest here.

21.

Note that we only include the U.S. data in these analyses, as only in this data set do we dispose of measures of different politicians.
References
Aaldering, L., & Van Der Pas, D. (forthcoming). Political leadership in the media: Gender bias in leader stereotypes during campaign and routine times. British Journal of Political Science, accepted.

Aarts, K., Blais, A., & Schmitt, H. (Eds.). (2013). Political leaders and democratic elections. Oxford: Oxford University Press.

Akkerman, A., Mudde, C., & Zaslove, A. (2013). How populist are the people? Measuring populist attitudes in voters. Comparative Political Studies, 47(9), 1324–1353.

Allen, N., & Birch, S. (2011). Political conduct and misconduct: Probing public opinion. Parliamentary Affairs, 64(1), 61–81.

Allen, N., Birch, S., & Sarmiento-Mirwaldt, K. (2018). Honesty above all else? Expectations and perceptions of political conduct in three established democracies'. Comparative European Politics, 16(3), 511–534.

Alvarez, M., & Nagler, J. (1998). When politics and models collide: Estimating models of multiparty elections. American Journal of Political Science, 42(1), 55–96.

Bartels, L. (2002). Beyond the running tally: Partisan bias in political perceptions. Political Behavior, 24(2), 117–150.

Benoit, W. L., & McHale, J. P. (2003). Presidential candidates' television spots and personal qualities. Southern Communication Journal, 68(4), 319–334.

Bittner, A. (2011). Platform or personality—The role of leaders in democratic elections. Oxford: Oxford University Press.

Brewer, P. R., Hoffman, L. H., Harrington, R., Jones, P. E., & Lambe, J. (2014). Public perceptions regarding the authenticity of the 2012 presidential candidates. Presidential Studies Quarterly, 44(4), 742–757.

Buendgens-Kosten, J. (2014). Authenticity. ELT Journal, 68(4), 457–459.

Campbell, R. (2017), Authenticity. BBC analysis. http://www.bbc.co.uk/programmes/b09dxddw.

Campbell, A., Converse, P., Miller, W., & Stokes, D. (1966). Elections and the political order. New York: Wiley.

Caza, Arran, Bagozzi, Richard P., Wooley, Lydia, Levy, Lester, & Caza, Brianna Barker. (2010). Psychological capital and authentic leadership: Measurement, gender and cultural extension. Asia-Pacific Journal of Business Administration, 2(1), 53–70.

Clapp-Smith, R., Vogelgesang, G. R., & Avey, J. B. (2009). Authentic leadership and positive psychological capital: The mediating role of trust at the group level of analysis. Journal of Leadership & Organizational Studies, 15(3), 227–240.

Clarke, N., Jennings, W., Moss, J., & Stoker, G. (2018). The good politician. Folk theories, political interaction, and the rise of anti-politics. Cambridge: Cambridge University Press.

Clarke, H. D., Whitely, P., Sanders, D., & Stewart, M. (2004). Political choice in Britain. Oxford: Oxford University Press.

Colton, A. (2018). The trap of political authenticity. The Outline. https://theoutline.com/post/5373/the-trap-of-political-authenticity.

Conger, J. A., Kanungo, R. N., & Menon, S. T. (2000). Charismatic leadership an follower effects. Journal of Organizational Behavior, 21(7), 747–767.

Coppock, A., & McClellan, O. A. (2019). Validating the demographic, political, psychological, and experimental results obtained from a new source of online survey respondents. Research and Politics, 6, 1–14.

Costa Lobo, M., & Curtice, J. (Eds.). (2015). Introduction. In Personality politics? The role of leader evaluations in democratic elections (pp. 1–16). Oxford: Oxford University Press.

Dalton, R. (2008). The quantity and quality of party systems: Party system polarization, its measurement, and its consequences. Comparative Political Studies, 41(7), 899–920.

Dassonneville, R., Feitosa, F., Hooghe, M., Lau, R. R., & Stiers, D. (2019). Compulsory voting rules, reluctant voters and ideological proximity voting. Political Behavior, 41(1), 209–230.

Dassonneville, R., & Stiers, D. (2018). Electoral volatility in Belgium (2009-2014). Is there a difference between stable and volatile voters? Acta Politica, 53(1), 68–97.

Dr. Seuss (1959). Happy birthday to you. New York: Random House.

Dumitrica, D. (2014). Politics as 'customer relations': Social media and political authenticity in the 2010 municipal elections in Calgary, Canada. Javnost—The Public, 21(1), 53–69.

Funk, C. (1999). Brinking the candidate into models of candidate evaluation. Journal of Politics, 31(3), 700–720.

Garzia, D. (2017). Voter Evaluation of Candidates and Party Leaders. In K. Arzheimer, J. Evans, & M. S. Lewis-Beck (Eds.), The SAGE handbook of electoral behaviour (Vol. 2, pp. 633–653). London: Sage.

Goren, P. (2007). Character weakness, partisan bias, and presidential evaluation: Modifications and extensions'. Political Behavior, 29(3), 305–325.

Grow, G., & Ward, J. (2013). The role of authenticity in electoral social media campaigns. First Monday, 18(4). https://doi.org/10.5210/fm.v18i4.4269.

Hagel, N. (2017). Truth, the self, and political critique: Authenticity and radical politics in 1960s America. Polity, 49, 220–244.

Hayes, D. (2005). Candidate qualities though a partisan lens: A theory of trait ownership. American Journal of Political Science, 49(4), 908–923.

Hencke, D. (1996), Short Flays Blair's 'Dark Men'. The Guardian, https://www.theguardian.com/politics/1996/aug/08/labour.uk.

Holian, D. B., & Prysby, C. L. (2015). Candidate character traits in presidential elections. New York: Routledge.

Ilies, R., Morgeson, F. P., & Nahrgang, J. D. (2005). Authentic leadership and Eudaemonic well-being: Understanding leader-follower outcomes. The Leadership Quarterly, 16(3), 373–394.

Iyengar, S., & Krupenkin, M. (2018). The strengthening of Partisan affect. Political Psychology, 39(S1), 201–218.

Jones, B. (2016). Authenticity in political discourse. Ethical Theory and Moral Practice, 19(2), 489–504.

Kearney, R. (1994). Modern movements in European philosophy (2nd ed.). Manchester: Manchester University Press.

Kinder, D. (1986). Presidential character revisited. In R. R. Lau & D. O. Sears (Eds.), Political cognition (pp. 233–255). Hillside: Earlbaum.

King, A. (2002). Do leaders' personalities realy matter? In A. King (Ed.), Leaders' personalities and the outcomes of democratic elections (pp. 1–44). Oxford: Oxford University Press.

Kuran, T. (2016). The authenticity deficit in modern politics. Cato Unbound. https://www.cato-unbound.org/2016/03/07/timur-kuran/authenticity-deficit-modern-politics.

Laustsen, L., & Bor, A. (2017). The relative weight of character traits in political candidate evaluations: Warmth is more important than competence, leadership and integrity. Electoral Studies, 49, 96–107.

Layman, G. C., Carsey, T. M., & Horowitz, J. M. (2006). Party polarization in American politics: Characteristics, causes, and consequences. Annual Review of Political Science, 9, 83–110.

Leary, M. (2016). Psychology shows why we shouldn't elect 'authentic' candidates like Donald Trump. Quartz. https://qz.com/754055/psychology-shows-we-shouldnt-elect-authentic-candidates-like-donald-trump/.

Lewis-Beck, M. S., & Nadeau, R. (2015). Between leadership and charisma, the importance of leaders. In M. Costa Lobo & J. Curtice (Eds.), Personality politics? The role of leader evaluations in democratic elections (pp. 169–190). Oxford: Oxford University Press.

Lewis-Beck, M. S., & Tien, C. (2018). Candidates and campaigns: How they alter election forecasts. Electoral Studies, 54, 302–308.

McAllister, I. (2007). Personalization of politics. In R. Dalton & H.-D. Klingemann (Eds.), The Oxford handbook of political behavior (pp. 571–588). Oxford: Oxford University Press.

McDermott, M. L., Schwartz, D., & Vallejo, S. (2015). Talking the talk but not walking the walk: Public reactions to hypocrisy in political Scandal. American Politics Research, 43(6), 952–974.

Merolla, J. L., Ramos, J. M., & Zechmeister, J. M. (2007). Crisis, charisma, and consequences: Evidence from the 2004 U.S. Presidential Election. Journal of Politics, 69(1), 30–42.

Merolla, J. L., & Zechmeister, E. J. (2011). The nature, determinants, and consequences of Chávez's Charisma: Evidence from a study of Venezuelan Public Opinion. Comparative Political Studies, 44(1), 28–54.

Michail, J. (2018). The authenticity of Jacinda Ardern. International Policy Digest. https://intpolicydigest.org/2018/09/10/the-authenticity-of-jacinda-ardern/.

Miller, W. E., & Shanks, M. J. (1996). The new American voter. Cambridge: Harvard University Press.

Miller, A. H., Wattenberg, M. P., & Malanchuk, O. (1986). Schematic assessments of presidential candidate. American Political Science Review, 80(2), 521–540.

Moore, C. (2017). Mrs May no longer winning the battle for authenticity—Mr Corbyn Is. The Telegraph. https://www.telegraph.co.uk/news/2017/06/02/mrs-may-no-longer-winning-battle-authenticity-jeremy-corbyn/.

Mudde, C. (2004). The populist zeitgeist. Government and Opposition, 39(4), 542–563.

Mudde, C., & Kaltwasser, C. R. (2017). Populism: A very short introduction. Oxford: Oxford University Press.

Mughan, A. (2000). Media and the presidentialization of parliamentary elections. Basingstoke: Palgrave Macmillan.

Müller, J.-W. (2017). What is Populism?. UK: Penguin.

Parry-Giles, S. J. (2014). Hilary clinton in the news: Gender and authenticity in American politics. Urbana, IL: University of Illinois Press.

Pew Research Center. (2019). Public Trust in Government: 1958-2019. Pew Research Center. https://www.people-press.org/2019/04/11/public-trust-in-government-1958-2019/.

Poguntke, T., & Webb, P. (Eds.). (2005). The presidentialization of politics. A comparative study of modern democracies. Oxford: Oxford University Press.

Potter A. (2017). What if Donald Trump is an authentic Douchebag? In Due Course. http://induecourse.ca/what-if-donald-trump-is-an-authentic-douchebag/.

Prysby, C. (2008). Perceptions of candidate character traits and the presidential vote in 2004. PS: Political Science and Poltics, 41(1), 115–122.

Rico, G., & Anduiza, E. (2019). Economic correlates of populist attitudes: An analysis of nine European Countries in the aftermath of the great recession. Acta Politica, 54(3), 371–397.

Shamir, Boas, & Eilam-Shamir, Galit. (2005). 'What's your story?' A life-stories approach to authentic leadership development. The Leadership Quarterly, 16, 395–417.

Simons, N. (2015). Nigel Farage Sounds 'More Authentic' Than Us, Warns Labour's Margaret Hodge. Huffington Post. https://www.huffingtonpost.co.uk/2015/01/17/nigel-farage-is-authentic-which-is-why-he-is-popular_n_6492622.html

Sparrowe, Raymond T. (2005). Authentic leadership and the narrative self. The Leadership Quarterly, 16(3), 419–439.

Starr, P. (2016). 'Spare Us from Authenticity'. Cato Unbound. https://www.cato-unbound.org/2016/03/09/paul-starr/spare-us-authenticity

Stiers, D. (2019). Beyond the distinction between incumbency and opposition: Retrospective voting at the level of political parties. Party Politics, 25(6), 805–816.

Umbach, M., & Humphrey, M. (2018). Authenticity: The cultural history of a political concept. Basingstoke: Palgrave Macmillan.

Walumbwa, F. O., Avolio, B. J., Gardner, W. M., Wernsing, T. S., & Peterson, S. J. (2008). Authentic leadership: Development and validation of a theory-based measure. Journal of Management, 34(1), 89–126.
Acknowledgements
This study benefitted from the generous support of many people and institutions. The idea for this project originated in the 2017 edition of the Leuven-Montréal Winter School on Elections at KU Leuven which was attended by all authors. We thank Kees Aarts for the initial idea to work on this topic. We thank Roger Awan-Scully, Rune Stubager, Marc Hooghe, and Jordi Muñoz, for kindly agreeing to include our questions in their surveys. We presented this project at several occasions, including the MPSA annual conference (2018), the APSA annual meeting and exhibition (2018, 2019), and the ISPP annual meeting (2019). We thank all participants for their suggestions and feedback, and are specially grateful to Mary Stegmaier, Itumeleng Makgetla, Lasse Laustsen, Quinn Albaugh, and Ruth Dassonneville. We also thank the editors and three anonymous reviewers of the journal for their very valuable feedback. For research funding, we acknowledge the support of the Canada Research Chair in Electoral Democracy. Stiers acknowledges the financial support of the Research Foundation Flanders. Breitenstein acknowledges the support through an FPI Grant (BES-2015-072756) from the Spanish Ministry of Economy and Competitivity and the European Social Fund, and the Projects "Political Change in Spain: Populism, Feminism and new dimensions of conflict" (CSO2017-83086-R) and "LIMCOR: Limits to political corruption" (Fundació La Caixa 2016 ACUPO177).
Additional information
Publisher's Note
Springer Nature remains neutral with regard to jurisdictional claims in published maps and institutional affiliations.
Electronic supplementary material
Below is the link to the electronic supplementary material.
About this article
Cite this article
Stiers, D., Larner, J., Kenny, J. et al. Candidate Authenticity: 'To Thine Own Self Be True'. Polit Behav 43, 1181–1204 (2021). https://doi.org/10.1007/s11109-019-09589-y
Keywords
Authenticity

Candidate traits

Political candidates

Elections