Abstract
Election outcomes are often influenced by political scandals. While a scandal usually has negative consequences for the ones being accused of a transgression, political opponents and even media outlets may benefit. Anecdotal evidence suggests that certain scandals could be orchestrated, especially if they are reported right before an election. This study examines the timing of news coverage of political scandals relative to the national election cycle in Germany. Using data from electronic newspaper archives, we document a positive and highly significant relationship between coverage of government scandals and the election cycle. On average, one additional month closer to an election increases the amount of scandal coverage by 1.3%, which is equivalent to a 62% difference in coverage between the first and the last month of a four-year cycle. We provide suggestive evidence that this pattern can be explained by political motives of the actors involved in the production of scandal, rather than business motives by the newspapers.
This is a preview of subscription content, log in to check access.
Access options
Buy single article
Instant access to the full article PDF.
US$ 39.95
Price includes VAT for USA
Subscribe to journal
Immediate online access to all issues from 2019. Subscription will auto renew annually.
US$ 99
This is the net price. Taxes to be calculated in checkout.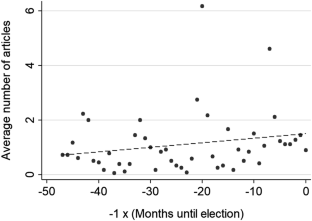 Notes
1.

Thus scandal coverage could be a result of investigative journalism.

2.

We did not limit our analysis to the two full election cycles to make use of all available information and maximize the number of observations in the regressions. Robustness checks indicate that we obtain very similar results when we exclude the two partial election cycles (cp. Table A6).

3.

4.

Focusing on politicians rather than parties does not affect our set of scandals, since politicians are nested within parties. Even cases that could be classified as party-level scandals (e.g., "CDU party donations affair") involve specific politicians (e.g., Manfred Kanther and Ludwig-Holger Pfahls). As a consequence, there are hardly any scandal reports that do not reference an individual actor (i.e., approximately less than 0.01% of all retrieved articles), which confirms previous findings on the personalization of scandals (e.g., Kepplinger 2009; Sikorski 2016).

5.

We used a 10 percent sample of the 14,032 articles to determine the inter-rater reliability when selecting relevant articles. The values of Brennan–Prediger's kappa are 0.96 (scandal vs. no scandal), 0.98 (politician vs. other profession), 1.00 (domestic vs. foreign case), and 0.97 (national vs. local level).

6.

If the date or time period of the transgression could not be found in the scandal coverage itself, we used news archives and search engines to research this information. Thus the actual time of the transgression could also be based on other news reports, parliamentary protocols, or database entries. For most scandals the time of the transgression is common knowledge and was thus straightforward to determine. In less clear cases we verified the information by at least two independent, credible sources. See Table A2 for details.

7.

Nyhan (2015) also emphasizes the degree of congestion of the overall news agenda as a factor that determines if a scandal emerges or not. However, variation in news pressure can be mostly observed at a daily or weekly level, whereas we do not expect significant differences across months (our level of observation).

8.

Unfortunately, this survey item is only consistently available for the West German elective population. We are not aware of data capturing East Germany on a monthly basis. The western part accounts for roughly 80% of the German population though, which is why we do not expect that omitting government popularity in East Germany could significantly distort our results. If opinions in East Germany differ from those in West Germany, and the newspapers in our sample cater to reader preferences, they would likely focus on the nation's majority views.

9.

The database does not contain the end date of the investigations. Thus we cannot control for the duration of the proceedings. However, our main goal is to account for the emergence of scandal, for which the initiation of a criminal investigation likely is the strongest predictor, especially because the corresponding parliamentary event guarantees that the public can learn about these cases.

10.

The autocorrelation functions plotted in Figure A1 indicate autocorrelation of order 1.

11.

The estimation of PAR(p) models involves a measurement equation, an equation for the autoregressive process, and a conjugate prior (Brandt and Williams 2001). In combination with multiple sets of fixed effects (i.e., at the newspaper, government, and month levels), the convergence problems likely reflect that the specifications are too complex for the data (Greene 2004). We also considered collapsing our data to a single time series by summing up the number of articles over the six newspapers. However, this aggregation involves a loss of information and ignores heterogeneity across newspapers. Importantly, PAR(p) models still fail to converge in most cases when using the collapsed data.

12.

The amount of money spent on ads in newspapers varies over the course of the year (e.g., more ads before Christmas, less ads in the summer; see, e.g., Gijsenberg 2017), which affects the overall number of pages of individual newspaper editions (e.g., "thinner" newspapers in the summer, "thicker" newspapers before Christmas). The reason is that newspapers usually have a fixed ratio of editorial to advertising content.

13.

The regressions shown in Table 3 are estimated at the newspaper-quarter level, since the data on the newspapers' paid circulation are not available at a monthly frequency. The frequency of measurement of the remaining variables in the regressions in that table was modified accordingly; i.e., by computing the quarterly sum of articles, and the quarterly means of the publication delay, the election cycle, and the control variables.

14.

The absence of a significant relationship between newspaper circulation and scandal coverage could imply that the outlets do have business motives, but that their strategy is simply not successful. Thus, again, we emphasize that our evidence on the distinction between business and political motives is merely suggestive. The interpretation of the results is further limited by the quarterly frequency of the observations. It is possible that a significant relationship could be found when using monthly or daily figures, but these data are not available.

15.

In practice, however, the demands of the audience that editors and journalists are dealing with are only assumed demands; i.e., newspapers do not exactly know what readers expect. In addition, findings based on two partial and two full election cycle have to be interpreted with caution, since the pattern might differ between periods of governance (e.g., Norpoth and Gschwend 2003).
References
Arango-Kure, M., Garz, M., & Rott, A. (2014). Bad news sells: The demand for news magazines and the tone of their covers. Journal of Media Economics,27, 199–214.

Basinger, S. J. (2013). Scandals and congressional elections in the post-watergate era. Political Research Quarterly,66, 385–398.

Baum, M. A. (2003). Soft news and political knowledge: Evidence of absence or absence of evidence? Political Communication,20, 173–190.

Becker, G. S., & Stigler, G. J. (1974). Law enforcement, malfeasance, and compensation of enforcers. Journal of Legal Studies,3, 1–18.

Bowler, S., & Karp, J. A. (2004). Politicians, scandals, and trust in government. Political Behavior,26, 271–287.

Brandt, P. T., & Williams, J. T. (2001). A linear poisson autoregressive model: The poisson AR(p) model. Political Analysis,9, 164–184.

Bucy, E. P., D'Angelo, P., & Bauer, N. M. (2014). Crisis, credibility, and the press: A priming model of news evaluation. The International Journal of Press/Politics,19, 453–475.

Budak, C., Goel, S., & Rao, J. M. (2016). Fair and balanced? Quantifying Media bias through crowdsourced content analysis. Public Opinion Quarterly,80, 250–271.

Burden, B. C. (2002). When bad press is good news—the surprising benefits of negative campaign coverage. The International Journal of Press/Politics,7, 76–89.

Caldero, M. A., Dailey, J. D., & Withrow, B. L. (2018). Police ethics: The corruption of noble cause. New York: Routledge.

Costas-Pérez, E., Solé-Ollé, A., & Sorribas-Navarro, P. (2012). Corruption scandals, voter information, and accountability. European Journal of Political Economy,28, 469–484.

Couttenier, M., & Hatte, S. (2016). Mass media effects on non-governmental organizations. Journal of Development Economics,123, 57–72.

Doherty, D., Dowling, C. M., & Miller, M. G. (2011). Are financial or moral scandals worse? It depends. PS: Political Science and Politics,44, 749–757.

Doherty, D., Dowling, C. M., & Miller, M. G. (2014). Does time heal all wounds? Sex scandals, tax evasion, and the passage of time. PS: Political Science and Politics,47, 357–366.

Druckman, J. N. (2005). Does political information matter? Political Communication,22, 515–519.

Durante, R., & Zhuravskaya, E. (2018). Attack when the world is not watching? US news and the Israeli-Palestinian conflict. Journal of Political Economy,126, 1085–1133.

Esser, F. (1999). `Tabloidization' of news: A comparative analysis of Anglo-American and German Press journalism. European Journal of Communication,14, 291–324.

Fischle, M. (2000). Mass response to the Lewinsky scandal: Motivated reasoning or Bayesian updating? Political Psychology,21, 135–159.

Fogarty, B. J. (2008). The strategy of the story: Media monitoring legislative activity. Legislative Studies Quarterly,333, 445–469.

Fogarty, B. J. (2013). Scandals, news coverage, and the 2006 congressional elections. Political Communication,30, 419–433.

Fogarty, B. J., & Monogan, J. E., III. (2014). Modeling time-series count data: The unique challenges facing political communication studies. Social Science Research,45, 73–88.

Galtung, J., & Ruge, M. H. (1965). The structure of foreign news: The presentation of the Congo, Cuba and Cyprus crises in four norwegian newspapers. Journal of Peace Research,2, 64–91.

Galvis, Á. F., Snyder, J. M., Jr., & Song, B. K. (2016). Newspaper market structure and behavior: Partisan coverage of political scandals in the United States from 1870 to 1910. Journal of Politics,78, 368–381.

Garz, M. (2014). Good news and bad news: Evidence of media bias in unemployment reports. Public Choice,161, 499–515.

Garz, M., & Maaß, S. (2018). Cartels in the European Union, antitrust action, and public attention. Working Paper.

Garz, M., & Sörensen, J. (2017). Politicians under investigation: The news media's effect on the likelihood of resignation. Journal of Public Economics,153, 82–91.

Gentzkow, M., & Shapiro, J. M. (2006). Media bias and reputation. Journal of Political Economy,114, 280–316.

Gijsenberg, M. J. (2017). Riding the waves: Revealing the impact of intrayear category demand cycles on advertising and pricing effectiveness. Journal of Marketing Research,54, 171–186.

Greene, W. (2004). The behaviour of the maximum likelihood estimator of limited dependent variable models in the presence of fixed effects. Econometrics Journal,7, 98–119.

Hamel, B. T., & Miller, M. G. (2018). How voters punish and donors protect legislators embroiled in scandal. Political Research Quarterly,72(1), 117–131.

Hirano, S., & Snyder, J. M., Jr. (2012). What happens to incumbents in scandals? Quarterly Journal of Political Science,7, 447–456.

Jones, D. A. (2004). Why Americans don't trust the media: A preliminary analysis. The International Journal of Press/Politics,9, 60–75.

Kepplinger, H. M. (2009). Publizistische Konflikte und Skandale. Wiesbaden: VS Verlag für Sozialwissenschaften.

Kepplinger, H. M., Brosius, H.-B., & Staab, J. F. (1991). Instrumental actualization: A theory of mediated conflicts. European Journal of Communication,6, 263–290.

Kepplinger, H. M., Ehmig, S. C., & Hartung, U. (2002). Alltägliche Skandale: Eine repräsentative Analyse regionaler Fälle. Konstanz: UVK Medien.

Kepplinger, H. M., Geiss, S., & Siebert, S. (2012). Framing scandals: Cognitive and emotional media effects. Journal of Communication,62, 659–681.

Larcinese, V., & Sircar, I. (2017). Crime and punishment the British way: Accountability channels following the MPs' expenses scandal. European Journal of Political Economy,47, 75–99.

Latham, O. (2015). Lame ducks and the media. Economic Journal,125, 1918–1951.

Lazarus, J. (2008). Incumbent vulnerability and challenger entry in statewide elections. American Politics Research,36, 108–129.

Magin, M. (2017). Attention, please! Structural influences on tabloidization of campaign coverage in German and Austrian elite newspapers (1949–2009). Journalism. https://doi.org/10.1177/1464884917707843.

Mitchell, D.-G. (2014). Here today, gone tomorrow? Assessing how timing and repetition of scandal information affects candidate evaluations. Political Psychology,35, 679–701.

Mullainathan, S., & Shleifer, A. (2005). The market for news. American Economic Review,95, 1031–1053.

Norpoth, H., & Gschwend, T. (2003). Against all odds? The red-green victory. German Politics and Society,21, 15–34.

Nyhan, B. (2015). Scandal potential: How political context and news congestion affect the president's vulnerability to media scandal. British Journal of Political Science,45, 435–466.

Nyhan, B. (2017). Media scandals are political events: How contextual factors affect public controversies over alleged misconduct by U.S, Governors. Political Research Quarterly,70, 223–236.

Palmer, J. (2000). Spinning into control: News values and source strategies. London/New York: Leicester University Press.

Pereira, M. M., & Waterbury, N. W. (2018). Do voters discount political scandals over time? Political Research Quarterly.,72(3), 584–595.

Peters, J. G., & Welch, S. (1980). The effects of charges of corruption on voting behavior in congressional elections. American Political Science Review,74, 697–708.

Praino, R., Stockemer, D., & Moscardelli, V. G. (2013). The lingering effect of scandals in congressional elections: Incumbents, challengers, and voters. Social Science Quarterly,94, 1045–1061.

Prenzler, T. (2009). Police corruption: Preventing misconduct and maintaining integrity. Boca Raton: CRC Press.

Prior, M. (2003). Any good news in soft news? The impact of soft news preference on political knowledge. Political Communication,20, 149–171.

Puglisi, R., & Snyder, J. M., Jr. (2011). Newspaper coverage of political scandals. Journal of Politics,73, 931–950.

Romano, M. K. (2014). Tuning into scandal: Television news coverage of congressional scandals. PS: Political Science and Politics,47, 386–390.

Sikorski, C. (2016). The effects of reader comments on the perception of personalized scandals: Exploring the roles of comment valence and commenters' social status. International Journal of Communication,10, 4480–4501.

Stockemer, D., & Praino, R. (2018). The good, the bad and the ugly: Do attractive politicians get a 'break' when they are involved in scandals? Political Behavior,41(3), 747–767.

Trussler, M., & Soroka, S. (2014). Consumer demand for cynical and negative news. The International Journal of Press/Politics,19, 360–379.

Tworzecki, H., & Semetko, H. A. (2012). Media use and political engagement in three new democracies: Malaise versus mobilization in the Czech Republic, Hungary, and Poland. The International Journal of Press/Politics,17, 407–432.

Waisbord, S. R. (2004). Scandals, media, and citizenship in contemporary Argentina. American Behavioral Scientist,47, 1072–1098.

Welch, S., & Hibbing, J. R. (1997). The effects of charges of corruption on voting behavior in congressional elections, 1982–1990. Journal of Politics,59, 226–239.
Acknowledgements
We thank participants at the 2015 Economics of Media Bias Workshop, members of the eponymous research network, and seminar participants at the University of Hamburg for helpful comments and suggestions. We are grateful to Spiegel Publishing for access to its news archive. Daniel Czwalinna, Jana Kitzinger, Henning Meyfahrt, Fabian Mrongowius, Ulrike Otto, and Nadine Weiss provided excellent research assistance. The views expressed in this paper are those of the authors and do not necessarily represent those of Hamburg Media School.
Ethics declarations
Conflict of interest
The authors declare that they have no conflict of interest.
Additional information
Publisher's Note
Springer Nature remains neutral with regard to jurisdictional claims in published maps and institutional affiliations.
Electronic supplementary material
Below is the link to the electronic supplementary material.
About this article
Cite this article
Garz, M., Sörensen, J. Political Scandals, Newspapers, and the Election Cycle. Polit Behav (2019). https://doi.org/10.1007/s11109-019-09577-2
Keywords
Campaign

Information strategy

News coverage

Voting