Abstract
Prevailing theories of public opinion toward immigration posit that responses to immigration are partially a function of local area demographics. However, evaluations of these theories suffer from the critique that local immigration patterns and attitudes toward immigrants are endogenous due to residential self-selection. Recent efforts attempt to address this problem by using experimental designs that reduce the possibility of selection bias. Instead of viewing residential mobility as a source of bias, I develop a theory that treats residential mobility and political behavior as interconnected strategies for responding to demographic change. Across two large sample studies, I find that residents who live in diversifying communities and face residential mobility constraints are more likely to express dissatisfaction with immigration and less likely to report desires to move than those who reside in more exit-friendly destinations.
This is a preview of subscription content, log in to check access.
Access options
Buy single article
Instant access to the full article PDF.
US$ 39.95
Tax calculation will be finalised during checkout.
Subscribe to journal
Immediate online access to all issues from 2019. Subscription will auto renew annually.
US$ 79
Tax calculation will be finalised during checkout.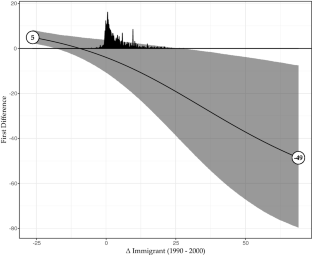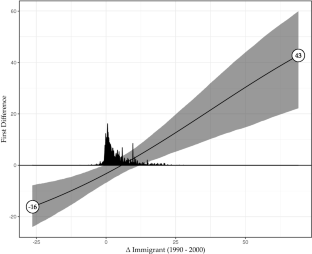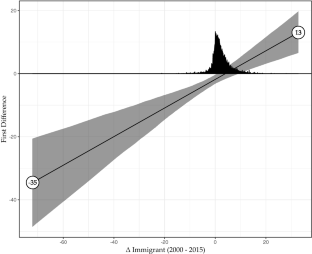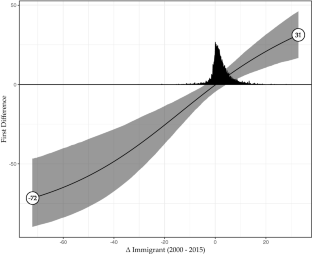 Notes
1.

Whereas voice involves directly expressing grievances to other group members, exit is defined by withdrawal from the group.

2.

According to Hirschman, loyalty to the group plays an important role in "activating voice" and leaving "exit at bay.".

3.

It is important to note that the existing theory focuses on predicting responses in areas where demographic change has occurred. If we apply the general theory described by Hirschman, exit costs should only be relevant under conditions of organizational decline. Similarly, characteristics of potential moving destinations should only be relevant to the Fight-Flight decision in the presence of demographic change. The evidence presented across the three studies suggest that while the marginal effect of surrounding immigrant composition increases as a function of \(\Delta\) immigration, it is not zero in places that have either remained the same or lost immigrant populations. Still, explaining these additional cases (which comprise approximately 15% of the sample) could introduce additional complexity at the cost of parsimony. Since the focus of this paper is on contexts undergoing demographic change, the theory is constrained in its ability to explain these cases. Future studies could expand upon the existing model by exploring why surrounding immigrant composition often has the opposite effect in communities experiencing influxes of native-born residents.

4.

A strict view of symbolic politics would argue that racial attitudes are entirely symbolic and a function of early childhood socialization experiences. Much like the rest of the literature on context effects, the existing theory is inconsistent with a strict view of symbolic politics. However, a more flexible view of symbolic politics might suggest that while racial attitudes are formed due to early childhood socialization experiences, individuals' local environments can weaken or bolster those attitudes. Since the question of why individuals might be compelled to view "fight" or flight as responses to demographic change is not explicitly defined in the theory, both symbolic and realistic concerns could motivate these responses, and thus, the theory can accommodate this more flexible view.

5.

Mobility data from the Census and the Panel Study of Income Dynamics (PSID) are two alternatives to the 2000 SCCBS. However, a complete test of the theory is not possible with either data set. Although the Census provides information about mobility patterns, they are aggregated at the county level, and thus, are not well equipped to test individual-level hypotheses. Moreover, political outcomes are not measured by the Census. While the PSID can be used to test individual-level mobility patterns, it does not include any measures of political attitudes or behavior tied to immigration.

6.

7.

Though the Internal Revenue Service (IRS) collects fine-grained mobility data, these data are only released at the state level. Therefore, they are not helpful for assessing community-level demographics.

8.

Models of residential mobility often consider static characteristics of surrounding communities as predictors of moving (Segal 1979). Thus, the use of static levels of surrounding immigrant composition is consistent with extant theories. Moreover, I consider the interaction between local and surrounding changes in immigrant populations, and fail to find evidence of conditional effects (see Online Appendix A).

9.

A thorough search for data sets measuring mobility intentions using the Inter-university Consortium for Political and Social Research (ICPSR) database revealed that virtually no studies asked about residential mobility and political attitudes. While this measure is not ideal since it does not explicitly ask about mobility intentions, it still captures whether respondents plan to remain in their communities.

10.

While this measure departs from the original formulation of voice described in Hirschman (1970), it is possible to recast this measure as an indicator of voice, given that the Social Capital Community Benchmark study was conducted in partnership with community organizations, and thus, respondents could have interpreted the survey context as one where they could relay their concerns to other community members. Still, even if the use of this measure might introduce some conceptual slippage, existing theories in the racial context literature do not explictly incorporate the role of residential mobility in political behavior, and using EVL as a general framework produces a more nuanced view of context that synthesizes research across multiple disciplines.

11.

The correlation between percent Hispanic and \(\Delta\) Immigrant is .31 (Spearman's rho).

12.

Missingness for individual-level variables ranges between zero (e.g., gender) and 10% (e.g., income). The largest source of missingness in the data set involves contextual data, where roughly 13% of the observations lack information about local area demographics due to changes in ZIP codes over time. I perform listwise deletion in all of the analyses, given that multiple imputation is only preferable over listwise deletion when data are missing at random (Pepinsky 2016); an assumption that seems unlikely in this case.

13.

It is important to note that the findings presented using multi-level models also hold in completely pooled models. I also present a set of simplified models in Online Appendix C that show that the key interaction holds across various specifications.

14.

This is because mobility considerations are measured using a dichotomous item, and anti-immigration expression is measured on an ordinal scale.

15.

The estimated coefficients are still statistically significant if two-tailed tests are used.

16.

Instead of assuming that Hispanic and immigrant composition are equivalent, immigrant composition is modeled as a bundled treatment consisting of immigrants from various ethnic backgrounds. This assumption does not imply that Hispanic immigration is not a relevant determinant of exit or voice, but rather that immigrant status should outweigh ethnicity.

17.

These models are estimated independently, and therefore, these groups of residents need not overlap.

18.

The 2010 Census dropped questions about foreign-born status. Therefore, the 2011–2015 American Community Survey is used.

19.

The correlation between pct. Hispanic and \(\Delta\) Immigrant is approximately  − .069 (Spearman's rho).

20.

The percent of missing values for individual-level variables hovers between zero for gender and 31% for Trump support. This is due to the fact that non-voters were not included in the analyses. As for contextual variables, the percent of missing values falls between .002% for variables such as Median Home Value and 3% for \(\Delta\) Immigrant.

21.

The findings presented here also hold in completely pooled models.

22.

The results also hold in the full sample.

23.

For example, Kaufmann and Harris (2015) find limited evidence of white flight in response to growing immigrant populations. Understanding the conditions under which this dynamic operates should yield important insights about relationships between residential mobility and political behavior across contexts.
References
Allport, G. (1954). The nature of prejudice. Reading: Addison-Wesley.

Anderson, E. (2000). Code of the street: Decency, violence, and the moral life of the inner City. New York: WW Norton & Company.

Baybeck, B. (2006). Sorting out the competing effects of racial context. Journal of Politics, 68(2), 386–396.

Bobo, L. D., Oliver, M. L., James, H. J., Jr., & Valenzuela, A., Jr. (2000). Prismatic metropolis: Inequality in Los Angeles. Ne York: Russell Sage Foundation.

Boehm, T. P., & Ihlanfeldt, K. R. (1991). The revelation of neighborhood preferences: An N-chotomous multivariate probit approach. Journal of Housing Economics, 1(1), 33–59.

Broockman, D., & Kalla, J. (2016). Durably reducing transphobia: A field experiment on door-to-door canvassing. Science 352 (6282). American Association for the Advancement of Science, 352, 220–224.

Cain, B. E., Citrin, J., & Wong, C. (2000). Ethnic context, race relations, and california politics. San Francisco: Public Policy Institute of California San Francisco.

Citrin, J., Green, D. P., Muste, C., & Wong, C. (1997). Public opinion toward immigration reform: The role of economic motivations. The Journal of Politics, 59(3), 858–881.

Citrin, J., Reingold, B., & Green, D. P. (1990). American identity and the politics of ethnic change. The Journal of Politics, 52(04), 1124–1154.

Clark, W. A. (1991). Residential preferences and neighborhood racial segregation: A test of the schelling segregation model. Demography, 28(1), 1–19.

Clark, W. R., Golder, M., & Golder, S. N. (2013). Power and politics: Insights from an exit, voice, and loyalty game. University Park: University of Michigan and Penn State University.

Crowder, K., Hall, M., & Tolnay, S. E. (2011). Neighborhood immigration and native out-migration. American Sociological Review, 76(1), 25–47.

Dancygier, R. M. (2010). Immigration and conflict in Europe. Cambridge: Cambridge University Press.

Darmofal, D. (2006). Spatial econometrics and political science. Society for political methodology working paper archive. http://Polmeth.Wustl.Edu/Workingpapers.Php.

Denton, N. A., & Massey, D. (1993). American apartheid: Segregation and the making of the underclass. Cambridge, MA: Harvard University Press.

Dixon, J. C., & Rosenbaum, M. S. (2004). Nice to know you? Testing contact, cultural, and group threat theories of anti-black and anti-hispanic stereotypes. Social Science Quarterly, 85(2), 257–280.

Dustmann, C., & Preston, I. (2001). Attitudes to ethnic minorities, ethnic context and location decisions. The Economic Journal, 111(470), 353–373.

Ellison, C. G., & Powers, D. A. (1994). The contact hypothesis and racial attitudes among Black Americans. Social Science Quarterly, 75(2), 385–400.

Enos, R. D. (2014). Causal effect of intergroup contact on exclusionary attitudes. Proceedings of the National Academy of Sciences, 111(10), 3699–3704.

Enos, R. D. (2017). The space between US: Social geography and politics. Cambridge: Cambridge University Press.

Feijten, P., & Ham, M. (2009). Neighbourhood change…reason to leave? Urban Studies, 46(10), 2103–2122.

Fennelly, K., & Federico, C. (2008). Rural residence as a determinant of attitudes toward US immigration policy. International Migration, 46(1), 151–190.

Fox, J., & Rivera-Salgado, G. (2004). Indigenous Mexican migrants in the United States. La Jolla, CA: Center for US-Mexican Studies, UCSD/Center for Comparative Immigration Studies.

Frendreis, J., & Tatalovich, R. (1997). Who supports english-only language laws? Evidence from the 1992 National Election Study. Social Science Quarterly, 78(2), 354–368.

Frey, W. H. (1995). The new geography of population shifts: Trends toward balkanization. State of the Union: America in the 1990s, 2, 271–336.

Frey, W. H. (2006). Diversity spreads out. Washington, DC: Center on Urban Metropolitan Policy, Brookings Institution.

Giles, H., et al. (1977). Language, ethnicity and intergroup relations. London: Academic Press.

Glaser, J. M. (1994). Back to the black belt: Racial environment and white racial attitudes in the South. The Journal of Politics, 56(1), 21–41.

Hall, M., & Crowder, K. (2014). Native out-migration and neighborhood immigration in new destinations. Demography, 51(6), 2179–2202.

Hatton, T. J. (2005). Explaining trends in Uk immigration. Journal of Population Economics, 18(4), 719–740.

Hirschman, A. O. (1970). Exit, voice, and loyalty: Responses to decline in firms, organizations, and states. Cambridge: Harvard University Press.

Hood, M. V., III, & Morris, I. L. (1997). ? Amigo O Enemigo?: Context, attitudes, and anglo public opinion toward immigration. Social Science Quarterly, 78(2), 309–323.

Hood, M. V., III, & Morris, I. L. (1998). Give us your tired, your poor,… but make sure they have a green card: The effects of documented and undocumented migrant context on Anglo opinion toward immigration. Political Behavior, 20(1), 1–15.

Hopkins, D. J. (2009). The diversity discount: When increasing ethnic and racial diversity prevents tax increases. The Journal of Politics, 71(1), 160–177.

Hopkins, D. J. (2010). Politicized places: Explaining where and when immigrants provoke local opposition. American Political Science Review, 104(1), 40–60.

Johnston, C. D., Newman, B. J., & Velez, Y. (2015). Ethnic change, personality, and polarization over immigration in the American public. Public Opinion Quarterly, 79(3), 662–686.

Jones, B., & Martin, D. J. (2016). Path-to-citizenship or deportation? How elite cues shaped opinion on immigration in the 2010 US house elections. Political Behavior 1–28.

Kaufmann, E. (2017). Levels or changes?: Ethnic context, immigration and the UK Independence party vote. Electoral Studies, 48, 57–69.

Kaufmann, E., & Harris, G. (2015). White flight or positive contact? Local diversity and attitudes to immigration in Britain. Comparative Political Studies, 48(12), 1563–1590.

Keating, W. (2010). The suburban racial dilemma: Housing and Neighborhoods. Philadelphia: Temple University Press.

Key, V. (1949). Southern politics in state and nation. Knoxville: University of Tennessee Press.

Lee, B. A., Salvador Oropesa, R., & Kanan, J. W. (1994). Neighborhood context and residential mobility. Demography, 31(2), 249–270.

Margalit, Y. (2013). Explaining social policy preferences: Evidence from the great recession. American Political Science Review, 107(1), 80–103.

Mayer, M. F. (1960). The parental figures in residential treatment. The Social Service Review, 34, 273–285.

Newman, B. J. (2013). Acculturating contexts and Anglo opposition to immigration in the United States. American Journal of Political Science, 57(2), 374–390.

Newman, B. J., & Johnson, J. (2012). Ethnic change, concern over immigration, and approval of state government. State Politics & Policy Quarterly, 12(4), 415–437.

Newman, B. J., & Velez, Y. (2014). Group size versus change? Assessing Americans' perception of local immigration. Political Research Quarterly, 67(2), 293–303.

Orbell, J. M., & Uno, T. (1972). A theory of neighborhood problem solving: political action vs. residential mobility. The American Political Science Review., 66(2), 471–489.

Patana, P. (2018). Changes in local context and electoral support for the populist radical right: Evidence from Finland. Party Politics, 1354068818810283.

Pepinsky, T. B. (2016). A note on Listwise deletion versus multiple imputation. Political Analysis., 26, 480–488.

Pettigrew, T. F. (1998). Intergroup contact theory. Annual Review of Psychology, 49(1), 65–85.

Quillian, L. (1996). Group threat and regional change in attitudes toward African-Americans. American Journal of Sociology, 102, 816–860.

Ramakrishnan, S. K., & Gulasekaram, P. (2012). Importance of the political in immigration federalism, the. Arizona State Law Journal, 44, 1431.

Rapkin, C., & Grigsby, W. G. (1960). The demand for housing in racially mixed areas. Berkeley: Univ of California Press.

National Association Of Realtors. (2013). National Association of Realtors Profile of Home Buyers and Sellers.

Reuveny, R. (2007). Climate change-induced migration and violent conflict. Political Geography, 26(6), 656–673.

Saiz, A., & Wachter, S. (2011). Immigration and the neighborhood. American Economic Journal: Economic Policy, 3(2), 169–188.

Schelling, T. C. (1971). Dynamic models of segregation. Journal of Mathematical Sociology, 1(2), 143–186.

Schuman, H., & Bobo, L. (1988). Survey-based experiments on white racial attitudes toward residential integration. American Journal of Sociology, JSTOR, 273–299.

Segal, D. S. (1979). The economics of neighborhood. Amsterdam: Elsevier.

Sharp, E. B. (1984). Exit, voice, and loyalty in the context of local government problems. The Western Political Quarterly., 37, 67–83.

Stacey, M., Carbone-López, K., & Rosenfeld, R. (2011). Demographic change and ethnically motivated crime: The impact of immigration on anti-Hispanic hate crime in the United States. Journal of Contemporary Criminal Justice, 27(3), 278–298.

Steil, J. P., & Vasi, I. B. (2014). The new immigration contestation: Social movements and local immigration policy making in the United States, 2000–2011. American Journal of Sociology, 119(4), 1104–1155.

Stein, R. M., Post, S. S., & Rinden, A. L. (2000). Reconciling context and contact effects on racial attitudes. Political Research Quarterly, 53(2), 285–303.

Taub, R. P., Taylor, D. G., & Dunham, J. D. (1984). Paths of neighborhood change: Race and crime in urban America. Chicago: University of Chicago Press.

Taylor, M. C. (1998). How white attitudes vary with the racial composition of local populations: Numbers count. American Sociological Review, 62, 512–535.

Tiebout, C. M. (1956). A pure theory of local expenditures. Journal of political economy, 64(5), 416–424.

Tolbert, C. J. (2001). Dealing with diversity: Racial/ethnic context and social policy change. Political Research Quarterly, 54(3), 571–604.

Tolbert, C. J., & Grummel, J. A. (2003). Revisiting the racial threat hypothesis: White voter support for california's proposition 209. State Politics & Policy Quarterly., 3, 183–202.

Tolbert, C. J., & Rodney, E. H. (1996). Race/ethnicity and direct democracy: An analysis of California's illegal immigration initiative. The Journal of Politics, 58(03), 806–818.

Velez, Y. R., & Wong, G. (2017). Assessing contextual measurement strategies. The Journal of Politics, 79(3), 1084–1089.

Waldinger, R. (2018). Immigration and the election of Donald Trump: Why the sociology of migration left us unprepared and why we should not have been surprised. Ethnic and Racial Studies, 41(8), 1411–1426.

Welch, S., & Sigelman, L. (2000). Getting to know you? Latino-Anglo social contact. Social Science Quarterly, 81(1), 67–83.

Wolf, E. P. (1963). The tipping-point in racially changing neighborhoods. Journal of the American Institute of Planners, 29(3), 217–222.

Wurdock, C. J. (1981). Neighborhood racial transition: A study of the role of white flight. Urban Affairs Quarterly, 17(1), 75–89.

Yancey, G. (1999). An examination of the effects of residential and church integration on racial attitudes of whites. Sociological Perspectives, 42(2), 279–304.
Acknowledgements
I would like to thank Ben Newman, John Kane, Stanley Feldman, Leonie Huddy, Jason Barabas, Oleg Smirnov, Ryan Enos, Daniel Hopkins, Howard Lavine, Vesla Weaver, Brad Jones, Bryan Wilcox-Archuleta, Eric Kaufmann, Logan Dancey, Erika Franklin Fowler, and Matthew Hall for their helpful comments and feedback. I am also grateful to anonymous reviewers, editors, department colleagues, and discussants for helping improve the manuscript. The author declares that they have no conflict of interest. Data and supporting materials necessary to reproduce the numerical results in the article are available in the Political Behavior Dataverse (https://dataverse.harvard.edu/dataverse/polbehavior).
Electronic supplementary material
Below is the link to the electronic supplementary material.
About this article
Cite this article
Velez, Y.R. Residential Mobility Constraints and Immigration Restrictionism. Polit Behav 42, 719–743 (2020). https://doi.org/10.1007/s11109-018-9517-x
Keywords
Context

Immigration

Residential mobility

Political behavior