Abstract
With the foreclosure crisis continuing to impact individuals and communities across the country, understanding the extent of its effect on political life is tantamount. In this paper, we ask how political behaviors are influenced by the economic adversities created by this crisis: loss of home, loss of resources, and perhaps loss of political efficacy. Previous research on economic adversity focuses almost exclusively on unemployment. Here we explore the demobilizing effects of foreclosures at the individual level, community levels, and the intersection of individuals nested in communities. With a unique dataset that matches voter file data to a database on individual foreclosures, we show that the foreclosure crisis was associated with a decline in voter turnout, both individually and for those in neighborhoods hit harder by the foreclosure crisis. We find that homeowners facing the loss of their homes were less likely to go to the polls. Consistent with previous research, we also show that turnout was suppressed in neighborhoods with higher rates of foreclosure. Taken together, our results suggest that political elites were less likely to hear from constituents most directly impacted by the foreclosure crisis.
This is a preview of subscription content, log in to check access.
Access options
Buy single article
Instant access to the full article PDF.
US$ 39.95
Price includes VAT for USA
Subscribe to journal
Immediate online access to all issues from 2019. Subscription will auto renew annually.
US$ 99
This is the net price. Taxes to be calculated in checkout.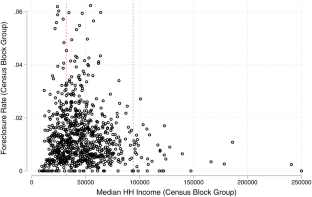 Notes
1.

They find similar results in a separate multilevel analysis that nests individuals in zipcodes; the likelihood of going to the ballot box fell by 0.012 points for a one standard deviation increase in the foreclosure rate of the voter's zipcode, a slight drop in participation, but comparable in size to a one standard deviation shift in the proportion of the population living in poverty or holding a bachelor's degree.

2.

There is some evidence that economic hardship can increase political engagement when it is sufficiently politicized and de-personalized. For example, Burden and Wichowsky's (2014) study of unemployment suggests that economic downturns might stimulate greater attention to political information and vigilance in attributing blame, thus making it more likely that individuals vote; this might be particularly the case in times of high unemployment (see Incantalupo 2011).

3.

Voter file information was purchased from L2Decisions (http://votermapping.com) and includes estimates of additional covariates including race/ethnicity, income, education, age, and homeownership. They use Census block-level data and other financial and lifestyle data to create estimates of demographic information.

4.

We thank the Fiscal and Economic Research Center (FERC) at the University of Wisconsin-Whitewater for providing us access to these data. Because data are often missing in real estate websites such as Zillow, FERC has carefully coded each foreclosure filing for the state of Wisconsin between 2006 and 2012.

5.

We assign those with missing data the median value and create a dummy indicator for missingness for age, education and income.

6.

As expected, prior turnout is a strong predictor of voting participation, and compared to non-Hispanic whites, the likelihood of voting participation was lower among Latino and Asian registered voters. Consistent with the diminishing black-white gap in voter turnout nationally (Taylor and Lopez 2013), we find no statistically significant turnout differences between black and white registered voters in our sample. Full results are available in Appendix A.

7.

See Appendix Table D for imbalance corrections. Coarsened Exact Matching takes into account missingness in variables.

8.

We did not match on contextual measures of foreclosures because we were interested in testing whether turnout was also affected by the neighborhood's foreclosure rate.

9.

We follow Pew Research Center's definition of low-income, middle-income and high-income (see Pew Research Center 2016).

10.

Michener (2013) finds that under some conditions, perceptions of disorder (higher in lower-income neighborhoods) can spark greater engagement, increasing the likelihood of attending a community meeting. However, when it comes to engagement with formal political authorities, the relationship is curvilinear (likely reflecting concerns about, and experiences with, law enforcement), and objective measures of disorder remain negatively correlated with political engagement.

11.

We estimate predicted probabilities for a non-Hispanic white homeowner who voted in the 2008 presidential election, holding all other variables at their means.

12.

In 2009, Common Ground, an affiliate of the Industrial Areas Foundation (IAF), began a massive campaign to address the foreclosure crisis in Milwaukee's Sherman Park neighborhood, an area with some of the region's highest rates of black homeownership. Their efforts galvanized residents, and in response to substantial community organizing efforts, tens of millions of dollars have been reinvested in the neighborhood to help rehabilitate foreclosed properties and restore the housing market in Sherman Park. Common Ground and other organizations conducted GOTV campaigns in these same neighborhoods in 2012.

13.
References
Abramovitz, M., & Albrecht, J. (2013). The community loss index: A new social indicator. Social Service Review,87(4), 677–724.

Allen, R. (2011). The relationship between residential foreclosures, race, ethnicity, and nativity status. Journal of Planning Education and Research.,31(2), 125–142.

Ansolabehere, S., Marc, M., & Erik, S. (2014). Mecro-economic voting: Local information and micro-perceptions of the macro-economy. Economics & Politics,26(3), 380–410.

Arceneaux, K., & Nickerson, D. W. (2009). Who is mobilized to vote? A re-analysis of 11 field experiments. American Journal of Political Science,53(1), 1–16.

Baumer, E., Wolff, K., & Arnio, A. (2012). A multicity neighborhood analysis of foreclosure and crime. Social Science Quarterly,93(3), 577–601.

Baybeck, B., & McClurg, S. D. (2005). What do they know and how do they know it? An examination of citizen awareness of context. American Politics Research,33(4), 492–520.

Bennett, W. L. (2012). The personalization of politics political identity, social media, and changing patterns of participation. The Annals of the American Academy of Political and Social Science,644(1), 20–39.

Bocian, D. G., Ernst, K. S., & Li, W. (2008). Race, ethnicity and subprime home loan pricing. Journal of Economics and Business,60(1), 110–124.

Bocian, D. G., Li, W., & Ernst, K. S. (2010). Foreclosures by race and ethnicity. Center for Responsible Lending. http://www.responsiblelending.org/mortgage-lending/research-analysis/foreclosures-by-race-andethnicity.pdf.

Brody, R. A., & Sniderman, P. M. (1977). From life space to polling place: The relevance of personal concerns for voting behavior. British Journal of Political Science,7(3), 337–360.

Burden, B. C., & Wichowsky, A. (2014). Economic discontent as a mobilizer: unemployment and voter turnout. The Journal of Politics,76(4), 887–898.

City of Milwaukee. (2009). Milwaukee foreclosure partnership initiative: Report of final recommendations building stronger neighborhoods. Milwaukee: Author.

Cohen, C. J., & Dawson, M. C. (1993). Neighborhood poverty and African American politics. American Political Science Review,87(2), 286–302.

Cooper, R., & Bruenig, M. (2017). Foreclosed: Destruction of black wealth during the Obama presidency. People's Policy Project. Last accessed August 21, 2018, from https://www.peoplespolicyproject.org/wp-content/uploads/2017/12/Foreclosed.pdf.

Davenport, T. C., Gerber, A. S., Green, D. P., Larimer, C. W., Mann, C. B., & Panagopoulos, C. (2010). The enduring effects of social pressure: Tracking campaign experiments over a series of elections. Political Behavior,32(3), 423–430.

Dayen, D. (2015). A needless default. The American Prospect. Last accessed August 21, 2018, from http://prospect.org/article/needless-default.

Desmond, M. (2016). Evicted: Poverty and profit in the American city. New York: Broadway Books.

Ellen, I. G., Lacoe, J., & Sharygin, C. A. (2013). Do foreclosures cause crime? Journal of Urban Economics,74, 59–70.

Estrada-Correa, V., & Johnson, M. (2012). Foreclosure depresses voter turnout: Neighborhood disruption and the 2008 Presidential Election in California. Social Science Quarterly,93(3), 559–576.

Firebaugh, G., & Farrell, C. (2016). Still large, but narrowing: The sizable decline in racial neighborhood inequality in metropolitan America, 1980–2010. Demography,53(1), 139–164.

Gerardi, K., et al. (2012). Foreclosure externalities: Some new evidence. Working Paper 18353. National Bureau of Economic Research.

Gerber, A. S., & Green, D. P. (2000). The effects of canvassing, telephone calls, and direct mail on voter turnout: A field experiment. American Political Science Review,94(3), 653–663.

Gerber, A. S., Green, D. P., & Green, M. (2003). Partisan mail and voter turnout: Results from randomized field experiments. Electoral Studies,22(4), 563–579.

Graves, E. (2012). What do the neighbors think? Assessing the community impact of neighborhood stabilization efforts. New England Community Developments,1, 1–8.

Green, D. P., Gerber, A. S., & Nickerson, D. W. (2003). Getting out the vote in local elections: Results from six door-to-door canvassing experiments. Journal of Politics,65(4), 1083–1096.

Harding, J. P., Rosenblatt, E., & Yao, V. W. (2009). The contagion effect of foreclosed properties. Journal of Urban Economics,66(3), 164–178.

Huckfeldt, R. R., & Sprague, J. (1995). Citizens, politics and social communication: Information and influence in an election campaign. New York: Cambridge University Press.

Iacus, S. M., Gary, K., & Giuseppe, P. (2008). Matching for causal inference without balance checking. http://GKing.Harvard.edu/cem

Ihlanfeldt, K., & Mayock, T. (2014). The variance in foreclosure spillovers across neighborhood types. Public Finance Review. https://doi.org/10.1177/1091142114535835.

Immergluck, D., & Smith, G. (2006a). The external costs of foreclosure: The impact of single-family mortgage foreclosures on property values. Housing Policy Debate,17(1), 57–79.

Immergluck, D., & Smith, G. (2006b). The impact of single-family mortgage foreclosures on neighborhood crime. Housing Studies,21(6), 851–866.

Incantalupo, M. B. (2011). Estimating the effects of unemployment on voter turnout. Poster presented at the Summer Methods Meeting, Princeton University.

Issenberg, S. (2012, August 30). The case of the disappearing black voter. Slate.com. Accessed June 28, 2013, from http://www.slate.com/blogs/victory_lab/2012/08/30/three_fifths_of_milwaukee_s_black_voters_have_vanished_without_a_trace_.html.

Kang, N., & Kwak, N. (2003). A multilevel approach to civic participation individual length of residence, neighborhood residential stability, and their interactive effects with media use. Communication Research,30(1), 80–106.

Katz, C. M., Wallace, D., & Hedberg, E. C. (2013). A longitudinal assessment of the impact of foreclosure on neighborhood crime. Journal of Research in Crime and Delinquency,50(3), 359–389.

King, G., & Zeng, L. (2006). The dangers of extreme counterfactuals. Political Analysis,14(2), 131–159.

Kingsley, G. T., Smith, R. E., & Price, D. (2009). The impacts of foreclosures on families and communities. Washington, DC: Urban Institute. http://www.urban.org/UploadedPDF/411909_impact_of_forclosures.pdf.

Levin, I., Andrew Sinclair, J., & Michael Alvarez, R. (2016). Participation in the wake of adversity: Blame attribution and policy-oriented evaluations. Political Behavior,38, 203–228.

Li, Y. (2011). Geography of opportunity and residential mortgage foreclosure: A spatial analysis of a US Housing Market. Journal of Urban & Regional Analysis,3(2), 195–214.

Li, Y., & Morrow-Jones, H. A. (2010). The impact of residential mortgage foreclosure on neighborhood change and succession. Journal of Planning Education and Research,30(1), 22–39.

McKernan, S.-M., Ratcliffe, C., Steuerle, E., & Zhang, S. (2014). Impact of the great recession and beyond: Disparities in wealth building by generation and race. Working Paper. Washington, DC: The Urban Institute.

Michener, J. (2013). Neighborhood disorder and local participation: Examining the political relevance of 'broken windows'. Political Behavior,35(4), 777–806.

Newman, B. J., Hartman, T. K., & Taber, C. S. (2014). Social dominance and the cultural politics of immigration. Political Psychology,35(2), 165–186.

Nickerson, D. W. (2008). Is voting contagious? Evidence from two field experiments. American political Science review,102(1), 49–57.

Niedt, C., & Martin, I. W. (2013). Who are the foreclosed? A statistical portrait of America in crisis. Housing Policy Debate,23(1), 159–176.

Packer, G. (2018). "Ten Years After the Crash." The New Yorker, August 27, 2018.

Pew Research Center. (2016). America's shrinking middle class: A close look at changes within metropolitan areas. Last accessed August 10, 2018, from http://assets.pewresearch.org/wp-content/uploads/sites/3/2016/05/Middle-Class-Metro-Areas-FINAL.pdf.

Pfeffer, F. T., Danziger, S., & Schoeni, R. F. (2013). Wealth disparities before and after the great recession. The Annals of the American Academy of Political and Social Science,650, 98–123.

Raudenbush, S. W., & Bryk, A. S. (2002). Hierarchical linear models: Applications and data analysis methods. New York: SAGE.

Reeves, A., & Gimpel, J. G. (2012). Ecologies of unease: Geographic context and national economic evaluations. Political Behavior,34(3), 507–534.

Rogers, W. H., & Winter, W. (2009). The impact of foreclosures on neighboring housing sales. Journal of Real Estate Research,31(4), 455–479.

Rosenstone, S. (1982). Economic adversity and voter turnout. American Journal of Political Science,62, 25–42.

Rosenstone, S., & Hansen, J. M. (1993). Mobilization, participation and democracy in America. New York: Macmillan Publishing Company.

Rotolo, T., & Wilson, J. (2003). Work histories and voluntary association memberships. Sociological Forum,18(4), 603–619.

Saegert, S., Fields, D., & Libman, K. (2011). Mortgage foreclosure and health disparities: Serial displacement as asset extraction in African American Populations. Journal of Urban Health,88(3), 390–402.

Saez, E., & Zucman, G. (2016). Wealth inequality in the United States since 1913: Evidence from capitalized income tax data. The Quarterly Journal of Economics,131(2), 519–578.

Sampson, R. J. (2004). Neighborhood and community. New Economy,11(2), 106–113.

Sampson, R. J., & Raudenbush, S. W. (1999). Systematic social observation of public spaces: A new look at disorder in urban neighborhoods. American journal of sociology,105(3), 603–651.

Sampson, R. J., Raudenbush, S. W., & Earls, F. (1997). Neighborhoods and violent crime: A multilevel study of collective efficacy. Science,277(5328), 918–924.

Schlozman, K. L., Verba, S., & Brady, H. E. (2012). The unheavenly chorus: Unequal political voice and the broken promise of American democracy. Princeton, NJ: Princeton University Press.

Semuels, A. (2017, December 1). The never-ending foreclosure: How can the country survive the next crash if millions of families still haven't recovered from the last one? The Atlantic Monthly. Last accessed August 22, 2018, from https://www.theatlantic.com/business/archive/2017/12/the-neverending-foreclosure/547181/.

Sharkey, P. (2013). Stuck in place: Urban neighborhoods and the end of progress toward racial equality. Chicago: University of Chicago Press.

Sinclair, B. (2012). The social citizen: Peer networks and political behavior. Chicago, IL: University of Chicago Press.

SoRelle, M. (2016). Democracy declined: The failed politics of consumer credit. PhD Dissertation, Cornell University.

Soss, J., & Weaver, V. (2017). Police are our government: Politics, political science, and the policing of race–class subjugated communities. Annual Review of Political Science,20, 565–591.

Steenbergen, M. R., & Jones, B. S. (2002). Modeling multilevel data structures. American Journal of Political Science,46(1), 218–237.

Taylor, P., & Lopez, M. H. (2013, May 8). Six take-aways from the Census Bureau's voting report. Washington, DC: Pew Research Center.

Verba, S., Schlozman, K. L., & Brady, H. E. (1995). Voice and equality: Civic voluntarism in American politics. Cambridge, MA: Harvard University Press.

Vidmar, C. (2008). Seven ways foreclosures impact communities. Report. Neighborhood Works America, Washington, DC. http://www.nw.org/network/neighborworksprogs/foreclosuresolutions/reports/documents/7ForeclosureImpacts.pdf.

Weatherford, M. S. (1983). Economic voting and the "symbolic politics" argument: A reinterpretation and synthesis. American Political Science Review,77(1), 158–174.

Wilson, W. J. (2000). When work disappears: The world of the new urban poor. New York, NY: Vintage.

Wolfinger, R. E., & Rosenstone, S. J. (1980). Who votes. New Haven, CT: Yale University Press.

Wong, C. J. (2007). "Little" and "big" pictures in our heads: Race, local context, and innumeracy about racial groups in the United States. Public Opinion Quarterly,71(3), 392–412.
Electronic supplementary material
Below is the link to the electronic supplementary material.
About this article
Cite this article
Shah, P., Wichowsky, A. Foreclosure's Fallout: Economic Adversity and Voter Turnout. Polit Behav 41, 1099–1115 (2019). https://doi.org/10.1007/s11109-018-9509-x
Keywords
Foreclosures

Voter turnout

Political inequality