Abstract
A strong argument can be made for the prime importance of information in the context of an economic recession. It is in times of crisis that information on the state of the economy is abundant and citizens have incentives to acquire it in order to sanction incumbents for mismanagement of the economy. Simultaneously, however, economic hardship strains people's cognitive resources and motivations to seek relevant information. Using a novel research design, we assess how the recent economic recession has shaped information acquisition. Our results indicate that while personal economic hardship depresses levels of information, the recession overall boosted considerably the public's knowledge of the state of the economy and, to a lesser degree, of parties' policy positions in elections. For both economic and electoral types of information, economically marginal groups caught up to the economically secure in contexts of economic hardship, thereby reducing information inequalities. We discuss the findings' implications for representative democracy.
This is a preview of subscription content, log in to check access.
Access options
Buy single article
Instant access to the full article PDF.
US$ 39.95
Price includes VAT for USA
Subscribe to journal
Immediate online access to all issues from 2019. Subscription will auto renew annually.
US$ 99
This is the net price. Taxes to be calculated in checkout.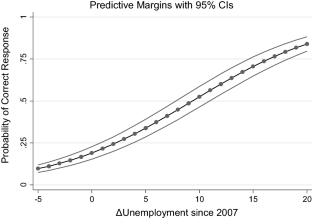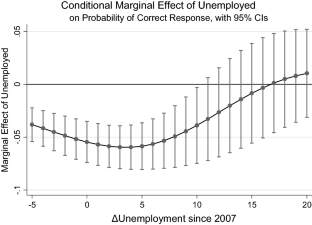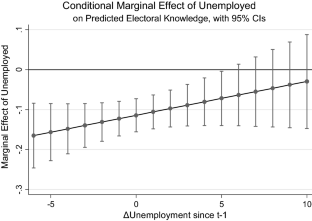 Notes
1.

For a list of countries included, see the Appendix.

2.

In the case of the 2009 EB, 51 percent did not answer the question on economic growth, 46 percent did not answer the question on inflation, and 35 percent did not answer the question on unemployment. In 2015, those numbers were 33 percent, 33 percent and 21 percent, respectively. In 2007, those numbers were 65 percent, 56 percent and 49 percent, respectively. Below we describe several robustness checks related to the large number of missing values.

3.

In the 2015 wave of the Eurobarometer, several countries surpassed the 20% threshold.

4.

A response is considered correct if unemployment is under 5% and the respondent declares a figure also below 5%; likewise we define the following intervals: 5–8%; 8–10%; 10–15%; 15–20%; 20–25%; and 25–30%. We test the robustness of the results to an alternative set of operationalizations where correct response is anywhere within 2% or within 3% of the correct figure (see Appendix).

5.

We adopt a minimalist approach to operationalizing personal economic hardship in order to keep the analyses of economic and electoral information comparable.

6.

We do not find a statistically significant interaction effect between age and unemployment status.

7.

Coding information on each variable may be found in the Appendix. In the Appendix we also control for respondents' prior occupation in the case of being unemployed.

8.

For example, we exclude two studies fielded in Greece (2009, 2012) as no study was available prior to the start of the recession in 2008. For a list of election studies, see the Appendix.

9.

Expert placements of party positions rely on the judgments of the CSES collaborators. The CSES did not provide information on the number of national experts surveyed in each election; this information was available only for some elections (e.g., N = 11 in Austria-2013). Expert placements are preferable to average voter placements due to potential endogeneity concerns (e.g., individuals' placements may be affected by the severity of the crisis) as well as errors when voters place small parties (e.g., the UK election in 2015, as detailed in the CSES notes).

10.

We also control for vote for the incumbent (see Appendix).

11.

Baseline levels of information account for subsequent levels of electoral information acquisition much better than they do for levels of macroeconomic information. We believe this is due to the relative stability of most parties' policy positions over electoral cycles. In contrast, macroeconomic trends can vary considerably over time.

12.

Baseline models suggested a number of potential outliers at the country level; our results are robust to the exclusion of these cases from the models (see Appendix).

13.

As a norm, we do not observe over-reporting in cases of high unemployment. In the ten cases with highest level of unemployment in the dataset, only three registered over-reporting above average. Compare this to the ten cases with lowest unemployment in the sample, where five registered over-reporting above average.

14.

We impute missing values based on individuals' perceptions of economic performance (both unemployment and general economic situation), trust in official statistics, demographic variables and fixed effects for country and survey year. To avoid endogeneity, we did not include any of the main explanatory variables as predictors. N = 48,595. See Appendix for full results.
References
Althaus, S. L. (2003). Collective preferences in democratic politics: Opinion surveys and the will of the people. New York: Cambridge University Press.

Andersen, R., Tilley, J., & Heath, A. F. (2005). Political knowledge and enlightened preferences: Party choice through the electoral cycle. British Journal of Political Science,35(2), 285–302.

Anderson, C. (2007). The end of economic voting? Contingency dilemmas and the limits of democratic accountability. Annual Review of Political Science,10(1), 271–296.

Bahry, D., & Lipsmeyer, C. (2001). Economic adversity and public mobilization in Russia. Electoral Studies,20(3), 371–398.

Banducci, S., Giebler, H., & Kritzinger, S. (2017). Knowing more from less: How the information environment increases knowledge of party positions. British Journal of Political Science,47(3), 571–588.

Bennett, S. E. (1989). Trends in Americans' political information, 1967–1987. American Politics Research,17(4), 422–435.

Bennett, W. L., & Paletz, D. L. (1994). Taken by storm: The media, public opinion, and US foreign policy in the gulf war. Chicago: University of Chicago Press.

Berggren, H. M. (2000). Institutional context and reduction of the resource bias in political sophistication. Political Research Quarterly,54(3), 531–552.

Besley, T., & Coate, S. (1992). Understanding welfare stigma: Taxpayer resentment and statistical discrimination. Journal of Public Economics,48(2), 165–183.

Brady, H. E., Verba, S., & Schlozman, K. L. (1995). Beyond SES: A resource model of political participation. American Political Science Review,89(2), 271–294.

Bremer, B. 2016 "What is left of the left? The response of left-wing parties to the great recession in electoral campaigns". Paper presented at the CES Conference.

Burden, B. C., & Wichowsky, A. 2012. "Unemployment and voter turnout." In APSA 2012 Annual Meeting Paper.

Caplan, B. (2002). Systematically biased beliefs about economics: Robust evidence of judgemental anomalies from the survey of Americans and economists on the economy. The Economic Journal,112(479), 433–458.

Carpini, D., Michael, X., & Keeter, S. (1996). What Americans know about politics and why it matters. New Haven, CT: Yale University Press.

Conover, P. J., Feldman, S., & Knight, K. (1986). Judging inflation and unemployment: The origins of retrospective evaluations. Journal of Politics,48(3), 565–588.

Dalton, R., Van Sickle, A., & Weldon, S. (2009). The individual—institutional nexus of protest behaviour. British Journal of Political Science,40(1), 51–73.

Emmenegger, P., Marx, P., & Schraff, D. (2017). Off to a bad start: Unemployment and political interest during early adulthood. The Journal of Politics,79(1), 315–328.

English, P., Grasso, M. T., Buraczynska, B., Karampampas, S., & Temple, L. (2016). Convergence on crisis? Comparing labour and conservative party framing of the economic crisis in Britain, 2008–14. Politics & Policy,44(3), 577–603.

Eveland, J., & William, P. (2004). The effect of political discussion in producing informed citizens: The roles of information, motivation, and elaboration. Political Communication,21(2), 177–193.

Eysenck, M. W., & Calvo, M. G. (1992). Anxiety and performance: The processing efficiency theory. Cognition and Emotion,6, 409–434.

Eysenck, M. W., Derakshan, N., Santos, R., & Calvo, M. G. (2007). Anxiety and cognitive performance. Attentional control theory. Emotion,7, 336–353.

Fagin, L., & Little, M. (1984). The forsaken families: The effects of unemployment on family life. Suffolk: Richard Clay Ltd.

Foster, M. D., & Matheson, K. (1995). Double relative deprivation: Combining the personal and political. Personality and Social Psychology Bulletin,21(11), 1167–1177.

Fraile, M. (2014). Do Information-rich contexts reduce knowledge inequalities? The contextual determinants of political knowledge in Europe. Acta Politica,48(2), 119–143.

Gino, F., Wood, A., & Schweitzer, M. (2012). Anxiety, advice, and the ability to discern: Feeling anxious motivates individuals to seek and use advice. Journal of Personality and Social Psychology,102, 497–512.

Goidel, R. K., & Langley, R. E. (1995). Media coverage of the economy and aggregate economic evaluations: Uncovering evidence of indirect media effects. Political Research Quarterly,48(2), 313–328.

Gomez, B. T., & Matthew Wilson, J. (2001). Political sophistication and economic voting in the American electorate: A theory of heterogeneous attribution. American Journal of Political Science,4(5), 899–914.

Gordon, S. B., & Segura, G. M. (1997). Cross-national variation in the political sophistication of individuals: Capability or choice? The Journal of Politics,59(1), 126–147.

Goren, P. (1997). Political expertise and issue voting in presidential elections. Political Research Quarterly,50(2), 387–412.

Grönlund, K., & Milner, H. (2006). The determinants of political knowledge in comparative perspective. Scandinavian Political Studies,29(4), 386–406.

Hansford, T. G., & Gomez, B. T. (2010). Estimating the electoral effects of voter turnout. American Political Science Review,104(2), 268–288.

Harrington, D. E. (1989). Economic news on television and the determinants of coverage. Public Opinion Quarterly,53(1), 17–40.

Hassell, H. J. G., & Settle, J. E. (2017). The differential effects of stress on voter turnout. Political Psychology,38(3), 533–550.

Healy, A., & Lenz, G. S. (2014). Substituting the end for the whole: Why voters respond primarily to the election-year economy. American Journal of Political Science,58(1), 31–47.

Hellwig, T., & Marinova, D. M. (2016). More misinformed than myopic: Economic retrospections and the voter's time horizon. Political Behavior,37(4), 865–887.

Hernández, E., & Kriesi, H. (2016). The Electoral consequences of the financial and economic crisis in Europe. European Journal of Political Research,55(2), 203–224.

Hobolt, S. B. (2005). When Europe matters: The impact of political information on voting behaviour in EU referendums. Journal of Elections, Public Opinion and Parties,15(1), 85–109.

Howe, P. (2006). Political knowledge and electoral participation in the Netherlands: Comparisons with the Canadian case. International Political Science Review,27(2), 137–166.

Huber, J., & Inglehart, R. (1995). Expert A in 42 societies. Party Politics,1(1), 73–111.

Jahoda, M., Lazarsfeld, P. F., & Zeisel, H. (1972). The Sociography of an unemployed community: Marienthal. London: Tavistock Publications Ltd.

Kayser, M. (2014). The elusive economic vote. In L. LeDuc, R. G. Niemi, & P. Norris (Eds.), Comparing democracies (Vol. 4, pp. 112–132). Los Angeles, CA: SAGE.

Kern, A., Marien, S., & Hooghe, M. (2015). Economic crisis and levels of political participation in Europe (2002–2010): The role of resources and grievances. West European Politics,38(3), 465–490.

Lau, R. R., & Redlawsk, D. P. (2001). Advantages and disadvantages of cognitive heuristics in political decision making. American Journal of Political Science,45(4), 951–971.

Leon, M. R., & Revelle, W. (1985). Effects of anxiety on analogical reasoning: A test of three theoretical models. Journal of Personality and Social Psychology,49, 1302–1315.

Levine, A. S. (2015). American insecurity: Why our economic fears lead to political inaction. Princeton: Princeton University Press.

Lewis-Beck, M. S., & Stegmaier, M. (2013). The VP-function revisited: A survey of the literature on vote and popularity functions after over 40 years. Public Choice,157(3–4), 367–385.

Lim, C., & Sander, T. (2013). Does Misery love company? Civic engagement in economic hard times. Social Science Research,42(1), 14–30.

Loewenstein, G. F., Weber, E. U., Hsee, C. K., & Welch, N. (2001). Risk as feelings. Psychological Bulletin,127, 267–286.

Luskin, R. C. (2003). The heavenly public: What Would a fully informed citizenry be like? In M. B. MacKuen & G. Rabinowitz (Eds.), Electoral democracy (pp. 238–261). Ann Arbor: University of Michigan Press.

Marcus, G. E., Russell Neuman, W., & MacKuen, M. (2000). Affective intelligence and political judgment. Chicago: University of Chicago Press.

Marks, G., & Steenbergen, M. R. 1999. "Expert Survey on National Parties and the European Union." http://www.unc.edu/~gmarks.

Martin, P. S. (2008). The mass media as sentinel: Why bad news about issues is good news for participation. Political Communication,25(2), 180–193.

Marx, P., & Nguyen, C. (2016). Are the unemployed less politically involved? A Comparative study of internal political efficacy. European Sociological Review,32(5), 634–648.

Menard, S. (2007). Handbook of longitudinal research: Design, measurement, and analysis. Amsterdam: Academic Press.

Norris, P. (2002). Democratic phoenix: Reinventing political activism. New York: Cambridge University Press.

Pacek, A. C., Pop-Eleches, G., & Tucker, J. A. (2009). Disenchanted or discerning: Voter turnout in post-communist countries. Journal of Politics,71(2), 473–491.

Page, B., & Shapiro, R. Y. (1993). The rational public and democracy. In G. E. Marcus & R. L. Hanson (Eds.), Reconsidering the democratic public (pp. 35–64). University Park, Pennsylvania: The Pennsylvania State University Press.

Paldam, M., & Nannestad, P. (2000). What do voters know about the economy? Electoral Studies, 19(2–3), 363–391.

Ponticelli, J. & Voth, H.-J. (2011) Austerity and anarchy: Budget cuts and social unrest in Europe, 1919–2008. Available at SSRN: https://ssrn.com/abstract=1899287

Popkin, S. L., & Dimock, M. A. (2007). Political knowledge and citizen competence. In S. L. Elkin & K. E. Soltan (Eds.), Citizen competence and democratic institutions (pp. 117–146). University Park, Pennsylvania: The Pennsylvania State University Press.

Prior, M. (2002). Political knowledge after September 11. Political Science and Politics,35(3), 523–530.

Rabe-Hesketh, S., & Skrondal, A. (2008). Multilevel and longitudinal modeling using stata. College Station, Texas: STATA Press.

Raudenbush, S., & Bryk, A. (2002). Hierarchical linear models: Applications and data analysis methods. London: Sage Publications.

Rosenstone, S. (1982). Economic adversity and voter turnout. American Journal of Political Science,26(1), 26–46.

Rovny, J. (2013). Where do radical right parties stand? Position blurring in multidimensional competition. European Political Science Review,5(1), 1–26.

Runciman, W. G. (1966). Relative deprivation and social justice: A study of attitudes to social inequality in twentieth-century England. London: Routledge and Kegan Paul.

Schudson, M. (1999). The good citizen: A history of American civic life. Cambridge: Harvard Univerity Press.

Shen, F. (2009). An economic theory of political communication effects: How the economy conditions political learning. Communication Theory,19(4), 374–396.

Sniderman, P. M., Glazer, J., & Griffin, R. (1990). Information and democratic processes. Urbana: University of Illinois Press.

Solt, F. (2008). Economic inequality and democratic political engagement. American Journal of Political Science,52(1), 48–60.

Soroka, S. N. (2006). Good news and bad news: Asymmetric responses to economic information. Journal of Politics,68(2), 372–385.

Strandh, M. (2000). Different exit routes from unemployment and their impact on mental well-being: The role of the economic situation and the predictability of the life course. Work, Employment & Society,14(3), 459–479.

Talving, L. (2017). The electoral consequences of austerity: Economic policy voting in Europe in times of crisis. West European Politics,40(3), 560–583.

Tella, D., MacCulloch, R. J., & Oswald, A. J. (2001). Preferences over inflation and unemployment: Evidence from surveys of happiness. The American Economic Review,91(1), 335–341.

Tillman, E. R. (2008). Economic judgments, party choice, and voter abstention in cross-national perspective. Comparative Political Studies,41(9), 1290–1309.

Valentino, N. A., Banks, A. J., Hutchings, V. L., & Davis, A. K. (2009). Selective exposure in the internet age. Political Psychology,30(4), 591–613.

Warwick, P. V. (2002). Toward a Common dimensionality in west European policy spaces. Party Politics,8(1), 101–122.

Wegbreit, E., Franconeri, S., & Beeman, M. (2014). Anxious mood narrows attention in feature space. Cognition and Emotion,29, 668–677.
Acknowledgements
We thank Tim Hellwig, Enrique Hernández, Jordi Muñoz, Paul Marx and the three anonymous reviewers for their insightful comments and suggestions. We also thank the participants at the workshops "Inequalities in Political Knowledge" at the ECPR Joint Sessions in Salamanca, 'Political knowledge and information processing' at the University of Vienna and the CSES conference 'Representation and Participation around the World' in Taipei, for their helpful remarks on earlier versions of this paper. Replication materials can be found at https://doi.org/10.7910/DVN/HH369O.
Electronic supplementary material
Below is the link to the electronic supplementary material.
About this article
Cite this article
Marinova, D.M., Anduiza, E. When Bad News is Good News: Information Acquisition in Times of Economic Crisis. Polit Behav 42, 465–486 (2020). https://doi.org/10.1007/s11109-018-9503-3
Keywords
Electoral information

Economic information

Gaps in political knowledge

Economic crisis

Economic voting