Abstract
Scholars find that women who run for Congress are just as likely to win as men are, yet women face considerable challenges related to their sex on the campaign trail. Women are more likely to face challengers than men are, the challengers they face are typically more qualified, and gender stereotypes paint women as less able to handle important issues like defense and foreign affairs. We examine how women succeed in the face of these obstacle, arguing that women are successful, in part, because they craft large, diverse legislative agendas that include bills on a mix of topics. These topics include district interests, women's interests, and the masculine issues on which women are disadvantaged. We believe this balancing strategy allows women to develop reputations for competence on a wide range of issues, which in turn, helps them deter electoral challengers. We test our hypotheses by analyzing a comprehensive database of all bills introduced in the U.S. House between 1963 and 2009. We find that female MCs propose more bills, spread across more issues, than do men. Further, the topics of the bills women sponsor span a range of women's issues, masculine issues, and gender-neutral topics—giving support to the idea that women balance their legislative portfolios. Finally, we examine the electoral benefits to women of this strategy by analyzing rates of challenger emergence in Congressional races. We find that women must introduce twice as much legislation as men to see the probability of challenger emergence decrease to a level that is indistinguishable from that of men. The added effort and staff hours female MCs typically devote to crafting legislation, vis-à-vis male MCs, only serves to put them on equal footing with men. It does not give them an advantage.
This is a preview of subscription content, log in to check access.
Access options
Buy single article
Instant access to the full article PDF.
US$ 39.95
Price includes VAT for USA
Subscribe to journal
Immediate online access to all issues from 2019. Subscription will auto renew annually.
US$ 99
This is the net price. Taxes to be calculated in checkout.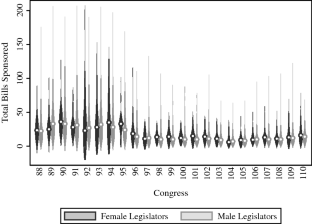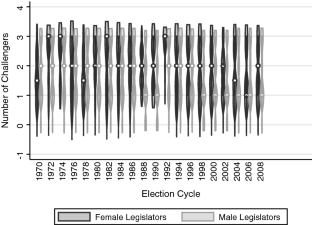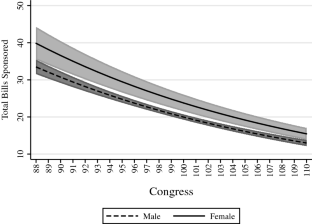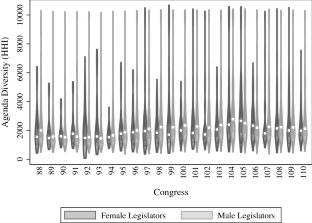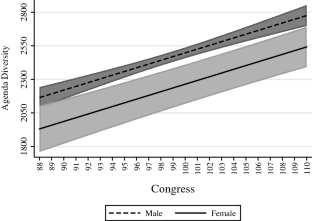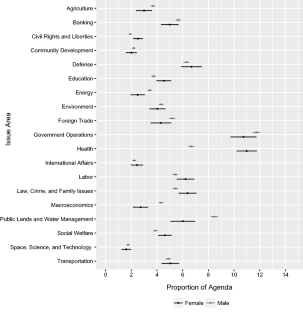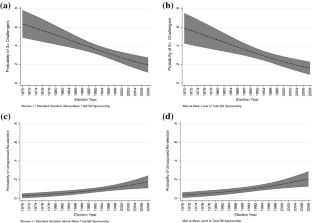 Notes
1.

2.

The polidata election results are available by request from Princeton University's Data and Statistical Services.

3.

The 19 major topic areas are: macroeconomics, civil rights and liberties, health, agriculture, 'labor, employment, and immigration,' education, environment, energy, 'space, science, and technology,' 'law, crime, and family issues,' social welfare, community development and housing, defense, transportation, foreign trade, international affairs and foreign aid, government operations, and public lands and water management. In 2014, the coding scheme was updated to create a standalone 'immigration' category. Our analysis does not reflect this change.

4.

Community development and housing includes bills related to low and middle income housing programs, veteran housing assistance, elderly housing, and aid for the homeless.

5.

These are coding decisions made by the Congressional Bill Project team. We do not collapse the variables into masculine or feminine issue areas.

6.

Additionally, if a member does not sponsor any bills during a given session, he or she does not appear in the CBP data during that session. To resolve this, we compared complete member rosters for each session to the bill sponsorship data and added members who did not put forth bills. A total of 109 members did not introduce legislation in at least one session over the time period of our analysis. We include these members only in the analysis of the number of bills sponsored, where zero is a meaningful number. Including a zero in the analysis of agenda concentration or areas of sponsorship is not logically sound.

7.

In each session, this value is constructed only for members who have at least one bill introduction. If a member does not have a legislative portfolio, we cannot assess the diversity of that portfolio.

8.

The index can alternatively be calculated using proportions rather than percentages, in which case, it ranges from zero to one.

9.

If these equations were unrelated, the coefficients and standard errors would be identical to running 19 distinct Time Series OLS models. We estimated these individual equations and concluded that the error structure is related, and thus a SUR modeling strategy is more appropriate.

10.

In the appendix, we provide a model that includes an interaction between gender and electoral advantage. We do not see a significant effect across genders.

11.

We classify party leadership as Speaker, Majority and Minority Leader, and Majority and Minority Whip.

12.

One in five women who has served in the House and Senate initially succeeded their late husbands, although this practice was more common during the earlier decades of the study (prior to the mid 1970s) than in the later ones (Office of the Historian 2017).

13.

These data were collected in the census year value and converted to 2012 dollars using the Bureau of Labor Statistics' "Consumer Price Index Inflation calculator."

14.

In the appendix, we report the coefficients and standard error for each model.

15.

But note that crime and family issues includes some subtopics related to women, such as domestic violence, family law, and child abuse.

16.

One explanation for lessened attention to public lands is the nature of the districts women typically represent. It has been argued women come from district with less public lands.
References
Anzia, S., & Berry, C. R. (2011). The jackie (and jill) robinson effect: Why do congresswomen outperform congressmen? American Journal of Political Science, 55(3), 478–493.

Atkinson, M. L. (Forthcoming). Gender and policy agendas in the post-war house. Policy Studies Journal. https://doi.org/10.1111/psj.12237.

Boatright, R., Moscardelli, V. G., & Vickrey, C. (2017). Congressional primary elections data. https://wordpress.clarku.edu/primarytiming.

Boydstun, A. E., Bevan, S., & Thomas, H, I. I. I. (2014). The importance of attention diversity and how to measure it. Policy Studies Journal, 42, 173–296.

Burrell, B. C. (1994). A woman's place is in the House: Campaigning for Congress in the feminist era. Ann Arbor, MI: University of Michigan Press.

Carroll, S. (1994). Women as candidates in American politics. Indiana University Press. https://books.google.com/books?id=0ZI24YkPezYC.

Carroll, S. J. (2002). Representing women: Congresswomens perceptions of their representational roles. In C. Rosenthal (Ed.), Women transforming Congress. Norman, OK: University of Oklahoma Press.

Clark, C., & Clark, J. (1986). The old vs. the new gender gap: A case study of deploying the mx in wyoming. Presented at the annual meeting of the Western Political Science Association, Sacramento.

Dodson, D. L. (2006). The impact of women in congress. Oxford: Oxford University Press.

Dolan, J., & Kropf, J. S. (2004). Credit claiming from the U.S. house. Harvard International Journal of Press/Politics, 9(1), 41–59. https://doi.org/10.1177/1081180X03260073.

Druckman, L. R. J., James, N., & Ostermeir, E. (2004). Candidate strategies to prime issues and image. American Journal of Political Science, 66, 1180–1202.

Fox, R. (1997). Gender dynamics in congressional elections. Thousand Oaks, CA: Sage.

Fox, R. (2006). Congressional elections: Where are we on the road to gender parity? In S. Carroll & R. Fox (Eds.), Gender and elections: Shaping the future of American politics (pp. 97–116). Cambridge: Cambridge University Press.

Garand, J. C., & Burke, K. M. (2006). Legislative activity and the 1994 republican takeover: Exploring changing patterns of sponsorship and cosponsorship in the U.S. house. American Politicts Research, 34, 159–188.

Gerrity, J. C., Osborn, T., & Mendez, J. M. (2007). Women and representation: A different view of the district? Politics & Gender, 2, 179–200.

Gray, V., & Lowery, D. (2000). The population ecology of interest representation: Lobbying communities in the American states. Ann Arbor, MI: University of Michigan Press.

Hernson, P. S., Lay, J. C., & Stokes, A. (2003). Women running as women: Candidates' gender, campaign issues, and voter targeting strategies. Journal of Politics, 65, 244–255.

Huddy, L., & Terkildsen, N. (1993). The consequences of gender stereotypes at different levels and types of office. Political Research Quarterly, 46, 503–525.

Kahn, K. F. (1996). The political consequences of being a woman. New York: Columbia University Press.

Kathlene, L. (1995). Alternative views on crime: Legislative policymaking in gendered terms. Journal of Politics, 57, 696–723.

King, A. (1997). Running scared: Why America's politicians campaign too much and govern too little. New York, NY: Martin Kessler Books.

Kuklinski, J., & West, D. (2005). Issues and institutions: 'Winnowing' in the U.S. congress. American Journal of Political Science, 49, 313–326.

Laakso, M., & Taagepera, R. (1979). Effective number of parties: A measure with application to west europe. Comparative Political Studies, 12, 3–27.

MacDonald, J. A., & OBrien, E. (2011). Quasi-experimental design, and advancing womens interests: Reexamining the influence of gender on substantive representation. Political Research Quarterly, 64, 472–486.

Mansbridge, J. (1999). Should blacks represent blacks and women represent women? a contingent "yes". Journal of Politics, 61, 628–657.

Mayhew, D. R. (1974). Congress: The Electoral Connection. New Haven: Yale University Press.

Milyo, J., & Schosberg, S. (2000). Gender bias and selection bias in house elections. Public Choice, 105(1), 41–59. https://doi.org/10.1023/A:1005198906982.

Office of the Historian. (2017). Shared Experiences of Women in Congress. http://history.house.gov/Exhibitions-and-Publications/WIC/Historical-Essays/Introduction/Shared-Experiences

Osborn, T., & Mendez, J. M. (2010). Speaking as wome: Women and floor speeches in the senate. Journal of Women, Politics & Policy, 31, 1–21.

Palmer, B., & Simon, D. (2005). When women run against women: The hidden influence of female incumbents in elections to the U.S. house of representatives, 1956–2002. Politics and Gender, 1, 39–63.

Palmer, B., & Simon, D. (2006). Breaking the political glass ceiling: Women and congressional elections. New York: Routledge.

Pearson, K., & McGhee, E. (2013). What it takes to win: Questioning gender neutral outcomes in U.S. house elections. Politics and Gender, 9(4), 439462. https://doi.org/10.1017/S1743923X13000433.

Pitkin, H. F. (1967). The concept of representation. Berkeley: University of California Press.

Schiller, W. J. (1995). Senators as political entrepreneurs: Using bill sponsorship to shape legislative agendas. American Journal of Political Science, 39(1), 186–203.

Sellers, P. (1998). Strategy and background in congressional campaigns. American Political Science Review, 92, 159–171.

Stigler, G. J. (1972). Economic competition and political competition. Public Choice, 13, 91–106.

Sulkin, T. (2009). Campaign appeals and legislative action. Journal of Politics, 71, 1093–1108.

Swers, M. (1998). Are women more likely to vote for womens issue bills than their male colleagues? Legislative Studies Quarterly, 23, 435–448.

Swers, M. (2001). Understanding the policy impact of electing women: Evidence from research on congress and state legislatures. PS. Political Science and Politics, 36, 217–219.

Swers, M. (2002). The difference women make: The policy impact of women in Congress. Chicago: University of Chicago Press.

Swers, M. (2007). Building a reputation on national security: The impact of stereotypes releated to gender and military experience. Legislative Studies Quarterly, 32, 550–595.

Volden, C., Wiseman, A.E., Wittmer, D.E. (2016). Womens issues and their fates in the us congress. Political Science Research and Methods. https://doi.org/10.1017/psrm.2016.32

Windett, J. H. (2014). Gendered campaign strategies in U.S. elections. American Politics Research, 42(4), 628–655.
Acknowledgements
The authors would like to thank Kevin Banda, Frank Baumgartner, Nate Birkhead, Colleen Carpinella, Tom Carsey, Erin Cassese, Melody Crowder-Meyer, Kathy Dolan, Tessa Ditonto, Jill Greenlee, Jeff Harden, Morgan Hazelton, Rocket Holman, Leonnie Huddy, Justin Kirkland, Amber Knight, Chryl Laird, Carrie Langer, Heather Ondercin, Steve Rogers, Kira Sanbonmatsu, the Gender and Political Psychology Writing Group, seminar participants at the 2014 New Research in Gender and Political Psychology Conference, Iowa State University Department of Political Science, Iowa State University Carrie Chapman Catt Center, Saint Louis University Department of Political Science, Saint Louis University Department of Women's and Gender Studies, Washington University Department of Political Science, the three anonymous reviewers and editor at Political Behavior for helpful feedback and assistance in previous drafts of this paper.
Electronic supplementary material
Below is the link to the electronic supplementary material.
About this article
Cite this article
Atkinson, M.L., Windett, J.H. Gender Stereotypes and the Policy Priorities of Women in Congress. Polit Behav 41, 769–789 (2019). https://doi.org/10.1007/s11109-018-9471-7
Keywords
Women's representation

Legislative agendas

Descriptive representation