Abstract
In general, politicians involved in scandals of various natures are punished by voters. Good-looking politicians, on the contrary, are rewarded by voters. Almost fifty years of empirical research has shown that ill-informed voters will use the physical attractiveness of candidates, as well as readily-available information on scandal allegations involving candidates running for office, as a heuristic shortcut to determine their voting behaviour. This article represents the first attempt to link the existing literature on the electoral effects of scandals with the existing literature of the electoral impact of candidate attractiveness. Using data on U.S. House of Representatives elections between 1972 and 2012, we find that candidate attractiveness mitigates the negative electoral effects of involvement in scandal; this implies that attractive politicians do get a "break" when involved in scandals. Of all type of scandals, we also find that candidate attractiveness has the largest moderating role if the incumbent is embroiled in a sex scandal.
This is a preview of subscription content, log in to check access.
Access options
Buy single article
Instant access to the full article PDF.
US$ 39.95
Price includes VAT for USA
Subscribe to journal
Immediate online access to all issues from 2019. Subscription will auto renew annually.
US$ 99
This is the net price. Taxes to be calculated in checkout.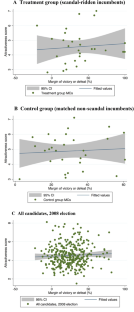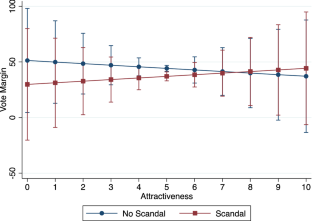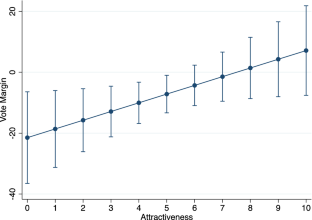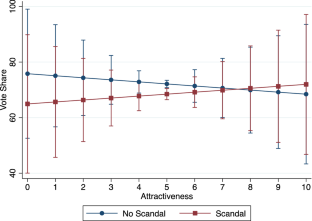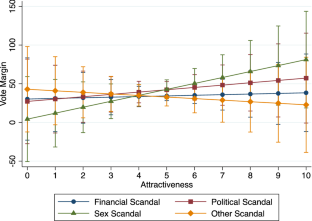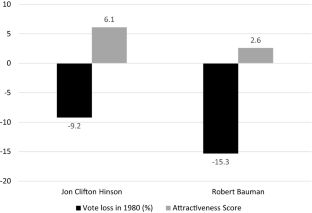 Notes
1.

For example, Dallek (2003) revealed a sordid affair between John Kennedy and 19 year-old intern Mimi Alford. A decade later, Alford (2013) published her own autobiography where despicable events that border on sexual violence perpetrated by Kennedy are described in detail. Yet, these revelations have not changed anything: Nixon continues to be remembered as a national embarrassment, while Kennedy is remembered a national hero.

2.

We try here to present a very concise and brief account of the two literatures. For a comprehensive overview of the scandals literature see Basinger (2013, 2016), Doherty et al. (2014) and Praino et al. (2013). For a complete synthesis of the attractiveness literature see Milazzo and Mattes (2016) and Stockemer and Praino (2017).

3.

In brief, the House Banking scandal broke in 1992 and involved a large number of Members of the U.S. House of Representatives who had written hundreds of checks using their accounts with the House Bank without funds to cover them; the Abscam scandal was an undercover operation run by the FBI starting in 1978 that ultimately convicted a number of American politicians for receiving bribes from FBI agents posing as wealthy Arab businessmen; Duke Cunningham was a member of the U.S. House of Representatives who received millions of dollars in bribes from defence contractors; Jack Abramoff is a lobbyist who received tens of millions of dollars from Native American tribes in exchange for political influence with the complicity of various political figures. For complete descriptions, explanations, and analyses of these scandals, see Gershman (1982); Jacobson and Dimock (1994); Stern (2007); Stone (2006).

4.

We follow Basinger et al.'s (2014) lead and use the same four categories in our classification. "Financial Scandals" include instances of corruption, bribery, and other clear financial misconduct. "Political Scandals" include a range of political misconducts, including misuse of office. "Sex Scandals" include extramarital affairs, sexual harassment, solicitation and other misconducts that are sexual in nature. "Other Scandals" is a catch-all category including all types of scandals that are too few to warrant their own separate category and, among other things, include 10 instances of driving while intoxicated, 7 instances of assault and 3 instances of drug use.

5.

The Almanac of American Politics has been published continuously since 1972. We have used all editions from 1972 to 2012, but we cite here only the most-cited edition according to Google Scholar, that is, the 1975 edition of the work (Barone et al. 1975).

6.

Using student coders might be suboptimal, as students are a rather homogeneous group, whose attractiveness assessments might not be representative of a wider population. Yet, recent research has shown not only that the features that render individuals attractive remain the same regardless of whether coders are young or old, but also that using a more representative sample of coders yields the same attractiveness scores (see Praino et al. 2014).

7.

We thank Gary Jacobson for sharing with us his challenger score data (Jacobson, 1981, 1989), Charles Stewart III for letting us use his committee assignment data (Stewart III, 1992), and Keith Poole and Howard Rosenthal, for making their NOMINATE data readily available to all scholars who desire to use it (Poole and Rosenthal 1985, 2001).

8.

9.

There are several possible reasons why politicians who decide to retire after a scandal are more attractive than politicians who decide to run again for office. For instance, research has shown that attractive politicians enjoy more media exposure than their less-attractive colleagues (see Lenz and Lawson 2011), and this could hurt them during a scandal. Alternatively, these individuals could be simply deciding to retire and enjoy the benefits that their attractiveness can produce in other fields (see Eagly et al. 1991; Watkins and Johnston 2000). Even more simply, these individuals appear to come from less-safe districts. In fact, while scandal-tainted incumbents had an average electoral margin of victory of 39.5%, these individuals who chose to retire had a much lower margin of 29%. While all these possible explanations are interesting and plausible, they remain conjecture and untested hypotheses until further analysis is conducted. While due to space constraints it is impossible for us to fully explore here these issues, future research should explore them in detail.

10.

More in detail, we select one matching case for each case in our treatment group and include it in the control group by excluding from our overall sample all observations that differ in each of the matching variables until only one observation is left. For the few instances where more than one observation remained, we assigned a random number to each remaining observation and used a random number generator to select our matching observation.

11.

To further determine whether the coefficient of the interaction term separately and the combined influence between the three terms scandal involvement, attractiveness and the interaction are different from zero, we conducted two Wald Tests. We find that the interaction alone is statistically different from zero (i.e., the chi2 statistic is 4.28, the significance level is .04). We also find that the three coefficients for scandal involvement, attractiveness and the interaction between the two are not simultaneously equal to zero (i.e., the chi2 statistic is 3.34, the significance level is .02), meaning that including these variables creates a significant improvement in the model fit.
References
Abramowitz, A. I. (1991). Incumbency, campaign spending, and the decline of competition in US House elections. The Journal of Politics, 53(1), 34–56.

Antonakis, J., & Dalgas, O. (2009). Predicting elections: Child's play! Science, 323(5918), 1183.

Banducci, S. A., Karp, J. A., Thrasher, M., & Rallings, C. (2008). Ballot photographs as cues in low-information elections. Political Psychology, 29(6), 903–917.

Barone, M., Ujifusa, G., & Matthews, D. (1975). Almanac of American politics, 1976: Dutton.

Basinger, S. J. (2013). Scandals and congressional elections in the post-Watergate era. Political Research Quarterly, 66(2), 385–398.

Basinger, S. J. (2016). Scandals and Ethics Reform in the US House of Representatives. Public Integrity, 18(4), 359–375.

Basinger, S. J., Brown, L., Harris, D. B., & Gulati, G. (2014). Counting and classifying congressional scandals. In A. Dagnes & M. Sachleben (Eds.), Scandal! an interdisciplinary approach to the consequences, outcomes, and significance of political scandals (pp. 3–28). New York: Bloomsbury Press.

Berggren, N., Jordahl, H., & Poutvaara, P. (2010). The looks of a winner: Beauty and electoral success. Journal of Public Economics, 94(1), 8–15.

Berggren, N., Jordahl, H., & Poutvaara, P. (2017). The right look: Conservative politicians look better and voters reward it. Journal of Public Economics, 146, 79–86.

Brusattin, L. (2011). Candidate visual appearance as a shortcut for both sophisticated and unsophisticated voters: Evidence from a Spanish online study. International Journal of Public Opinion Research, 24(1), 1–20.

Cox, G. W., & Katz, J. N. (1996). Why did the incumbency advantage in US House elections grow? American Journal of Political Science. https://doi.org/10.2307/2111633.

Dion, K., Berscheid, E., & Walster, E. (1972). What is beautiful is good. Journal of Personality and Social Psychology, 24(3), 285.

Doherty, D., Dowling, C. M., & Miller, M. G. (2011). Are financial or moral scandals worse? It depends. PS. Political Science & Politics, 44(04), 749–757.

Doherty, D., Dowling, C. M., & Miller, M. G. (2014). Does time heal all wounds? Sex scandals, tax evasion, and the passage of time. PS. Political Science & Politics, 47(02), 357–366.

Druckman, J. N. (2003). The Power of television images: The first Kennedy-Nixon debate revisited. Journal of Politics, 65(2), 559–571.

Eagly, A. H., Ashmore, R. D., Makhijani, M. G., & Longo, L. C. (1991). What is beautiful is good, but…: A meta-analytic review of research on the physical attractiveness stereotype. Psychological Bulletin, 110(1), 109.

Efrain, M. G., & Patterson, E. (1974). Voters vote beautiful: The effect of physical appearance on a national election. Canadian Journal of Behavioural Science/Revue canadienne des sciences du comportement, 6(4), 352.

Fraile, M. (2013). Do information-rich contexts reduce knowledge inequalities? The contextual determinants of political knowledge in Europe. Acta Politica, 48(2), 119–143.

Funk, C. L. (1996). The impact of scandal on candidate evaluations: An experimental test of the role of candidate traits. Political Behavior, 18(1), 1–24.

Galston, W. A. (2001). Political knowledge, political engagement, and civic education. Annual Review of Political Science, 4(1), 217–234.

Galvis, Á. F., Snyder, J. M., Jr., & Song, B. (2016). Newspaper market structure and behavior: Partisan coverage of political scandals in the United States from 1870 to 1910. The Journal of Politics, 78(2), 368–381.

Gelman, A., & King, G. (1990). Estimating incumbency advantage without bias. American Journal of Political Science, 34(4), 1142–1164.

Gershman, B. L. (1982). Abscam, the judiciary, and the ethics of entrapment. The Yale Law Journal, 91(8), 1565–1591.

Graycar, A. (2015). Corruption: classification and analysis. Policy and Society, 34(2), 87–96.

Hart, W., Ottati, V. C., & Krumdick, N. D. (2011). Physical attractiveness and candidate evaluation: A model of correction. Political Psychology, 32(2), 181–203.

Herrick, R. (2000). Who will survive? An exploration of factors contributing to the removal of unethical house members. American Politics Quarterly, 28(1), 96–109.

Jacobson, G. C., & Dimock, M. A. (1994). Checking out: The effects of bank overdrafts on the 1992 house elections. American Journal of Political Science, 38(3), 601–624.

Leigh, A., & Susilo, T. (2009). Is voting skin-deep? Estimating the effect of candidate ballot photographs on election outcomes. Journal of Economic Psychology, 30(1), 61–70.

Lenz, G. S., & Lawson, C. (2011). Looking the part: Television leads less informed citizens to vote based on candidates' appearance. American Journal of Political Science, 55(3), 574–589.

McAllister, I. (1998). Civic education and political knowledge in Australia. Australian Journal of Political Science, 33(1), 7–23.

Milazzo, C., & Mattes, K. (2016). Looking good for election day: Does attractiveness predict electoral success in Britain? The British Journal of Politics & International Relations, 18(1), 161–178.

Olivola, C. Y., & Todorov, A. (2010a). Elected in 100 milliseconds: Appearance-based trait inferences and voting. Journal of Nonverbal Behavior, 34(2), 83–110.

Olivola, C. Y., & Todorov, A. (2010b). Fooled by first impressions? Reexamining the diagnostic value of appearance-based inferences. Journal of Experimental Social Psychology, 46(2), 315–324.

Pattie, C., & Johnston, R. (2012). The electoral impact of the UK 2009 MPs' expenses scandal. Political Studies, 60(4), 730–750.

Peters, J. G., & Welch, S. (1978). Political corruption in America: a search for definitions and a theory, or if political corruption is in the mainstream of American politics why is it not in the mainstream of American politics research? American Political Science Review, 72(03), 974–984. https://doi.org/10.2307/1955115.

Praino, R., & Graycar, A. (2017). Does Corruption Follow Opportunity? A Study of the US Congress. Public Integrity, 1–19. Advanced Online Publication, https://doi.org/10.1080/10999922.2017.1402169.

Praino, R., & Stockemer, D. (2012a). Tempus Edax Rerum: Measuring the incumbency advantage in the US House of Representatives. The Social Science Journal, 49(3), 270–274.

Praino, R., & Stockemer, D. (2012b). Tempus Fugit, Incumbency Stays: Measuring the Incumbency Advantage in the U.S. Senate. Congress & the Presidency, 39(2), 160–176.

Praino, R., Stockemer, D., & Moscardelli, V. G. (2013). The lingering effect of scandals in Congressional elections: incumbents, challengers, and voters. Social Science Quarterly, 94(4), 1045–1061. https://doi.org/10.1111/ssqu.12046.

Praino, R., Stockemer, D., & Ratis, J. (2014). Looking good or looking competent? Physical appearance and electoral success in the 2008 congressional elections. American Politics Research, 42(6), 1096–1117.

Puglisi, R., & Snyder, J. M. (2011). Newspaper coverage of political scandals. The Journal of Politics, 73(3), 931–950.

Rosar, U., Klein, M., & Beckers, T. (2008). The frog pond beauty contest: Physical attractiveness and electoral success of the constituency candidates at the North Rhine-Westphalia state election of 2005. European Journal of Political Research, 47(1), 64–79.

Rosar, U., Klein, M., & Beckers, T. (2012). Magic Mayors: Predicting Electoral Success from Candidates' Physical Attractiveness under the Conditions of a Presidential Electoral System. German Politics, 21(4), 372–391.

Sartori, G. (1970). Concept misformation in comparative politics. American Political Science Review, 64(4), 1033–1053.

Stern, M. (2007). The Wrong Stuff: The Extraordinary Saga of Randy Duke Cunningham, the Most Corrupt Congressman Ever Caught: PublicAffairs.

Stockemer, D., & Praino, R. (2015). Blinded by Beauty? Physical Attractiveness and Candidate Selection in the US House of Representatives. Social Science Quarterly, 96(2), 430–443.

Stockemer, D., & Praino, R. (2017). Physical attractiveness, voter heuristics and electoral systems: The role of candidate attractiveness under different institutional designs. The British Journal of Politics and International Relations, 19(2), 336–352.

Stone, P. H. (2006). Heist: Superlobbyist Jack Abramoff, his Republican allies, and the buying of Washington: Macmillan.

Thompson, J. B. (2013). Political scandal: Power and visibility in the media age. Cambridge: Wiley.

Todorov, A., Mandisodza, A. N., Goren, A., & Hall, C. C. (2005). Inferences of competence from faces predict election outcomes. Science, 308(5728), 1623–1626.

Todorov, A., Pakrashi, M., & Oosterhof, N. N. (2009). Evaluating faces on trustworthiness after minimal time exposure. Social Cognition, 27(6), 813–833.

Vancil, D. L., & Pendell, S. D. (1987). The myth of viewer-listener disagreement in the first Kennedy-Nixon debate. Central States Speech Journal, 38(1), 16–27.

Watkins, L. M., & Johnston, L. (2000). Screening job applicants: The impact of physical attractiveness and application quality. International Journal of selection and assessment, 8(2), 76–84.

Welch, S., & Hibbing, J. R. (1997). The effects of charges of corruption on voting behavior in congressional elections, 1982–1990. The Journal of Politics, 59(01), 226–239. https://doi.org/10.2307/2998224.

Winkielman, P., Halberstadt, J., Fazendeiro, T., & Catty, S. (2006). Prototypes are attractive because they are easy on the mind. Psychological Science, 17(9), 799–806.
About this article
Cite this article
Stockemer, D., Praino, R. The Good, the Bad and the Ugly: Do Attractive Politicians Get a 'Break' When They are Involved in Scandals?. Polit Behav 41, 747–767 (2019). https://doi.org/10.1007/s11109-018-9469-1
Keywords
Physical attractiveness

Scandals

Elections

US House of Representatives

US congress