Abstract
Political similarities and differences are often described in terms of left and right. However, while scholars have long focused on their substantive policy content, ideological labels also serve largely as symbolic identifiers of political groups. We investigate how the contextual variation in what left and right mean relates to the way that citizens perceive party ideological positions in European countries. We discuss the impact of categorization, a basic cognitive process where people organize reality by classifying objects into groups based on some relevant characteristics. We argue that when left and right strongly reflect symbolic group attachments, citizens tend to accentuate their perceived similarity to parties in their own ideological camp, and difference from parties in the opposite ideological camp. Using data from the European Election Study 2009, we provide empirical evidence of the latter process. We conclude that taking into account the categorical function of left–right provides important insights to understand political perceptions and polarization.
This is a preview of subscription content, log in to check access.
Access options
Buy single article
Instant access to the full article PDF.
US$ 39.95
Price includes VAT for USA
Subscribe to journal
Immediate online access to all issues from 2019. Subscription will auto renew annually.
US$ 99
This is the net price. Taxes to be calculated in checkout.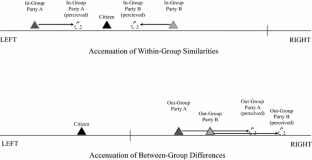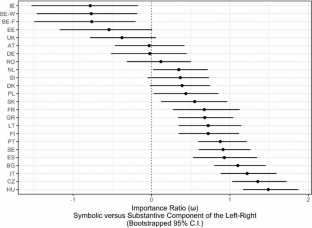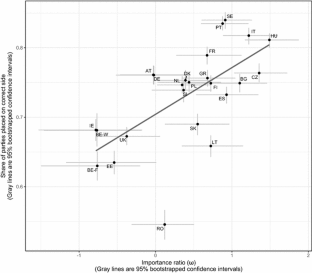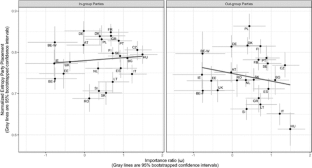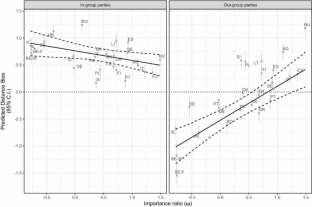 Notes
1.

When we talk about "bias" we refer here to cognitive bias, a "[s]ystematic error in judgment and decision-making common to all human beings which can be due to cognitive limitations, motivational factors, and/or adaptations to natural environments" (Wilke and Mata 2012, p. 531). We exclude from our discussion misperceptions attributable to random error, and we assume no explicit intention by the respondents to misplace the parties. We use terms like "distortion", "misperception" and "misplacement" in a similar fashion.

2.

These two aspects of categorization mirror the availability and representative heuristics described by Kahneman and Tversky (see Kahneman et al. 1982). Their function for political cognition is also arguably the same: citizens are more likely to make sense of politics based on left and right categories if they are more easily retrieved from memory (availability heuristic) and if those categories are prominent and exist as useful prototypes formed in their minds (representativeness heuristic).

3.

Many empirical studies in social psychology find only one instance of accentuation (either within-group similarity or between-group difference), while very few find both because the importance of discrimination and generalization varies between different tasks. Moreover, people tend to systematically perceive more variability within their own group than in the out-group (Haslam et al. 1996; Nicholson 2012), so the assimilation of in-group stimuli is generally weaker.

4.

Note that this process is agnostic to whether ideological self-categorizations are driven by cognitive or motivational factors. In the first case, the two groups may be perceived as more different than they are because between-group differences are accentuated. In the second case, people may perceive parties on the opposite side to be more extreme than they actually are to maximize their self-perception as part of a reasonable, moderate political group. Either way, the relevant identity discussed here is based on ideological labels, rather than on partisan labels, hence this process differs from partisan rationalization in that it focuses on groups of parties rather than on individual parties.

5.

Huddy et al. (2015) also show that the strength of partisan attachment as commonly measured in surveys correlates substantially with the "partisan identity scale" that they propose as the gold standard to measure the expressive component of partisanship.

6.

It can be argued that our means to observe party attachment is not comparable to the one used in U.S. surveys, nor the concept itself is equivalent to the Michigan definition of "partisanship" popular in American politics research. EES survey asks respondents whether they "consider themselves to be close" to a particular party. This wording sets the nature of the connection between the respondents and the parties as a self-definition, rather than a behavior (such as voting), so it requires respondents to consider the connection to a party as part of their own political identity. The emphasis on closeness aims to maximize the cross-context comparability of the item, its only drawback being the excessive ease to elicit a positive response (Johnston 2006). However, we further distinguish weak partisans from strong partisans by weighting the variables for the strength of attachment. While this instrument is surely imprecise, it does enough to focus on party attachment as a self-definition, and to use a term that can be understood in a similar way across different contexts.

7.

For question wording, see Appendix D in the Supplemental Material.

8.

As both Grömping (2007) and Johnson and LeBreton (2004) note, most common measures of VRI tend to produce similar estimations. However, Silber et al. (1995) technique presented here is more appropriate for our comparative purpose, as the country-level estimates that it produces are on the same scale – that is, in relation to the importance of substantive considerations for ideology. We have also replicated the analysis in this section using Grömping method based on R-Square decomposition, obtaining nearly identical results. The two methods are compared in Appendix E in the Supplemental Material. An important advantage of Grömping method is that it allows to look at the relative importance of all components separately (socio-structural variables, issues, partisanship). This makes it clear that the importance ratio ω is not simply a measure of the salience of the left–right cleavage, but it does capture the relative importance of partisanship versus substantive variables. See the appendix for this discussion.

9.

Measures of uncertainty are obtained using parametric bootstrap.

10.

In some cases, the presence of catch-all parties defined as "moderate" or "centrist" might suggest that this binary categorization is too rigid. However, in the political contexts where left–right is at least minimally relevant, even centrist parties tend to hold positions that are either "moderate-left" or "moderate-right" (Benoit and Laver 2006). Some centrist parties could be competing on a dimension that is completely orthogonal to left–right (as it is understood in their own context), and in this case the left–right classification would simply fail as a criterion to discriminate between them and other parties. However, in practice, large parties of this kind have been rare. In the CHES data, only three parties are positioned in the exact center: the Liberal Democrats in the UK, the Democrats 66 in the Netherlands, and the People's Party in Slovakia (ĽS-HZDS). In all these three countries the value of ω is rather low, with the lowest being the UK, where Liberal Democrats were particularly important in the period when the survey was conducted. In other words, in all these countries left–right does not appear to have a strong group meaning, hence its categorical function should be limited.

11.

We obtain very similar results if we code the parties positioned in the center and "don't knows" as wrong, see Appendix E in the Supplemental Material.

12.

The correlation shown in the picture is statistically significant (r = 0.64, p < 0.001). We also ran alternative models based on a dichotomous right/wrong group indicator, where we control for individual factors and contextual factors such as polarization and the number of parties: the effect of ω remains strong. Results are available in Appendix E in the Supplemental Material.

13.

Because the left and right camps in different countries contain different numbers of parties, and because some respondents did not provide an assessment of party placement for all parties, we normalized our measure by dividing the observed entropy by the theoretically maximal entropy given the number of parties a respondent evaluates in a given category.

14.

As an alternative proxy for generalization, we measured the range of the perceived party positions in each category for each respondent. Results are similar, as reported in Appendix E in the Supplemental Material.

15.

For instance, a German partisan of the Christian-democrat CDU will have value 1 for the dyadic observation referring to CDU in the "Partisan (Own Party)" variable, and value 0 for the same observation in the "Partisan (Other Party)" variable. In the dyadic observations referring to the other parties, the respondent will have value 0 in the "Partisan (Own Party)" variable, and value 1 in the "Partisan (Other Party)" variable. Respondents who do not feel close to any party have value zero for both variables, acting as baseline category.

16.

To take into account the fact that ω is an estimate, and so it comes with error, we re-estimated the full model 500 times imputing at each round a different value of ω sampled randomly from the distributions we had previously obtained via bootstrapping (see Fig. 2). We then combined the coefficients and standard errors using the "Rubin's rules", very common in practices like multiple imputation (see Rubin 2004). For the full model results, see Table 2 in the Supplemental Material.

17.

The values for "In-Group parties" in the left panel are the country-level random intercepts of the empty model, while those in the "Out-Group parties" in the left panel are obtained by summing the random intercept with the fixed and random effects of the "Out-Group Party dummy" from the same model. The respective confidence intervals have been obtained from the standard errors produced by the empty model.
References
Achen, C. H. (1982). Interpreting and using regression. Beverly Hills: Sage.

Adams, J., Ezrow, L., & Somer-Topcu, Z. (2011). Is anybody listening? Evidence that voters do not respond to european parties' policy statements during elections. American Journal of Political Science, 55(4), 370–382.

Ahler, D. J. (2014). Self-fulfilling misperceptions of public polarization. Journal of Politics, 76(3), 607–620.

Ahler, D. J., & Sood, G. (forthcoming). The parties in our heads: Misperceptions about party composition and their consequences. Journal of Politics.

Allport, G. W. (1954). The nature of prejudice. Cambridge: Addison-Wesley.

Arian, A., & Shamir, M. (1983). The primarily political functions of the left-right continuum. Comparative Politics, 15(2), 139–158.

Bakker, R., De Vries, C., Edwards, E., Hooghe, L., Jolly, S., Marks, G., et al. (2015). Measuring party positions in Europe The Chapel Hill expert survey trend file, 1999–2010. Party Politics, 21(1), 143–152.

Benoit, K., & Laver, M. (2006). Party policy in modern democracies. London: Routledge.

Bølstad, J., & Dinas, E. (2017). A categorization theory of spatial voting: How the center divides the political space. British Journal of Political Science, 47(4), 829–850.

Brewer, M. B. (2007). The importance of being we: Human nature and intergroup relations. American Psychologist, 62(8), 738–751.

Brody, R. A., & Page, B. I. (1972). The assessment of policy voting. American Political Science Review, 66(2), 450–458.

Catellani, P., & Corbetta, P. (2006). Sinistra e destra. Le radici psicologiche della differenza politica. Bologna, Italy: Il Mulino.

Claassen, C., Tucker, P., & Smith, S. S. (2015). Ideological labels in America. Political Behavior, 37(2), 253–278.

Cobb, R. W., & Elder, C. D. (1973). The political uses of symbolism. American Politics Research, 1(3), 305–338.

Collins, N. A. (2010). Categorization-based spatial voting. Quarterly Journal of Political Science, 5, 357–370.

Conover, P. J., & Feldman, S. (1981). The origins and meaning of liberal/conservative self-identifications. American Journal of Political Science, 25(4), 617–645.

Cover, T. M., & Thomas, J. A. (1991). Elements of information theory. New York: John Wiley & Sons.

Dahlberg, S. (2013). Does context matter—The impact of electoral systems, political parties and individual characteristics on voters' perceptions of party positions. Electoral Studies, 32(4), 670–683.

Devine, C. J. (2015). Ideological social identity: Psychological attachment to ideological in-groups as a political phenomenon and a behavioral influence. Political Behavior, 37(3), 509–535.

Downs, A. (1957). An economic theory of democracy. New York: Harper and Row.

Drummond, A. J. (2010). Assimilation, contrast and voter projections of parties in left-right space: Does the electoral system matter? Party Politics, 17(6), 711–743.

Eiser, R. J., & Stroebe, W. (1972). Categorization and social judgment. London: Academic Press.

Ellis, C. R., & Stimson, J. A. (2012). Ideology in America. New York: Cambridge University Press.

Fiske, S. T., & Taylor, S. E. (1991). Social cognition. New York: McGraw-Hill.

Fortunato, D., & Stevenson, R. T. (2013). Perceptions of partisan ideologies: The effect of coalition participation. American Journal of Political Science, 57(2), 459–477.

Fortunato, D., Stevenson, R. T., & Vonnahme, G. (2016). Context and political knowledge: Explaining cross-national variation in partisan left-right knowledge. Journal of Politics, 78(4), 1211–1228.

Freire, A. (2006). Bringing social identities back in: The social anchors of left-right orientation in Western Europe. International Political Science Review, 27(4), 359–378.

Goldstone, R. L., & Hendrickson, A. T. (2010). Categorical perception. Wiley Interdisciplinary Reviews: Cognitive Science, 1(1), 69–78.

Gordon, S. B., & Segura, G. M. (1997). Cross-national variation in the political sophistication of individuals: Capability or choice? Journal of Politics, 59(1), 126–147.

Granberg, D., & Holmberg, S. (1988). The political system matters: Social psychology and voting behavior in Sweden and the United States. Cambridge: Cambridge University Press.

Green, D. P., Palmquist, B., & Schickler, E. (2002). Partisan hearts and minds. New Haven: Yale University Press.

Grömping, U. (2007). Estimators of relative importance in linear regression based on variance decomposition. American Statistician, 61(2), 139–147.

Harré, R., & Van Langenhove, L. (1999). Positioning theory: Moral contexts of intentional action. Malden, MA: Blackwell.

Haslam, S. A., Oakes, P. J., & Turner, J. C. (1996). Social identity, self-categorization, and the perceived homogeneity of ingroups and outgroups: The interaction between social motivation and cognition. In R. M. Sorrentino & E. T. Higgins (Eds.), Handbook of motivation and cognition (Vol. 3: The interpersonal context, pp. 182–222). New York: Guilford Press.

Heit, E., & Nicholson, S. P. (2010). The opposite of republican: Polarization and political categorization. Cognitive Science, 34, 1503–1516.

Huber, J. D. (1989). Values and partisanship in left-right orientations: Measuring ideology. European Journal of Political Research, 17(5), 599–621.

Huddy, L. (2001). From social to political identity: A critical examination of social identity theory. Political Psychology, 22(1), 127–156.

Huddy, L., Mason, L., & Aarøe, L. (2015). Expressive partisanship: Campaign involvement, political emotion, and partisan identity. American Political Science Review, 109(1), 1–17.

Inglehart, R., & Klingemann, H.-D. (1976). Party identification, ideological preference, and the left-right dimension among western mass publics. In I. Budge, I. Crewe, & D. J. Farlie (Eds.), Party identification and beyond. Representation of voting and party competition. London: Wiley.

Iyengar, S., Sood, G., & Lelkes, Y. (2012). Affect, not ideology. A social identity perspective on polarization. Public Opinion Quarterly, 76(3), 405–431.

Iyengar, S., & Westwood, S. J. (2015). Fear and loathing across party lines: New evidence on group polarization. American Journal of Political Science, 59(3), 690–707.

Johnson, J. W., & Lebreton, J. M. (2004). History and use of relative importance indices in organizational research. Organizational Research Methods, 7(3), 238–257.

Johnston, R. (2006). Party identification: Unmoved mover or sum of preferences? Annual Review of Political Science, 9, 329–351.

Jost, J. T., Federico, C. M., & Napier, J. L. (2009). Political ideology: Its structure, functions, and elective affinities. Annual Review of Psychology, 60, 307–337.

Kahneman, D., Slovic, P., & Tversky, A. (Eds.). (1982). Judgment under uncertainty: Heuristics and biases. Cambridge; New York: Cambridge University Press.

Knutsen, O. (1997). The partisan and the value-based component of left-right self-placement: A comparative study. International Political Science Review, 18(2), 191–225.

Lau, R. R., & Redlawsk, D. P. (1997). Voting correctly. American Political Science Review, 91(3), 585–598.

Lau, R. R., & Redlawsk, D. P. (2006). How voters decide: Information processing in election campaigns. Cambridge: Cambridge University Press.

Leeper, T. J., & Slothuus, R. (2014). Political parties, motivated reasoning, and public opinion formation. Political Psychology, 35, 129–156.

Levendusky, M. S. (2009). The Partisan sort: How liberals became democrats and conservatives became republicans. Chicago: University of Chicago Press.

Mason, L. (2015). "I disrespectfully agree": The differential effects of partisan sorting on social and issue polarization. American Journal of Political Science, 59(1), 128–145.

McGarty, C. (1999). Categorization in social psychology. London: Sage.

McGarty, C., & Penny, R. E. C. (1988). Categorization, accentuation and social judgement. British Journal of Social Psychology, 27, 147–157.

McGarty, C., & Turner, J. C. (1992). The effects of categorization on social judgement. British Journal of Social Psychology, 31, 253–268.

Medina, L. (2015). Partisan supply and voters' positioning on the left-right scale in Europe. Party Politics, 21(5), 775–790.

Merrill, S., Grofman, B., & Adams, J. (2001). Assimilation and contrast effects in voter projections of party locations: Evidence from Norway, France, and the USA. European Journal of Political Research, 40(2), 199–221.

Murphy, G. (2002). The big book of concepts. Cambridge, MA: MIT Press.

Nicholson, S. P. (2012). Polarizing cues. American Journal of Political Science, 56(1), 52–66.

Palonen, E. (2009). Political polarisation and populism in contemporary Hungary. Parliamentary Affairs, 62(2), 318–334.

Pardos-Prado, S., & Dinas, E. (2010). Systemic polarisation and spatial voting. European Journal of Political Research, 49(6), 759–786.

Piurko, Y., Schwartz, S. H., & Davidov, E. (2011). Basic personal values and the meaning of left-right political orientations in 20 countries. Political Psychology, 32(4), 537–561.

Popp, E., & Rudolph, T. J. (2011). A tale of two ideologies: Explaining public support for economic interventions. Journal of Politics, 73(03), 808–820.

Rubin, D. B. (2004). Multiple imputation for nonresponse in surveys. Hoboken, NJ: Wiley.

Schattschneider, E. E. (1960). The semisovereign people. Hindsdale, IL: Holt, Rinehart and Winston.

Schneider, D. J. (2004). The psychology of stereotyping. New York: The Guilford Press.

Silber, J. H., Rosenbaum, P. R., & Ross, R. N. (1995). Comparing the contributions of groups of predictors: which outcomes vary with hospital rather than patient characteristics? Journal of the American Statistical Association, 90(429), 7–18.

Tajfel, H. (1981). Human groups and social categories. Cambridge: Cambridge University Press.

Tajfel, H., & Turner, J. (1979). An integrative theory of intergroup conflict. In W. G. Austin & S. Worchel (Eds.), The social psychology of intergroup relations. Brooks/Cole: Monterey, CA.

Tajfel, H., & Wilkes, A. L. (1963). Classification and quantitative judgement. British Journal of Psychology, 54(2), 101–114.

Turner, J. C., Hogg, M. A., Oakes, P. J., Reicher, S. D., & Wetherell, M. S. (1987). Rediscovering the social group: A self-categorization theory. Oxford, UK: Blackwell.

van Egmond, M., van der Brug, W., Hobolt, S., Franklin, M., & Sapir, E. V. (2013). European parliament election study 2009, voter study.

Visser, M. (1994). Policy voting, projection and persuasion: An application of balance theory to electoral behaviour. Political Psychology, 15(4), 699–711.

Wedell, D. H., Hicklin, S. M., & Smarandescu, L. O. (2007). Contrasting models of assimilation and contrast. In D. A. Stapel & J. Suls (Eds.), Assimilation and contrast in social psychology (pp. 45–74). New York: Psychology Press.

Wilke, A., & Mata, R. (2012). Cognitive bias. In V. S. Ramachandran (Ed.), The encyclopedia of human behavior (Vol. 1, pp. 531–535). New York: Academic Press.

Zechmeister, E. (2006). What's left and who's right? A Q-method study of individual and contextual influences on the meaning of ideological labels. Political Behavior, 28(2), 151–173.

Zechmeister, E. J., & Corral, M. (2013). Individual and contextual constraints on ideological labels in Latin America. Comparative Political Studies, 46(6), 675–701.
Acknowledgements
Earlier versions of this paper were presented at the MPSA conference 2014, and at the Political Behavior Research Group (PolBeRG) seminar at the Central European University in Budapest. We thank the present and past members of PolBeRG for all the stimulating discussions over the years, in particular Levi Littvay, Zoltán Fazekas, and Martin Mölder. We also thank the Central European University for providing us and many others a great environment where to exchange ideas. Replication materials are available at https://doi.org/10.7910/DVN/MT7XU0.
Electronic supplementary material
Below is the link to the electronic supplementary material.
About this article
Cite this article
Vegetti, F., Širinić, D. Left–Right Categorization and Perceptions of Party Ideologies. Polit Behav 41, 257–280 (2019). https://doi.org/10.1007/s11109-018-9451-y
Keywords
Left and right

Ideology

Categorization

Perception