Abstract
Many parliamentary democracies feature a president alongside a prime minister. While these presidents have a nonpartisan status as head of state, they often have had long political careers with partisan affiliations before assuming office. How do voters react when such actors make issue statements to shape public opinion? Are such statements filtered through voters' partisan lenses, provoked by the partisan background of these actors? Or perhaps partisan reactions are not invoked, owing to the nonpartisan status of the office? We argue that voters' reactions depend on the issue domain. Partisan reactions will be invoked only when the statements are about issues outside the president's prerogatives. We provide evidence for our argument from a population-based survey experiment in Turkey.
Access options
Buy single article
Instant access to the full article PDF.
USD 39.95
Price excludes VAT (USA)
Tax calculation will be finalised during checkout.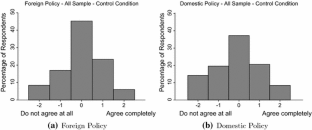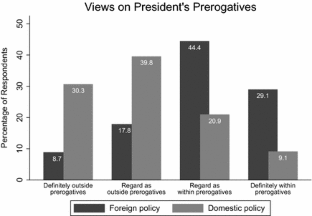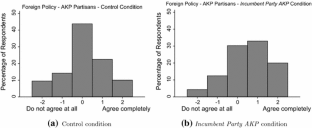 Notes
See, e.g., Cheibub et al. (2014); Doyle and Elgie (2016); Shugart and Carey (1992); Siaroff (2003). Conceptually our focus is not just on what some scholars would define as semi-presidential regimes, but on democracies where prime ministerial accountability to a parliamentary majority exists alongside a presidential head of state who might be elected directly by voters or indirectly by the parliament.

Tavits (2008). For example, the Turkish Constitution of 1982 stipulates, "if the president-elect is a member of a party, his/her relationship with his/her party shall be severed and his/her membership of the Grand National Assembly of Turkey shall cease" (Article 101). Similarly, the Constitution of Croatia (1991) dictates, "after the election, the President of the Republic shall resign from membership in the political party and notify the Croatian Parliament thereof" (Article 96).

As examples for ambiguous clauses we can point to the Hungarian Constitution (2011) which states, "the office of the President of the Republic shall be incompatible with any other state, social, economic, and political office or assignment" (Article 12). Similarly, the Constitution of Poland (1997) stipulates, "the President of the Republic shall hold no other offices nor discharge any public functions, with the exception of those connected with the duties of his office" (Article 132).

In line with this expectation, Andrzej Duda of Poland resigned from his party Law and Justice (PiS) upon being elected president. Another example is Tomislav Nikolić of Serbia, a founding member of Serbian Progressive Party (SNS), who severed his party links after becoming president.

The mass media is likely to play a key role in this respect by setting the terms of the debate on the president's prerogatives. As indicated by Zaller (1992, 9), the framing of issues by political elites in the mass media has a powerful effect on mass opinion, and "when elites divide, members of the public tend to follow the elites sharing their general ideological or partisan predisposition," in line with theories of partisanship. We thank an anonymous reviewer for highlighting this.

For example, the Constitution of Croatia (1991) stipulates, "the President of the Republic and the Government of the Republic of Croatia cooperate in formulation and execution of the foreign policy" (Article 99). The Constitution of the Czech Republic states, "the President of the Republic...negotiates and ratifies international treaties" (Article 63).

Since the writing of this article, important changes have been brought to the system of government of Turkey. On December 10, 2016 the ruling AKP submitted a constitutional amendment proposal to abolish the existing parliamentary system by introducing an executive presidency with sweeping powers. This proposal was approved in a constitutional referendum held on April 16, 2017. This change in the system of government does not affect our present study as our fieldwork was completed about two years before these amendments were on the political agenda.

This is widely attributed to the fact that the constitution of 1982 was a product of a military coup, and that the military leaders were "influenced by past political crises and envisaged the presidency as an arbitrator of future political deadlocks or troubles"[(Özsoy Boyunsuz 2016), 77].

The duties and powers of the president are specified in Article 104. A comprehensive list of president's powers related to legislative, executive, and judicial functions is given in Özbudun (1988).

For an extensive discussion of the implications of the 2007 constitutional amendment, see Özsoy (2010). One could argue that this change in the mode of election of the president put the Turkish system of government closer to the democracies of Central and Eastern Europe, contributing to the generalizability of the Turkish case for the purposes of the present study.

It should be noted that although Erdoğan is the first directly elected president of Turkey, some of the past presidents (indirectly elected by the parliament) had strong partisan backgrounds as well (Turgut Özal and Süleyman Demirel, for example). So it is not the case that individuals with no partisan backgrounds used to fill the presidential office in Turkey before this change in the mode of election.

For example, Kemal Kılıçdaroğlu, leader of the main opposition Republican People's Party (Cumhuriyet Halk Partisi - CHP), has urged Erdoğan either to keep his constitutional promise of impartiality or to resign (http://tinyurl.com/jsreh9h). Both CHP and the pro-Kurdish opposition Peoples' Democratic Party (Halkların Demokratik Partisi - HDP) have filed complaints to the Constitutional Court ahead of the June 2015 general elections accusing Erdoğan of failing to obey the clause of impartiality in the constitution (http://tinyurl.com/z3ccyg5). Similar criticisms have been voiced by the nationalist opposition Nationalist Action Party (Milliyetçi Hareket Partisi - MHP) as well (http://tinyurl.com/mmo3ld5).

Kalaycıoğlu (2008) presents evidence in this direction.

The sampling procedure starts with the use of Turkish Statistical Institute's (TUIK) NUTS-2 regions. The target sample was distributed according to each region's share of urban and rural population in accordance with current records of the Address Based Population Registration System (ADNKS). Next, TUIK's block data were used with block size set at 400 residents. Twenty voters were targeted to be reached from each block and no substitution was used. Probability proportionate to size (PPS) principle was used in distributing the blocks to NUTS-2 regions. Selection of individuals in households is done on the basis of reported target population of 18 years or older in each household according to a lottery method. If for any reason that individual could not respond to our questions in our first visit, then the same household is visited up to three times until a successful interview is conducted and no substitution was applied. The interviews were conducted by Frekans Research (www.frekans.com.tr) between Dec. 15, 2014, and Feb. 1, 2015.

Nonresponses and undecided respondents are coded as 0.

We present an analysis of our experimental results among partisans of smaller opposition parties in the supplementary information appendix.

As Kalaycıoğlu (2008) notes, it is difficult to translate "party identification" into Turkish. He reports that focus group discussions suggested that the concept of "tutmak," with its connotations of deep and intense feelings towards an object, frequently used to indicate being fan of a sports club, best corresponds to the concept of party identification in Turkish. We adopt this concept to identify partisans in our sample.

See Figures A1 and A2 in the supplementary information appendix. There are no significant differences in the distribution of responses to outcome questions across AKP and CHP partisans in the control condition.

Regression analyses using ordinary least squares (OLS) estimation are reported in the supplementary information appendix (Tables A1, A2, and A3). There are no changes in the substantive results.

Participants in this follow-up survey were recruited from https://benderimki.com/, a web-based convenience panel with about seventy thousand active users throughout Turkey. More information about the sample is presented in the supplementary information appendix.

For both questions about 3% of respondents chose the "don't know" option. The reported figures do not include these respondents.

See Baylis (1996), and the accounts referenced in footnotes six to 11.
References
Amorim Neto, O., & Strøm, K. (2006). Breaking the parliamentary chain of delegation: Presidents and non-partisan cabinet members in European democracies. British Journal of Political Science, 36(4), 619–643.

Bartels, L. M. (2000). Partisanship and voting behavior, 1952–1996. American Journal of Political Science, 44(1), 35–50.

Bartels, L. M. (2002). Beyond the running tally: Partisan bias in political perceptions. Political Behavior, 24(2), 117–150.

Baylis, T. A. (1996). Presidents versus prime ministers: Shaping executive authority in Eastern Europe. World Politics, 48(3), 297–323.

Brader, T. A., & Tucker, J. A. (2012). Following the party's lead: Party cues, policy opinion, and the power of partisanship in three multiparty systems. Comparative Politics, 44(4), 403–420.

Brewer, M. B. (2007). The importance of being we: Human nature and intergroup relations. American Psychologist, 62(8), 728–738.

Campbell, A., Converse, P. E., Miller, W. E., & Stokes, D. E. (1960). The American voter. New York: Wiley.

Çarkoğlu, A. (2014). Voting behavior. In M. Heper & S. Sayarı (Eds.), The Routledge handbook of modern Turkey (pp. 160–170). New York: Routledge.

Cheibub, J. A., Elkins, Z., & Ginsburg, T. (2014). Beyond presidentialism and parliamentarism. British Journal of Political Science, 44(3), 515–544.

Converse, P. E. (1969). Of time and partisan stability. Comparative Political Studies, 2(2), 139–171.

Doyle, D., & Elgie, R. (2016). Maximizing the reliability of cross-national measures of presidential power. British Journal of Political Science, 46(4), 731–741.

Dunning, T. (2012). Natural experiments in the social sciences: A design-based approach. New York: Cambridge University Press.

Elgie, R. (1999). The politics of semi-presidentialism. In R. Elgie (Ed.), Semi-presidentialism in Europe (pp. 1–21). Oxford: Oxford University Press.

Fernandes, J. M., & Magalhães, P. C. (2016). Government survival in semi-presidential regimes. European Journal of Political Research, 55, 61–80.

Greene, D., Palmquist, B., & Schickler, E. (2002). Partisan hearts and minds: Political parties and the social identities of voters. New Haven, CT: Yale University Press.

Heper, M., & Çınar, M. (1996). Parliamentary government with a strong president: The post-1989 Turkish experience. Political Science Quarterly, 111(3), 483–503.

Kalaycıoğlu, E. (1994). Elections and party preferences in Turkey: Changes and continuities in the 1990s. Comparative Political Studies, 27(3), 402–424.

Kalaycıoğlu, E. (2008). Attitudinal orientations to party organizations in Turkey in the 2000s. Turkish Studies, 9(2), 297–316.

Kang, S.-G. (2009). The influence of presidential heads of state on government formation in European democracies: Empirical evidence. European Journal of Political Research, 48, 543–572.

Kim, Y. H. (2015). A troubled marriage? Divided minority government, cohabitation, presidential powers, president-parliamentarism and semi-presidentialism. Government and Opposition, 50(4), 652–681.

Lau, R. R., & Redlawsk, D. P. (2006). How voters decide: Information processing during election campaigns. New York: Cambridge University Press.

Makovsky, A. (1999). The new activism in Turkish foreign policy. SAIS Review, 19(1), 92–113.

Mardin, Ş. (1973). Center-periphery relations: A key to Turkish politics? Daedalus, 102(1), 169–190.

Mutz, D. C. (2011). Population-based survey experiments. Princeton: Princeton University Press.

Nicholson, S. P. (2012). Polarizing cues. American Journal of Political Science, 56(1), 52–66.

Özbudun, E. (1988). The status of the president of the Republic under the Constitution of 1982: Presidentialism or parliamentarism? In M. Heper & A. Evin (Eds.), State, democracy, and the military: Turkey in the 1980s (pp. 37–45). New York: Walter de Gruyter.

Özsoy Boyunsuz, Ş. (2016). The AKP's proposal for a "Turkish type of presidentialism" in comparative context. Turkish Studies, 17(1), 68–90.

Özsoy, Ş. (2010). What does Turkey's new choice of popular presidential elections mean? European Public Law, 16(1), 139–160.

Protsyk, O. (2005). Prime ministers' identity in semi-presidential regimes: Constitutional norms and cabinet formation outcomes. European Journal of Political Research, 44, 721–748.

Robins, P. (1992). Turkish foreign policy and the Gulf crisis: Adventurist or dynamic? In C. H. Dodd (Ed.), Turkish foreign policy: New prospects (pp. 70–87). Huntingdon, Cambridgeshire: Eothen Press.

Roper, S. D. (2002). Are all semipresidential regimes the same? A comparison of premier-presidential regimes. Comparative Politics, 34(3), 253–272.

Samuels, D. J., & Shugart, M. S. (2010). Presidents, parties, and prime ministers: How the separation of powers affects party organization and behavior. New York: Cambridge University Press.

Samuels, D., & Zucco, C. (2014). The power of partisanship in Brazil: Evidence from survey experiments. American Journal of Political Science, 58(1), 212–225.

Schleiter, P., & Morgan-Jones, E. (2009). Constitutional power and competing risks: Monarchs, presidents, prime ministers, and the termination of east and west European cabinets. American Political Science Review, 103(3), 496–512.

Shugart, M. S., & Carey, J. M. (1992). Presidents and assemblies: Constitutional design and electoral dynamics. New York: Cambridge University Press.

Siaroff, A. (2003). Comparative presidencies: The inadequacy of the presidential, semi-presidential and parliamentary distinction. European Journal of Political Research, 42, 287–312.

Strøm, K., & Swindle, S. M. (2002). Strategic parliamentary dissolution. American Political Science Review, 96(3), 575–591.

Tavits, M. (2008). Presidents with prime ministers: Do direct elections matter? New York: Oxford University Press.

Zaller, J. R. (1992). The nature and origins of mass opinion. New York: Cambridge University Press.
Additional information
Previous versions of this article were presented, under different titles, at the annual meetings of the Midwest Political Science Association and the European Political Science Association, and in the second Empirical Studies in Political Analysis (ESPA) workshop in Antalya, Turkey. We would like to thank participants in those meetings and Nikolay Marinov for valuable feedback, and Simge Andı, Zsófia Flóra Bocskay, and Fatih Erol for able research assistance. We also thank the Ohio State University School of Communication and Koç University for providing funding for this study.
Electronic supplementary material
Below is the link to the electronic supplementary material.
About this article
Cite this article
Aytaç, S.E., Çarkoğlu, A. Presidents Shaping Public Opinion in Parliamentary Democracies: A Survey Experiment in Turkey. Polit Behav 40, 371–393 (2018). https://doi.org/10.1007/s11109-017-9404-x
Published:

Issue Date:

DOI: https://doi.org/10.1007/s11109-017-9404-x
Keywords
Presidents

Public opinion

Partisanship

Partisan cue

Survey experiment

Turkey