Abstract
In his seminal work on Southern politics, V.O. Key observed that voters disproportionately support local candidates at the ballot box. While empirical analyses have confirmed "friends-and-neighbors" voting across numerous electoral contexts, no one has directly examined voter turnout as the mechanism linking place of residence to vote choice. We argue that place of residence is a social identity that incentivizes citizens to turn out to vote on behalf of the local candidate. We test this mobilization mechanism using a randomized field experiment conducted during a 2014 state legislative primary election. Our results show that county ties between candidates and voters likely boost turnout. Our findings contribute to our understanding of the importance of place identity for turnout decisions in low-information elections.
Access options
Buy single article
Instant access to the full article PDF.
US$ 39.95
Tax calculation will be finalised during checkout.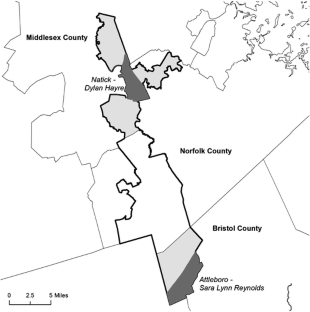 Notes
1.

2.

We also note that the relative importance of town vs. county could vary given both information levels about candidate ties and the electoral context. In a local election, we would anticipate that voters are more aware of candidate ties and that these ties are of relatively more importance in the decision whether to vote and for whom to vote. In an election for a highly salient office, such as Governor, however, geographic ties might be less known and behavioral decisions might be more likely to be driven by policy considerations (e.g., the state of the economy) or the like. In the discussion section below, we expand on these possibilities further.

3.

Granovetter's hypothesis has been confirmed by other sociologists who show that, by building weak ties, individuals in a network accrue information they could not gather through their own network of strong ties (Constant et al. 1996; Cross and Cummings 2004; Levin and Cross 2004; Morrison 2002). Moreover, political scientists have subsequently adapted this framework to explain mobilization, lobbying and policy change, and congressional voting behavior (Carpenter et al. 1998; Huckfeldt and Sprague 1995; Kirkland 2011).

4.

Note that this expectation is independent of the candidate's ability to directly mobilize friends (in either the town or county). The mobilization literature emphasizes the importance of neighbor, rather than stranger, driven get-out-the-vote operations. Our argument, however, focuses on the information flow of networks, rather than the dynamics of voter mobilization efforts. We do not claim that "more distant" mobilization efforts are more effective, but that the transmission of information is larger among more dispersed communities.

5.

Massachusetts has a modified closed primary system, where only those registered as Democrats, Republicans, or as Unenrolled may participate. For the purposes of our experiment, we restrict the sample to registered Democrats in order to test our theory in a true primary election, while minimizing the likelihood that Republican-leaning, Unenrolled voters could respond negatively to information about a Democratic primary.

6.

Richard Ross, the Republican incumbent, did not face a primary challenge, and eventually went on to easily defeat Hayre in the general election, 61–39%.

7.

Note that the within-town percentages do not add up to 100% because there were also 293 blank votes (20%) in Natick and 99 blank/other votes (11%) in Attleboro.

8.

We acknowledge that some subjects assigned to be treated may not have been successfully contacted, but reliable estimates of contact rates for direct mailings are unavailable. Thus, we report intent-to-treat effects throughout, noting these are likely conservative estimates of the treatment effects. Taking contact rates into account would only magnify the treatment effects we report.
References
Alvarez, M. R. (1997). Information and elections. Ann Arbor: University of Michigan Press.

Ames, B. (1995). Electoral rules, constituency pressures, and pork barrel: Bases of voting in the Brazilian congress. Journal of Politics, 57(2), 324–343.

Arzheimer, K., & Evans, J. (2012). Geolocation and voting: Candidate-voter distance effects on party choice in the 2010 UK general election in England. Political Geography, 31(5), 301–310.

Aspin, L. T., & Hall, W. K. (1987). The friends and neighbors effect in judicial retention elections. Political Research Quarterly, 40(4), 703–715.

Banducci, S. A., Karp, J. A., Thrasher, M., & Rallings, C. (2008). Ballot photographs as cues in low-information elections. Political Psychology, 29(6), 903–917.

Barreto, M. (2007). ¡Sí se puede! Latino candidates and the mobilization of Latino voters. American Political Science Review, 101(3), 425–441.

Barreto, M. (2010). Ethnic cues: The role of shared ethnicity in Latino political participation. Ann Arbor: University of Michigan Press.

Bowler, S., Donovan, T., & Snipp, J. (1993). Local sources of information and voter choice in state elections. American Politics Research, 21(4), 473–489.

Brunk, G. G., Ramesh, S., & Adams, J. (1988). Contagion-based voting in Birmingham. Alabama. Political Geography Quarterly, 7(1), 39–47.

Carpenter, D. P., Esterling, K. M., & Lazer, D. M. J. (1998). The strength of weak ties in lobbying networks: Evidence from healthcare politics in the United States. Journal of Theoretical Politics, 10(4), 417–444.

Constant, D., Sproull, L., & Kiesler, S. (1996). The kindness of strangers: The usefulness of electronic weak ties for technical advice. Organization Science, 7(2), 119–135.

Cross, R., & Cummings, J. N. (2004). Tie and network correlates of individual performance in knowledge-intensive work. The Academy of Management Journal, 47(6), 928–937.

Cunningham, R. (1971). The impact of a local candidate in Canadian federal elections. Canadian Journal of Political Science, 4(2), 287–290.

Dudley, R. L., & Rapoport, R. B. (1989). Vice-presidential candidates and the home state advantage: Playing second banana at home and on the road. American Journal of Political Science, 33(2), 537–540.

Ferejohn, J. A. (1974). Pork barrel politics: Rivers and harbors legislation, 1947–1968. Stanford: Stanford University Press.

Garand, J. C. (1988). Localism and regionalism in presidential elections: Is there a home state or regional advantage? Western Political Quarterly, 41(1), 85–103.

Gerber, A. S., & Green, D. P. (2012). Field experiments: Design, analysis, and interpretation. New York: W.W. Norton.

Gimpel, J. G., Karnes, K. A., McTague, J., & Pearson-Merkowitz, S. (2008). Distance-decay in the political geography of friends-and-neighbors voting. Political Geography, 27(2), 231–251.

Granovetter, M. S. (1973). The strength of weak ties. American Journal of Sociology, 78(6), 1360–1380.

Green, D., Palmquist, B., & Schickler, E. (2002). Partisan hearts and minds: Political parties and the social identities of voters. New Haven: Yale University Press.

Greene, S. (1999). Understanding party identification: A social identity approach. Political Psychology, 20(2), 393–403.

Grimmer, J., Messing, S., & Westwood, S. J. (2012). How words and money cultivate a personal vote: The effect of legislator credit claiming on constituent credit allocation. American Political Science Review, 106(4), 703–719.

Hand, J. (2014). Attleboro's Reynolds narrowly loses Democrat state senate nomination to Hayre. The Sun Chronicle. http://www.thesunchronicle.com/news/local_news/attleboro-s-reynolds-narrowly-loses-democrat-state-senate-nomination-to/article_7496476e-389e-11e4-b127-0019bb2963f4.html. Accessed 2 July 2016.

Heersink, B., & Peterson, B. D. (2016). Measuring the vice-presidential home state advantage with synthetic controls. American Politics Research, 44(4), 734–763.

Holbrook, T. M. (1991). Presidential elections in space and time. American Journal of Political Science, 35(1), 91–109.

Huckfeldt, R., & Sprague, J. (1995). Citizens, politics, and social communication: Information and influence in an election campaign. New York: Cambridge University Press.

Huddy, L. (2001). From social to political identity: A critical examination of social identity theory. Political Psychology, 22(1), 127–156.

Huddy, L., Mason, L., & Aarøe, L. (2015). Expressive partisanship: Campaign involvement, political emotion, and partisan identity. American Political Science Review, 109(1), 1–17.

Iyengar, S., Sood, G., & Lelkes, Y. (2012). Affect, not ideology: A social identity perspective on polarization. Public Opinion Quarterly, 76(3), 405–431.

Iyengar, S., & Westwood, S. J. (2015). Fear and loathing across party lines: New evidence on group polarization. American Journal of Political Science, 59(3), 690–707.

Johnston, R. J. (1974). Local effects in voting at a local election. Annals of the Association of American Geographers, 64(3), 418–429.

Key, V. O., Jr. (1949). Southern politics in state and nation. New York: A.A. Knopf.

Kirkland, J. H. (2011). The relational determinants of legislative outcomes: Strong and weak ties between legislators. Journal of Politics, 73(3), 887–898.

Kjar, S. A., & Laband, D. A. (2002). On the 'home grown-ness' in politics: Evidence from the 1998 election for Alabama's third congressional district. Public Choice, 112(1/2), 143–150.

Lawless, J. L. (2012). Becoming a candidate: Political ambition and the decision to run for office. New York: Cambridge University Press.

Levin, D. Z., & Cross, R. (2004). The strength of weak ties you can trust: The mediating role of trust in effective knowledge transfer. Management Science, 50(11), 1477–1490.

Lewis-Beck, M. S., & Rice, T. W. (1983). Localism in presidential elections: The home state advantage. American Journal of Political Science, 27(3), 548–556.

Lublin, D. I., & Tate, K. (1995). Racial group competition in urban elections. In P. G. Peterson (Ed.), Classifying by race (pp. 245–261). Princeton: Princeton University Press.

Matson, M., & Fine, T. S. (2006). Gender, ethnicity, and ballot information: Ballot cues in low-information elections. State Politics and Policy Quarterly, 6(1), 49–72.

McDermott, M. L. (1998). Race and gender cues in low-information elections. Political Research Quarterly, 51(4), 895–918.

McKee, S. C., Hood, M. V., III, & Hill, D. (2012). Achieving validation: Barack Obama and black turnout in 2008. State Politics and Policy Quarterly, 12(1), 3–22.

Meredith, M. (2013a). Heterogeneous friends-and-neighbors voting. Working paper, University of Pennsylvania.

Meredith, M. (2013b). Exploiting friends-and-neighbors to estimate coattail effects. American Political Science Review, 107(4), 742–765.

Mixon, F. G., & Tyrone, J. M. (2004). The 'home-grown' presidency: Empirical evidence on localism in presidential voting, 1972-200. Applied Economics, 36(16), 1745–1749.

Morrison, E. W. (2002). Newcomers' relationships: The role of social network ties during socialization. The Academy of Management Journal, 45(6), 1149–1160.

Parker, A. J. (1982). The 'friends and neighbours' voting effect in the Galaway West constituency. Political Geography Quarterly, 1(3), 243–262.

Popkin, S. L. (1991). The reasoning voter: Communication and persuasion in presidential campaigns. Chicago: University of Chicago Press.

Rice, T. W., & Macht, A. A. (1987a). Friends and neighbors voting in statewide general elections. American Journal of Political Science, 31(2), 448–452.

Rice, T. W., & Macht, A. A. (1987b). The home town advantage: Mobilization or conversion? Political Behavior, 9(3), 257–262.

Sinclair, B. (2012). The social citizen: Peer networks and political behavior. Chicago: University of Chicago Press.

Sokhey, A. E., & McClurg, S. D. (2012). Social networks and correct voting. Journal of Politics, 74(3), 751–764.

Tajfel, H. (1981). Human groups and social categories. Cambridge: Cambridge University Press.

Tajfel, H., & Turner, J. (1979). An integrative theory of intergroup conflict. In W. G. Austin & S. Worchel (Eds.), The social psychology of intergroup relations (pp. 33–47). Monterey: Brooks-Cole.

Tatalovich, R. (1975). 'Friends and neighbors' voting: Mississippi, 1943-73. Journal of Politics, 37(3), 807–814.

Tate, K. (1991). Black political participation in the 1984 and 1988 presidential elections. American Political Science Review, 85(4), 1159–1176.

Tate, K. (1994). From protest to politics: The new black voters in American elections. Cambridge: Harvard University Press.

Turner, J. C., Hogg, M. A., Oakes, P. J., Reicher, S. D., & Wetherell, M. S. (1987). Rediscovering the social group: A self-categorization theory. Oxford: Blackwell Publishers.

Washington, E. (2006). How black candidates affect voter turnout. Quarterly Journal of Economics, 121(3), 973–998.
Acknowledgements
We thank Marc Meredith, Donald Green and conference participants at MPSA 2015 for helpful comments on earlier drafts. We are also grateful to Maryann Draine and Diane Packer for providing us with validated voter turnout data and to Meagan Snow for research assistance. This study was approved by the Office of the Institutional Review Board at Fordham University (ID: IRB-14-08-CP-010). Brian Hamel acknowledges the National Science Foundation Graduate Research Fellowship Program for support. Replication data can be found at https://dataverse.harvard.edu/dataverse/polbehavior.
Electronic supplementary material
Below is the link to the electronic supplementary material.
Appendix: Treatment Versions
Appendix: Treatment Versions
Names + Towns: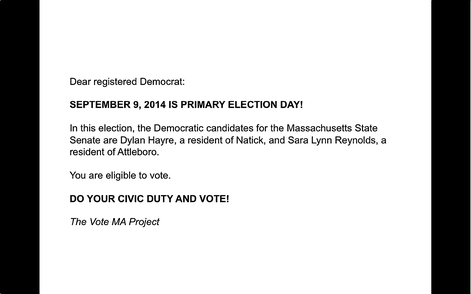 Names + Counties: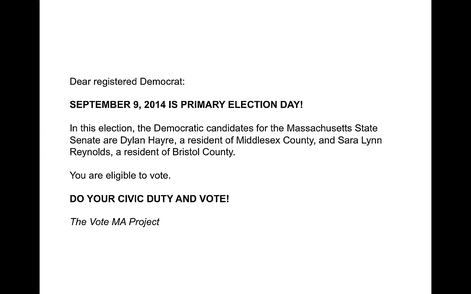 Names Only: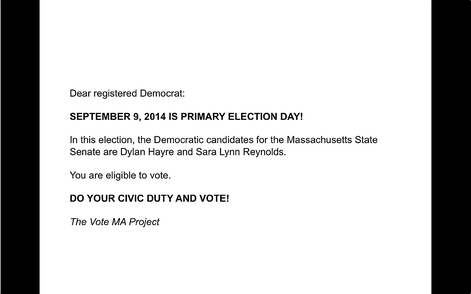 About this article
Cite this article
Panagopoulos, C., Leighley, J.E. & Hamel, B.T. Are Voters Mobilized by a 'Friend-and-Neighbor' on the Ballot? Evidence from a Field Experiment. Polit Behav 39, 865–882 (2017). https://doi.org/10.1007/s11109-016-9383-3
Keywords
"Friends-and-neighbors" voting

Localism

Turnout

Social identity

Field experiments