Abstract
Those who turn out in American primary elections are a small and unrepresentative subset of the population. Why do citizens forgo participation in nominating contests yet vote in general elections? We argue that limited contact lowers participation in primary elections. We present results from a randomized field experiment with near 150,000 letters in California's 2014 primary. Each letter went to one of the four million Californians who had participated in recent general elections but not in primaries. We find that a single letter increased turnout by 0.5 points from a base rate of 9.3 percent. This increase is more than twice the average effect calculated in a recent meta-analysis and represents a proportional increase of 5.4 percent. Our experiment shows that registrants who typically abstain from primaries—and who are thus often ignored by campaigns—can be effectively mobilized.
Access options
Buy single article
Instant access to the full article PDF.
US$ 39.95
Tax calculation will be finalised during checkout.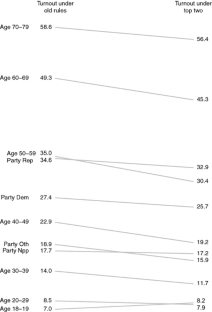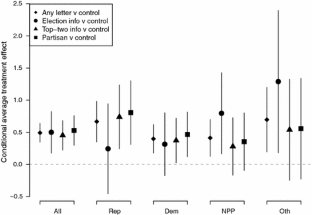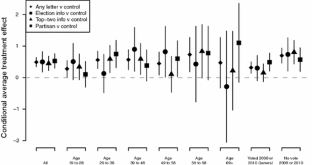 Notes
1.

While this meta-analytic averages estimates non-partisan mail treatment effects across many different contexts, elections, and target populations, it seems a reasonable benchmark of comparison. Although our target population of non-primary voters likely has a lower propensity to vote than the average target populations in these studies, the meta-analysis of Enos et al. (2014) found that GOTV treatments are less effective on lower-propensity relative to higher-propensity voters. This suggests that if our target population is low-propensity, the meta-analytic average of 0.2 may be an upper bound to a reasonable prior for the treatment effect in our study.

2.

The blanket primary was overturned in Democratic Party versus Jones because, as a nominating contest, it forced parties to associate themselves with voters from other parties or from no parties. Because the top-two does not select party nominees—it merely selects two November contestants, regardless of party, the US Supreme Court upheld its constitutionality in Washington State Grange versus Washington Republican Party 2008.

3.

Washington voters backed the top two as Initiative Measure 872 in 2004, but because of a legal challenge by the state's parties, it was not implemented until 2008.

4.

5.

6.

We use files from August 2014, January 2013, January 2011, and March 2009 to characterize the four elections. As voter files are a snapshot, the 2014 file misses many of the records for those who turned out in older elections.

7.

McGhee (2014) argues that while the top two did not appear to bring more voters to the polls, it did give the independent voters who participated a more consequential role in candidate contests.

8.

In Supplemental Table S1, we present pooled multiple regression models predicting turnout using these data. The regression coefficients confirm the graphical presentation of Fig. 1.

9.

10.

Our experiment targeted voters who had previously participated in general elections but not in primary elections. This suggests that two factors that might keep those who have never voted from participating, familiarity and comfort with the voting process (e.g., Gerber et al. 2013) or comfort with the political system broadly, were not impediments to voting for this set of registrants.

11.

This content was borrowed from other efforts by Common Cause and the Los Angeles City Clerk to explain the top-two primary in previous election outreach.

12.

We were aware at the time of the design that presenting this descriptive social norm of low turnout may lead to a norm-consistent behavior of not voting (e.g., Cialdini et al. 1990; Gerber et al. 2009). We felt that level of turnout among the recipient's party of registration was a relevant fact, and absence of this knowledge might be keeping some potential voters at home. In fact, we find that those receiving this letter turn out at higher rates than control registrants, showing that this descriptive norm did not lead to lower turnout behavior on average. Of course, the norm-consistent behavior may depend on whether the level of turnout presented in the letter was higher or lower than the recipient's prior belief; if higher than expected, it might imply norm-consistent behavior is to vote, while if lower norm-consistent may be to abstain. Interestingly, we find heterogeneity in the effect of this letter, with larger effects on older registrants not registered as Democrats or Republicans.

13.

Full details of the number of cases removed at each of these stages is available in the Supplemental Information.

14.

We collapsed blocks that were not of sufficient size for our assignment rates along with leftover cases from blocks of sufficient size into one leftover block where treatment was made by simple random assignment.

15.

16.

In Supplemental Table S2, we present OLS regressions to estimate the average treatment effect, which allow us to include randomization block fixed effects. In the first column we present the treatment effect estimates for the three letters: 0.50, 0.45, and 0.53. In column two, we include block fixed effects, and estimate identical treatment effects. In columns three and four, we test for difference between the three treatment letters, finding no statistically distinguishable difference with or without block fixed effects.

17.

We preregistered heterogeneous treatment effect analysis prior to receiving the results at http://e-gap.org, and also anticipated this analysis through the block randomization of our experimental design. We analyze heterogeneous treatment effects by two pre-registered district variables in a companion article.

18.

We show in Supplemental Fig. S1 that the point estimate for the effect of the partisan letter is greater than 2 % points for those aged 71 to 78, and in Supplemental Fig. S2 that the effect is especially driven by those registered no party preference, with a point estimate above 4 % points.
References
Arceneaux, K., & Nickerson, D. W. (2009). Who is mobilized to vote? A re-analysis of eleven randomized field experiments. American Journal of Political Science, 53(1), 1–16.

Arceneaux, K., Mullin, M., & Kousser, T. (2012). Get out the vote by mail: A randomized experiment testing the effects of mobilization in traditional and vote-by-mail precincts. Political Research Quarterly, 65(4), 882–894.

Brady, H. E., Verba, S., & Schlozman, K. L. (1995). Beyond SES: A resource model of political participation. American Political Science Review, 89(2), 271–294.

Caldeira, G. A., & Patterson, S. C. (1982). Contextual influences on participation in U.S. state legislative elections. Legislative Studies Quarterly, 7(3), 359–381.

Cialdini, R. B., Reno, R. R., & Kallgren, C. A. (1990). A focus theory of normative conduct: Recycling the concept of norms to reduce littering in public places. Journal of Personality and Social Psychology, 58(6), 1015–1026.

Enos, R. D., Fowler, A., & Vavreck, L. (2014). Increasing inequality: The effect of GOTV mobilization on the composition of the electorate. Journal of Politics, 76(1), 273–288.

Fiorina, M., & Abrams, S. J. (2009). Disconnect: The breakdown of representation in american politics. Norman, OK: University of Oklahoma Press.

Geer, J. G. (1986). Rules governing presidential primaries. Journal Of Politics, 48(4), 1006–1025.

Gerber, A. S., & Green, D. C. (2000). The effects of canvassing, telephone calls, and direct mail on voter turnout: A field experiment. American Political Science Review, 94(3), 653–663.

Gerber, E. R., & Morton, R. B. (1998). Primary election systems and representation. Journal of Law, Economics, & Organization, 14(2), 304–324.

Gerber, A. S., & Rogers, T. (2009). Descriptive social norms and motivation to vote: Everybody's voting and so should you. Journal of Politics, 71(1), 178–191.

Gerber, A. S., Green, D. P., & Larimer, C. W. (2008). Social pressure and voter turnout: Evidence from a large-scale field experiment. American Political Science Review, 102(1), 33–48.

Gerber, A. S., Green, D. P., & Nickerson, D. (2003). Getting out the vote in local elections: Results from six door-todoor canvassing experiments. Journal of Politics, 65(4), 1083–1096.

Gerber, A. S., Huber, G. A., Doherty, D., Dowling, C. M., & Hill, S. J. (2013). Do perceptions of ballot secrecy influence turnout? Results from a field experiment. American Journal of Political Science, 57(3), 537–551.

Gerber, A. S., Gregory, A. H., Marc, M., Daniel, R. B., & David, J. H. (2015). Can incarcerated felons be (Re)integrated into the political system? Results from a field experiment. American Journal of Political Science, 59(4):912–926.

Green, D. P., & Gerber, A. S. (2008). Get out the vote: How to increase voter turnout (2nd ed.). Washington: Brookings Institution Press.

Green, D. P., McGrath, M. C., & Aronow, P. M. (2013). Field experiments and the study of voter turnout. Journal of Elections, Public Opinion & Parties, 23(1), 27–48.

Hedlund, R. D., Watts, M. W., & Hedge, D. W. (1982). Voting in an open primary. American Politics Quarterly, 10, 197–218.

Hill, S. J. (2016). Institution of nomination and the policy ideology of primary electorates. Quarterly Journal of Political Science (forthcoming).

Hirano, S., Snyder, J. M, Jr, Stephen, A., & John, M. H. (2010). Primary elections and partisan polarization in the U.S. congress. Quarterly Journal of Political Science, 5, 169–191.

Holbrook, T. M., & McClurg, S. D. (2005). The mobilization of core supporters: Campaigns, turnout, and electoral composition in United States presidential elections. American Journal of Political Science, 49(4), 689–703.

Jacobson, G. C. (2012). The electoral origins of polarized politics: Evidence from the 2010 cooperative congressional election study. American Behavioral Scientist, 56(12), 1612–1630.

Jewel, M. E. (1984). Northern state gubernatorial primary elections: Explaining voter turnout. American Politics Quarterly, 12, 101–163.

Kaufmann, K. M., Gimpel, J. G., & Hoffman, A. H. (2003). A promise fulfilled? Open primaries and representation. Journal of Politics, 65(2), 457–476.

Kenney, P. J. (1983). Explaining turnout in gubernatorial primaries. American Politics Quarterly, 11, 315–326.

Kenney, P. J. (1986). Explaining primary turnout: The senatorial case. Legislative Studies Quarterly, 11, 65–73.

McGhee, E. (2014). Voter turnout in primary elections. Public Policy Institute of California Report .

McGhee, E., Masket, S., Shor, B., Rogers, S., & McCarty, N. (2014). A primary cause of partisanship? Nomination systems and legislator ideology. American Journal of Political Science, 58(2), 337–351.

Nickerson, D. W., & Rogers, T. (2010). Do you have a voting plan?: Implementation intentions, voter turnout, and organic plan making. Psychological Science, 21(2), 194–199.

Norrander, B. (1989). Ideological representativeness of presidential primary voters. American Journal of Political Science, 33(3), 570–587.

Panagopoulos, C. (2011). Thank you for voting: Gratitude expression and voter mobilization. Journal of Politics, 73(3), 707–717.

Rosenstone, S. J., & Hansen, J. M. (2003). Mobilization, participation, and democracy in America. New York: Pearson Longman.
Acknowledgments
We thank Alex Hughes and Justin Levitt for assistance in designing and conducting the experiment, and anonymous reviewers, the Editor, and Kevin Arceneaux, Greg Huber, Simeon Nichter, and Chris Tausanovitch for feedback. The experiment presented here was approved by the UCSD Human Research Protections Program, funded by the William and Flora Hewlett Foundation, and did not involve deception of its subjects. We pre-registered our analysis with http://e-gap.org. The authors are solely responsible for interpretation, analysis, and conclusions. A replication archive is available at http://dx.doi.org/10.7910/DVN/8QLBSA or from the authors on request.
Electronic supplementary material
Below is the link to the electronic supplementary material.
About this article
Cite this article
Hill, S.J., Kousser, T. Turning Out Unlikely Voters? A Field Experiment in the Top-Two Primary. Polit Behav 38, 413–432 (2016). https://doi.org/10.1007/s11109-015-9319-3
Keywords
General Election

Average Treatment Effect

Voter Turnout

Primary Election

Primary Turnout